Results and Reports from Australia
Promoters wishing to submit results should send them to Cyclingnews
Randwick Botany Cycling Club Criterium
Heffron Park, NSW, January 3, 2004
Racing Returns to Heffron Park for 2004
By Tony Horneman
Robert Cater
Photo ©: Tony Horneman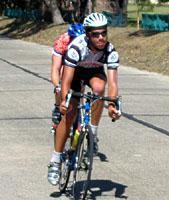 The first Randwick Botany Cycling Club criterium race for 2004 at Heffron Park featured a two man breakaway in the 36km A Grade event. Watched by his parents visiting from Armidale, Peter McDonald paired with young gun Robert Cater to put 300m on the chasing A Grade bunch by the closing stages of the race. Cater won the sprint and congratulated McDonald on the warm down lap for a gusty performance in hot, humid and sunny conditions. Cyclingnews.com editor Jeff Jones won the sprint for third place, followed home by Klayten Smith and Michael Cowan.
Roger Crawford did a solo break in the B Grade 32km race and didn't look back. Brendan Ingram tried to bridge the gap a few times, but returned to the bunch to fight out the sprint and second place, followed by Andy Matthews and young Thomas Murdoch.
C Grade set a casual average speed of only 33 km/h over 28km - perhaps recovering from the excesses of the festive season? "It was an easy pace today", commented Arthur Driver (Penrith Panthers) who placed first. The fox Shaun Ballesty was second and junior rider Luke Davison came in third.
Junior racing will commence at 1pm on Saturday 7 February 2004, with an exciting new junior race programme developed by the Junior Development Committee. More information can be obtained from the Junior Support Co-ordinator Janette Murdoch.
Photography
Images by Tony Horneman
Robert Cater on his way to victory in A Grade
Robert Cater with Peter McDonald behind
Jeff Jones leads the A Grade chasing group as it passes B Grade solo breakaway Roger Crawford
Results
A Grade, 36km
 
1 Robert Cater (Randwick Botany)       54.17 (40.6 km/h)
2 Peter McDonald (Randwick Botany)
3 Jeff Jones (Randwick Botany)
4 Klayten Smith (Clarence Street)
5 Michael Cowan (Randwick Botany)
 
B Grade, 32km
 
1 Roger Crawford (Randwick Botany)     52.10 (37 km/h) 
2 Brendan Ingram (Randwick Botany)
3 Andy Matthews (Randwick Botany)
4 Thomas Murdoch (Randwick Botany)
 
C Grade, 28km
 
1 Arthur Driver (Penrith Panthers)     50.47 (33 km/h)
2 Shaun Ballesty (Randwick Botany)
3 Luke Davison (Randwick Botany)
 
D Grade, 20km
 
1 Andrew Swan (Randwick Botany)        37.13 (32 km/h)
2 Grant Chellew (Sydney)
3 George Youhanna (Randwick Botany)
4 Tamas Bykerk (Randwick Botany)
 
E Grade, 14km
 
1 Gordon Bradshaw (Waratah Veterans)   32.25 (26 km/h)
2 Dave Birss (Bankstown Sports)
3 Sandie Jeffrey (Randwick Botany)
4 John Siounis (Waratah Veterans)


Local results 2003