Vuelta Mexico Telmex - 2.2
Mexico, March 1-8, 2009
Main Page Results Overall standings Previous Stage Next Stage
Stage 7 - March 7: Huichapan - Pachuca, Hidalgo, 158km
Romas succeeds on second attempt
Florencio Ramos (Tecos De La Uga) claims a solo
Photo ©: AFP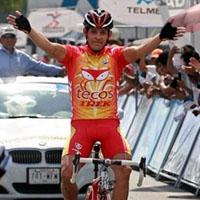 Mexican rider Florencio Ramos (Tecos De La Uga) rode to a solo stage victory on the Vuelta Mexico Telmex's penultimate stage, a day after falling out the rear of the stage-winning move. Ramos successfully attacked his five breakaway mates as the finish neared, taking out a solid 50 second margin by the time he crossed the finish line.
United States of America rider Shawn Milne (Team Type 1) led home a small group of three riders to claim second place. Milne was accompanied by Mexican Luis Fernando Macias (Mexican National Team) and Spain's Rafael Valls (Burgos Monumental)
The quartet had been a part of a six man breakaway throughout the stage which included Milne's compatriots Floyd Landis (Ouch Presented by Maxxis) and Tyler Hamilton (Rock Racing). Hamilton finished 59 seconds behind Ramos while Landis was a further five seconds behind.
"We all worked well together for most of the stage," Landis said. "The attacks started happening once we cleared the last climb."
The day's lead group was afforded a margin of several minutes by the peloton, with no threatening riders on general classification in the move. The peloton finished the race 5.41 minutes behind.
While less than a minute covers the top five riders on general classification, Venezuelan Jackson Rodriguez (Serramenti Pvc Diquigiovanni - Androni Giocattoli) looks set to hold on for the race victory. Rodriguez holds a slim 30 second margin over local rider Carlos Lopez (Canel's Turbo) heading into tomorrow's 114 kilometre circuit race finale.
Photography
For a thumbnail gallery of these images, click here
Images by AFP Photo/Mexsport
Results
1 Florencio Ramos (Mex) Tecos De La Uga                                         3.23.38
2 Shawn Milne (USA) Team Type 1                                                    0.50
3 Luis Fernando Macias (Mex) Mexican National Team                                     
4 Rafael Valls (Spa) Burgos Monumental                                                 
5 Tyler Hamilton (USA) Rock Racing                                                 0.59
6 Floyd Landis (USA) Ouch Presented By Maxxis                                      1.04
7 Christopher Barton (USA) US National Team                                        5.40
8 Thomas Bertolini (Ita) Serramenti Pvc Diquigiovanni - Androni Giocattoli         5.41
9 Joaquin Sobrino (Spa) Burgos Monumental                                              
10 Cesar Vaquera (Mex) Orven                                                           
11 Mauricio Frazer (Arg) Arenas Tlaxcala                                               
12 Fausto Fognini (Ita) Amica Chips - Knauf                                            
13 David Vitoria (Swi) Rock Racing                                                     
14 Jackson Rodriguez (Ven) Serramenti Pvc Diquigiovanni - Androni Giocattoli           
15 Ignacio Sarabia (Mex) Mexican National Team                                         
16 Byron Guama (Ecu) Burgos Monumental                                                 
17 Kirk Carlsen (USA) US National Team                                                 
18 Jose Ramon Aguirre (Mex) Canel'S Turbo                                              
19 Denis Bertolini (Ita) Serramenti Pvc Diquigiovanni - Androni Giocattoli             
20 Enrique Mata (Spa) Burgos Monumental                                                
21 Epifanio Cortes (Mex) Arenas Tlaxcala                                               
22 Glen Alan Chadwick (NZl) Rock Racing                                                
23 Jorge Pancoatl (Mex) Region 1 Puebla                                                
24 Gerardo Soto (Mex) Region 1 Puebla                                                  
25 Jose De Jesus Gomez (Mex) Canel'S Turbo                                             
26 Guy East (USA) Trek Livestrong                                                      
27 Uriel Clara (Mex) Canel'S Turbo                                                     
28 Juan Pabl Magallanes (Mex) Mexican National Team                                    
29 Fabio Calabria (Aus) Team Type 1                                                    
30 Valery Kobzarenko (Ukr) Team Type 1                                                 
31 Rafael Escarcega (Mex) Region 3 Estado                                              
32 Peter Stetina (USA) US National Team                                                
33 Carlos Cruz (Mex) Region 4 Oaxaca                                                   
34 Marco Anto Escarcega (Mex) Arenas Tlaxcala                                          
35 Edgardo Lugo (Mex) Region 3 Estado                                                  
36 Gilberto Simoni (Ita) Serramenti Pvc Diquigiovanni - Androni Giocattoli             
37 Alfredo Cruz (Mex) Region 2 Occident                                                
38 Arturo Peña (Mex) Region 2 Occident                                                 
39 Arnold Alcolea (Cub) Cuban National Team                                            
40 Hector Hugo Rangel (Mex) Canel'S Turbo                                              
41 Rodolfo Fernandez (Mex) Orven                                                       
42 Austin Carroll (USA) US National Team                                               
43 Colby Pearce (USA) US National Team                                                 
44 Ivan Carbajal (Mex) Region 4 Oaxaca                                                 
45 Enrique Gutierrez (Spa) Rock Racing                                                 
46 Gregorio Ladino (Col) Tecos De La Uga                                               
47 Alfredo Gabino (Mex) Region 3 Estado                                                
48 Taylor Shelden (USA) US National Team                                               
49 Taylor Phinney (USA) Trek Livestrong                                                
50 Jesus Zarate (Mex) Tecos De La Uga                                                  
51 Carlos José Ochoa (Ven) Serramenti Pvc Diquigiovanni - Androni Giocattoli           
52 Rodolfo Avila (Mex) Region 3 Estado                                                 
53 Alien Garcia (Cub) Cuban National Team                                              
54 Carlos Lopez (Mex) Canel'S Turbo                                                    
55 Jose De Gonzalez (Mex) Region 3 Estado                                              
56 Ryan Bauman (USA) Trek Livestrong                                                   
57 Elio Frausto (Mex) Region 4 Oaxaca                                                  
58 Francisco Matamoros (Mex) Tecos De La Uga                                           
59 Bernardo Colex (Mex) Mexican National Team                                          
60 Bjorn Selander (USA) Trek Livestrong                                                
61 Adonis Cardoso (Cub) Cuban National Team                                            
62 Leonardo Moser (Ita) Serramenti Pvc Diquigiovanni - Androni Giocattoli              
63 Alvaro Antoni Argiro (Arg) Arenas Tlaxcala                                          
64 David Tanner (Aus) Rock Racing                                                      
65 Antonio Aldape (Mex) Mexican National Team                                          
66 Eder Arenas (Mex) Mexican National Team                                             
67 John Fredy Parra (Col) Tecos De La Uga                                              
68 Luis Pulido (Mex) Mexican National Team                                             
69 Luis Alejand Zamudio (Mex) Tequila Afamado                                          
70 Karl Menzies (Aus) Ouch Presented By Maxxis                                         
71 Alberto Huitzil (Mex) Region 1 Puebla                                               
72 Ian Macgregor (USA) Team Type 1                                                     
73 Benjamin King (USA) Trek Livestrong                                                 
74 Vicenzo Garofolo (Ita) Amica Chips - Knauf                                          
75 Eddy Ratti (Ita) Amica Chips - Knauf                                                
76 Christopher Jones (USA) Team Type 1                                                 
77 Omar Cervantes (Mex) Tecos De La Uga                                                
78 Bradley White (USA) Ouch Presented By Maxxis                                        
79 Andrew Pinfold (Can) Ouch Presented By Maxxis                                       
80 Roman Kilun (USA) Ouch Presented By Maxxis                                          
81 Manuel Hernandez (Mex) Orven                                                        
82 Kevin Lacombe (Can) Planet Energy                                                   
83 Sergio Hernandez (USA) Rock Racing                                                  
84 Jonathan Pat Mccarty (USA) Ouch Presented By Maxxis                                 
85 Ryan Roth (Can) Planet Energy                                                       
86 Cameron Evans (Can) Ouch Presented By Maxxis                                        
87 Christopher Baldwin (USA) Rock Racing                                               
88 Joel Alamillo (Mex) Arenas Tlaxcala                                             6.06
89 Simon Ortega (Mex) Arenas Tlaxcala                                                  
90 Yeinier Lopez (Cub) Cuban National Team                                             
91 Julio Alberto Perez (Mex) Canel'S Turbo                                         6.18
92 Arquimedes Lam (Mex) Tecos De La Uga                                            6.38
93 Lizardo Benitez (Cub) Cuban National Team                                       9.05
94 Yordeng Crespo (Cub) Cuban National Team                                            
95 Cody Campbell (Can) Trek Livestrong                                            19.38
96 Francesco Rivera (Ita) Amica Chips - Knauf                                          
97 Luis Alberto Muñoz (Mex) Region 1 Puebla                                            
98 Uri Martins (Mex) Region 4 Oaxaca                                                   
99 Alejandro Morales (Mex) Region 3 Estado                                             
100 Mario Chapul (Mex) Region 1 Puebla                                                 
101 Gavriel Epstein (Can) Tequila Afamado                                              
102 Jose Abraham Centeno (Mex) Tequila Afamado                                         
103 Felipe Montiel (Mex) Region 2 Occident                                             
104 Juan Ramon Juarez (Mex) Tequila Afamado                                            
105 Radames Treviño (Mex) Orven                                                        
106 Jorge Lopez (Mex) Region 4 Oaxaca                                                  
107 Marco Antonio Rios (Mex) Orven                                                     
108 Bruno Langlois (Can) Planet Energy                                                 
109 Ricardo Tapia (Mex) Region 4 Oaxaca                                                
DNF Ivan Melero (Spa) Burgos Monumental                                                
DNF Keir Plaice (Can) Planet Energy                                                    
DNF Domingo Gonzalez (Mex) Orven                                                       
 
Mountains
 
De Carretera, km 25
 
1 Christopher Baldwin (USA) Rock Racing                                               6 pts
2 Karl Menzies (Aus) Ouch Presented By Maxxis                                         5
3 Luis Fernando Macias (Mex) Mexican National Team                                    4
4 Daniel Holloway (USA) US National Team                                              3
5 Francisco Matamoros (Mex) Tecos De La Uga                                           1
 
De Carretera, km 60
 
1 Rafael Valls (Spa) Burgos Monumental                                                8 pts
2 Shawn Milne (USA) Team Type 1                                                       7
3 Florencio Ramos (Mex) Tecos De La Uga                                               6
4 Tyler Hamilton (USA) Rock Racing                                                    5
5 Luis Fernando Macias (Mex) Mexican National Team                                    3
 
De Carretera, km 111
 
1 Rafael Valls (Spa) Burgos Monumental                                               10 pts
2 Luis Fernando Macias (Mex) Mexican National Team                                    9
3 Floyd Landis (USA) Ouch Presented By Maxxis                                         7
4 Shawn Milne (USA) Team Type 1                                                       6
5 Florencio Ramos (Mex) Tecos De La Uga                                               5
6 Tyler Hamilton (USA) Rock Racing                                                    3
7 Enrique Gutierrez (Spa) Rock Racing                                                 2
8 David Vitoria (Swi) Rock Racing                                                     1
 
Sprints
 
Ixmiquilpan
1 Luis Fernando Macias (Mex) Mexican National Team                                    5 pts
2 Floyd Landis (USA) Ouch Presented By Maxxis                                         3
3 Rafael Valls (Spa) Burgos Monumental                                                2
 
Actopan
1 Luis Fernando Macias (Mex) Mexican National Team                                    5 pts
2 Rafael Valls (Spa) Burgos Monumental                                                3
3 Tyler Hamilton (USA) Rock Racing                                                    2
 
Pachuca
1 Florencio Ramos (Mex) Tecos De La Uga                                               5 pts
2 Shawn Milne (USA) Team Type 1                                                       3
3 Tyler Hamilton (USA) Rock Racing                                                    2
 
Teams
 
1 Tecos De La Uga                                                              10.22.16
2 Burgos Monumental - Casti                                                        0.50
3 Mexican National Team                                                                
4 Team Type 1                                                                          
5 Rock Racing                                                                      0.59
6 Ouch Presented By Maxxis                                                         1.04
7 USA National Team                                                                5.40
8 Serramenti Pvc Diquigiova                                                        5.41
9 Arenas Tlaxcala                                                                      
10 Canel's Turbo                                                                       
11 Region 3 Estado De Mexico                                                           
12 Region 1 Puebla Tlaxcala                                                            
13 Trek Livestrong                                                                     
14 Orven                                                                               
15 Region 4 Oaxaca Chocolate                                                           
16 Cuba National Team                                                                  
17 Amica Chips - Knauf                                                                 
18 Region 2 Occidente                                                             19.38
19 Planet Energy                                                                       
20 Tequila Afamado                                                                33.35
 
General Classification after Stage 7
 
1 Jackson Rodriguez (Ven) Serramenti Pvc Diquigiovanni - Androni Giocattoli    30.43.23
2 Carlos Lopez (Mex) Canel'S Turbo                                                 0.30
3 David Vitoria (Swi) Rock Racing                                                  0.42
4 Ignacio Sarabia (Mex) Mexican National Team                                      0.47
5 Glen Alan Chadwick (NZl) Rock Racing                                             0.53
6 Jose De Jesus Gomez (Mex) Canel'S Turbo                                          1.02
7 Bernardo Colex (Mex) Mexican National Team                                           
8 Leonardo Moser (Ita) Serramenti Pvc Diquigiovanni - Androni Giocattoli           1.14
9 Gilberto Simoni (Ita) Serramenti Pvc Diquigiovanni - Androni Giocattoli          2.08
10 Enrique Gutierrez (Spa) Rock Racing                                             2.18
11 Gregorio Ladino (Col) Tecos De La Uga                                           2.21
12 Byron Guama (Ecu) Burgos Monumental                                             2.23
13 Valery Kobzarenko (Ukr) Team Type 1                                             2.30
14 Peter Stetina (USA) US National Team                                                
15 Alfredo Gabino (Mex) Region 3 Estado                                                
16 Juan Pabl Magallanes (Mex) Mexican National Team                                2.42
17 Rafael Valls (Spa) Burgos Monumental                                            4.15
18 Carlos José Ochoa (Ven) Serramenti Pvc Diquigiovanni - Androni Giocattoli       4.18
19 Hector Hugo Rangel (Mex) Canel'S Turbo                                          4.53
20 Alvaro Antoni Argiro (Arg) Arenas Tlaxcala                                      6.29
21 Jorge Pancoatl (Mex) Region 1 Puebla                                            6.38
22 Epifanio Cortes (Mex) Arenas Tlaxcala                                           6.51
23 Arnold Alcolea (Cub) Cuban National Team                                        6.52
24 Florencio Ramos (Mex) Tecos De La Uga                                           7.08
25 Eder Arenas (Mex) Mexican National Team                                         7.19
26 Jose Ramon Aguirre (Mex) Canel'S Turbo                                          7.32
27 Julio Alberto Perez (Mex) Canel'S Turbo                                         7.44
28 Christopher Baldwin (USA) Rock Racing                                           7.54
29 Kirk Carlsen (USA) US National Team                                             8.14
30 John Fredy Parra (Col) Tecos De La Uga                                          8.54
31 Jesus Zarate (Mex) Tecos De La Uga                                             18.05
32 Rodolfo Fernandez (Mex) Orven                                                  18.09
33 Luis Fernando Macias (Mex) Mexican National Team                               19.33
34 Yeinier Lopez (Cub) Cuban National Team                                        19.46
35 Francisco Matamoros (Mex) Tecos De La Uga                                      24.11
36 Roman Kilun (USA) Ouch Presented By Maxxis                                     24.56
37 Cesar Vaquera (Mex) Orven                                                      25.46
38 Uriel Clara (Mex) Canel'S Turbo                                                27.26
39 Arquimedes Lam (Mex) Tecos De La Uga                                           28.16
40 Floyd Landis (USA) Ouch Presented By Maxxis                                    29.08
41 Taylor Shelden (USA) US National Team                                          30.26
42 Luis Alejand Zamudio (Mex) Tequila Afamado                                     31.16
43 Luis Pulido (Mex) Mexican National Team                                        31.33
44 Ryan Bauman (USA) Trek Livestrong                                              31.34
45 Jonathan Pat Mccarty (USA) Ouch Presented By Maxxis                            33.54
46 Tyler Hamilton (USA) Rock Racing                                               34.35
47 Bradley White (USA) Ouch Presented By Maxxis                                   34.40
48 Rafael Escarcega (Mex) Region 3 Estado                                         35.28
49 Shawn Milne (USA) Team Type 1                                                  37.49
50 Arturo Peña (Mex) Region 2 Occident                                            39.22
51 Edgardo Lugo (Mex) Region 3 Estado                                             40.26
52 Alberto Huitzil (Mex) Region 1 Puebla                                          41.52
53 Antonio Aldape (Mex) Mexican National Team                                     45.34
54 Christopher Jones (USA) Team Type 1                                            47.07
55 Karl Menzies (Aus) Ouch Presented By Maxxis                                    48.13
56 Sergio Hernandez (USA) Rock Racing                                             49.49
57 Joel Alamillo (Mex) Arenas Tlaxcala                                            50.27
58 Elio Frausto (Mex) Region 4 Oaxaca                                             50.47
59 Cameron Evans (Can) Ouch Presented By Maxxis                                   53.39
60 Fausto Fognini (Ita) Amica Chips - Knauf                                       54.23
61 Eddy Ratti (Ita) Amica Chips - Knauf                                           55.07
62 Ryan Roth (Can) Planet Energy                                                  56.34
63 Bjorn Selander (USA) Trek Livestrong                                           59.43
64 Ian Macgregor (USA) Team Type 1                                                59.44
65 Juan Ramon Juarez (Mex) Tequila Afamado                                      1.01.17
66 Gerardo Soto (Mex) Region 1 Puebla                                           1.04.41
67 Jose Abraham Centeno (Mex) Tequila Afamado                                   1.05.25
68 Alien Garcia (Cub) Cuban National Team                                       1.06.13
69 Yordeng Crespo (Cub) Cuban National Team                                     1.09.37
70 Adonis Cardoso (Cub) Cuban National Team                                     1.10.48
71 Omar Cervantes (Mex) Tecos De La Uga                                         1.12.30
72 Thomas Bertolini (Ita) Serramenti Pvc Diquigiovanni - Androni Giocattoli     1.13.39
73 Christopher Barton (USA) US National Team                                    1.14.00
74 Rodolfo Avila (Mex) Region 3 Estado                                          1.14.36
75 Lizardo Benitez (Cub) Cuban National Team                                    1.15.25
76 Andrew Pinfold (Can) Ouch Presented By Maxxis                                1.15.32
77 Marco Antonio Rios (Mex) Orven                                               1.15.33
78 Joaquin Sobrino (Spa) Burgos Monumental                                      1.17.12
79 Alfredo Cruz (Mex) Region 2 Occident                                         1.17.40
80 Marco Anto Escarcega (Mex) Arenas Tlaxcala                                   1.18.07
81 Carlos Cruz (Mex) Region 4 Oaxaca                                            1.18.11
82 Taylor Phinney (USA) Trek Livestrong                                         1.20.53
83 Enrique Mata (Spa) Burgos Monumental                                         1.20.56
84 Simon Ortega (Mex) Arenas Tlaxcala                                           1.23.37
85 Vicenzo Garofolo (Ita) Amica Chips - Knauf                                   1.24.52
86 Benjamin King (USA) Trek Livestrong                                          1.27.46
87 Jose De Gonzalez (Mex) Region 3 Estado                                       1.28.29
88 Manuel Hernandez (Mex) Orven                                                 1.28.44
89 Colby Pearce (USA) US National Team                                          1.28.56
90 Jorge Lopez (Mex) Region 4 Oaxaca                                            1.31.39
91 Fabio Calabria (Aus) Team Type 1                                             1.31.43
92 Guy East (USA) Trek Livestrong                                               1.38.09
93 David Tanner (Aus) Rock Racing                                               1.38.46
94 Radames Treviño (Mex) Orven                                                  1.43.26
95 Felipe Montiel (Mex) Region 2 Occident                                       1.46.40
96 Alejandro Morales (Mex) Region 3 Estado                                      1.46.54
97 Denis Bertolini (Ita) Serramenti Pvc Diquigiovanni - Androni Giocattoli      1.48.06
98 Luis Alberto Muñoz (Mex) Region 1 Puebla                                     1.48.56
99 Uri Martins (Mex) Region 4 Oaxaca                                            1.50.31
100 Ricardo Tapia (Mex) Region 4 Oaxaca                                         1.51.00
101 Mauricio Frazer (Arg) Arenas Tlaxcala                                       1.52.03
102 Bruno Langlois (Can) Planet Energy                                          1.54.28
103 Francesco Rivera (Ita) Amica Chips - Knauf                                  2.00.51
104 Gavriel Epstein (Can) Tequila Afamado                                       2.01.23
105 Kevin Lacombe (Can) Planet Energy                                           2.01.53
106 Austin Carroll (USA) US National Team                                       2.03.13
107 Ivan Carbajal (Mex) Region 4 Oaxaca                                         2.08.41
108 Mario Chapul (Mex) Region 1 Puebla                                          2.12.31
109 Cody Campbell (Can) Trek Livestrong                                         2.13.24
 
Mountains classification
 
1 David Vitoria (Swi) Rock Racing                                                    55 pts
2 Juan Pabl Magallanes (Mex) Mexican National Team                                   51
3 Christopher Jones (USA) Team Type 1                                                49
4 Hector Hugo Rangel (Mex) Canel'S Turbo                                             40
5 John Fredy Parra (Col) Tecos De La Uga                                             34
6 Glen Alan Chadwick (NZl) Rock Racing                                               23
7 Francesco Rivera (Ita) Amica Chips - Knauf                                         23
8 Carlos Lopez (Mex) Canel'S Turbo                                                   21
9 Christopher Baldwin (USA) Rock Racing                                              20
10 Arquimedes Lam (Mex) Tecos De La Uga                                              19
11 Tyler Hamilton (USA) Rock Racing                                                  19
12 Rafael Valls (Spa) Burgos Monumental                                              18
13 Eddy Ratti (Ita) Amica Chips - Knauf                                              17
14 Jackson Rodriguez (Ven) Serramenti Pvc Diquigiovanni - Androni Giocattoli         16
15 Luis Fernando Macias (Mex) Mexican National Team                                  16
16 Andrew Pinfold (Can) Ouch Presented By Maxxis                                     15
17 Shawn Milne (USA) Team Type 1                                                     13
18 Francisco Matamoros (Mex) Tecos De La Uga                                         12
19 Florencio Ramos (Mex) Tecos De La Uga                                             11
20 Bernardo Colex (Mex) Mexican National Team                                        10
21 Karl Menzies (Aus) Ouch Presented By Maxxis                                        9
22 Cameron Evans (Can) Ouch Presented By Maxxis                                       9
23 Gilberto Simoni (Ita) Serramenti Pvc Diquigiovanni - Androni Giocattoli            8
24 Gregorio Ladino (Col) Tecos De La Uga                                              8
25 Bradley White (USA) Ouch Presented By Maxxis                                       8
26 Peter Stetina (USA) US National Team                                               7
27 Floyd Landis (USA) Ouch Presented By Maxxis                                        7
28 Rafael Escarcega (Mex) Region 3 Estado                                             7
29 Simon Ortega (Mex) Arenas Tlaxcala                                                 7
30 Ignacio Sarabia (Mex) Mexican National Team                                        6
31 Jorge Lopez (Mex) Region 4 Oaxaca                                                  6
32 David Tanner (Aus) Rock Racing                                                     6
33 Byron Guama (Ecu) Burgos Monumental                                                5
34 Roman Kilun (USA) Ouch Presented By Maxxis                                         5
35 Uriel Clara (Mex) Canel'S Turbo                                                    4
36 Arnold Alcolea (Cub) Cuban National Team                                           3
37 Sergio Hernandez (USA) Rock Racing                                                 3
38 Enrique Gutierrez (Spa) Rock Racing                                                2
 
Combative classification
 
1 Karl Menzies (Aus) Ouch Presented By Maxxis                                        37 pts
2 Francesco Rivera (Ita) Amica Chips - Knauf                                         26
3 Andrew Pinfold (Can) Ouch Presented By Maxxis                                      15
4 Peter Stetina (USA) US National Team                                               14
5 Christopher Jones (USA) Team Type 1                                                13
6 Luis Fernando Macias (Mex) Mexican National Team                                   12
7 John Fredy Parra (Col) Tecos De La Uga                                              8
8 Cameron Evans (Can) Ouch Presented By Maxxis                                        8
9 Juan Pabl Magallanes (Mex) Mexican National Team                                    8
10 Tyler Hamilton (USA) Rock Racing                                                   8
11 Manuel Hernandez (Mex) Orven                                                       8
12 David Vitoria (Swi) Rock Racing                                                    6
13 Glen Alan Chadwick (NZl) Rock Racing                                               6
14 Arquimedes Lam (Mex) Tecos De La Uga                                               6
15 Valery Kobzarenko (Ukr) Team Type 1                                                5
16 Florencio Ramos (Mex) Tecos De La Uga                                              5
17 Christopher Baldwin (USA) Rock Racing                                              5
18 Lizardo Benitez (Cub) Cuban National Team                                          5
19 Rafael Valls (Spa) Burgos Monumental                                               5
20 Simon Ortega (Mex) Arenas Tlaxcala                                                 5
21 Jesus Zarate (Mex) Tecos De La Uga                                                 3
22 Floyd Landis (USA) Ouch Presented By Maxxis                                        3
23 Shawn Milne (USA) Team Type 1                                                      3
24 Eddy Ratti (Ita) Amica Chips - Knauf                                               3
25 Hector Hugo Rangel (Mex) Canel'S Turbo                                             2
26 Epifanio Cortes (Mex) Arenas Tlaxcala                                              2
27 Francisco Matamoros (Mex) Tecos De La Uga                                          2
28 Bradley White (USA) Ouch Presented By Maxxis                                       2
29 Sergio Hernandez (USA) Rock Racing                                                 2
 
Best young rider classification
 
1 Peter Stetina (USA) US National Team                                         30.45.53
2 Rafael Valls (Spa) Burgos Monumental                                             1.45
3 Jose Ramon Aguirre (Mex) Canel'S Turbo                                           5.02
4 Kirk Carlsen (USA) US National Team                                              5.44
5 Cesar Vaquera (Mex) Orven                                                       23.16
6 Taylor Shelden (USA) US National Team                                           27.56
7 Ryan Bauman (USA) Trek Livestrong                                               29.04
8 Rafael Escarcega (Mex) Region 3 Estado                                          32.58
9 Arturo Peña (Mex) Region 2 Occident                                             36.52
10 Alberto Huitzil (Mex) Region 1 Puebla                                          39.22
11 Bjorn Selander (USA) Trek Livestrong                                           57.13
12 Thomas Bertolini (Ita) Serramenti Pvc Diquigiovanni - Androni Giocattoli     1.11.09
13 Christopher Barton (USA) US National Team                                    1.11.30
14 Alfredo Cruz (Mex) Region 2 Occident                                         1.15.10
15 Taylor Phinney (USA) Trek Livestrong                                         1.18.23
16 Simon Ortega (Mex) Arenas Tlaxcala                                           1.21.07
17 Benjamin King (USA) Trek Livestrong                                          1.25.16
18 Jorge Lopez (Mex) Region 4 Oaxaca                                            1.29.09
19 Fabio Calabria (Aus) Team Type 1                                             1.29.13
20 Guy East (USA) Trek Livestrong                                               1.35.39
21 Radames Treviño (Mex) Orven                                                  1.40.56
22 Alejandro Morales (Mex) Region 3 Estado                                      1.44.24
23 Luis Alberto Muñoz (Mex) Region 1 Puebla                                     1.46.26
24 Uri Martins (Mex) Region 4 Oaxaca                                            1.48.01
25 Austin Carroll (USA) US National Team                                        2.00.43
26 Ivan Carbajal (Mex) Region 4 Oaxaca                                          2.06.11
27 Mario Chapul (Mex) Region 1 Puebla                                           2.10.01
28 Cody Campbell (Can) Trek Livestrong                                          2.10.54
 
Best Mexican rider classification
 
1 Carlos Lopez (Mex) Canel'S Turbo                                             30.43.53
2 Ignacio Sarabia (Mex) Mexican National Team                                      0.17
3 Jose De Jesus Gomez (Mex) Canel'S Turbo                                          0.32
4 Bernardo Colex (Mex) Mexican National Team                                           
5 Alfredo Gabino (Mex) Region 3 Estado                                             2.00
6 Juan Pabl Magallanes (Mex) Mexican National Team                                 2.12
7 Hector Hugo Rangel (Mex) Canel'S Turbo                                           4.23
8 Jorge Pancoatl (Mex) Region 1 Puebla                                             6.08
9 Epifanio Cortes (Mex) Arenas Tlaxcala                                            6.21
10 Florencio Ramos (Mex) Tecos De La Uga                                           6.38
11 Eder Arenas (Mex) Mexican National Team                                         6.49
12 Jose Ramon Aguirre (Mex) Canel'S Turbo                                          7.02
13 Julio Alberto Perez (Mex) Canel'S Turbo                                         7.14
14 Jesus Zarate (Mex) Tecos De La Uga                                             17.35
15 Rodolfo Fernandez (Mex) Orven                                                  17.39
16 Luis Fernando Macias (Mex) Mexican National Team                               19.03
17 Francisco Matamoros (Mex) Tecos De La Uga                                      23.41
18 Cesar Vaquera (Mex) Orven                                                      25.16
19 Uriel Clara (Mex) Canel'S Turbo                                                26.56
20 Arquimedes Lam (Mex) Tecos De La Uga                                           27.46
21 Luis Alejand Zamudio (Mex) Tequila Afamado                                     30.46
22 Luis Pulido (Mex) Mexican National Team                                        31.03
23 Rafael Escarcega (Mex) Region 3 Estado                                         34.58
24 Arturo Peña (Mex) Region 2 Occident                                            38.52
25 Edgardo Lugo (Mex) Region 3 Estado                                             39.56
26 Alberto Huitzil (Mex) Region 1 Puebla                                          41.22
27 Antonio Aldape (Mex) Mexican National Team                                     45.04
28 Joel Alamillo (Mex) Arenas Tlaxcala                                            49.57
29 Elio Frausto (Mex) Region 4 Oaxaca                                             50.17
30 Juan Ramon Juarez (Mex) Tequila Afamado                                      1.00.47
31 Gerardo Soto (Mex) Region 1 Puebla                                           1.04.11
32 Jose Abraham Centeno (Mex) Tequila Afamado                                   1.04.55
33 Omar Cervantes (Mex) Tecos De La Uga                                         1.12.00
34 Rodolfo Avila (Mex) Region 3 Estado                                          1.14.06
35 Marco Antonio Rios (Mex) Orven                                               1.15.03
36 Alfredo Cruz (Mex) Region 2 Occident                                         1.17.10
37 Marco Anto Escarcega (Mex) Arenas Tlaxcala                                   1.17.37
38 Carlos Cruz (Mex) Region 4 Oaxaca                                            1.17.41
39 Simon Ortega (Mex) Arenas Tlaxcala                                           1.23.07
40 Jose De Gonzalez (Mex) Region 3 Estado                                       1.27.59
41 Manuel Hernandez (Mex) Orven                                                 1.28.14
42 Jorge Lopez (Mex) Region 4 Oaxaca                                            1.31.09
43 Radames Treviño (Mex) Orven                                                  1.42.56
44 Felipe Montiel (Mex) Region 2 Occident                                       1.46.10
45 Alejandro Morales (Mex) Region 3 Estado                                      1.46.24
46 Luis Alberto Muñoz (Mex) Region 1 Puebla                                     1.48.26
47 Uri Martins (Mex) Region 4 Oaxaca                                            1.50.01
48 Ricardo Tapia (Mex) Region 4 Oaxaca                                          1.50.30
49 Gavriel Epstein (Can) Tequila Afamado                                        2.00.53
50 Ivan Carbajal (Mex) Region 4 Oaxaca                                          2.08.11
51 Mario Chapul (Mex) Region 1 Puebla                                           2.12.01
 
Teams classification
 
1 Rock Racing                                                                  92.06.51
2 Mexican National Team                                                        92.07.18
3 Serramenti Pvc Diquigiovanni-Androni Giocattoli                              92.13.13
4 Canel's Turbo                                                                92.13.58
5 Tecos De La Universidad Autonoma De Guadalajara                              92.24.09
6 USA National Team                                                            92.51.18
7 Arenas Tlaxcala                                                              93.09.13
8 Burgos Monumental                                                            93.15.41
9 Cuba National Team                                                           93.15.58
10 Region 3 Estado De Mexico                                                   93.20.01
11 Ouch Presented By Maxxis                                                    93.21.55
12 Team Type 1                                                                 93.22.14
13 Orven                                                                       93.54.23
14 Region 1                                                                    94.03.20
15 Tequila Afamado                                                             94.39.03
16 Region 4 Oaxaca Chocolate Mayordomo                                         94.53.09
17 Trek Livestrong                                                             95.02.19
18 Amica Chips                                                                 95.23.33
19 Region 2                                                                    95.34.55
20 Planet Energy                                                               96.47.27