USA Crits Finals - NE
Las Vegas, Nevada, September 25, 2008
2007 Results Results Past winners
Clarke adds to fast season with Vegas crit
By Mark Zalewski, North American Editor in Las Vegas, Nevada
Hilton Clarke (Toyota United) made the sprint look easy
Photo ©: Jon Devich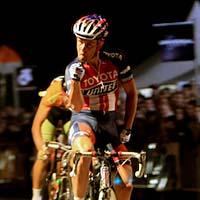 Hilton Clarke (Toyota-United) has been money all season, at least when it comes to his specialty of crit racing. His wins this season include Elk Grove, Chris Thater, Mt. Hood, and most recently the Capital Criterium — all crits. So when picking favourites for the USA Crits Series finale at the Mandalay Bay casino in Las Vegas, the smart money was on Clarke. And he did not disappoint, using a few teammates to help him navigate what he called a dangerous course for the final win of the season.
"Tonight was all about composure," Clarke told Cyclingnews. "I don't mind a bit of a sketchy race but tonight was pretty damned dangerous. I just had the best cornerer [sic] in the race with [Ivan] Stevic, and I just stuck to his wheel and kept my composure. I'm really proud of myself for being able to relax those last five laps and make sure I took the first corner on the last lap right."
The course was similar to last year's, set up in the rear parking lot of the casino, with barriers making up the entire course. "There is not place on the course where you can just open up the throttle, it's all corners!" said Clarke.
The most dangerous spot on the course was, as it was last year, the first corner — a 90 degree turn that riders take at high speed after coming off a long sweeping turn. Clarke said the race was to be won or lost in that corner entering the final lap.
"The final corner of the race was really the first corner, not the last corner. I told Stevic he can hit the front with three to go and just get me to the front there with one to go. That is exactly what he did. As soon as we were [through] it didn't matter. There were so many corners after, it didn't matter if you were sitting on or not."
Keeping true to form, that corner saw a crash on the very first lap when the second-placed rider Steve Tilford went down. "I don't think I went further back than fifth wheel the whole race. I still had guys crashing in front of me but I kept my distance going into the corners."
After surviving that turn, thanks to Stevic, it was game-on for Clarke. "[Ricardo] Escuela (Successfulliving) jumped me and then stopped and the guy that came second jumped me with two corners to go and that was perfect. I was on his wheel, gave him a bit of distance in the last corner and then took it much better."
When asked about the biggest threats to him in the race, he smiled and said, "Corner 1, 2, 3, 4, 5..."
"As long as I could stay up... that is how dangerous it was! I was third place into the first turn on the first lap and the guy in front of me went down! Second wheel, first lap, and he went down."
Back in the field, Cuban Yosvany Falcon (Toshiba-Santo) managed to squeak out enough points to claim the overall series title.
But the book is not closed on Clarke, who, like many of his Toyota-United teammates, is still looking for a job next season with no title sponsor on the horizon.
McRae shucks bridesmaid duties for win
Jen McRae (Advil-Chapstick) crosses the line
Photo ©: Jon Devich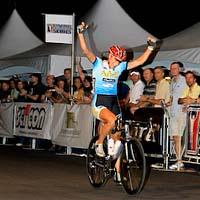 Jenn McRae (Advil-Chapstick) has been knocking on the door for a crit win all season long, coming close recently at the US criterium championships with a third place. But Thursday night in Vegas was her night, and she stepped up to the top step with a solo breakaway in the final laps for her win.
"I am so pumped!" she told Cyclingnews. "Because it works on you a little bit — you are consistent and consistent, but I've been third all season long. Being the bridesmaid and never the bride all season!"
McRae said she was aptly prepared for this race because it is like the race she does every Thursday night back home. "Every Thursday in my hometown of Austin there is a race course just like this that I train with the guys. So it was just like a common routine — Thursday night out doing my thing."
She and Christine Smith escaped from the field when one of the many previous attacks were caught, causing a lull in the field.
"The teams didn't have the depth, it was just Colavita and Cheerwine," said McRae. "We were missing the Brooke [Miller] powerhouse TIBCO team to throw the muscle, so that is why more opportunities came up."
The opportunity she capitalized on was one of the most dangerous moves of the race, with current US cyclo-cross champion Katie Compton (Spike) and multi-time US criterium champion Tina Pic (Colavita-Sutter Home) off the front. The alarm bells rang loud and clear with these two away, and it was a hard chase to bring them back.
So once the catch was made an expected lull set in and the final two went away with four laps to go. Two laps later it was McRae simply riding Smith off her wheel. "I didn't attack her but I could tell she wasn't quite holding the same pace, when I got behind her I could hear we were losing some seconds. So I just kept my pace going."
In the field sprint series leader Kelly Benjamin (Cheerwine) took fifth, which was enough to secure her overall victory.
Photography
For a thumbnail gallery of these images, click here
Images by Jonathan Devich/

Results
Pro men

1 Hilton Clarke (Toyota-United Pro Cycling Team)      1.26.48
2 Aldo Ilesic                                                
3 Adam Myerson (Time Pro Cycling)                            
4 Jonathan Cantwell (Jittery Joe's Pro Cycling)              
5 Tony Cruz (BMC Racing Team)                                
6 Maxime Vives (Calyon Pro Cycling Team)                     
7 Yosvany Falcon (Toshiba-Santo Presented by Herbalife)      
8 Tom Soloday (Time Pro Cycling)                             
9 Eric Barlevav (Time Pro Cycling)                           
10 Mark Hekman (TOSHIBA-Santo presented by Herbalife)        
11 Facundo Bazzi (AeroCat/ Latino Cyling)                    
12 Evan Elken (Jittery Joe's Pro Cycling)                    
13 Michael Mueller (Atlas Romer's)                           
14 Jim Mohan (Horizon Organic Cycling)                       
15 Andrew Dahlheim (Metro Volkswagen Cycling Team)           
16 Matthew Hansley (Locos Grill & Pub)                       
17 Yuriy Metlushenko (Amore Vita-Mcdonalds)                  
18 Steve Tilford (Trek)                                      
19 Jaime Gandara (Team Inferno Pro Cycling)                  
20 Brian Forbes (RIDECLEAN)                                  
21 Jake Hollenbach (CCB/Volkswagen)                          
22 Grant Potter (Herbalife)                                  
23 Jonny Sundt (Kelly Benefits Medifast Strateg)             
24 Christian Helmig (Metro Volkswagen Cycling Team)          
25 David Harward (Canyon Bicycles-Draper)                    
26 Devon Vigus (California Giant Berry Farms/Specialized)    
27 Seth Hansley (Locos Grill & Pub)                          
28 Chris Demarchi (Team 5 Star)                          0.09
29 Louie Amelburu (PaulTracy.com)                            
30 Ryan Mele (Richmond Pro Cycling)                          
31 Frank Travieso (TOSHIBA-Santo presented by Herbalife)     
32 Boyd Johnson (DLP Racing)                                 
33 Chuck Coyle (Successful Living)                       0.21
34 Vincent Owens (Sierra Pacific Racing)                     
35 Alessandro Bazzana (Team Successful Living)               
36 Ricardo Escuela (Team Successful Living)                  
37 Philip Cortes (Amore Vita-Mcdonalds)                  0.31
38 Ivan Stevic (Toyota-United)                               
39 Michael Stevenson (Amore Vita-Mcdonalds)              1.12
 
Elite Women
 
1 Jen McRae (Team Advil-ChapStick)                    1.04.25
2 Tina Pic (Colavita/Sutter Home)                        0.31
3 Laura Van Gilder (Cheerwine Cycling)                       
4 Martina Patella (ValueAct Capital Cycling Team)            
5 Samantha Schneider (Colavita/Sutter Home)                  
6 Kelly Benjamin (Cheerwine Cycling)                         
7 Sabrina Savage (Veloforma)                                 
8 Jennifer Wilson (Vanderkitten Racing)                      
9 Christina Smith (LoneStarWorks.com)                        
10 Tiffany Pezzulo (Park City Iron Man)                      
11 Beatriz Rodriguez (SC Velo)                               
12 Katie Compton (Spike Shooter)                             
13 Taitt Sato (ValueAct Capital Cycling Team)                
14 Meredith Miller (Aaron's Pro Cycling Team)                
15 Lauren Franges (Team Tibco)                               
16 Melissa Sanborn (Vanderkitten Racing)                     
17 Kacey Manderfield (Verducci/Breakaway Racing)             
18 Kendall Ryan (Major Motion Junior Development)            
19 Melodie Metzger (Vanderkitten Racing)                     
20 Carrie Cash-Wootten (Team Revolution)                     
21 Shontell Gauthier (Colavita/Sutter Home)                  
22 Liza Rachetto (TEAM TIBCO)                                
23 Elizabeth Morse-Hill (Hub Racing)                         
24 Alicia Boland (Banning's Bikes- Ducati)                   
25 Nicky Wangsgard (Colavita/Sutter Home)                    
26 Yukie Nakamura (Team Kenda Tire)                          
27 Shannon Koch (Metro Volkswagen Cycling Team)              
28 Jessie Maclean (Verducci/Breakaway Racing)                
29 Leigh Valletti (Vanderkitten Racing)                      
30 Liz Hatch (Vanderkitten Racing)                       0.44
31 Allyson Brandt (Cheerwine Cycling)                    0.49
32 Hilary Crowley (Banning's Bikes, Ducati Women's)      1.00 

Past winners
Men

2007 Ivan Dominguez (Toyota-United Pro Cycling)    

Women

2007 Laura Van Gilder (Cheerwine)