USA Crits Series - NE
USA and Canada, April 26-September 25, 2008
Main Page Results Overall standings Previous Stage Next Stage
Stage 9 - August 24: Chris Thater Memorial, Binghamton, New York
Clarke capitalizes off previous victory know-how
By Kirsten Robbins in Binghamton, New York
Hilton Clarke (Toyota United) claims victory
Photo ©: David Williams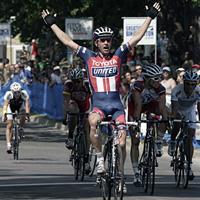 Australia's Hilton Clarke (Toyota-United) took his second victory in the Chris Thater Memorial criterium when he dominated a mid-race break containing eight riders. The leaders included some of the fastest sprinters in the nation. Clarke flew out of the final corner in fourth position and overtook Argentina's Alejandro Borrajo (Colavita-Sutter Home) and Canada's Eric Boily (Equipe Volkswagen) at the line.
"I didn't want to be first out of the last corner because of the head wind we had to face on the way to the finish line," said Clarke who won the event in 2006. "It ended up working out well because all the other guys were fighting for the last corner and I just sat in behind them – I was lucky enough to have experience on this course."
With one lap to go, Boily attacked on the final ascent hoping to get away from the speedsters before the final corner. With a short jaunt from the last turn to the finish line, it felt intuitive for the sprinters to race for the sweet spot first. However, his previous experience at victory told Clarke otherwise.
"I just knew from the last time I won here that the downhill is a bit deceptive," continued Clarke. "Because I waited, I then got a real good slingshot passed the other riders."
Some 120 riders lined up to start the silver anniversary criterium, an event held in memory of a young man whose life was tragically cut short by a drunk driver. The race also marked on of the final events on both the NRC and USA Crit series' where riders vie for points.
Multiple teams like Toyota-United, Kelly Benefit Strategies-Medifast, Colavita-Sutter Home, Team Race Pro, Toshiba, Empire, Fiordifrutta and Time Pro animated the first half of the men's 40-lap race.
All separation attempts were short lived until the pair of Canadians Boily and David Veilleux (Kelly Benefit Strategies-Medifast) launched themselves into a counter move mid-race. The attack turned into the winning breakaway.
Men's podium (L-R): Alejandro Borrajo (Colavita/Sutter Home), Hilton Clarke (Toyota United)
Photo ©: David Williams

"David and I are good friends and we wanted to see if we could go in a break away together today," said third placed Boily, surprised that his sprint landed him on to the podium. "I worked hard today, we all did. I was pretty worried because there were so many fast sprinters."
The move became even more prominent when Borrajo initiated a bridge that contained six other notable sprinters. They included Clarke and Borrajo along with Argentinean national champion Gerardo Fernandez (MikeFraysseSports), Mark Hekman (Toshiba), Mark Walters (Team Race Pro) and Thomas Soladay (Time Pro Cycling).
"I followed him [Borrajo] and I think Toyota-United and Colavita-Sutter Home were obviously happy with it," said Clarke regarding the two teams dominant teams, in speed and numbers. "In one sense it wasn't ideal because we had all the fastest guys together but on the other hand it was ideal because we had all the fastest guys against one another. I think Toyota-United shut it down from behind."
The bunch behind was relatively content to let the leaders gain a maximum of 1'30". On separate occasions, Amos Brumble (CCB-Volkswagen) and Jermaine Burrowes (WS United) tested their legs and tried to gain time on the slowing field. The opportunists hung in no man land for several laps before slipping back into the bunch.
The main field became animated with four laps to go and riders from Colavita-Sutter Home, Bissell, Health Net and CCB Volkswagen brought the leaders back to with in 30 seconds on the last lap.
Pic drag races Van Gilder for a victory
Tina Pic (Colavita/Sutter Home) leads break-away mate
Photo ©: David Williams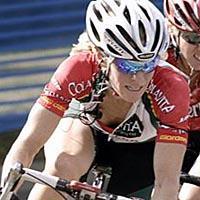 Tina Pic (Colavita-Sutter Home) won a two-up breakaway sprint to the line ahead of her most dominant competitor Laura Van Gilder (Cheerwine). Kacey Manderfield (Verducci) won the chase group sprint for third place.
"We went really early and I was actually already fried," said Tina regarding the lengthy criterium under extremely warm temperatures. "Then I realized we still had 20-laps to go. We worked really well and Laura did a great job. This is one of my favourite races. The crowds are great and it's just really fun."
It is not unusual that the pair of decorated sprinters broke away from an active field just five-laps into the women's 30-lap event. The ladies hold more than five hundred career victories between the two of them and are currently chasing one another for the NRC's top ranking.
"Tina and I really key off each other and we're equally threatening to one another and she's been glued to my wheel all season. It goes with out saying that I'm usually trying to get away from her and she's marking me. She worked hard out there. I was hoping to take the sprint and we came down the straight side by side. Tina's a formidable competitor and I respect her a lot. We raced a good race and it's great to be on the podium."
A chase group of five riders formed mid-race that included Manderfield along with Ann Samplonius (Cheerwine), Nichole Wangsgard and Anna McLoon (Colavita-Sutter Home), Laura McCaughey (Juice Plus).
They continued to take even rotations gaining a sizeable lead on the main bunch. Cheerwine continued to be aggressive, forcing small separations from the main field hoping to bridge across to the chase group. Advil/ChapStick and Independent Fabrication tried their hand at crossing the gap but none were successful.
"My Cheerwine team was looking forward to putting on a good show today," VanGilder expanded on the finish. "I certainly had my work cut out for me, being in break with Tina. I was ready to put on a good show in the finish. Unfortunately, I came up short but it wasn't from a lack of trying. We both worked really hard out there."
The chase group came baring down on the last lap and Manderfield jumped through the descent on the last lap. Her timely move forced the Colavita-Sutter Home pair to chase her back. Nevertheless, the young talent held her position at the front behind Samplonius. The pair blasted around the final turn to the line and Manderfield claiming the last place on the podium.
"I sat up and tried to regroup myself after I jumped," said Manderfield. "I dove inside Samplonius and tried to bust it again to hold the others off on the last straightaway – Luckily I was able to make it there first."
The Chris Thater Memorial event is a project of the Broome County STOP-DWI Program to heighten awareness about the drunk-driving problem. The race attracts over 1,500 participants from local athletes to world-class competitors with crowds of over 12,000 spectators.
Photography
For a thumbnail gallery of these images, click here
Images by David Williams
Results

Pro/1 Men
 
1 Hilton Clarke (Toyota United)                 55.33
2 Alejandro Borrajo (Colavita/Sutter Home)       0.01
3 Eric Boily (Equipe Volkswagen)                     
4 David Veilleux (Kelly Benefit/Medifast)            
5 Gerardo Fernandez (MikeFraysseSports.com)          
6 Mark Hekman (Toshiba-Santo)                        
7 Mark Walters (Team Race Pro)                   0.02
8 Thomas Soladay (Time Pro Cycling)              0.03
9 Kyle Wamsley (Colavita/Sutter Home)            0.20
10 John Murphy (HealthNet)                           
11 Yosvany Falcon (Toshiba-Santo)                0.21
12 Keven Lacombe (Kelly Benefit/Medifast)            
13 Jake Hollenbach (CCB/Volkswagen)              0.22
14 Lisban Quintero (CRCA/Foundation)                 
15 Jake Keough (Kelly Benefit/Medifast)              
16 Russ Langley (Battley Harley Davidson)            
17 Tyler Wren (Colavita/Sutter Home)                 
18 Adam Myerson (Time Pro Cycling)                   
19 Eric Barlevav (Time Pro Cycling)                  
20 Davide Frattini (Colavita/Sutter Home)            
21 Stephan Kincaid (Rite Aid Pro Cycling)            
22 Ryan Roth (R.A.C.E. Pro)                          
23 Gerardo Castro (Richmond Pro Cycling)         0.23
24 Craig Dodson (Richmond Pro Cycling)               
25 Brendan Cornett (Mechanical Services)         0.24
26 Nick Frey (Time Pro Cycling)                      
27 Eric Schildge (Fiordifrutta)                      
28 Matt White (Fiordifrutta)                         
29 Luis Amaran (Colavita/Sutter Home)                
30 Nick Friesen (GS Mengoni)                         
31 Sean Sullivan (Toyota United)                     
32 Jeff Buckles (Richmond Pro Cycling)               
33 William Dugan (CCB/Volkswagen)                0.25
34 Michael Norton (Calyon Pro Cycling)           0.26
35 Tim Johnson (HealthNet)                           
36 Clayton Barrows (Rite Aid Pro Cycling)            
37 Bruno Langlois (Equipe Volkswagen)            0.27
38 Esteban Jukich (Richmond Pro Cycling)             
39 Mike Margarite (CRCA/Empire Cycling)          0.29
40 Shane Kline (Kelly Benefit/LSV Ama)               
41 Alex Bhogal (Main Line BiKyle)                    
42 Bennet van der Genugten (Team Inferno)        0.30
43 Nick Keough (CRCA/Sakonnet)                       
44 Cheyne Hoag (CRCA/Sakonnet)                       
45 Michael Stoop (Time Pro Cycling)                  
46 Ryan Dewald (Battley Harley Davidson)             
47 Melito Heredia (Innovation Bike)              0.31
48 Isaac Howe (NorEast Cycling)                      
49 Ryan Mele (Richmond Pro Cycling)              0.32
50 Toby Marzot (Fiordifrutta)                        
51 Josh Dillon (Fiordifrutta)                        
52 Marc Boudreau (Ride With Rendall)             0.34
53 Jackie Simes IV (Time Pro Cycling)            0.35
54 Stephen Weller (Fiordifrutta)                     
55 Henk Vogels (Toyota United)                       
56 Caleb Manion (Toyota United)                      
57 Matthew Johnson (CRCA/Empire Cycling)             
58 Karl Menzies (HealthNet)                          
59 Jamie Kimberley (Kelly Benefit/LSV Ama)           
60 Amos Brumble (CCB/Volkswagen)                     
61 Clay Mufret (Kelly Benefit/Medifast)          0.36
62 Justin Spinelli (Kelly Benefit/Medifast)          
63 Mark Pozniak (Team Race Pro)                      
64 Frank Travieso (Toshiba-Santo)                0.37
65 Jonny Clarke (Toyota United)                      
66 Jermaine Burrowes (WS United/Sheepshead)      0.42
67 William Elliston (Rite Aid Pro Cycling)       0.49
68 Jared Nieters (HaymarketBike/Functio)         0.50
69 Cory Burns (Fiordifrutta)                     0.59
70 Mark Warno (Imm. Mort. Artemis)               1.02
71 Hayden Godfrey (Team Inferno)                 1.12
72 Luca Damiani (Colavita/Sutter Home)           1.18
73 Scott Zwizanski (Bissell Pro Cycling)         1.19
74 Gustavo Artacho (Colavita/Sutter Home)        1.25
 
Women PRO 1 2
 
1 Tina Pic (Colavita/Sutter Home)               40.19
2 Laura Van Gilder (Cheerwine Cycling)               
3 Kacey Manderfield (Verducci/Breakaway)         0.07
4 Nichole Wangsgard (Colavita/Sutter Home)           
5 Anne Samplonius (Cheerwine Cycling)            0.08
6 Laura McCaughey (Juice Plus)                   0.10
7 Anna McLoon (Colavita/Sutter Home)             0.11
8 Theresa Cliff-Ryan (Verducci/Breakaway)        0.54
9 Kelly Benjamin (Cheerwine Cycling)             0.55
10 Lorena Candrian (HPC p/by Altarum)                
11 Jennifer Wilson (Vanderkitten Racing)             
12 Erica Allar (Aaron's Pro Women's)                 
13 Kate Veronneau (Kutztown Cutters)             0.56
14 Jennifer Rasmusson (HPC p/by Altarum)             
15 Brooke O'Connor (Hub Racing)                      
16 Sue Palmer-Komar (Team Advil Chapstick)       0.57
17 Silke Wunderwald (Ind. Fabric-Kempner)            
18 Taitt Sato (Value Act Capital)                0.58
19 Tiffany Pezzulo (Park City Iron Man)              
20 Amy McGuire (Team Kenda Tire)                     
21 Eve McNeill (Sunapee/S&W Racing)                  
22 Debony Diehl (Sunapee/S&W Racing)                 
23 Kimberly Geist (Metro Volkswagen)             0.59
24 Martinez Verionica (JVR Sports)               1.00
25 Vicki Thomas (The Cyclery)                        
26 Kristy Scheffenacker (HPC p/by Altarum)           
27 Sally Annis (Hub Racing)                      1.01
28 Andrea Dvorak (Colavita/Sutter Home)          1.07
29 Tricia Carnila (Verducci/Breakaway)               
30 Laura Bowles (Team Advil Chapstick)               
31 Jennifer Maxwell (Team Kenda Tire)            1.11
32 Rebecca Blatt (Team Kenda Tire)                   
33 Lesley Golenor (HPC p/by Altarum)                 
34 Colleen Hayduk (Verducci/Breakaway)               
35 Beth Mason (C3-Sollay.com)                        
36 Michele Bote (HPC p/by Altarum)                   
37 Jill Waggett (Guy's Racing)                       
38 Kathryne Carr (Sunapee/S&W Racing)                
39 Reem Jishi (Team Advil Chapstick)                 
40 Robin Farina (Cheerwine Cycling)              1.41

Category 4/5
 
1 Joe Cook (BBC)                                 1.42
2 Michael Grygus (RUUD Racing)                       
3 Lawrence Uhrlass (EECT)                        0.01
4 Samuel Martinez (We Stand United)              0.02
5 Dan Hertzler (Corning Race Team)                   
6 Bruce Camacho (Donelus)                            
7 Peter Hoag (Unattached)                        0.03
8 Aron Buterbaugh (Linscott/Peak Perform)            
9 Joshua Miner (Chenango Point Cycles)               
10 David Hoag (Unattached)                           
11 Scott Sommers (Schuss Racing/MVBC)                
12 John Hertzler (Corning Race Team)                 
13 Bill Golembieski (Scott Grimshaw MaxP)            
14 Joe Bailey (FLCC Swann)                       0.04
15 Ed Zimmerman (NS United)                          
16 Aaron DiNoto (ROG Cycling)                        
17 Michael Meier (RUUD Cycling)                      
18 Desmond Griffith                                  
19 Andrew Getzin (FLCC/Chris' Cookies)           0.05
20 Nesel Thomas (Unattached)                         
21 Steven Gates (Paceline Sports)                    
22 Nathan Sentz (Paceline Sports)                    
23 Michael Kumiega (RUUD Racing/TVC)                 
24 Jason Haight (SyracuseBike/Spokepo)           0.06
25 Richard Rutishauser (Sonne's Racing)          0.09
26 David Prugh (Corning Race Team)               0.12
27 Steven Smith (Paceline Sports)                0.13
28 Steve Burdette (Corning Race Team)            0.14
29 Tim Carlson (Corning Race Team)               0.15
30 Samuel Sanpin (Maxpower Cycling)              0.18
31 George Hluck (Corning Racing)                 0.19
32 Steven Hanes (CRBC)                           0.20
33 Tung Luong (Rog Cycling)                      0.21
34 Danny Zotter (Team ROG)                       0.22
35 Travis Turner (Bicycle Depot)                 0.23
36 Mark Rishniw (FLCC/Chris' Cookies)            0.24
37 Joshua Wortzel (Harvard Univ. Cycling)            
38 Bryan Blake (Maxpower Cycling)                    
39 Jason van Staveren (FLCC/Chris' Cookies)          
40 Robert Nunnink (Corning Race Team)                
41 Daniel Reed (Corning Race Team)                   
42 George Elmy (Tioga Velo/RUUD)                     
43 Johnnie Edglil (Donelus)                          
44 Jack Rueckheim (FLCC)                             
45 Ed Dailey (Corning Race Team)                     
46 Jeff Cebula (Tioga Velo/RUUD)                     
47 David Ferrett (Unattached)                        
48 Lloyd Campbell (RUUD Racing/TVC)                  
49 Joseph Mari (Unattached)                          
50 M. Lovelace (United)                              
 
Category 3/4
 
1 Nick Pignatello (Exodus Road Racing)          11.46
2 Chip Hoover (ABRT/Latitude)                    0.01
3 Nat Thompson (ABRT/Latitude)                   0.02
4 Vincent Scalia (NorEast)                       0.03
5 Christopher Chaput (CRCA)                      0.05
6 Rickey Visinski (Spiuk/First Endurance)        1.55
7 Jorge Cordero (Champion Systems)               2.04
8 Keith Reeder (ABRT/Latitude)                   2.22
9 Jake Castor (GVCC)                                 
10 Chris Worden (CCB/Volkswagen)                     
11 Juan Pimentel (Global Loc)                    2.24
12 Glenroy Griffith (CRCA Foundation)                
13 Johann Burrowes (WS United/Sheepshead)        2.28
14 Christopher Pagoda (Philadelphia Ciclismo)    2.29
15 Alex Cox (Freddie Fu)                         2.30
16 Luke Keough (Corner Cycling Club)             2.49
17 Glenn Murray (Kelly Benefit/LSV Amat)         2.50
18 Javier Cuevas (Strickly Bicycles)             3.01
19 Michael Norton (Cyclonauts Racers)                
20 Aubrey Gordon (Liberty Cycle)                     
21 Neil Bezdek (We Stand United)                     
22 Matthew Dickenson (Preferred Care Elite Cyc)      
23 Ernest Tautkus (Exodus/Pools/Brumble)             
24 Dan Greene (Trizilla)                             
25 Matt Rossman (NorEast)                            
26 Ryan Bloom (Kelly Benefit/LSV Amat)           3.02
27 Cody Miller (Team Waste Managem)                  
28 Douglas McKeon (Cyclonauts Racers)                
29 Andrew Walsh (CRCA/Foundation)                    
30 Adam Zimmerman (Century Road)                 3.03
31 Duncan McGovern (NorEast Cycling)                 
32 David Fierro (Exodus/Pools/Brumble)               
33 Willie Payton (WS United/Sheepshead)              
34 Sergio Atocha (GS Gotham/Toga)                    
35 Brendan Flannagan (Tioga Velo Club)           3.04
36 Gavin Robertson (CRCA/Foundation)                 
37 Jeff Zygo (Preferred Care Elite Cyc)              
38 Benjamin Salibra (SyracuseBikeSpokespost)         
39 Peter Muto (Gotham)                               
40 Paul Dolan (Unattached)                       3.05
41 Eric Salzer (Chester County Velo)             3.06
42 Bruce Diehl (Sunapee S & W Racing)                
43 Bill Gros (Squadra Coppi/IMSaab)                  
44 Rob O'Malley (Sunapee S & W Racing)               
45 Brian Klotz (Corning Race Team)               3.07
46 Franklin Burgos (Champion Systems)            3.09
47 Raj Seepersaud (Kraft)                        3.18
48 Alan Buday (CRCA/Global Locate)               3.21
49 Lance Lacy (ABRT/Latitude)                    3.31