Capital Criterium - NE
Washington, DC, USA, September 21, 2008
Clarke king of Capitol Hill
Toyota United's Hilton Clarke and Domenique Rollin
Photo ©: Capital Criterium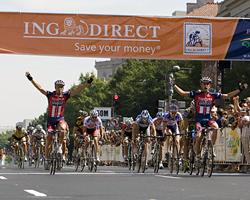 The inaugural ING Direct Capital Criterium some of America's top cyclists to downtown, Washington but it was Australia's Hilton Clarke (Toyota-United) who claimed top honours at the event. Some 100 riders competed in the professional event on fast eight corner, one kilometre circuit in the shadow of the capital.
Under cloudless skies and low humidity it was a perfect day for cycling, and a $51,000 USD purse with a $10,000 USD first prize only added further motivation for the peloton. The racing started out at a blistering pace of almost 30 miles per hour. Initial laps saw attacks by Domique Rollin (Toyota United), Christian Vande Velde (Garmin-Chipotle) and Rock Racing's Rahsam Bahati.
Tom Soladay (Time Pro Racing) made several attempts to break away with success and was able to stay away for 10 laps until he was swallowed up by Vande Velde and company. The remainder of the race was punctuated with numerous attempts at additional breakaways but the pack tenaciously held its grip on anyone who attempted to get away.
It promised to be an explosive sprint contested by all in the field. Clarke narrowly beat the field as Freddy Rodriguez (Rock Racing) spoiled a one-two finish for Toyota-United taking second place, relegating Dominque Rollin to third.
Texas Roadhouse took the $2,500 team prize.
Photography
For a thumbnail gallery of these images, click here
Images by Capital Criterium
Results
Elite men
 
1 Hilton Clarke (Toyota United)                       56.44
2 Fred Rodriguez (Rock Racing)                         0.01
3 Domenique Rollin (Toyota United)                         
4 Ken Hanson (Cal Giant Strawberries)                      
5 Emile Abraham (Team Type 1)                              
6 Ricardo Escuala (Successful Living)                      
7 Geraldo Fernandez (ING Direct Racing)                    
8 Stephan Kincaid (Rite Aid pb Shebell & Shebell)          
9 Paul Martin (Texas Roadhouse)                            
10 Karl Menzies (Healthnet pb Maxxis)                      
11 Rodney Santiago (Colavita pb Sutter Home)               
12 Tyler Wren (Colavita pb Sutter Home)                    
13 Daniel Holloway (Garmin Chipotle pb H30)            0.02
14 Kirk Albers (Texas Roadhouse)                           
15 Russ Langely (Battley Harley Davidson)                  
16 Eric Wohlberg (Symmetrics)                              
17 Brian Butts (Battley Harley Davidson)                   
18 Chuck Hutcheson (Battley Harley Davidson)               
19 Jake Keough (Kelly Benefits Medfast)                    
20 Ben King (Kelly Benefits Medfast)                       
21 Friedman Mike (Garmin Chipotle pb H30)              0.03
22 Christian VandeVelde (Garmin Chipotle pb H30)       0.07
23 Chad Burdzilauskas (Texas Roadhouse)                    
24 Boyd Johnson (DLP Racing)                           0.09
25 Owen Nielson (DLP Racing)                           0.10
26 Dirk Pohlmann (Texas Roadhouse)                         
27 Ken Young (Clean Currents pb Don Byer)              0.11
28 Keck Baker (Battley Harley Davidson)                0.12
29 Scottie Weiss (Inferno Racing)                          
30 Dave Bozak (Clean Currents pb Don Byer)                 
31 Charles Coyle (Successful Living)                       
32 Sean Barrie (Battley Harley Davidson)               0.13
33 Andrew Guptill (Colavita pb Sutter Home)                
34 Jose Medina (ING Direct Racing)                     0.14
35 Steven Gordon (DLP Racing)                              
36 Jackie Simes (Time Pro Cycling)                         
37 Jason Meldhof (Clean Currents pb Don Byer)          0.17
38 Tom Soladay (Time Pro Cycling)                      0.18
39 Kevin Lacombe (Kelly Benefits Medfast)              0.28
40 Bobby Lea (Rite Aid pb Shebell & Shebell)               
41 Terry Huss (Inferno Racing)                             
42 Rich Harper (Inferno Racing)                        0.35
43 Barry Miller (ING Direct Racing)                    0.37
44 Jon Hamblen (Time Pro Cycling)                      0.48
45 John Delong (Inferno Racing)                        0.55
46 Reid Mumford (Kelly Benefits Medfast)               0.56
47 Andrew Olson (DLP Racing)                               
48 Christpher Judy (DLP Racing)                        1.08
49 Thad Dulin (DLP Racing)                                 
 
Category 1/2/3
 
1 Todd Hipp (Battley Harley-Davidson/ Sonoma)         57.02
2 Jake Lifson (Indiana Regional Medical Center)        0.01
3 David Osborne (IMMEDIATE MORTGAGE-ARTEMIS ELIT)          
4 Sean O'Rourke (Kenda/Raleigh Cycling Team)               
5 Andy Shaw (NCVC/Inova Health System)                     
6 Chip Hoover (Latitude/ABRT)                          0.02
7 Bo Lee (IMMEDIATE MORTGAGE - ARTEMIS EL)                 
8 Chris Schmidt (bike lane)                                
9 Mike Esmonde (Route 1 Velo/Capitol Hill Bikes)           
10 Steven Black (National Capital Velo Club/Inov)          
11 John Parks (Unattached)                                 
12 Bill Breslin (IMMEDIATE MORTGAGE - ARTEMIS EL)      0.03
13 Peter Custer (IMMEDIATE MORTGAGE - ARTEMIS EL)      0.04
14 A.t. Stamp (Hincapie/Coca-Cola/Barkley)             0.05
15 Jeff Dickey (NCVC/Inova Health System)                  
16 Reed Albergotti (Jonathan Adler Racing)             0.06
17 Justin Desilets                                         
18 Jared Nieters (Haymarket Bicycles)                      
19 Yanni Papadopoulos (The Valley Athletic Club)       0.07
20 Kevin Gottlieb (Squadra Coppi)                          
21 Colin Prensky (CRCA/Sanchez-Metro)                  0.08
22 John Howe (PSR/Peddlers Shop Racing)                0.10
23 Ramon Benitez                                       0.11
24 David Harrell (WWVC / 3D Fitness and Health)            
25 Eric Krause (Latitude/ABRT)                         0.12
26 Jose Escobar (Battley Harley-Davidson/Capitol)          
27 James Pettengill (Battley Harley-Davidson)          0.13
28 Paul Mica (NCVC/Inova Health System)                    
29 Paul Lengermann (NCVC/Inova Health System)          0.14
30 Steven Kendall (NCVC/Inova Health System)               
31 Nathan Wilson (NCVC/Inova Health System)            0.15
32 Brigham Lumm (Route 1 Velo / Capitol Hill Bik)          
33 Christopher Berbert (NCVC/Inova Health System)          
34 Reed Tanger (Turin)                                 0.17
35 Pedro Hijar (The Bike Lane)                         0.20
36 Chris Hayes (Haymarket Bicycles p/b Function)       0.24
37 Robert Kelly (NCVC/Inova Health Systems)            0.25
38 Greg Abbott (NCVC/Inova Health System)              0.28
39 Lang Reynolds (Hagens-Berman LLP)                   0.34
40 Curtis Winsor (Kelly Benefit Strategies/LSV)        0.45
41 Jesse Leifert (Route 1 Velo/Capitol Hill Bikes)     1.09
42 Ian Morrison (Bike Doctor/Bayside Velo)             2.22
43 Jon Gaudio (Seigler Sports)                         4.58
 
Masters men
 
1 Ramon Benitez (IMMEDIATE MORTGAGE - ARTEMIS EL)     38.46
2 Mark Warno (IMMEDIATE MORTGAGE - ARTEMIS EL)         0.01
3 Nima Ebrahimnejad (Trail's End Cycling Company)      0.24
4 Chris Schmidt (bike lane)                            0.26
5 Chris Hayes (Haymarket Bicycles p/b Function)            
6 Christopher Regan (TEAM HALL NISSAN)                 0.27
7 Arthur Brown (Latitude/ABRT)                             
8 Baird Webel (GS Silver/Silver Cycles)                    
9 Bill Gros (Squadra Coppi/IMSaab)                         
10 Kirby Newman (Restello Presented by Fiorucci)           
11 Bryan Vaughan (IMMEDIATE MORTGAGE - ARTEMIS EL)         
12 Curtis Southern (NCVC/INOVA HEALTH SYSTEM)          0.28
13 Kevin Cross (The Bike Rack of Washington DC)            
14 Andreas Gutzeit (ABRT - Latitude)                       
15 David Rusnak (Corner Cycle Cycling Club)                
16 Kevin Gallo (Squadra Coppi/IM Saab)                     
17 Marc Lefkowitz (Kelly Benefit Strategies/LSV)           
18 Matt Braughler (Colavita Racing)                        
19 Christopher Clarke (NCVC/Inova Health System)       0.29
20 Lawrence Byvik (Warrenton Cycling Center)           0.30
21 Fredrik Andersson (NCVC/Inova Health System)            
22 Marc Klein (NCVC/Inova Health System)                   
23 Michael King (Team Hall Nissan)                     0.32
24 John Kamenick (evolution cycling)                       
25 Thomas Draffen (Westwood Velo - Trade Manage Ra)        
26 Jon Gaudio (Seigler Sports)                         0.33
27 Blake Selzer (Route 1 Velo/Capitol Hill Bikes)          
28 Bernie Gumucio (Clean Currents p/b Don Beyer Vo)    0.34
29 William Cusmano (Squadra Coppi/IM Saab)                 
30 Peter Lindeman (National Capital Velo Club/Inov)    0.35
31 Jeff Spaulding (Cucina Fresca/Supersquadra)         0.36
32 Oscar Martin                                            
33 Ray Manyoky (Bicycle Place Velo Club)                   
34 Clifton Gray (Capitol Hill Bikes)                   0.45
35 Pedro Hijar (The Bike Lane)                         0.52
36 Guy Perotti (ABRT/Latitude)                         1.02
37 Kurt Hoffmann (CRCA/Sanchez-Metro)                  2.45
38 Dean Wagner (COLAVITA RACING)                       2.50