Sequoia Cycling Classic - NE
Exeter/Visalia, California, USA, March 15-16, 2008
Main Page Results Overall standings Previous Stage Next Stage
Stage 2 - March 15: Pro Women's Time Trial, 40 km
Armstrong minutes ahead
By Kirsten Robbins in Visalia
Kristin Armstrong (Cervello-Lifeforce)
Photo ©: Mitch Clinton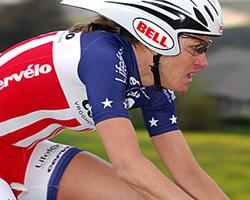 You know you are in for an exhilarating time trial when the current US national champion Kristin Armstrong (Cervelo-Life Force Pro Cycling) clocks in to play the game. Armstrong didn't disappoint, awing the crowd as she stormed in four minutes ahead of Alex Rhodes (Team High Road - Women) and five minutes ahead of Felicia Gomez (Aaron's Pro Cycling).
"I'm not sure why I'm so fit right now because I had one of the worst winters in my entire career with so much snow back home in Idaho," said the former world time trial champion. "Sometimes I think that when you have to make your schedule based around bad weather it lends to better quality training because you put more into the work that you do. I went to the track a lot and rode down in Australia which all gave me some balance to my training."
Armstrong noted that the NRC event's 40-kilometre offering is rather unheard of in American racing and that it presented a good opportunity to test her early season fitness. "There are no opportunities for me to do a 40-kilometre time trials," said Armstrong, who despite a bleeding nose during her effort finished over four minutes ahead of her nearest competitor. "I probably won't do another time trial until May because there are no big time trials in Europe and only prologues in the USA."
Anke Wichmann was 16th fastest
Photo ©: Mitch Friedman

Third place finisher Gomez made no surprises with her usual early season form attributes, which has this year been enhanced by position and specific training. "I honestly can't say that I focused on this particular time trial but I have been focusing on the whole year, working on my time trailing in the sense that I've changed my position and done lots of intervals," said Gomez. "The longer the time trial is the more suited it is to me.
"I liked the course, I've never done one so long so on the way back I was thinking six kilometers shorter would have been nice," she added. "It's a great time trial and nice to be out there and be challenged."
The Exeter Time Trial marked the second NRC event for the women's field attracting nearly 75 women. According to Armstrong the event's field is a sign of high quality women's racing offered in the USA.
"It is such a great event put on for women and it shows the quality of women racing because there are 70 women registered - we don't even have that at nationals," she said. "I'm impressed with this race and I'm glad there are so many women here supporting this event."
After the Exeter event Armstrong is scheduled to join her Cervelo-Life Force team in a seven-week stint of European racing. "It's a great group of girls, I'm the only American and they are trying to teach me some German and Italian," said Armstrong. "I don't have too much of a different schedule. I am going for seven weeks and then coming back for the Tour of Montreal, Liberty Classic and Nature Valley. It will be great to have a European team come over to try American racing."
NOTE: Kristy Gough, who was struck and killed last week by a Santa Clara sheriff's patrolcar, was set to compete at this event. "The race staff kept her name on the start list and announced her at the line and had a moment of silence," said a spokesman.
Photography
For a thumbnail gallery of these images, click here
Images by Mitch Clinton/www.clintonphoto.com
Images by Mitch Friedman/www.mitchophoto.com
Results
1 Kristin Armstrong (Cervelo-Lifeforce Pro Cycling Team)    1.01.32 (39.003 km/h)
2 Alexis Rhodes (Team High Road - Women)                       4.17
3 Felicia Gomez (Aaron's Pro Cycling Team)                     4.52
4 Anne Samplonius (Cheerwine Cycling)                          5.10
5 Katharine Carroll (Aaron's Pro Cycling Team)                 5.41
6 Leigh Hobson (Cheerwine Cycling)                             5.42
7 Mara Abbott (Team High Road - Women)                         6.11
8 Molly Van Houweling (Metromint Cycling)                      6.35
9 Kristin Sanders (Aaron's Pro Cycling Team)                   6.53
10 Carmen Mcnellis (Aaron's Pro Cycling Team)                  6.54
11 Emily Zell (PROMAN Racing)                                  7.02
12 Janel Holcomb (Webcor Builders)                             7.17
13 Lauren Franges (Team TIBCO)                                 7.47
14 Martina Patella (ValueAct Capital Cycling Team)             8.02
15 Pat Ross (Touchstone Climbing)                              8.10
16 Anke Wichmann (Team High Road - Women)                      8.53
17 Stacy Marple (Cheerwine Cycling)                            8.54
18 Nicole Evans (ValueAct Capital Cycling Team)                8.56
19 Megan Hottman (DFT-QA3)                                     9.08
20 Kelly Mcdonald (Touchstone Climbing)                        9.13
21 Laura Van Gilder (Cheerwine Cycling)                        9.17
22 Kelly Benjamin (Cheerwine Cycling)                          9.37
23 Alison Littlefield (Contender Bicycles)                     9.50
24 Olivia Dillon (Touchstone Climbing)                        10.25
25 Rushlee Buchanan (Team TIBCO)                              10.25
26 Jane Despas (Vanderkitten)                                 10.29
27 Amber Rais (Team TIBCO)                                    10.32
28 Shannon Koch (Metro Volkswagen Cycling Team)               10.37
29 Heather Sborz (Vanderkitten Racing)                        10.45
30 Jennifer Reither (SouthBay Wheelmen)                       10.52
31 Helen Kelly (Team TIBCO)                                   10.58
32 Allyson Brandt (Cheerwine Cycling)                         11.08
33 Morgan Kapp (SouthBay Wheelmen)                            11.12
34 Kate Ligler (PROMAN Racing)                                11.19
35 Cara Gillis (OrganicAthlete's Team Vegan)                  11.46
36 Abby Lyn Cooper (PROMAN Racing)                            12.02
37 Clare Vlahopoulos (America's Dairyland)                    12.11
38 Maria Monica (McGuire Cycling Team)                        12.15
39 Rachel Heal (Team TIBCO)                                   12.18
40 Holly Borowski (Touchstone/US Armed Forces)                12.20
41 Tracy Kubas (Bicycle John's)                               12.30
42 Jerika Hutchinson (Team TIBCO)                             12.36
43 Flavia Oliveira (Vanderkitten Racing)                      13.01
44 Sue Palmer-Komar (Team Advil/ChapStick)                    13.02
45 Cari Higgins (America's Dairyland)                         13.07
46 Chellie Terry (Fitzgerald's Bicycles)                      13.12
47 Betina Hold (PROMAN Racing)                                13.16
48 Elizabeth Galenti ()                                       13.27
49 Sarah Bamberger (Cheerwine Cycling)                        14.20
50 Kate Ross (America's Dairyland)                            16.03
51 Yukie Nakamura (Team Kenda Tire)                           16.15
52 Amy Mcguire (Team Kenda Tire)                              16.21
53 Jennifer Wilson (SouthBay Wheelmen)                        17.00
54 Elis Bradshaw (Metromint Cycling on Marin Bikes)           18.25
DNF Marisa Asplund-Owens (Cheerwine Cycling)                       
DNF Christina Ruiter (ValueAct Capital Cycling Team)               
DNS Sandra Kolb (NA)                                               
DNS Giana Roberge (PROMAN Racing)                                  
DNS Kelli Jones (Paramount Racing)                                 
DNS Meredith Miller (Aaron's Pro Women's Cycling Team)             
DNS Julia Lafranchise (Leader Bikes/Big City)                      
DNS Emilia Fahlin (Team High Road - Women)                         
DNS Victoria Bastide (Team TIBCO) 
DNS Kim Anderson (Team High Road - Women)