Sequoia Cycling Classic - NE
Exeter/Visalia, California, USA, March 15-16, 2008
Main Page Results Overall standings Previous Stage Next Stage
Stage 3 - March 16: Pro Men's Criterium,
Haedo victorious in Visalia
By Kirsten Robbins in Visalia, California
Lucas Sebastian Haedo (Colavita Sutter Home p/b Cooking Light)
Photo ©: Mitch Clinton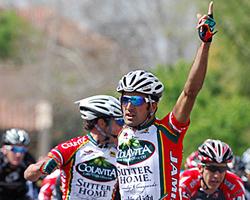 The men's 50 mile criterium ended in a neck-to-neck mêlée between Colavita/Sutter Home presented by Cooking Light and Successful Living, with the two lead out trains barreling through the last corners in pursuit of victory. Sebastian Haedo (Colavita/Sutter Home) took the winning sprint ahead of second placed Cody O'Reilly (Successful Living) and his third placed team-mate Alejandro Borrajo.
"The tactics for today were to stay at the front and to be ready to prepare a train for me and Alejandro in a sprint finish," said the Argentinean Sebastian Haedo. "With four laps to go we gathered the team at the front and they dropped me off in the last hundred metres for the finish. I really like my team, we work very well and are always together. I credit Colavita/Sutter home for organizing such a wonderful team this year."
The event's blistering average speeds could be attributed to the full blown attacks from local teams California Giant Berry Farms and La Grange amongst others. However, the efforts of the day weren't enough to set sail and every attempt at a break away was shot down by the teams with strong sprinters.
"Today we wanted a sprint more than a break away because we have strong sprinters on our team," said Haedo, regarding the team's band of South American speedsters. "The other teams were strong today and they were attacking a lot and in the end with 10 laps to go there was a lot of aggression from Kelly Benefit and Successful Living. But with four laps to go we took over the front and finished well. We had riders go into break away today but not to push hard, only for representation."
Heath Blackgrove (Toyota United Pro Cycling Team)
Photo ©: Mitch Clinton

In the final laps of the race team Symmetrics took on the flyer's responsibility, launching Canadian National Champion Cameron Evans followed by Andrew Randall and then Eric Wolberg in their individual attempts at a solo finish. Riders from Bissell, Health Net and Giant Berry Farms joined the yellow clad in their last-ditch efforts, but were reeled in by of Kelly Benefits Strategies relentless chase.
With five laps to go it was apparent that Colavita/Sutter Home and Successful Living were the teams to beat, outnumbering the rest. The dual team drag race to the line ended with the green, white and red colours of Colavita/Sutter Home on top.
Haedo's third placed team-mate, Alejandro Borrajo took on the chore of encouraging the team's tactics throughout the race based largely on his extensive experience competing in field sprints on European soil. "In the circuits, on the climbs and in the sprints I have a lot of experience and help our team to work well together in these kinds of races," said Borrajo a former sprinter for Ceramica-Panaria.
"I have a little more experience to share with the riders and we are very organized when we race," he added. "Although we appear to be a newer team with newer riders, actually we have been racing a long time with one another in our own countries and racing together is easy for us. I was in front of Sebastian during the lead out to bring him to the win and I have the capability to hang on for the next podium place - I have a lot of faith in Sebastian's talent."
Photography
For a thumbnail gallery of these images, click here
Images by Mitch Clinton/www.clintonphoto.com
Images by Mitch Friedman/www.mitchophoto.com
Results
Pro 1
 
1 Lucas Sebastian Haedo (Colavita Sutter Home p/b Cookin)    
2 Cody O'Reilly (Successful Living.com P/B Parkp)            
3 Alejandro Borrajo (Colavita Sutter Home p/b Cookin)        
4 Ben Jacques-Maynes (Bissell Pro Cycling)                   
5 Karl Menzies (HealthNet/Maxxis)                            
6 Joao Correia (Bissell Pro Cycling Team)                    
7 Alessandro Bazzana (Successful Living.com P/B Parkp)       
8 Rory Sutherland (Healthnet/Maxxis)                         
9 Michael Sayers (BMC Pro Cycling Team)                      
10 Alex Candelario (Kelly Benefit Strategies/Medifa)         
11 Alex Marttinez (Successful Living.com P/B)                
12 Kevin Klein (Rock Racing)                                 
13 Ken Hanson (California Giant Berry Farms)                 
14 Dirk Copeland (California Giant Berry Farms)              
15 Cameron Evans (Symmetrics)                                
16 Chris Hipp                                                
17 Brian Bosch (Sierra Pacific Racing)                       
18 Jonathan Mumford (Kelly Benefit Strategies/Medifa)        
19 Andy Jacques-Maynes (California Giant Berry Farms)        
20 Adam Switters (Rock Racing)                               
21 James Badia (Webcor/Alto Velo)                            
22 Mike Olheiser (Memphis motor werks/Carve)                 
23 Jonathan Sundt (Kelly Benefit Strategies/Medifa)          
24 Brian Jensen (Successful Living.com P/B Parkp)            
25 Michael Grabinger (Successful Living.com P/B Parkp)       
26 Christian Kearney (Z-Team)                                
27 Heath Blackgrove (Toyota United Pro Cycling Team)         
28 Mark Santurbane (California Giant Berry Farms)            
29 Mark Shimahara (Team Clif Bar)                            
30 Randy Bramblett (BPG/Montano Velo)                        
31 Eric Easterling (Sierra Pacific)                          
32 Patrick Briggs (California Giant Berry Farms)             
33 Eric Wohlberg (Symmetrics)                                
34 Frederick Stamm (Metromint Cycling/Marin Bicycle)         
35 Steven Reaney (California Giant Berry Farms)              
36 Chris Hipp                                                
37 Anibal Borrajo (Colavita Sutter Home p/b Cookin)          
38 Andrew Guptill (Colavita Sutter Home p/b Cookin)          
39 Bob Newman (Pacific State Bank Cycling Team)              
40 Jaimel                                                    
41 Bradley White (Successful Living.com P/B Parkp)           
42 Phillip Gaimon (Fiordifrutta)                             
43 Max Jenkins (California Giant Berry Farms)                
44 Joel Robertson (Sierra Pacific)                           
45 Josh Horowitz (LaGrange)                                  
46 Tyler Dibble                                              
47 Aroussen Laflamme (Webcor-AltoVelo team)                  
48 Scott Zwizanski (BISSELL Pro Cycling)                     
49 Rand Miller (Webcor/Alto Velo)                            
50 Aaron Olson (BISSELL Pro Cycling Team)                    
51 Vincent Owens (Sierra Pacific Racing)                     
52 Tim Gramshaw                                              
53 Luis Amaran Romero (Colavita Sutter Home p/b Cookin)      
54 Jason Klikng                                              
55 Justin Spinelli (Kelly Benefit Strategies/Medifa)         
56 Jesse Moore (California Giant Berry Farms)                
57 Luca Damiani (Colavita Sutter Home p/b Cookin)            
58 John Hunt (California Giant Berry Farms)                  
59 Jonathan Coulter (Webcor / Alto Velo)                     
60 Andrew Randell (Symmetrics Cycling)