Sequoia Cycling Classic - NE
Exeter/Visalia, California, USA, March 15-16, 2008
Main Page Results Overall standings Next Stage
Stage 1 - March 15: Pro Men's Time Trial, 40 km
Jacques-Maynes off to a winning start
By Kirsten Robbins in Visalia
Ben Jacques-Maynes (Bissel) wins
Photo ©: Mitch Clinton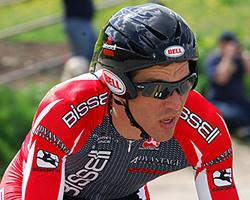 The elite men's peloton tested their individual strength over a 40 kilometre time trial circuit, lengthened by 10 kilometres over the previous year's event. Ben Jacques Maynes (Bissell) defended his title winning the elongated, rolling in forty-nine seconds ahead of second placed Rory Sutherland (Health Net Maxxis) and a minute and fifteen seconds ahead of third placed Jonathan Mumford (Kelly Benefit Stratagies).
"It was a very brutal additional 10 kilometres with two extra climbs on route," said race winner Jacques-Maynes. "I know all these roads really well so it was a matter of pacing myself and just getting it done. If you know the course and how to do it all you need are your legs to back it up - fortunately today I did that."
The race traveled through the rolling green foothills of Exeter in an Ireland-like backdrop. Head winds made for a difficult return but favoured the winner after a winter of solid time trial training.
"The block headwind really worked for me," said Jacques-Maynes. "I've been doing some aerodynamic testing in the wind tunnel with my time trial bike and I think I had a more aerodynamic position coming back down the hills and I was able to fight that head wind a bit better."
Second place on the day Sutherland proved to be back on form after a bout of sickness after the conclusion of February's Tour of California. "I've never done this race before but there aren't many 40 kilometre time trials in the USA so it was a long one and more of a tempo thing," said Sutherland.
"It was a good race and an extra 10 kilometres of tempo training for me," Sutherland added. "I mentally got back into racing again this week. Karl and I came here pure and simply for training and if we can get a result for the team while we are here than that's great. It's important for our team and sponsors and the race itself to have the best quality teams in the USA come and race. Where else can you go to have a forty-kilometre threshold - nowhere."
Photography
For a thumbnail gallery of these images, click here
Images by Mitch Clinton/www.clintonphoto.com
Images by Mitch Friedman/www.mitchophoto.com
Images by Kurt Jambretz /www.actionimages.cc
Results
1 Ben Jacques-Maynes (Bissell Pro Cycling)                          56.26 (42.528 km/h)
2 Rory Sutherland (Healthnet/Maxxis)                                 0.49
3 Jonathan Mumford (Kelly Benefit Strategies/Medifast)               1.15
4 Heath Blackgrove (Toyota United Pro Cycling Team)                  1.18
5 Karl Menzies (HealthNet/Maxxis)                                    1.21
6 Luis Amaran Romero (Colavita Sutter Home p/b Cooking Light)        1.23
7 Scott Zwizanski (Bissell Pro Cycling Team)                         1.32
8 Michael Grabinger (Successful Living.com P/B Parkpre)              1.44
9 Mike Olheiser (Memphis motor werks/Carve)                          1.49
10 Eric Wohlberg (Symmetrics)                                        1.55
11 Mark Santurbane (California Giant Berry Farms)                    2.13
12 Justin Spinelli (Kelly Benefit Strategies/Medifast)               2.13
13 Thurlow Rogers (Amgen Giant Masters)                              2.23
14 Bradley White (Successful Living.com P/B Parkpre)                 2.29
15 Curtis Gunn (Successful Living.com P/B Parkpre)                   2.38
16 Phillip Gaimon (Fiordifrutta)                                     3.16
17 Andy Jacques-Maynes (California Giant Berry Farms)                3.20
18 Aaron Olson (Bissell Pro Cycling Team)                            3.23
19 Brian Jensen (Successful Living.com P/B Parkpre)                  3.26
20 Andrew Randell (Symmetrics Cycling)                               3.46
21 Joao Correia (Bissell Pro Cycling Team)                           4.31
22 Matt Seagrave (Kahala La Grange)                                  4.35
23 Michael Hutchinson (Morgan Stanley/Specialized/24 hr fitness)     4.45
24 Daniel Bowman (Kelly Benefit Strategies/Medifast)                 4.48
25 Osvaldo Olmos (California Giant Berry Farms)                      5.00
26 Tyler Dibble                                                      5.07
27 Max Jenkins (California Giant Berry Farms)                        5.11
28 Jonathan Sundt (Kelly Benefit Strategies/Medifast)                5.15
29 Alejandro Borrajo (Colavita Sutter Home p/b Cooking Light)        5.24
30 Anibal Borrajo (Colavita Sutter Home p/b Cooking Light)           5.30
31 Jesse Moore (California Giant Berry Farms)                        5.47
32 Craig Upton (Navigators Insurance)                                5.52
33 Adam Switters (Rock Racing)                                       6.02
34 Alessandro Bazzana (Successful Living.com P/B Parkpre)            6.14
35 Charles Dionne (Successful Living.com P/B Parkpre)                6.15
36 Keith Miller (California Giant Berry Farms)                       6.18
37 Markus Weinberg (Kahala-La Grange)                                6.20
38 Mark Shimahara (Team Clif Bar)                                    6.26
39 Kevin Klein (Rock Racing)                                         6.29
40 John Hunt (California Giant Berry Farms)                          7.18
41 Andrew Guptill (Colavita Sutter Home p/b Cooking Light)           7.18
42 Luca Damiani (Colavita/Sutter Home p/b Cooking Light)             7.30
43 Josh Horowitz (LaGrange)                                          7.49
44 Lucas Sebastian Haedo (Colavita Sutter Home p/b Cooking Light)    8.25
45 Alex Candelario (Kelly Benefit Strategies/Medifast)               8.43
46 Vincent Owens (Sierra Pacific Racing)                             8.45
47 Davide Frattini (Colavita Sutter Home p/b Cooking Light)          8.59
48 Jonathan Eropkin (VOS Racing)                                     9.02
49 Michael Hernandez (VOS Racing)                                    9.59
50 Nathan Rogut (Metro Volkswagen Cycling Team)                     13.07
51 Andrew Bajadali (Kelly Benefit Strategies/Medifast)              15.45
DNF Devon Vigus (California Giant Berry Farms)                           
DNS Christian Valenzuela (Successful Living.com P/B Parkpre)             
DNS Ken Hanson (California Giant Berry Farms)                            
DNS Cody O'reilly (Successful Living.com P/B Parkpre)                    
DNS Brian Buchholz (Kelly Benefit Strategies/Medifast)