Jelajah Malaysia - 2.2
Malaysia, January 7-13, 2008
Main Page Results Overall standings Previous Stage Next Stage
Stage 3 - January 9: Bandar Hilir - Batu Pahat, 163.8 Km
Anuar Manan makes a photocopy
By Jean-François Quénet in Batu Pahat
Anuar Manam (Le Tua Cycling Team)
Photo ©: Rosli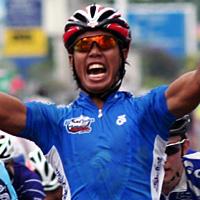 Stage three at Jelajah Malaysia was a photocopy of stage two where local fast-man Anuar Manan from LeTua Cycling Team managed to reach his two goals: winning the first hot spot sprint and the final sprint as well.
The main praise for his performance came from the race leader Li Fuyu who knows what cycling is about since he rode for the big Discovery Channel team for all of last year. "LeTua has a very strong team," the 30 year-old Chinese rider said. "Like yesterday we worked together for the last 50 kilometres and they impressed me. I thought we had a good chance for a stage win with our sprinter [Russia's Sergey Kudentsov] but LeTua won again!"
Manan's victory didn't go without consequences as his two lead out men Ahmad Haidar Anuawar and Sayuti Zahit got involved in an awful crash with 500 metres to go but it happened after their work was completed. "I didn't know about it until after the race," Manan said. "We had studied the end of the stage on paper so we knew it would be a straight road to the finish. I started sprinting early. With one kilometre to go, I was already in the top five."
After three stages in the seven-day event, he has already equalized his record of two wins last year. "It looks like my team is strong enough to go for more wins," he added when he got the news that Haidar and Sayuti should be able to start stage four. As Manan suffered from a flu after his first stage win, the race doctor put him under antibiotics but it didn't affect the confidence of Malaysia's sprinting star.
How it unfolded
The leaders on the podium
Photo ©: Rosli

Keeping the blue jersey of the points competition was Anuar Manan's first goal for stage three as his LeTua team destroyed the ambitions of the first breakaway riders before the first hot spot sprint at kilometre 44. No luck for Yukihiro Doi (Skil-Shimano), Tjarco Cuppens (Differdange-Apiflo), Masahiko Mifune (Matrix-Powertag), Akmal Amrun (Malaysia Continental team), Fauzan Ahmad Lutfi (Malaysian national team) and Suhardi Hassan (Kuala Lumpur).
After Manan's win in the first sprint, it was logical to see a breakaway go. It comprised 16 riders: Tomoya Kano and Yoshinori Iino (Skil-Shimano), Herwin Jaya (Polygon Sweet Nice), Naoki Mukaigawa and Masaki Wakumoto (Matrix-Powertag), Hossein Askari and Hossein Nateghi (Tabriz), Akmal Amrun (Malaysia Continental Team), Thys Poelstra and René Ahrenkiel (Farso), Shahrul Mat Ami and Rauf Nor Misbah (Malaysia national team), Hayoto Yoshida and Kohei Uchima (Japan national team), Edi Purnomo (Indonesia Customs) and Suhardi Hassan (Kuala Lumpur).
But the presence of high ranked Askari didn't play in favour of that breakaway, which was replaced at the head of the race by a seven-man group: Doi (Skil-Shimano), Takamitsu Tsuji and Mitsushiro Matsumura (Matrix-Powertag), Hossein Jahabanian (Tabriz), Faris Abd Razak (Malaysia national team), Maloto Iijima (Japan national team) and Maruli Fajar Mulia (Indonesia Customs).
Salehian Farshad (Azad) and Patria Rastra (Benteng Muda Selangor) chased but reached the front group who got a maximum lead of 3'50" at kilometre 124. Soon after that, Iijima attacked with Jahabanian. Just like the day before, the joined forces of Trek-Marco Polo protecting Li Fuyu's leader's jersey and LeTua preparing for Manan's final bunch sprint ended up in a disappointment for the Japanese rider within three kilometres to go.
Manan won and Li retained his red jersey.
Photography
For a thumbnail gallery of these images, click here
Images by Rosli
Images by Jean-François Quénet
Images by Jelajah Malaysia/www.jelajah.com.my
Results
1 Anuar Manam (Mas) Le Tua Cycling Team                    3.55.35 (41.72km/h)
2 Hossein Nateghi (IRI) Tabriz Petrochemical Team                 
3 Sergey Kudentsov (Rus) Trek Marco Polo Team                     
4 Stefan Löffler (Ger) Giant Asia Racing Team                     
5 Kohei Uchima (Jpn) Japan National Team                          
6 Suhardi Hassan (Mas) Kuala Lumpur Team                          
7 Shimpei Fukuda (Jpn) Japan National Team                        
8 Tjarco Cuppens (Ned) Team Differdange-Apiflo Vacances           
9 Heksa Prasetya P. (Ina) Indonesia Customs Cycling Club          
10 Mohd Akmal Amrun (Mas) MCF Continental Team                    
11 Soren Peterson (Den) Team Farso                                
12 Mehdi Sohrabi (IRI) Islamic Azad University Team               
13 Thys Poelstra (Ned) Team Farso                                 
14 Cyrille Heymanns (Lux) Team Differdange-Apiflo Vacances        
15 Fuyu Li (Chn) Trek Marco Polo Team                             
16 Masahiko Mifune (Jpn) Matrix Powertag                          
17 Lex Nederlof (Ned) Putrajaya Cycling Team                      
18 Wan Mohd Nazri Wan Ahmad (Mas) Kuala Lumpur Team               
19 Herwin Jaya (Ina) Polygon Sweet Nice Team                      
20 Taha Sayed Alawi (Brn) Bahrain National Team                   
21 Hayoto Yoshida (Jpn) Japan National Team                       
22 Kai Tsun Lam (HKg) Hong Kong Cycling Team                      
23 Yusuke Hatanaka (Jpn) Skil Shimano                             
24 Siu Wai Ko (HKg) Hong Kong Cycling Team                        
25 Agung Ali Sahbana (Ina) Indonesia Customs Cycling Club         
26 Lars Pria (Rom) Team Stegcomputer – CKT – Cogeas               
27 Taufik Mohamad (Ina) Benteng Muda Selangor                     
28 Mohd Saiful Anuar Aziz (Mas) MCF Continental Team              
29 Jacob Nielsen (Den) Team Farso                                 
30 Mohd Fauzan Ahmad Lutfi (Mas) Malaysia National Team           
31 Weng Kin Thum (Mas) Malaysia National Team                     
32 Mansoor Jawad (Brn) Bahrain National Team                      
33 Ageel Abdulameer Thamer (Brn) Bahrain National Team            
34 Rene Ahrenkiel (Den) Team Farso                                
35 David Mc Cann (Irl) Giant Asia Racing Team                     
36 Maruli Fajar Mulia (Ina) Indonesia Customs Cycling Club        
37 Marcel Strauss (Swi) Team Stegcomputer – CKT – Cogeas          
38 Edi Purnomo (Ina) Indonesia Customs Cycling Club               
39 Kin San Wu (HKg) Hong Kong Cycling Team                        
40 Makoto Iijima (Jpn) Japan National Team                        
41 Masakazu Ito (Jpn) Japan National Team                         
42 Nugroho Kisnanto (Ina) Benteng Muda Selangor                   
43 Ken Onodera (Jpn) Trek Marco Polo Team                         
44 Hossein Askari (IRI) Tabriz Petrochemical Team                 
45 Danny Feng (Sin) Putrajaya Cycling Team                        
46 Amir Zargari (IRI) Islamic Azad University Team                
47 Hannes Blank (Ger) Team Differdange-Apiflo Vacances            
48 Paul Griffin (Irl) Giant Asia Racing Team                      
49 Nor Rizuan Zainal Mohd (Mas) Le Tua Cycling Team               
50 Dimitri Jiriakov (Lie) Team Stegcomputer – CKT – Cogeas        
51 Farshad Salehian (IRI) Islamic Azad University Team            
52 Mehdi Partovi (IRI) Tabriz Petrochemical Team                  
53 Biyazid Reduan Reduan (Mas) Putrajaya Cycling Team             
54 Hari Fitriyanto (Ina) Polygon Sweet Nice Team                  
55 Amir Mustafa Rusli (Mas) MCF Continental Team                  
56 Abbas Saeditanha (IRI) Islamic Azad University Team            
57 Jacob Lea (Aus) Giant Asia Racing Team                         
58 Fredrik Johansson (Swe) Team Differdange-Apiflo Vacances       
59 Hossein Jahabanian (IRI) Tabriz Petrochemical Team             
60 Mitsuhiro Matsumura (Jpn) Matrix Powertag                      
61 Ahmad Falanie Ali (Mas) Kuala Lumpur Team                      
62 Mohd Rauf Nor Misbah (Mas) Malaysia National Team              
63 Mohd Jasmin Ruslan (Mas) MCF Continental Team                  
64 Patria Rastra (Ina) Benteng Muda Selangor                      
65 Sayed Ahmed Alawi (Brn) Bahrain National Team                  
66 Mohd Shafari Abd Malik (Mas) Malaysia National Team            
67 Tonton Susanto (Ina) Le Tua Cycling Team                       
68 Arehan Ryan (Ina) Le Tua Cycling Team                          
69 Nguyen Minh Tam (Vie) Vietnam National Team                    
70 Yoshimasa Hirose (Jpn) Skil Shimano                            
71 Yukihiro Doi (Jpn) Skil Shimano                                
72 Ahad Kazemi (IRI) Tabriz Petrochemical Team                    
73 Ghader Mizbani Iranagh (IRI) Tabriz Petrochemical Team         
74 Hin Leung Szeto (HKg) Hong Kong Cycling Team                   
75 Christian Rocha (Swi) Team Stegcomputer – CKT – Cogeas         
76 Ali Jawad (Brn) Bahrain National Team                          
77 Harnizam Basri (Mas) Kuala Lumpur Team                         
78 Ying Hon Yeung (HKg) Hong Kong Cycling Team                    
79 S Putro Bayu Satrios (Ina) Benteng Muda Selangor               
80 Yan Dong Xing (Chn) Trek Marco Polo Team                       
81 Tomoya Kano (Jpn) Skil Shimano                                 
82 Sea Keong Loh (Mas) Trek Marco Polo Team                       
83 Masaki Wakumoto (Jpn) Matrix Powertag                          
84 Mohd Zamri Salleh (Mas) Malaysia National Team                 
85 Yilin Liu (Chn) Trek Marco Polo Team                       0.46
86 Syaifullah Mohammad (Ina) Polygon Sweet Nice Team              
87 Hakan Nilsson (Swe) Team Differdange-Apiflo Vacances           
88 Endra Wijaya (Ina) Indonesia Customs Cycling Club              
89 Yoshimitsu Tsuji (Jpn) Matrix Powertag                         
90 Mohamad Amin Amiruddin (Mas) Putrajaya Cycling Team            
91 Kazushige Kuboki (Jpn) Japan National Team                     
92 Yoshinori Iino (Jpn) Skil Shimano                              
93 Yoshiyuki Abe (Jpn) Skil Shimano                               
94 Wim Spijkerboer (Ned) Team Farso                               
95 Rizza Pahlavi Abdullah (Ina) Polygon Sweet Nice Team           
96 Naoki Mukaigawa (Jpn) Matrix Powertag                          
97 Takamitu Tsuji (Jpn) Matrix Powertag                           
98 Jamal Al Doseri (Brn) Bahrain National Team                    
99 Mohd Shahrul Mat Amin (Mas) Malaysia National Team             
100 Mohd Nor Umardi (Mas) Putrajaya Cycling Team                  
101 Iwan Setiawan (Ina) Indonesia Customs Cycling Club            
102 Mohd Sayuti Zahit (Mas) Le Tua Cycling Team                   
103 Budi Santoso (Ina) Polygon Sweet Nice Team                    
104 Razif Jaafar (Mas) Kuala Lumpur Team                          
105 Mohd Hariff Salleh (Mas) MCF Continental Team                 
106 Wang Yip Tang (HKg) Hong Kong Cycling Team                    
107 Haidar Anuawar Ahmad (Mas) Le Tua Cycling Team                
 
Points
 
Bukit Pasir - 44.9km
1 Anuar Manam (Mas) Le Tua Cycling Team                          5 pts
2 Mohd Hariff Salleh (Mas) MCF Continental Team                  3
3 Iwan Setiawan (Ina) Indonesia Customs Cycling Club             2
4 Haidar Anuawar Ahmad (Mas) Le Tua Cycling Team                 1
 
Parit Sulong - 88.2km
1 Makoto Iijima (Jpn) Japan National Team                        5 pts
2 Yukihiro Doi (Jpn) Skil Shimano                                3
3 Mohd Shafari Abd Malik (Mas) Malaysia National Team            2
4 Maruli Fajar Mulia (Ina) Indonesia Customs Cycling Club        1
 
Parit Raja - 141.4km
1 Makoto Iijima (Jpn) Japan National Team                        5 pts
2 Hossein Jahabanian (IRI) Tabriz Petrochemical Team             3
3 Takamitu Tsuji (Jpn) Matrix Powertag                           2
4 Mohd Shafari Abd Malik (Mas) Malaysia National Team            1
 
Teams
 
1 JAPAN NATIONAL TEAM                                     11.46.45
2 TEAM FARSO                                                      
3 TREK MARCO POLO TEAM                                            
4 TEAM DIFFERDANGE-APIFLO VACANCES                                
5 INDONESIA CUSTOMS CYCLING CLUB                                  
6 KUALA LUMPUR TEAM                                               
7 BAHRAIN NATIONAL TEAM                                           
8 HONG KONG CYCLING TEAM                                          
9 GIANT ASIA RACING TEAM                                          
10 MCF CONTINENTAL TEAM                                           
11 TABRIZ PETROCHEMICAL TEAM                                      
12 ISLAMIC AZAD UNIVERSITY TEAM                                   
13 TEAM STEGCOMPUTER – CKT – COGEAS                               
14 PUTRAJAYA CYCLING TEAM                                         
15 LE TUA CYCLING TEAM                                            
16 MALAYSIA NATIONAL TEAM                                         
17 BENTENG MUDA SELANGOR                                          
18 MATRIX POWERTAG                                                
19 POLYGON SWEET NICE TEAM                                        
20 SKIL SHIMANO                                                   
 
General classification after stage 3
 
1 Fuyu Li (Chn) Trek Marco Polo Team                      11.15.39
2 Marcel Strauss (Swi) Team Stegcomputer – CKT – Cogeas       0.04
3 Jacob Nielsen (Den) Team Farso                              0.06
4 Paul Griffin (Irl) Giant Asia Racing Team                   0.08
5 Dimitri Jiriakov (Lie) Team Stegcomputer – CKT – Cogeas     0.10
6 Hossein Askari (IRI) Tabriz Petrochemical Team                  
7 Makoto Iijima (Jpn) Japan National Team                     1.09
8 Mehdi Sohrabi (IRI) Islamic Azad University Team            1.17
9 Taufik Mohamad (Ina) Benteng Muda Selangor                      
10 Amir Mustafa Rusli (Mas) MCF Continental Team                  
11 Arehan Ryan (Ina) Le Tua Cycling Team                          
12 Tonton Susanto (Ina) Le Tua Cycling Team                       
13 Ghader Mizbani Iranagh (IRI) Tabriz Petrochemical Team         
14 Mohd Fauzan Ahmad Lutfi (Mas) Malaysia National Team       1.20
15 Hakan Nilsson (Swe) Team Differdange-Apiflo Vacances       1.22
16 Hari Fitriyanto (Ina) Polygon Sweet Nice Team              1.23
17 Mohd Rauf Nor Misbah (Mas) Malaysia National Team          3.12
18 Mohd Saiful Anuar Aziz (Mas) MCF Continental Team          3.15
19 Sergey Kudentsov (Rus) Trek Marco Polo Team                3.17
20 Hossein Nateghi (IRI) Tabriz Petrochemical Team            3.21
21 Mohd Sayuti Zahit (Mas) Le Tua Cycling Team                3.23
22 Mohd Jasmin Ruslan (Mas) MCF Continental Team              3.24
23 Stefan Löffler (Ger) Giant Asia Racing Team                3.25
24 Hossein Jahabanian (IRI) Tabriz Petrochemical Team             
25 Mohd Shafari Abd Malik (Mas) Malaysia National Team        3.26
26 David Mc Cann (Irl) Giant Asia Racing Team                     
27 Shimpei Fukuda (Jpn) Japan National Team                   3.27
28 Tjarco Cuppens (Ned) Team Differdange-Apiflo Vacances          
29 Lex Nederlof (Ned) Putrajaya Cycling Team                      
30 Suhardi Hassan (Mas) Kuala Lumpur Team                         
31 Masahiko Mifune (Jpn) Matrix Powertag                          
32 Cyrille Heymanns (Lux) Team Differdange-Apiflo Vacances        
33 Herwin Jaya (Ina) Polygon Sweet Nice Team                      
34 Lars Pria (Rom) Team Stegcomputer – CKT – Cogeas               
35 Masakazu Ito (Jpn) Japan National Team                         
36 Kin San Wu (HKg) Hong Kong Cycling Team                        
37 Nor Rizuan Zainal Mohd (Mas) Le Tua Cycling Team               
38 Weng Kin Thum (Mas) Malaysia National Team                     
39 Amir Zargari (IRI) Islamic Azad University Team                
40 Patria Rastra (Ina) Benteng Muda Selangor                      
41 Thys Poelstra (Ned) Team Farso                                 
42 Rene Ahrenkiel (Den) Team Farso                                
43 Sayed Ahmed Alawi (Brn) Bahrain National Team                  
44 Fredrik Johansson (Swe) Team Differdange-Apiflo Vacances       
45 Hannes Blank (Ger) Team Differdange-Apiflo Vacances            
46 Endra Wijaya (Ina) Indonesia Customs Cycling Club              
47 Mohd Shahrul Mat Amin (Mas) Malaysia National Team             
48 Yoshiyuki Abe (Jpn) Skil Shimano                               
49 Christian Rocha (Swi) Team Stegcomputer – CKT – Cogeas         
50 Yan Dong Xing (Chn) Trek Marco Polo Team                       
51 Ahad Kazemi (IRI) Tabriz Petrochemical Team                    
52 Abbas Saeditanha (IRI) Islamic Azad University Team            
53 S Putro Bayu Satrios (Ina) Benteng Muda Selangor               
54 Sea Keong Loh (Mas) Trek Marco Polo Team                       
55 Budi Santoso (Ina) Polygon Sweet Nice Team                     
56 Iwan Setiawan (Ina) Indonesia Customs Cycling Club         3.38
57 Masaki Wakumoto (Jpn) Matrix Powertag                      4.12
58 Yilin Liu (Chn) Trek Marco Polo Team                       4.13
59 Mohd Zamri Salleh (Mas) Malaysia National Team             4.34
60 Anuar Manam (Mas) Le Tua Cycling Team                      5.45
61 Kohei Uchima (Jpn) Japan National Team                     6.12
62 Maruli Fajar Mulia (Ina) Indonesia Customs Cycling Club        
63 Mohd Hariff Salleh (Mas) MCF Continental Team              6.13
64 Ali Jawad (Brn) Bahrain National Team                          
65 Mohamad Amin Amiruddin (Mas) Putrajaya Cycling Team            
66 Ying Hon Yeung (HKg) Hong Kong Cycling Team                    
67 Yukihiro Doi (Jpn) Skil Shimano                            6.14
68 Takamitu Tsuji (Jpn) Matrix Powertag                       6.15
69 Mohd Akmal Amrun (Mas) MCF Continental Team                6.16
70 Siu Wai Ko (HKg) Hong Kong Cycling Team                        
71 Taha Sayed Alawi (Brn) Bahrain National Team                   
72 Yusuke Hatanaka (Jpn) Skil Shimano                             
73 Mansoor Jawad (Brn) Bahrain National Team                      
74 Wan Mohd Nazri Wan Ahmad (Mas) Kuala Lumpur Team               
75 Ageel Abdulameer Thamer (Brn) Bahrain National Team            
76 Edi Purnomo (Ina) Indonesia Customs Cycling Club               
77 Hayoto Yoshida (Jpn) Japan National Team                       
78 Danny Feng (Sin) Putrajaya Cycling Team                        
79 Ken Onodera (Jpn) Trek Marco Polo Team                         
80 Mitsuhiro Matsumura (Jpn) Matrix Powertag                      
81 Mehdi Partovi (IRI) Tabriz Petrochemical Team                  
82 Yoshinori Iino (Jpn) Skil Shimano                              
83 Jacob Lea (Aus) Giant Asia Racing Team                         
84 Mohd Nor Umardi (Mas) Putrajaya Cycling Team                   
85 Haidar Anuawar Ahmad (Mas) Le Tua Cycling Team                 
86 Wang Yip Tang (HKg) Hong Kong Cycling Team                     
87 Naoki Mukaigawa (Jpn) Matrix Powertag                          
88 Harnizam Basri (Mas) Kuala Lumpur Team                         
89 Yoshimitsu Tsuji (Jpn) Matrix Powertag                         
90 Kazushige Kuboki (Jpn) Japan National Team                 6.26
91 Jamal Al Doseri (Brn) Bahrain National Team                6.33
92 Rizza Pahlavi Abdullah (Ina) Polygon Sweet Nice Team       6.36
93 Yoshimasa Hirose (Jpn) Skil Shimano                            
94 Wim Spijkerboer (Ned) Team Farso                               
95 Ahmad Falanie Ali (Mas) Kuala Lumpur Team                  7.16
96 Heksa Prasetya P. (Ina) Indonesia Customs Cycling Club     9.52
97 Agung Ali Sahbana (Ina) Indonesia Customs Cycling Club    10.18
98 Soren Peterson (Den) Team Farso                           13.17
99 Biyazid Reduan Reduan (Mas) Putrajaya Cycling Team             
100 Tomoya Kano (Jpn) Skil Shimano                                
101 Razif Jaafar (Mas) Kuala Lumpur Team                          
102 Syaifullah Mohammad (Ina) Polygon Sweet Nice Team        19.35
103 Kai Tsun Lam (HKg) Hong Kong Cycling Team                25.23
104 Nugroho Kisnanto (Ina) Benteng Muda Selangor             27.00
105 Farshad Salehian (IRI) Islamic Azad University Team      27.30
106 Nguyen Minh Tam (Vie) Vietnam National Team              33.39
107 Hin Leung Szeto (HKg) Hong Kong Cycling Team             38.30
 
Points classification
 
1 Anuar Manam (Mas) Le Tua Cycling Team                         19 pts
2 Makoto Iijima (Jpn) Japan National Team                       13
3 Mohd Sayuti Zahit (Mas) Le Tua Cycling Team                    8
4 Mohd Hariff Salleh (Mas) MCF Continental Team                  6
5 Mohd Fauzan Ahmad Lutfi (Mas) Malaysia National Team           5
6 Mohd Rauf Nor Misbah (Mas) Malaysia National Team              5
7 Mohd Jasmin Ruslan (Mas) MCF Continental Team                  5
8 Hakan Nilsson (Swe) Team Differdange-Apiflo Vacances           5
9 Mohd Zamri Salleh (Mas) Malaysia National Team                 5
10 Paul Griffin (Irl) Giant Asia Racing Team                     3
11 Stefan Löffler (Ger) Giant Asia Racing Team                   3
12 Hossein Jahabanian (IRI) Tabriz Petrochemical Team            3
13 Mohd Shafari Abd Malik (Mas) Malaysia National Team           3
14 Maruli Fajar Mulia (Ina) Indonesia Customs Cycling Club       3
15 Yukihiro Doi (Jpn) Skil Shimano                               3
16 David Mc Cann (Irl) Giant Asia Racing Team                    2
17 Iwan Setiawan (Ina) Indonesia Customs Cycling Club            2
18 Takamitu Tsuji (Jpn) Matrix Powertag                          2
19 Taufik Mohamad (Ina) Benteng Muda Selangor                    1
20 Masahiko Mifune (Jpn) Matrix Powertag                         1
21 Haidar Anuawar Ahmad (Mas) Le Tua Cycling Team                1
22 Soren Peterson (Den) Team Farso                               1
 
Mountains classification
 
1 Hossein Askari (IRI) Tabriz Petrochemical Team                 8 pts
2 Paul Griffin (Irl) Giant Asia Racing Team                      5
3 Tonton Susanto (Ina) Le Tua Cycling Team                       3
4 Dimitri Jiriakov (Lie) Team Stegcomputer – CKT – Cogeas        2
5 Mohd Fauzan Ahmad Lutfi (Mas) Malaysia National Team           2
6 Suhardi Hassan (Mas) Kuala Lumpur Team                         2
7 Ken Onodera (Jpn) Trek Marco Polo Team                         2
 
Malaysian rider classification
 
1 Amir Mustafa Rusli (Mas) MCF Continental Team           11.16.56
2 Mohd Fauzan Ahmad Lutfi (Mas) Malaysia National Team        0.03
3 Mohd Rauf Nor Misbah (Mas) Malaysia National Team           1.55
4 Mohd Saiful Anuar Aziz (Mas) MCF Continental Team           1.58
5 Mohd Sayuti Zahit (Mas) Le Tua Cycling Team                 2.06
6 Mohd Jasmin Ruslan (Mas) MCF Continental Team               2.07
7 Mohd Shafari Abd Malik (Mas) Malaysia National Team         2.09
8 Nor Rizuan Zainal Mohd (Mas) Le Tua Cycling Team            2.10
9 Weng Kin Thum (Mas) Malaysia National Team                      
10 Mohd Shahrul Mat Amin (Mas) Malaysia National Team             
 
Teams classification
 
1 Team Stegcomputer – Ckt – Cogeas                        33.50.44
2 Tabriz Petrochemical Team                                   1.07
3 Le Tua Cycling Team                                         2.14
4 Team Farso                                                  3.17
5 Trek Marco Polo Team                                            
6 Giant Asia Racing Team                                          
7 Mcf Continental Team                                        4.12
8 Malaysia National Team                                      4.18
9 Japan National Team                                         4.24
10 Benteng Muda Selangor                                          
11 Islamic Azad University Team                                   
12 Polygon Sweet Nice Team                                    4.30
13 Team Differdange-apiflo Vacances                           4.32
14 Indonesia Customs Cycling Club                             6.46
15 Matrix Powertag                                            9.42
16 Bahrain National Team                                     12.06
17 Hong Kong Cycling Team                                    12.09
18 Putrajaya Cycling Team                                         
19 Kuala Lumpur Team                                         12.12
20 Skil Shimano