Jelajah Malaysia - 2.2
Malaysia, January 7-13, 2008
Main Page Results Overall standings Previous Stage Next Stage
Stage 2 - January 8: Seremban - Melaka, 136.2 Km
Fast man Anuar Manan makes Malaysia proud
By Jean-François Quénet in Malacca
Anuar Manam (Le Tua Cycling Team) won stage two of Jelajah Malaysia by a significant margin
Photo ©: Rosli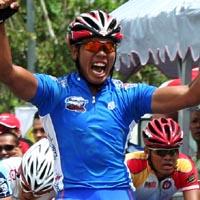 Although Malaysia is still waiting for their first stage win at their hors catégorie event Le Tour de Langkawi, which will take place for the 13th time in February (9-17) this year, the country might have found the right guy for the job in the person of Anuar Manan who is only 21 years old and has become a regular winner in 2.2 Asian races.
After concluding his 2007 season with a stage win in the 2.1 Tour of Hainan in China in November, he started the new year the same way by claiming the bunch sprint victory in stage two of the Jelajah Malaysia finishing in Malacca. Since he won two stages in the same event one year ago, he has become the most popular cyclist in Malaysia. Fortunately, the young man from Terengganu doesn't get too much emotion from the huge media attention that makes Malaysia a true cycling country by now.
He remains focused on his sprinting. "I won because of the team's hard work," explained the LeTua fast-man. "My team-mates have helped me tremendously, mostly in the last 30 kilometres. From 15 to three kilomteresto go, [Japan national team's captain Makoto] Iijima was still away but we let him hang there as much as possible. After we caught him, the speed became higher and I found myself a little bit behind. I asked my team-mates to bring me back to the front, which they did until the tight right hand turn 300 metres from the finishing line."
The jersey wearers shared the honours at the end of stage two of Jelajah Malaysia.
Photo ©: Rosli

Banking on two goals, Manan intends to maintain his lead in the points competition, which includes only the hot spot sprints, and equalize his score of stage wins last year. He's got another three flat stages for doubling up and work on his condition for entering Le Tour de Langkawi with a maximum of confidence next month.
Fuyu Li (Trek Marco Polo Team) continues to lead the overall classification after yesterday's stage one win.
How it unfolded
It was again a fast start at the Jelajah Malaysia with a hot spot sprint after 23 kilometres where Jasmin Ruslan (Malaysia Continental Team) was happy to anticipate the sprinters. Without much of a surprise, the wearer of the blue jersey Anuar Manan comforted his lead in the points competition with a second place. His LeTua team rode for him to win the second sprint of the day at km 70 just after catching Yusuke Hatanaka (Skil-Shimano), Rizza Pahlavi Abdullah (Polygon Sweet Nice), Kohei Uchima (Japan national team) and Lex Nederlof (Putrajaya). On both occasion Manan's team-mate Sayuti Zahit avoided other riders to score points and climbed up to second place in that classification.
Overall leader, Fuyu Li (Trek Marco Polo Team)
Photo ©: Jelajah Malaysia

After half way into the race, five riders broke clear: Ken Onodera (Trek-Marco Polo), Mehdi Sohrabi (Azad), Makoto Iijima (Japan national team), Maruli Fajar Mulia (Indonesia Customs) and Taufik Mohamad (Benteng Muda Selangor). They were later rejoined by another five riders: Budi Santoso and Herwin Jaya (Polygon Sweet Nice), Hannes Blank (Differdange-Apiflo), Rauf Nor Misbah (Malaysia national team) and Putro Bayu Sartrios (Benteng Muda Selangor). It brought five Indonesians in the leading group of ten cyclists!
Since defending champion Sohrabi and Iijima were standing only 1'17" down on Li Fuyu on GC, Trek-Marco Polo was keen to lead the chase. LeTua finished the job as Iijima was the last man to be caught with three kilometres to go and the battle between these two teams ended in a bunch sprint victory for the Malaysian outfit, with Manan preceding Sergey Kudentsov from Russia.
Photography
For a thumbnail gallery of these images, click here
Images by Rosli
Images by Jelajah Malaysia/www.jelajah.com.my
Results
1 Anuar Manam (Mas) Le Tua Cycling Team                    3.07.55 (44.54km/h)
2 Sergey Kudentsov (Rus) Trek Marco Polo Team                     
3 Kohei Uchima (Jpn) Japan National Team                          
4 Mohd Hariff Salleh (Mas) MCF Continental Team                   
5 Mohd Zamri Salleh (Mas) Malaysia National Team                  
6 Fuyu Li (Chn) Trek Marco Polo Team                              
7 Shimpei Fukuda (Jpn) Japan National Team                        
8 Masakazu Ito (Jpn) Japan National Team                          
9 Hossein Nateghi (IRI) Tabriz Petrochemical Team                 
10 Lex Nederlof (Ned) Putrajaya Cycling Team                      
11 Mohd Akmal Amrun (Mas) MCF Continental Team                    
12 Masahiko Mifune (Jpn) Matrix Powertag                          
13 Haidar Anuawar Ahmad (Mas) Le Tua Cycling Team                 
14 Yoshinori Iino (Jpn) Skil Shimano                              
15 Dimitri Jiriakov (Lie) Team Stegcomputer – CKT – Cogeas        
16 Tjarco Cuppens (Ned) Team Differdange-Apiflo Vacances          
17 Wang Yip Tang (HKg) Hong Kong Cycling Team                     
18 Patria Rastra (Ina) Benteng Muda Selangor                      
19 Amir Zargari (IRI) Islamic Azad University Team                
20 Iwan Setiawan (Ina) Indonesia Customs Cycling Club             
21 Kin San Wu (HKg) Hong Kong Cycling Team                        
22 Naoki Mukaigawa (Jpn) Matrix Powertag                          
23 Yusuke Hatanaka (Jpn) Skil Shimano                             
24 Taha Sayed Alawi (Brn) Bahrain National Team                   
25 Ali Jawad (Brn) Bahrain National Team                          
26 Lars Pria (Rom) Team Stegcomputer – CKT – Cogeas               
27 Takamitu Tsuji (Jpn) Matrix Powertag                           
28 Mohd Nor Umardi (Mas) Putrajaya Cycling Team                   
29 Mohd Shafari Abd Malik (Mas) Malaysia National Team            
30 Siu Wai Ko (HKg) Hong Kong Cycling Team                        
31 Marcel Strauss (Swi) Team Stegcomputer – CKT – Cogeas          
32 Jamal Al Doseri (Brn) Bahrain National Team                    
33 Mohd Shahrul Mat Amin (Mas) Malaysia National Team             
34 Mehdi Sohrabi (IRI) Islamic Azad University Team               
35 Nor Rizuan Zainal Mohd (Mas) Le Tua Cycling Team               
36 Syaifullah Mohammad (Ina) Polygon Sweet Nice Team              
37 Herwin Jaya (Ina) Polygon Sweet Nice Team                      
38 Suhardi Hassan (Mas) Kuala Lumpur Team                         
39 Wan Mohd Nazri Wan Ahmad (Mas) Kuala Lumpur Team               
40 Mansoor Jawad (Brn) Bahrain National Team                      
41 Stefan Löffler (Ger) Giant Asia Racing Team                    
42 Jacob Nielsen (Den) Team Farso                                 
43 Farshad Salehian (IRI) Islamic Azad University Team            
44 Ageel Abdulameer Thamer (Brn) Bahrain National Team            
45 Sayed Ahmed Alawi (Brn) Bahrain National Team                  
46 Makoto Iijima (Jpn) Japan National Team                        
47 Yukihiro Doi (Jpn) Skil Shimano                                
48 Cyrille Heymanns (Lux) Team Differdange-Apiflo Vacances        
49 Fredrik Johansson (Swe) Team Differdange-Apiflo Vacances       
50 Rizza Pahlavi Abdullah (Ina) Polygon Sweet Nice Team           
51 Endra Wijaya (Ina) Indonesia Customs Cycling Club              
52 Yoshiyuki Abe (Jpn) Skil Shimano                               
53 Mohamad Amin Amiruddin (Mas) Putrajaya Cycling Team            
54 Jacob Lea (Aus) Giant Asia Racing Team                         
55 Weng Kin Thum (Mas) Malaysia National Team                     
56 Paul Griffin (Irl) Giant Asia Racing Team                      
57 Rene Ahrenkiel (Den) Team Farso                                
58 Mohd Sayuti Zahit (Mas) Le Tua Cycling Team                    
59 Mohd Rauf Nor Misbah (Mas) Malaysia National Team              
60 Mitsuhiro Matsumura (Jpn) Matrix Powertag                      
61 Hannes Blank (Ger) Team Differdange-Apiflo Vacances            
62 Kazushige Kuboki (Jpn) Japan National Team                     
63 Danny Feng (Sin) Putrajaya Cycling Team                        
64 Tomoya Kano (Jpn) Skil Shimano                                 
65 Hossein Askari (IRI) Tabriz Petrochemical Team                 
66 Edi Purnomo (Ina) Indonesia Customs Cycling Club               
67 Mohd Saiful Anuar Aziz (Mas) MCF Continental Team              
68 Ken Onodera (Jpn) Trek Marco Polo Team                         
69 Amir Mustafa Rusli (Mas) MCF Continental Team                  
70 Mehdi Partovi (IRI) Tabriz Petrochemical Team                  
71 Christian Rocha (Swi) Team Stegcomputer – CKT – Cogeas         
72 Maruli Fajar Mulia (Ina) Indonesia Customs Cycling Club        
73 Hossein Jahabanian (IRI) Tabriz Petrochemical Team             
74 Biyazid Reduan Reduan (Mas) Putrajaya Cycling Team             
75 Taufik Mohamad (Ina) Benteng Muda Selangor                     
76 Kai Tsun Lam (HKg) Hong Kong Cycling Team                      
77 Ahad Kazemi (IRI) Tabriz Petrochemical Team                    
78 Hari Fitriyanto (Ina) Polygon Sweet Nice Team                  
79 Soren Peterson (Den) Team Farso                                
80 Hayoto Yoshida (Jpn) Japan National Team                       
81 Ying Hon Yeung (HKg) Hong Kong Cycling Team                    
82 Hakan Nilsson (Swe) Team Differdange-Apiflo Vacances           
83 Ghader Mizbani Iranagh (IRI) Tabriz Petrochemical Team         
84 Yilin Liu (Chn) Trek Marco Polo Team                           
85 David Mc Cann (Irl) Giant Asia Racing Team                     
86 Yoshimasa Hirose (Jpn) Skil Shimano                            
87 Mohd Fauzan Ahmad Lutfi (Mas) Malaysia National Team           
88 Tonton Susanto (Ina) Le Tua Cycling Team                       
89 Arehan Ryan (Ina) Le Tua Cycling Team                          
90 Yan Dong Xing (Chn) Trek Marco Polo Team                       
91 Thys Poelstra (Ned) Team Farso                                 
92 Budi Santoso (Ina) Polygon Sweet Nice Team                     
93 Abbas Saeditanha (IRI) Islamic Azad University Team            
94 Mohd Jasmin Ruslan (Mas) MCF Continental Team                  
95 Ahmad Falanie Ali (Mas) Kuala Lumpur Team                      
96 Nugroho Kisnanto (Ina) Benteng Muda Selangor                   
97 Harnizam Basri (Mas) Kuala Lumpur Team                         
98 Wim Spijkerboer (Ned) Team Farso                               
99 S Putro Bayu Satrios (Ina) Benteng Muda Selangor               
100 Sea Keong Loh (Mas) Trek Marco Polo Team                      
101 Razif Jaafar (Mas) Kuala Lumpur Team                          
102 Yoshimitsu Tsuji (Jpn) Matrix Powertag                        
103 Masaki Wakumoto (Jpn) Matrix Powertag                     0.26
104 Agung Ali Sahbana (Ina) Indonesia Customs Cycling Club    4.02
105 Heksa Prasetya P. (Ina) Indonesia Customs Cycling Club    6.25
106 Nguyen Minh Tam (Vie) Vietnam National Team               7.09
107 Hin Leung Szeto (HKg) Hong Kong Cycling Team             11.20
DNF Jesper Lund (Den) Team Farso                                  
DNF Miswan Sarham (Mas) Benteng Muda Selangor                     
 
Points
 
Pedas - 23.9km
1 Mohd Jasmin Ruslan (Mas) MCF Continental Team                  5 pts
2 Anuar Manam (Mas) Le Tua Cycling Team                          3
3 Mohd Zamri Salleh (Mas) Malaysia National Team                 2
4 Mohd Sayuti Zahit (Mas) Le Tua Cycling Team                    1
 
Teluk Gadong - 70.2km
1 Anuar Manam (Mas) Le Tua Cycling Team                          5 pts
2 Mohd Zamri Salleh (Mas) Malaysia National Team                 3
3 Mohd Sayuti Zahit (Mas) Le Tua Cycling Team                    2
4 Mohd Hariff Salleh (Mas) MCF Continental Team                  1
 
Sungai Udang - 113.9km
1 Mohd Rauf Nor Misbah (Mas) Malaysia National Team              5 pts
2 Makoto Iijima (Jpn) Japan National Team                        3
3 Maruli Fajar Mulia (Ina) Indonesia Customs Cycling Club        2
4 Taufik Mohamad (Ina) Benteng Muda Selangor                     1
 
Teams
 
1 Japan National Team                                      9.23.45
2 Le Tua Cycling Team                                             
3 Matrix Powertag                                                 
4 Malaysia National Team                                          
5 Hong Kong Cycling Team                                          
6 Team Stegcomputer – CKT – Cogeas                                
7 Trek Marco Polo Team                                            
8 Bahrain National Team                                           
9 MCF Continental Team                                            
10 Skil Shimano                                                   
11 Putrajaya Cycling Team                                         
12 Islamic Azad University Team                                   
13 Team Differdange-Apiflo Vacances                               
14 Polygon Sweet Nice Team                                        
15 Indonesia Customs Cycling Club                                 
16 Tabriz Petrochemical Team                                      
17 Giant Asia Racing Team                                         
18 Kuala Lumpur Team                                              
19 Team Farso                                                     
20 Benteng Muda Selangor                                          
 
General classification after stage 2
 
1 Fuyu Li (Chn) Trek Marco Polo Team                       7.20.04
2 Marcel Strauss (Swi) Team Stegcomputer – CKT – Cogeas       0.04
3 Jacob Nielsen (Den) Team Farso                              0.06
4 Paul Griffin (Irl) Giant Asia Racing Team                   0.08
5 Dimitri Jiriakov (Lie) Team Stegcomputer – CKT – Cogeas     0.10
6 Hossein Askari (IRI) Tabriz Petrochemical Team                  
7 Makoto Iijima (Jpn) Japan National Team                     1.15
8 Mehdi Sohrabi (IRI) Islamic Azad University Team            1.17
9 Amir Mustafa Rusli (Mas) MCF Continental Team                   
10 Taufik Mohamad (Ina) Benteng Muda Selangor                     
11 Ghader Mizbani Iranagh (IRI) Tabriz Petrochemical Team         
12 Arehan Ryan (Ina) Le Tua Cycling Team                          
13 Tonton Susanto (Ina) Le Tua Cycling Team                       
14 Mohd Fauzan Ahmad Lutfi (Mas) Malaysia National Team       1.20
15 Hakan Nilsson (Swe) Team Differdange-Apiflo Vacances       1.22
16 Hari Fitriyanto (Ina) Polygon Sweet Nice Team              1.23
17 Mohd Rauf Nor Misbah (Mas) Malaysia National Team          3.12
18 Mohd Saiful Anuar Aziz (Mas) MCF Continental Team          3.15
19 Sergey Kudentsov (Rus) Trek Marco Polo Team                3.21
20 Mohd Sayuti Zahit (Mas) Le Tua Cycling Team                3.23
21 Mohd Jasmin Ruslan (Mas) MCF Continental Team              3.24
22 Stefan Löffler (Ger) Giant Asia Racing Team                3.25
23 David Mc Cann (Irl) Giant Asia Racing Team                 3.26
24 Lex Nederlof (Ned) Putrajaya Cycling Team                  3.27
25 Tjarco Cuppens (Ned) Team Differdange-Apiflo Vacances          
26 Shimpei Fukuda (Jpn) Japan National Team                       
27 Patria Rastra (Ina) Benteng Muda Selangor                      
28 Masakazu Ito (Jpn) Japan National Team                         
29 Mohd Shafari Abd Malik (Mas) Malaysia National Team            
30 Nor Rizuan Zainal Mohd (Mas) Le Tua Cycling Team               
31 Kin San Wu (HKg) Hong Kong Cycling Team                        
32 Masahiko Mifune (Jpn) Matrix Powertag                          
33 Hossein Nateghi (IRI) Tabriz Petrochemical Team                
34 Lars Pria (Rom) Team Stegcomputer – CKT – Cogeas               
35 Suhardi Hassan (Mas) Kuala Lumpur Team                         
36 Herwin Jaya (Ina) Polygon Sweet Nice Team                      
37 Amir Zargari (IRI) Islamic Azad University Team                
38 Cyrille Heymanns (Lux) Team Differdange-Apiflo Vacances        
39 Mohd Shahrul Mat Amin (Mas) Malaysia National Team             
40 Sayed Ahmed Alawi (Brn) Bahrain National Team                  
41 Endra Wijaya (Ina) Indonesia Customs Cycling Club              
42 Weng Kin Thum (Mas) Malaysia National Team                     
43 Yoshiyuki Abe (Jpn) Skil Shimano                               
44 Fredrik Johansson (Swe) Team Differdange-Apiflo Vacances       
45 Rene Ahrenkiel (Den) Team Farso                                
46 Hossein Jahabanian (IRI) Tabriz Petrochemical Team             
47 Hannes Blank (Ger) Team Differdange-Apiflo Vacances            
48 Yan Dong Xing (Chn) Trek Marco Polo Team                       
49 Christian Rocha (Swi) Team Stegcomputer – CKT – Cogeas         
50 Thys Poelstra (Ned) Team Farso                                 
51 Yilin Liu (Chn) Trek Marco Polo Team                           
52 Ahad Kazemi (IRI) Tabriz Petrochemical Team                    
53 Budi Santoso (Ina) Polygon Sweet Nice Team                     
54 S Putro Bayu Satrios (Ina) Benteng Muda Selangor               
55 Abbas Saeditanha (IRI) Islamic Azad University Team            
56 Sea Keong Loh (Mas) Trek Marco Polo Team                       
57 Iwan Setiawan (Ina) Indonesia Customs Cycling Club         3.39
58 Masaki Wakumoto (Jpn) Matrix Powertag                      4.12
59 Mohd Zamri Salleh (Mas) Malaysia National Team             4.34
60 Anuar Manam (Mas) Le Tua Cycling Team                      5.58
61 Kohei Uchima (Jpn) Japan National Team                     6.12
62 Maruli Fajar Mulia (Ina) Indonesia Customs Cycling Club        
63 Ali Jawad (Brn) Bahrain National Team                      6.13
64 Jamal Al Doseri (Brn) Bahrain National Team                    
65 Mohamad Amin Amiruddin (Mas) Putrajaya Cycling Team            
66 Ying Hon Yeung (HKg) Hong Kong Cycling Team                    
67 Mohd Hariff Salleh (Mas) MCF Continental Team              6.15
68 Mohd Akmal Amrun (Mas) MCF Continental Team                6.16
69 Haidar Anuawar Ahmad (Mas) Le Tua Cycling Team                 
70 Wang Yip Tang (HKg) Hong Kong Cycling Team                     
71 Mohd Nor Umardi (Mas) Putrajaya Cycling Team                   
72 Yoshinori Iino (Jpn) Skil Shimano                              
73 Siu Wai Ko (HKg) Hong Kong Cycling Team                        
74 Naoki Mukaigawa (Jpn) Matrix Powertag                          
75 Mansoor Jawad (Brn) Bahrain National Team                      
76 Ageel Abdulameer Thamer (Brn) Bahrain National Team            
77 Taha Sayed Alawi (Brn) Bahrain National Team                   
78 Yusuke Hatanaka (Jpn) Skil Shimano                             
79 Takamitu Tsuji (Jpn) Matrix Powertag                           
80 Wan Mohd Nazri Wan Ahmad (Mas) Kuala Lumpur Team               
81 Yukihiro Doi (Jpn) Skil Shimano                                
82 Mitsuhiro Matsumura (Jpn) Matrix Powertag                      
83 Edi Purnomo (Ina) Indonesia Customs Cycling Club               
84 Danny Feng (Sin) Putrajaya Cycling Team                        
85 Mehdi Partovi (IRI) Tabriz Petrochemical Team                  
86 Jacob Lea (Aus) Giant Asia Racing Team                         
87 Ken Onodera (Jpn) Trek Marco Polo Team                         
88 Yoshimasa Hirose (Jpn) Skil Shimano                            
89 Harnizam Basri (Mas) Kuala Lumpur Team                         
90 Hayoto Yoshida (Jpn) Japan National Team                       
91 Yoshimitsu Tsuji (Jpn) Matrix Powertag                         
92 Kazushige Kuboki (Jpn) Japan National Team                 6.26
93 Rizza Pahlavi Abdullah (Ina) Polygon Sweet Nice Team       6.36
94 Wim Spijkerboer (Ned) Team Farso                               
95 Ahmad Falanie Ali (Mas) Kuala Lumpur Team                  7.16
96 Heksa Prasetya P. (Ina) Indonesia Customs Cycling Club     9.52
97 Agung Ali Sahbana (Ina) Indonesia Customs Cycling Club    10.18
98 Tomoya Kano (Jpn) Skil Shimano                            13.17
99 Biyazid Reduan Reduan (Mas) Putrajaya Cycling Team             
100 Soren Peterson (Den) Team Farso                               
101 Razif Jaafar (Mas) Kuala Lumpur Team                          
102 Syaifullah Mohammad (Ina) Polygon Sweet Nice Team        19.35
103 Kai Tsun Lam (HKg) Hong Kong Cycling Team                25.23
104 Nugroho Kisnanto (Ina) Benteng Muda Selangor             27.00
105 Farshad Salehian (IRI) Islamic Azad University Team      27.30
106 Nguyen Minh Tam (Vie) Vietnam National Team              33.39
107 Hin Leung Szeto (HKg) Hong Kong Cycling Team             38.30
 
Points classification
 
1 Anuar Manam (Mas) Le Tua Cycling Team                         14 pts
2 Mohd Sayuti Zahit (Mas) Le Tua Cycling Team                    8
3 Mohd Fauzan Ahmad Lutfi (Mas) Malaysia National Team           5
4 Mohd Rauf Nor Misbah (Mas) Malaysia National Team              5
5 Mohd Jasmin Ruslan (Mas) MCF Continental Team                  5
6 Hakan Nilsson (Swe) Team Differdange-Apiflo Vacances           5
7 Mohd Zamri Salleh (Mas) Malaysia National Team                 5
8 Paul Griffin (Irl) Giant Asia Racing Team                      3
9 Makoto Iijima (Jpn) Japan National Team                        3
10 Stefan Löffler (Ger) Giant Asia Racing Team                   3
11 Mohd Hariff Salleh (Mas) MCF Continental Team                 3
12 David Mc Cann (Irl) Giant Asia Racing Team                    2
13 Maruli Fajar Mulia (Ina) Indonesia Customs Cycling Club       2
14 Taufik Mohamad (Ina) Benteng Muda Selangor                    1
15 Masahiko Mifune (Jpn) Matrix Powertag                         1
16 Soren Peterson (Den) Team Farso                               1
 
Mountains classification
 
1 Hossein Askari (IRI) Tabriz Petrochemical Team                 8 pts
2 Paul Griffin (Irl) Giant Asia Racing Team                      5
3 Tonton Susanto (Ina) Le Tua Cycling Team                       3
4 Dimitri Jiriakov (Lie) Team Stegcomputer – CKT – Cogeas        2
5 Mohd Fauzan Ahmad Lutfi (Mas) Malaysia National Team           2
6 Suhardi Hassan (Mas) Kuala Lumpur Team                         2
7 Ken Onodera (Jpn) Trek Marco Polo Team                         2
 
Malaysian rider classification
 
1 Amir Mustafa Rusli (Mas) MCF Continental Team            7.21.21
2 Mohd Fauzan Ahmad Lutfi (Mas) Malaysia National Team        0.03
3 Mohd Rauf Nor Misbah (Mas) Malaysia National Team           1.55
4 Mohd Saiful Anuar Aziz (Mas) MCF Continental Team           1.58
5 Mohd Sayuti Zahit (Mas) Le Tua Cycling Team                 2.06
6 Mohd Jasmin Ruslan (Mas) MCF Continental Team               2.07
7 Mohd Shafari Abd Malik (Mas) Malaysia National Team         2.10
8 Nor Rizuan Zainal Mohd (Mas) Le Tua Cycling Team                
9 Mohd Shahrul Mat Amin (Mas) Malaysia National Team              
10 Weng Kin Thum (Mas) Malaysia National Team                     
 
Teams classification
 
1 Team Stegcomputer – Ckt – Cogeas                        22.03.59
2 Tabriz Petrochemical Team                                   1.07
3 Le Tua Cycling Team                                         2.14
4 Trek Marco Polo Team                                        3.17
5 Team Farso                                                      
6 Giant Asia Racing Team                                          
7 Mcf Continental Team                                        4.12
8 Malaysia National Team                                      4.18
9 Japan National Team                                         4.24
10 Benteng Muda Selangor                                          
11 Islamic Azad University Team                                   
12 Polygon Sweet Nice Team                                    4.30
13 Team Differdange-Apiflo Vacances                           4.32
14 Indonesia Customs Cycling Club                             6.46
15 Matrix Powertag                                            9.42
16 Bahrain National Team                                     12.06
17 Hong Kong Cycling Team                                    12.09
18 Putrajaya Cycling Team                                         
19 Skil Shimano                                              12.12
20 Kuala Lumpur Team