47th Fitchburg Longsjo Classic - NE
USA, June 29-July 2, 2006
Main Page Results Overall standings Previous Stage Next Stage
Stage 3 - July 1: Wachusett Mountain Road Race, 104/69 miles
Milne surprises with mountain-top win
by Mark Zalewski, North American Editor
Sean Milne (Navigators Insurance) collapses after winning his second stage in a row
Photo ©: Ed Collier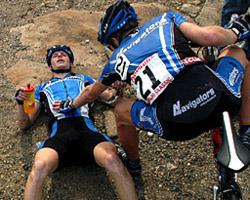 Navigators Insurance's Sean Milne continues to be the surprise of the Fitchburg Longsjo Classic. The usual sprinter, who won yesterday's field sprint, attacked from within the final breakaway of ten to climb the Wachusett Mountain solo, taking the stage and putting enough time into Heath Blackgrove (Toyota-United Pro) for the overall lead.
"The was first time I had won a race where I didn't have to sprint against someone to win," said Milne. "But I still had to go as hard as I could to win."
Milne was one of ten riders in the final break which was given plenty of room since it contained the right combination of riders from the right teams. Absent from the break was race leader Brian Sheedy (Priority Health) but two of his teammates were there. Navigators Insurance and Colavita-Sutter Home had the most cards to play with multiple riders, and Toyota-United Pro had their GC rider Heath Blackgrove in the break; who was only five seconds out of the lead entering today's stage.
But Navigators Insurance had two GC contenders along with Milne to utilize - Phil Zajicek who was only 31 seconds back and Glen Chadwick. "With two to go we sent Chadwick up the road and he built a minute," said director Ed Beamon. "He wasn't a super threat to the overall being two minutes down. But Colavita and Blackgrove had to work hard to get him back. He was caught with half a lap to go, and at that point I knew the guys were pretty well pegged so I told Sean to try it."
Milne jumped right before the final time through the feed zone as the race headed out towards Wachusett. TIAA-CREF's Ian MacGregor tried to bridge to Milne but was not able to make it all the way across. "It was more so to set-up Phil," said Milne about his move. "Phil and I had sat in while the group chased Chadwick down, so we had a free ride. I was a little hesitant because I didn't know how I felt."
Milne built more than a minute as he started the ascent up to the ski resort. "With a kilometer to go I heard I had more than a minute so I just pulled my radio out and just went as hard as I could," said Milne. "I kept telling myself to not be greedy and just go steady because I didn't know how hard the final climb was."
Milne's strategy worked, for both the stage win and the overall as he put enough time into Blackgrove who was chasing behind with Colavita-Sutter Home's Tyler Wren and Zajicek sitting on. "I was able to salute with one arm and then I fell over into the barricades!," said Milne. "I was so tired."
The women's racing has been dominated by Sarah Ulmer (Colavita-Cooking Light) who won again today, eight seconds ahead of teammate Tina Pic and twelve seconds ahead of Laura Van Gilder (Team Lipton). Ulmer retains her orange leader's jersey by twenty-five seconds over stage one winner Heather Labance (Advil-Chapstick).
Photography
For a thumbnail gallery of these images, click here
Images by Ed Collier/www.cyclingpix.net
Results

Pro/1 Men
 
1 Shawn Milne (Navigators Insurance)                     4.22.17
2 Philip Zajicek (Navigators Insurance)                     0.21
3 Tyler Wren (Colavita Olive Oil - Sutter Home)             0.26
4 Heath Blackgrove (Toyota-United)                          0.32
5 Jon Hamblen (Team Nerac/Outdoorlights.com)                0.53
6 Brent Bookwalter (Priority Health)                            
7 Ted King (Priority Health)                                1.00
8 Jackson Stewart (Kodakgallery.com/Sierra Nevada)          1.07
9 Ian MacGregor (Team TIAA-CREF)                            1.10
10 Matt Shriver (TargeTraining)                                 
11 Richard Geng (CCB/VW)                                    1.55
12 Glen Chadwick (Navigators Insurance)                     3.15
13 Kyle Wamsley (Colavita Olive Oil - Sutter Home)          3.36
14 Mark McCormack (Colavita Olive Oil - Sutter Home)        4.53
15 Bernard Van Ulden (Navigators Insurance)                 5.00
16 Scott Zwizanski (Kodakgallery.com/Sierra Nevada)         5.27
17 Joseph Moody (Kenda/Raleigh Racing)                      7.01
18 Josh Dillon (FiordiFrutta)                               7.10
19 Patrick Walsh (CCB/VW)                                   7.26
20 Michael Dietrich (Kodakgallery.com/Sierra Nevada)        7.41
21 Jason Baer (Kenda/Raleigh Racing)                            
22 Michael Creed (Team TIAA-CREF)                               
23 Dan Cassidy (CCB/VW)                                     8.04
24 Alaisand Bialiauski (CCB/VW)                             8.17
25 Johnny Hayes (CRCA/Sakonett)                             9.48
26 Dan Greenfield (TargeTraining)                          10.10
27 Paul Ward (Natures Path)                                10.41
28 Daniel Vaillancourt (CCB/VW)                            10.54
29 David Guttenplan (Subaru)                               11.20
30 Justin Spinelli (Team Nerac/Outdoorlights.com)               
31 Pete Lopinto (Kodakgallery.com/Sierra Nevada)                
32 Vassill Davidenko (Navigators Insurance)                     
33 Cesar Grajales (Navigators Insurance)                        
34 Peter Stetina (Team TIAA-CREF)                               
35 Christopher Jones (Anthem Blue Cross)                        
36 Andy Guptil (TargeTraining)                                  
37 Zach Bell (Rite Aid)                                         
38 Caleb Fairly (CRCA/Sakonnet)                                 
39 Jose-Manuel Garcia (Toyota-United)                           
40 Gerardo Castro (Natures Path)                                
41 Stefano Barberi (Toyota-United)                              
42 Jesse Anthony (Kodakgallery.com/Sierra Nevada)               
43 Michael Norton (Team Nerac/Outdoorlights.com)                
44 Robbie King (Priority Health)                                
45 Matt Cooke (LSV/Kelly Benefit)                               
46 Todd Wells (TargeTraining)                                   
47 Will Frischkorn (Team TIAA-CREF)                             
48 Frank Pipp (TargeTraining)                                   
49 Peter Dawson (South Australia.com-AIS)                       
50 Todd Herriott (Colavita Olive Oil - Sutter Home)             
51 Brian Sheedy (Priority Health)                               
52 Hayden Brooks (Subaru)                                       
53 Jonathan Page (Colavita Olive Oil - Sutter Home)             
54 Aidan Charles (Anthem Blue Cross)                            
55 Chris Kuhl (CRCA/Sakonnet)                                   
56 Ward Solar (Natures Path)                               12.03
57 Hilton Clarke (Navigators Insurance)                    12.13
58 Frankie McCormack (Colavita Olive Oil - Sutter Home)    13.11
59 Zak Grabowski (Colavita Olive Oil - Sutter Home)             
60 Davide Frattini (Colavita Olive Oil - Sutter Home)           
61 Alec Donahue (Kenda/Raleigh Racing)                          
62 David Wiswell (CRCA/Sakonnet)                           13.44
63 Lee Rosenthal (CRCA/Sakonett)                           14.07
64 Shawn Forsythe (CCB/VW)                                 14.26
65 Jake Rytlewski (Priority Health)                             
66 Yahor Buben (CCB/VW)                                         
67 Richard England (Priority Health)                            
68 Troy Wells (Team TIAA-CREF)                                  
69 Tommy Nankervis (Priority Health)                            
70 Wesley Sulzberger (South Australia.com-AIS)                  
71 Michael Ford (South Australia.com-AIS)                       
72 Miles Olman (South Australia.com-AIS)                        
73 Robby Ketchell (Team Nerac/Outdoorlights.com)                
74 Brian Bibbons (Subaru)                                       
75 Nikola Smutny (Anthem Blue Cross)                            
76 Mariano Friedick (Toyota-United)                        16.37
77 Rahsaan Bahati (Team TIAA-CREF)                              
78 Michael Barton (Boston Scientific)                           
79 Amos Brumble (CCB/VW)                                   16.59
80 Guy East (CRCA/Sakonnet)                                     
81 Josh Bezecny (TargeTraining)                            19.39
82 Matthew White (FiordiFrutta)                            20.03
83 Dan Schmatz (Kodakgallery.com/Sierra Nevada)                 
84 Matthew O'Keefe (CCB/VW)                                20.20
85 Peter Penzell (Rite Aid)                                21.05
86 John Delong (Rite Aid)                                  23.14
87 Ivan Dominquez (Toyota-United)                          23.26
88 Mike Lange (Team TIAA-CREF)                             25.40
89 Bill Elliston (TargeTraining)                           25.54
90 Johannes Huseby (FiordiFrutta)                          32.33
91 Stephen Woolridge (South Australia.com-AIS)             33.32
92 Jon Wirsing (Rite Aid)                                  41.11
93 Alejandro Acton (TargeTraining)                         42.30
DNF Scott Veggeberg (Compliance Depot)                          
DNF Ashley Hutchinson (South Australia.com-AIS)                 
DNF Michael Cody (FiordiFrutta)                                 
DNF Benjamin Zawacki (FiordiFrutta)                             
DNF Chris Rozdilsky (FiordiFrutta)                              
DNF Ryan Dewald (Rite Aid)                                      
DNF Josh Taylor (Rite Aid)                                      
DNF David Werling (Team Nerac/Outdoorlights.com)                
DNF Wes Hartman (TargeTraining)                                 
DNF Taylor Tolleson (Team TIAA-CREF)                            
DNF Conor Hurley (Boston Scientific)                            
DNF Justin Lillie (Boston Scientific)                           
DNF Eugene Boronow (GS Mengoni)                                 
 
Pro/1/2 Women
 
1 Sarah Ulmer (Colavita/Cooking Light)                   3.36.10
2 Tina Pic (Colavita/Cooking Light)                         0.08
3 Laura Van Gilder (TEAm Lipton)                            0.12
4 Aimee Vasse (Colorado Premier Training)                   0.16
5 Heather Labance (Advil-Chapstick)                             
6 Iona Wynter (Colavita/Cooking Light)                      0.22
7 Emily Van Meter (Metromint Cycling)                       0.25
8 Kerry Litka (Terry Precision)                             0.27
9 Suz Weldon (TRIA)                                         0.29
10 Renee Eastman (Vitamin Cottage)                          0.35
11 Sar Bresnick-Zocchi (Ford Cycling)                       0.38
12 Sarah Tillotson (Colavita/Cooking Light)                     
13 Megan Guarnier ()                                            
14 Katherine Lambden (TEAm Lipton)                          0.51
15 Amity Elliot (ADG/Joe's Bike Shop)                       0.55
16 Mara Miller (Advil-Chapstick)                                
17 Hiroko Shimada (Gear Works-Spin Arts)                    0.58
18 Jennifer Manefield (Cheerwine)                           1.01
19 Carli Figueroa (Paramount Racing)                        1.04
20 Arielle Filiberti (Hot Tubes)                            1.14
21 Sarah Uhl (Gear Works-Spin Arts)                         1.16
22 Anna Milkowski (Gear Works-Spin Arts)                    1.21
23 Elizabeth Frye (Cheerwine)                                   
24 Holli Steelman (Cheerwine)                               1.30
25 Meshy Holt (Colavita/Cooking Light)                      1.33
26 Kacey Manderfield (Wolverine/Redken)                         
27 Melissa Petty (BMW-Bianchi)                              1.37
28 Lara Marie Kroepsch (TEAm Lipton)                        1.42
29 MacKenzie Dickey (Aaron's Cycling Team)                  1.45
30 Gina Kavesh (TRIA)                                       1.57
31 Caitlyn McCullough (Advil-Chapstick)                     2.02
32 Mandy Lozano (Cheerwine)                                 2.08
33 Brooke O'Connor (Hub Racing)                                 
34 Rebecca Wellons (Gear Works-Spin Arts)                       
35 Lisa Matlock (JR Engineering)                            2.16
36 Amanda Lawrence (North Atlantic Velo)                    2.25
37 Kami Tremblay (Gear Works-Spin Arts)                     2.29
38 Lynn Patchett (RMS FitTech)                              2.35
39 Holly Borowski (US Armed Forces)                             
40 Sarah Caravella (TEAm Lipton)                                
41 Janet Olney (ADG/Joe's Bike Shop)                        3.05
42 Allie Warfel (Cheerwine)                                 3.21
43 Kele Hulser (Gear Works-Spin Arts)                       3.47
44 Meredith Miller (TEAm Lipton)                            5.21
45 Sheba Farrin (Hub Racing)                               11.25
46 Katharine Lundby (Eddie B Cycling)                      12.48
47 Reem Jishi (Advil-Chapstick)                            14.25
48 Julia Bradley (Team R.A.C.E.)                           14.44
49 Chamblee Abernethy (Team Kenda Tire)                    14.48
50 Jenner Yaeso (JR Engineering)                           14.59
51 Pauline Frascone (Independent Fabrication)              15.49
52 Lenore Imhof (Colavita/Cooking Light)                   16.20
53 Michelle Hurley (Team International B)                  26.16
54 Michele Bote (Hub Racing)                               26.22
55 Lisa Vible (ADG/Joe's Bike Shop)                        40.06
56 Diana Joness (Team R.A.C.E.)                            45.34
DNF Amy Wallace (Wheelworks)                                    
DNF Priscilla Pang (ADG/Joe's Bike Shop)                        
DNF Heather Sborz (Unattached)                                  
DNF Sara Chubb Sauvayre (CRCA/Comedy Central)                   
DNF Marianne Stover (Independent Fabrication)                   
DNF Becky Broeder (Hub Racing)                                  
DNF Shannon Koch (Compliance Depot)                             
DNF Emma Nelson (Advil-Chapstick)                               
DNF Beth Mason (US Armed Forces)                                
DNF Beth Leasure (Team Spirit Cycling)                          
 
Pro/1 Men after stage 3
 
1 Shawn Milne (Navigators Insurance)                     7.16.17
2 Heath Blackgrove (Toyota-United)                          0.12
3 Philip Zajicek (Navigators Insurance)                     0.22
4 Tyler Wren (Colavita Olive Oil - Sutter Home)             0.39
5 Brent Bookwalter (Priority Health)                        0.53
6 Ted King (Priority Health)                                1.06
7 Jackson Stewart (Kodakgallery.com/Sierra Nevada)          1.15
8 Jon Hamblen (Team Nerac/Outdoorlights.com)                1.22
9 Ian MacGregor (Team TIAA-CREF)                            2.31
10 Richard Geng (CCB/VW)                                    2.43
11 Kyle Wamsley (Colavita Olive Oil - Sutter Home)          3.47
12 Mark McCormack (Colavita Olive Oil - Sutter Home)        4.51
13 Glen Chadwick (Navigators Insurance)                     5.12
14 Bernard Van Ulden (Navigators Insurance)                 5.25
15 Scott Zwizanski (Kodakgallery.com/Sierra Nevada)         5.40
16 Joseph Moody (Kenda/Raleigh Racing)                      6.38
17 Josh Dillon (FiordiFrutta)                               7.31
18 Dan Cassidy (CCB/VW)                                     8.25
19 Michael Dietrich (Kodakgallery.com/Sierra Nevada)        8.32
20 Patrick Walsh (CCB/VW)                                   9.02
21 Jason Baer (Kenda/Raleigh Racing)                        9.03
22 Alaisand Bialiauski (CCB/VW)                             9.50
23 Brian Sheedy (Priority Health)                          10.55
24 Jose-Manuel Garcia (Toyota-United)                      11.10
25 Todd Herriott (Colavita Olive Oil - Sutter Home)        11.17
26 Frank Pipp (TargeTraining)                              11.22
27 Cesar Grajales (Navigators Insurance)                   11.24
28 Stefano Barberi (Toyota-United)                         11.28
29 Will Frischkorn (Team TIAA-CREF)                        11.33
30 Jesse Anthony (Kodakgallery.com/Sierra Nevada)          11.35
31 Zach Bell (Rite Aid)                                    11.37
32 Matt Shriver (TargeTraining)                            11.41
33 Jonathan Page (Colavita Olive Oil - Sutter Home)        11.44
34 Daniel Vaillancourt (CCB/VW)                            11.45
35 Justin Spinelli (Team Nerac/Outdoorlights.com)          11.54
36 Matt Cooke (LSV/Kelly Benefit)                          11.59
37 Todd Wells (TargeTraining)                              12.03
38 Michael Norton (Team Nerac/Outdoorlights.com)           12.05
39 Caleb Fairly (CRCA/Sakonnet)                            12.14
40 Peter Stetina (Team TIAA-CREF)                          12.15
41 Vassill Davidenko (Navigators Insurance)                12.18
42 Paul Ward (Natures Path)                                12.27
43 Chris Kuhl (CRCA/Sakonnet)                              12.29
44 Robbie King (Priority Health)                           12.30
45 Johnny Hayes (CRCA/Sakonett)                            12.35
46 Hayden Brooks (Subaru)                                  12.43
47 Andy Guptil (TargeTraining)                             12.50
48 Ward Solar (Natures Path)                               13.14
49 Peter Dawson (South Australia.com-AIS)                  13.15
50 Pete Lopinto (Kodakgallery.com/Sierra Nevada)           13.22
51 David Guttenplan (Subaru)                               13.31
52 Frankie McCormack (Colavita Olive Oil - Sutter Home)    13.39
53 Gerardo Castro (Natures Path)                           14.13
54 Hilton Clarke (Navigators Insurance)                    14.21
55 Davide Frattini (Colavita Olive Oil - Sutter Home)      14.22
56 Zak Grabowski (Colavita Olive Oil - Sutter Home)        14.29
57 Mariano Friedick (Toyota-United)                        16.54
58 Wesley Sulzberger (South Australia.com-AIS)             16.57
59 Troy Wells (Team TIAA-CREF)                                  
60 Michael Ford (South Australia.com-AIS)                  17.03
61 Michael Creed (Team TIAA-CREF)                          17.34
62 Guy East (CRCA/Sakonnet)                                17.47
63 Rahsaan Bahati (Team TIAA-CREF)                         18.11
64 Miles Olman (South Australia.com-AIS)                        
65 Tommy Nankervis (Priority Health)                       18.15
66 David Wiswell (CRCA/Sakonnet)                           18.22
67 Brian Bibbons (Subaru)                                  18.37
68 Nikola Smutny (Anthem Blue Cross)                       18.56
69 Amos Brumble (CCB/VW)                                   19.19
70 Aidan Charles (Anthem Blue Cross)                       20.03
71 Matthew White (FiordiFrutta)                            21.31
72 Dan Schmatz (Kodakgallery.com/Sierra Nevada)            21.32
73 Dan Greenfield (TargeTraining)                          21.34
74 Josh Bezecny (TargeTraining)                            22.08
75 Peter Penzell (Rite Aid)                                22.32
76 Alec Donahue (Kenda/Raleigh Racing)                     22.46
77 Richard England (Priority Health)                       23.14
78 Ivan Dominquez (Toyota-United)                          23.30
79 Lee Rosenthal (CRCA/Sakonett)                           25.22
80 Yahor Buben (CCB/VW)                                    25.49
81 Christopher Jones (Anthem Blue Cross)                   27.07
82 Bill Elliston (TargeTraining)                           28.58
83 Shawn Forsythe (CCB/VW)                                 29.00
84 Jake Rytlewski (Priority Health)                        29.49
85 Mike Lange (Team TIAA-CREF)                             32.11
86 John Delong (Rite Aid)                                  32.40
87 Matthew O'Keefe (CCB/VW)                                37.41
88 Michael Barton (Boston Scientific)                      41.51
89 Johannes Huseby (FiordiFrutta)                          43.29
90 Stephen Woolridge (South Australia.com-AIS)             44.52
91 Alejandro Acton (TargeTraining)                         46.56
92 Robby Ketchell (Team Nerac/Outdoorlights.com)           48.12
93 Jon Wirsing (Rite Aid)                                  53.46
 
Pro/1/2 Women after stage 3
 
1 Sarah Ulmer (Colavita/Cooking Light)                   5.13.46
2 Heather Labance (Advil-Chapstick)                         0.25
3 Laura Van Gilder (TEAm Lipton)                            0.37
4 Tina Pic (Colavita/Cooking Light)                         0.48
5 Suz Weldon (TRIA)                                         0.57
6 Iona Wynter (Colavita/Cooking Light)                      1.02
7 Sarah Tillotson (Colavita/Cooking Light)                  1.23
8 Emily Van Meter (Metromint Cycling)                       1.32
9 Aimee Vasse (Colorado Premier Training)                   1.49
10 Renee Eastman (Vitamin Cottage)                          1.54
11 Meshy Holt (Colavita/Cooking Light)                      1.56
12 Mara Miller (Advil-Chapstick)                            2.01
13 Kerry Litka (Terry Precision)                            2.07
14 Hiroko Shimada (Gear Works-Spin Arts)                    2.13
15 Megan Guarnier                                           2.20
16 Katherine Lambden (TEAm Lipton)                              
17 Sarah Uhl (Gear Works-Spin Arts)                         2.25
18 Anna Milkowski (Gear Works-Spin Arts)                    2.37
19 Kacey Manderfield (Wolverine/Redken)                     2.42
20 Carli Figueroa (Paramount Racing)                        2.47
21 Holli Steelman (Cheerwine)                               2.49
22 Sar Bresnick-Zocchi (Ford Cycling)                       2.51
23 Amity Elliot (ADG/Joe's Bike Shop)                       2.57
24 Arielle Filiberti (Hot Tubes)                            3.08
25 Jennifer Manefield (Cheerwine)                           3.17
26 Rebecca Wellons (Gear Works-Spin Arts)                   3.24
27 Lara Marie Kroepsch (TEAm Lipton)                        3.28
28 Elizabeth Frye (Cheerwine)                               3.36
29 MacKenzie Dickey (Aaron's Cycling Team)                  3.43
30 Brooke O'Connor (Hub Racing)                             4.02
31 Mandy Lozano (Cheerwine)                                 4.05
32 Lisa Matlock (JR Engineering)                            4.22
33 Kami Tremblay (Gear Works-Spin Arts)                     4.31
34 Sarah Caravella (TEAm Lipton)                            4.32
35 Janet Olney (ADG/Joe's Bike Shop)                        4.43
36 Melissa Petty (BMW-Bianchi)                                  
37 Allie Warfel (Cheerwine)                                 4.51
38 Holly Borowski (US Armed Forces)                         5.11
39 Kele Hulser (Gear Works-Spin Arts)                           
40 Amanda Lawrence (North Atlantic Velo)                    6.42
41 Caitlyn McCullough (Advil-Chapstick)                     7.22
42 Meredith Miller (TEAm Lipton)                            7.50
43 Gina Kavesh (TRIA)                                       8.45
44 Lynn Patchett (RMS FitTech)                             13.49
45 Sheba Farrin (Hub Racing)                               14.20
46 Pauline Frascone (Independent Fabrication)              20.06
47 Jenner Yaeso (JR Engineering)                           20.21
48 Katharine Lundby (Eddie B Cycling)                      22.30
49 Reem Jishi (Advil-Chapstick)                            23.17
50 Julia Bradley (Team R.A.C.E.)                           25.04
51 Lenore Imhof (Colavita/Cooking Light)                   25.47
52 Chamblee Abernethy (Team Kenda Tire)                    28.22
53 Michele Bote (Hub Racing)                               29.28
54 Michelle Hurley (Team International B)                  39.17
55 Lisa Vible (ADG/Joe's Bike Shop)                        53.59
56 Diana Joness (Team R.A.C.E.)                          1.02.16