47th Fitchburg Longsjo Classic - NE
USA, June 29-July 2, 2006
Main Page Results Overall standings Previous Stage Next Stage
Stage 2 - June 30: Fitchburg State College Circuit Race, 78/34 miles
Sheedy retains and Ulmer ascends to overall leads
by Mark Zalewski, North American Editor
Sarah Ulmer moved to the top of the GC after Friday's circuit race
Photo ©: Ed Collier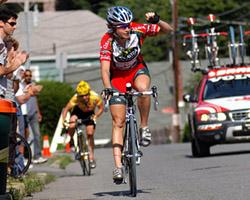 It was good weather in New England today, a welcomed respite from the rains. And in honour of the hot and humid conditions, the racers in the Fitchburg State College Circuit Race matched the heat with a blistering pace, finishing with an average almost 47 km/h. With the high speeds, all the breakaways burned up and it was local boy Sean Milne (Navigators Insurnance) taking the field sprint ahead of fellow New Englander Mark McCormack (Colavita-Sutter Home.)
"I've finished this circuit four times in my career," said Milne who is from nearby Gloucester. "Once as a junior when I won it, as a category three when I finished third, my first year as a pro when I won the sprinters jersey and now this."
The Navigators played a new card in Milne who usually sets up the veteran Vasilli Davidenko or fast sprinter Hilton Clarke for field sprints. "This is a good race for us to try some of our alternative moves," Milne explained. "I'm from the area and I was a little extra jazzed to do well. As the race went on I felt better and better. Hilton who has been racing well said he wasn't feeling it, and Vasilli said [the same.]"
Sean Milne
Photo ©: Ed Collier

"The boys pulled a fast one on them, we had Davidenko leading him out," said Navigators director Ed Beamon. "We have been using him more of a leadout set-up but he's been going good this whole month. And he's from Gloucester, so he's a local boy."
Longtime Fitchburg racer Mark McCormack was surprised by two aspects of today's race -- the speed and the depth of the field. The two factors that he attributes it two are the nice conditions and the fact that the race has upgraded the field to only pro and elite category one racers, giving the category two racers their own race.
"There were a few moves with some serious heavy hitters in them and I thought it was impressive," McCormack said. "There was a move of ten with me and Page, three Toyotas and three Navigators. And we still got caught, so it shows the depth of the field. Priority Health must have been doing the brunt of it. It's a good sign for U.S. cycling with teams taking responsibility to bring back the moves."
Nothing changes in the overall, with Brian Sheedy (Priority Health) still with a two second lead. However, McCormack assures that tomorrow's Wachusett Mountain Road Race, with its tough climbs and even tougher summit finish, will reshuffle the field completely.
"Going into tomorrow nothing changes, and with this race everything really changes tomorrow," said McCormack. "It's really a tactical race and with the GC the way it is now, it's impossible to pick a winner. But if history has anything to say, I feel bad for Brian. I can only think of one or two guys who have kept the jersey through the whole race. Back in the Saturn days we would be able to pass the jersey from one teammate to another -- we actually call it doing a Fitchburg when that happens."
In the women's race, Sarah Ulmer (Colavita-Cooking Light) erased her twenty-six second deficit to race leader Heather Lebance, (Advil-Chapstick) and even put nine seconds into her by winning today's stage ahead of Laura Van Gilder (TEAm Lipton) and teammate Tina Pic.
Colavita-Cooking Light has five of the top ten spots going into tomorrow's stage, and all of whom within one minute of the race leader.
Photography
For a thumbnail gallery of these images, click here
Images by Ed Collier/www.cyclingpix.net
Results

Pro/1 Men
 
1 Shawn Milne (Navigators Insurance)                    2.39.42
2 Mark McCormack (Colavita Olive Oil - Sutter Home)            
3 Ivan Dominquez (Toyota-United)                               
4 Jonathan Page (Colavita Olive Oil - Sutter Home)             
5 Kyle Wamsley (Colavita Olive Oil - Sutter Home)              
6 Jackson Stewart (Kodakgallery.com/Sierra Nevada)             
7 Frank Pipp (TargeTraining)                                   
8 Cesar Grajales (Navigators Insurance)                    0.06
9 Brian Sheedy (Priority Health)                               
10 Wesley Sulzberger (South Australia.com-AIS)                 
11 Caleb Fairly (CRCA/Sakonnet)                                
12 Philip Zajicek (Navigators Insurance)                       
13 Rahsaan Bahati (Team TIAA-CREF)                             
14 Ward Solar (Natures Path)                                   
15 Dan Schmatz (Kodakgallery.com/Sierra Nevada)                
16 Patrick Walsh (CCB/VW)                                      
17 Heath Blackgrove (Toyota-United)                            
18 Joseph Moody (Kenda/Raleigh Racing)                         
19 Tyler Wren (Colavita Olive Oil - Sutter Home)               
20 Michael Ford (South Australia.com-AIS)                      
21 Ted King (Priority Health)                                  
22 Taylor Tolleson (Team TIAA-CREF)                            
23 Jesse Anthony (Kodakgallery.com/Sierra Nevada)              
24 Jose-Manuel Garcia (Toyota-United)                          
25 Will Frischkorn (Team TIAA-CREF)                            
26 Todd Herriott (Colavita Olive Oil - Sutter Home)            
27 Nikola Smutny (Anthem Blue Cross)                           
28 Peter Penzell (Rite Aid)                                    
29 Alaisand Bialiauski (CCB/VW)                                
30 Andy Guptil (TargeTraining)                                 
31 Todd Wells (TargeTraining)                                  
32 Jon Hamblen (Team Nerac/Outdoorlights.com)                  
33 Peter Stetina (Team TIAA-CREF)                              
34 Johnny Hayes (CRCA/Sakonett)                                
35 Guy East (CRCA/Sakonnet)                                    
36 Michael Norton (Team Nerac/Outdoorlights.com)               
37 Mariano Friedick (Toyota-United)                            
38 Matt Cooke (LSV/Kelly Benefit)                              
39 Richard Geng (CCB/VW)                                       
40 Justin Spinelli (Team Nerac/Outdoorlights.com)              
41 Daniel Vaillancourt (CCB/VW)                                
42 Josh Dillon (FiordiFrutta)                                  
43 Scott Zwizanski (Kodakgallery.com/Sierra Nevada)            
44 Stefano Barberi (Toyota-United)                             
45 Zach Bell (Rite Aid)                                        
46 Gerardo Castro (Natures Path)                               
47 Hayden Brooks (Subaru)                                      
48 Jason Baer (Kenda/Raleigh Racing)                           
49 Paul Ward (Natures Path)                                    
50 Ashley Hutchinson (South Australia.com-AIS)                 
51 Frankie McCormack (Colavita Olive Oil - Sutter Home)        
52 Dan Cassidy (CCB/VW)                                        
53 Brian Bibbons (Subaru)                                      
54 Brent Bookwalter (Priority Health)                          
55 Ian MacGregor (Team TIAA-CREF)                          0.26
56 Glen Chadwick (Navigators Insurance)                    0.30
57 Pete Lopinto (Kodakgallery.com/Sierra Nevada)               
58 Peter Dawson (South Australia.com-AIS)                      
59 Michael Dietrich (Kodakgallery.com/Sierra Nevada)           
60 Miles Olman (South Australia.com-AIS)                       
61 Matthew White (FiordiFrutta)                                
62 David Guttenplan (Subaru)                                   
63 Mike Lange (Team TIAA-CREF)                                 
64 Vassill Davidenko (Navigators Insurance)                    
65 Troy Wells (Team TIAA-CREF)                                 
66 Davide Frattini (Colavita Olive Oil - Sutter Home)          
67 Chris Kuhl (CRCA/Sakonnet)                                  
68 Robbie King (Priority Health)                           0.44
69 Tommy Nankervis (Priority Health)                           
70 Bernard Van Ulden (Navigators Insurance)                    
71 Ryan Dewald (Rite Aid)                                      
72 Zak Grabowski (Colavita Olive Oil - Sutter Home)        1.26
73 Amos Brumble (CCB/VW)                                       
74 Scott Veggeberg (Compliance Depot)                          
75 Josh Bezecny (TargeTraining)                                
76 Hilton Clarke (Navigators Insurance)                    2.02
77 Bill Elliston (TargeTraining)                               
78 Michael Cody (FiordiFrutta)                                 
79 David Wiswell (CRCA/Sakonnet)                               
80 Alejandro Acton (TargeTraining)                             
81 Richard England (Priority Health)                       6.07
82 Aidan Charles (Anthem Blue Cross)                       7.30
83 Chris Rozdilsky (FiordiFrutta)                              
84 Josh Taylor (Rite Aid)                                  8.14
85 Yahor Buben (CCB/VW)                                        
86 John Delong (Rite Aid)                                  8.33
87 Alec Donahue (Kenda/Raleigh Racing)                     8.48
88 Stephen Woolridge (South Australia.com-AIS)             8.59
89 Johannes Huseby (FiordiFrutta)                          9.05
90 Michael Creed (Team TIAA-CREF)                              
91 Matt Shriver (TargeTraining)                                
92 Lee Rosenthal (CRCA/Sakonett)                               
93 Dan Greenfield (TargeTraining)                              
94 Justin Lillie (Boston Scientific)                      11.40
95 Jon Wirsing (Rite Aid)                                 11.42
96 Shawn Forsythe (CCB/VW)                                     
97 Jake Rytlewski (Priority Health)                            
98 Conor Hurley (Boston Scientific)                            
99 Christopher Jones (Anthem Blue Cross)                  14.44
100 Matthew O'Keefe (CCB/VW)                                   
101 Benjamin Zawacki (FiordiFrutta)                            
102 Wes Hartman (TargeTraining)                                
103 David Werling (Team Nerac/Outdoorlights.com)               
104 Michael Barton (Boston Scientific)                    24.22
105 Eugene Boronow (GS Mengoni)                           27.49
106 Robby Ketchell (Team Nerac/Outdoorlights.com)         29.24
DNF Nathan Rogut (Compliance Depot)                            
DNF Sean Finning (South Australia.com-AIS)                     
 
Pro/1/2 Women
 
1 Sarah Ulmer (Colavita/Cooking Light)                  1.21.21
2 Laura Van Gilder (TEAm Lipton)                           0.04
3 Tina Pic (Colavita/Cooking Light)                        0.20
4 Sarah Caravella (TEAm Lipton)                                
5 Lara Marie Kroepsch (TEAm Lipton)                        0.25
6 Iona Wynter (Colavita/Cooking Light)                         
7 Heather Labance (Advil-Chapstick)                            
8 Megan Guarnier ()                                            
9 Kacey Manderfield (Wolverine/Redken)                         
10 Sar Bresnick-Zocchi (Ford Cycling)                          
11 Kami Tremblay (Gear Works-Spin Arts)                        
12 Arielle Filiberti (Hot Tubes)                               
13 Sheba Farrin (Hub Racing)                                   
14 Allie Warfel (Cheerwine)                                    
15 Elizabeth Frye (Cheerwine)                                  
16 Holli Steelman (Cheerwine)                                  
17 Brooke O'Connor (Hub Racing)                                
18 Amy Wallace (Wheelworks)                                    
19 Mara Miller (Advil-Chapstick)                               
20 Sarah Tillotson (Colavita/Cooking Light)                    
21 Jennifer Manefield (Cheerwine)                              
22 Renee Eastman (Vitamin Cottage)                             
23 Rebecca Wellons (Gear Works-Spin Arts)                      
24 Emily Van Meter (Metromint Cycling)                         
25 Meshy Holt (Colavita/Cooking Light)                         
26 MacKenzie Dickey (Aaron's Cycling Team)                     
27 Lisa Matlock (JR Engineering)                               
28 Janet Olney (ADG/Joe's Bike Shop)                           
29 Aimee Vasse (Colorado Premier Training)                     
30 Sarah Uhl (Gear Works-Spin Arts)                            
31 Kerry Litka (Terry Precision)                               
32 Carli Figueroa (Paramount Racing)                           
33 Anna Milkowski (Gear Works-Spin Arts)                       
34 Sara Chubb Sauvayre (CRCA/Comedy Central)                   
35 Amity Elliot (ADG/Joe's Bike Shop)                          
36 Holly Borowski (US Armed Forces)                            
37 Katherine Lambden (TEAm Lipton)                             
38 Suz Weldon (TRIA)                                           
39 Mandy Lozano (Cheerwine)                                    
40 Emma Nelson (Advil-Chapstick)                               
41 Hiroko Shimada (Gear Works-Spin Arts)                       
42 Amanda Lawrence (North Atlantic Velo)                   0.52
43 Shannon Koch (Compliance Depot)                             
44 Melissa Petty (BMW-Bianchi)                                 
45 Kele Hulser (Gear Works-Spin Arts)                          
46 Meredith Miller (TEAm Lipton)                           0.57
47 Beth Leasure (Team Spirit Cycling)                      1.06
48 Michele Bote (Hub Racing)                                   
49 Jenner Yaeso (JR Engineering)                           2.55
50 Marianne Stover (Independent Fabrication)               3.10
51 Pauline Frascone (Independent Fabrication)                  
52 Caitlyn McCullough (Advil-Chapstick)                    3.44
53 Gina Kavesh (TRIA)                                          
54 Heather Sborz (Unattached)                                  
55 Reem Jishi (Advil-Chapstick)                            6.53
56 Lenore Imhof (Colavita/Cooking Light)                   7.00
57 Becky Broeder (Hub Racing)                              8.27
58 Katharine Lundby (Eddie B Cycling)                      8.49
59 Julia Bradley (Team R.A.C.E.)                           9.03
60 Beth Mason (US Armed Forces)                            9.52
61 Lynn Patchett (RMS FitTech)                            10.18
62 Lisa Vible (ADG/Joe's Bike Shop)                       10.49
63 Chamblee Abernethy (Team Kenda Tire)                   10.58
64 Michelle Hurley (Team International B)                 11.10
65 Priscilla Pang (ADG/Joe's Bike Shop)                   14.17
66 Diana Joness (Team R.A.C.E.)                           14.22
DNF Rebeca Jones (Hub Racing)                                  
DNF Nikki Raspa (Hub Racing)                                   
DNF Barbara A Buenahora (ACT)                                  
DNF Grace Fleury (TEAm Lipton)                                 
DNF Anna Drakulich (Advil-Chapstick)                           
 
Pro/1 Men after stage 2
 
1 Brian Sheedy (Priority Health)                        2.53.35
2 Joseph Moody (Kenda/Raleigh Racing)                      0.02
3 Heath Blackgrove (Toyota-United)                         0.05
4 Jose-Manuel Garcia (Toyota-United)                       0.15
5 Todd Herriott (Colavita Olive Oil - Sutter Home)         0.22
6 Mark McCormack (Colavita Olive Oil - Sutter Home)        0.23
7 Brent Bookwalter (Priority Health)                       0.25
8 Frank Pipp (TargeTraining)                               0.27
9 Cesar Grajales (Navigators Insurance)                    0.29
10 Ivan Dominquez (Toyota-United)                              
11 Philip Zajicek (Navigators Insurance)                   0.31
12 Ted King (Priority Health)                                  
13 Stefano Barberi (Toyota-United)                         0.33
14 Jackson Stewart (Kodakgallery.com/Sierra Nevada)            
15 Shawn Milne (Navigators Insurance)                      0.35
16 Kyle Wamsley (Colavita Olive Oil - Sutter Home)         0.36
17 Scott Zwizanski (Kodakgallery.com/Sierra Nevada)        0.38
18 Will Frischkorn (Team TIAA-CREF)                            
19 Jesse Anthony (Kodakgallery.com/Sierra Nevada)          0.40
20 Tyler Wren (Colavita Olive Oil - Sutter Home)           0.41
21 Zach Bell (Rite Aid)                                    0.42
22 Mariano Friedick (Toyota-United)                            
23 Dan Cassidy (CCB/VW)                                    0.46
24 Josh Dillon (FiordiFrutta)                                  
25 Jonathan Page (Colavita Olive Oil - Sutter Home)        0.49
26 Bernard Van Ulden (Navigators Insurance)                0.50
27 Frankie McCormack (Colavita Olive Oil - Sutter Home)    0.53
28 Jon Hamblen (Team Nerac/Outdoorlights.com)              0.54
29 Justin Spinelli (Team Nerac/Outdoorlights.com)          0.59
30 Matt Cooke (LSV/Kelly Benefit)                          1.04
31 Todd Wells (TargeTraining)                              1.08
32 Michael Norton (Team Nerac/Outdoorlights.com)           1.10
33 Richard Geng (CCB/VW)                                   1.13
34 Guy East (CRCA/Sakonnet)                                    
35 Daniel Vaillancourt (CCB/VW)                            1.16
36 Michael Dietrich (Kodakgallery.com/Sierra Nevada)           
37 Caleb Fairly (CRCA/Sakonnet)                            1.19
38 Peter Stetina (Team TIAA-CREF)                          1.20
39 Taylor Tolleson (Team TIAA-CREF)                        1.22
40 Vassill Davidenko (Navigators Insurance)                1.23
41 Wesley Sulzberger (South Australia.com-AIS)                 
42 Troy Wells (Team TIAA-CREF)                             1.26
43 Michael Ford (South Australia.com-AIS)                  1.29
44 Ryan Dewald (Rite Aid)                                  1.30
45 Chris Kuhl (CRCA/Sakonnet)                              1.34
46 Robbie King (Priority Health)                           1.35
47 Davide Frattini (Colavita Olive Oil - Sutter Home)      1.36
48 Ward Solar (Natures Path)                                   
49 Zak Grabowski (Colavita Olive Oil - Sutter Home)        1.43
50 Ian MacGregor (Team TIAA-CREF)                          1.46
51 Jason Baer (Kenda/Raleigh Racing)                       1.47
52 Hayden Brooks (Subaru)                                  1.48
53 Peter Penzell (Rite Aid)                                1.52
54 Matthew White (FiordiFrutta)                            1.53
55 Dan Schmatz (Kodakgallery.com/Sierra Nevada)            1.54
56 Andy Guptil (TargeTraining)                             1.55
57 Alaisand Bialiauski (CCB/VW)                            1.58
58 Rahsaan Bahati (Team TIAA-CREF)                         1.59
59 Patrick Walsh (CCB/VW)                                  2.01
60 Ashley Hutchinson (South Australia.com-AIS)             2.07
61 Paul Ward (Natures Path)                                2.11
62 Peter Dawson (South Australia.com-AIS)                  2.20
63 Glen Chadwick (Navigators Insurance)                    2.22
64 Miles Olman (South Australia.com-AIS)                       
65 Pete Lopinto (Kodakgallery.com/Sierra Nevada)           2.27
66 Brian Bibbons (Subaru)                                  2.30
67 Hilton Clarke (Navigators Insurance)                    2.33
68 David Guttenplan (Subaru)                               2.36
69 Tommy Nankervis (Priority Health)                       2.41
70 Amos Brumble (CCB/VW)                                   2.45
71 Nikola Smutny (Anthem Blue Cross)                       2.49
72 Josh Bezecny (TargeTraining)                            2.54
73 Johnny Hayes (CRCA/Sakonett)                            3.12
74 Gerardo Castro (Natures Path)                           3.18
75 Michael Cody (FiordiFrutta)                             3.22
76 Bill Elliston (TargeTraining)                           3.29
77 Scott Veggeberg (Compliance Depot)                      4.22
78 Alejandro Acton (TargeTraining)                         4.51
79 David Wiswell (CRCA/Sakonnet)                           5.03
80 Mike Lange (Team TIAA-CREF)                             6.56
81 Richard England (Priority Health)                       7.54
82 Chris Rozdilsky (FiordiFrutta)                          8.53
83 Aidan Charles (Anthem Blue Cross)                       9.08
84 John Delong (Rite Aid)                                  9.51
85 Alec Donahue (Kenda/Raleigh Racing)                    10.00
86 Michael Creed (Team TIAA-CREF)                         10.18
87 Josh Taylor (Rite Aid)                                 10.29
88 Matt Shriver (TargeTraining)                           10.56
89 Yahor Buben (CCB/VW)                                   10.57
90 Johannes Huseby (FiordiFrutta)                         11.21
91 Lee Rosenthal (CRCA/Sakonett)                          11.40
92 Stephen Woolridge (South Australia.com-AIS)            11.45
93 Dan Greenfield (TargeTraining)                         11.49
94 Jon Wirsing (Rite Aid)                                 13.00
95 Justin Lillie (Boston Scientific)                      13.48
96 Conor Hurley (Boston Scientific)                       14.30
97 Jake Rytlewski (Priority Health)                       14.57
98 Shawn Forsythe (CCB/VW)                                14.59
99 Christopher Jones (Anthem Blue Cross)                  16.12
100 Matthew O'Keefe (CCB/VW)                              17.46
101 Benjamin Zawacki (FiordiFrutta)                       18.26
102 Wes Hartman (TargeTraining)                           19.23
103 Michael Barton (Boston Scientific)                    25.39
104 David Werling (Team Nerac/Outdoorlights.com)          25.55
105 Eugene Boronow (GS Mengoni)                           29.23
106 Robby Ketchell (Team Nerac/Outdoorlights.com)         32.23
 
Pro/1/2 Women after stage 2
 
1 Sarah Ulmer (Colavita/Cooking Light)                  1.37.36
2 Heather Labance (Advil-Chapstick)                        0.09
3 Meshy Holt (Colavita/Cooking Light)                      0.23
4 Laura Van Gilder (TEAm Lipton)                           0.28
5 Suz Weldon (TRIA)                                            
6 Iona Wynter (Colavita/Cooking Light)                     0.40
7 Sarah Tillotson (Colavita/Cooking Light)                 0.45
8 Tina Pic (Colavita/Cooking Light)                            
9 Mara Miller (Advil-Chapstick)                            1.06
10 Emily Van Meter (Metromint Cycling)                     1.07
11 Kacey Manderfield (Wolverine/Redken)                    1.09
12 Sarah Uhl (Gear Works-Spin Arts)                            
13 Hiroko Shimada (Gear Works-Spin Arts)                   1.15
14 Rebecca Wellons (Gear Works-Spin Arts)                  1.16
15 Anna Milkowski (Gear Works-Spin Arts)                       
16 Holli Steelman (Cheerwine)                              1.19
17 Renee Eastman (Vitamin Cottage)                             
18 Kele Hulser (Gear Works-Spin Arts)                      1.24
19 Katherine Lambden (TEAm Lipton)                         1.29
20 Allie Warfel (Cheerwine)                                1.30
21 Megan Guarnier ()                                       1.31
22 Aimee Vasse (Colorado Premier Training)                 1.33
23 Janet Olney (ADG/Joe's Bike Shop)                       1.38
24 Kerry Litka (Terry Precision)                           1.40
25 Carli Figueroa (Paramount Racing)                       1.43
26 Lara Marie Kroepsch (TEAm Lipton)                       1.46
27 Arielle Filiberti (Hot Tubes)                           1.54
28 Mandy Lozano (Cheerwine)                                1.57
29 Sarah Caravella (TEAm Lipton)                               
30 MacKenzie Dickey (Aaron's Cycling Team)                 1.58
31 Kami Tremblay (Gear Works-Spin Arts)                    2.02
32 Amity Elliot (ADG/Joe's Bike Shop)                          
33 Brooke O'Connor (Hub Racing)                            2.04
34 Lisa Matlock (JR Engineering)                           2.06
35 Sar Bresnick-Zocchi (Ford Cycling)                      2.13
36 Elizabeth Frye (Cheerwine)                              2.15
37 Jennifer Manefield (Cheerwine)                          2.16
38 Beth Leasure (Team Spirit Cycling)                      2.22
39 Meredith Miller (TEAm Lipton)                           2.29
40 Shannon Koch (Compliance Depot)                         2.36
41 Holly Borowski (US Armed Forces)                            
42 Sara Chubb Sauvayre (CRCA/Comedy Central)               2.47
43 Emma Nelson (Advil-Chapstick)                           2.53
44 Sheba Farrin (Hub Racing)                               2.55
45 Amy Wallace (Wheelworks)                                2.56
46 Michele Bote (Hub Racing)                               3.06
47 Melissa Petty (BMW-Bianchi)                                 
48 Pauline Frascone (Independent Fabrication)              4.17
49 Amanda Lawrence (North Atlantic Velo)                       
50 Caitlyn McCullough (Advil-Chapstick)                    5.20
51 Marianne Stover (Independent Fabrication)               5.22
52 Jenner Yaeso (JR Engineering)                               
53 Gina Kavesh (TRIA)                                      6.48
54 Heather Sborz (Unattached)                              7.27
55 Reem Jishi (Advil-Chapstick)                            8.52
56 Lenore Imhof (Colavita/Cooking Light)                   9.27
57 Katharine Lundby (Eddie B Cycling)                      9.42
58 Becky Broeder (Hub Racing)                             10.03
59 Julia Bradley (Team R.A.C.E.)                          10.20
60 Lynn Patchett (RMS FitTech)                            11.14
61 Michelle Hurley (Team International B)                 13.01
62 Beth Mason (US Armed Forces)                           13.08
63 Chamblee Abernethy (Team Kenda Tire)                   13.34
64 Lisa Vible (ADG/Joe's Bike Shop)                       13.53
65 Diana Joness (Team R.A.C.E.)                           16.42
66 Priscilla Pang (ADG/Joe's Bike Shop)                   18.16