47th Fitchburg Longsjo Classic - NE
USA, June 29-July 2, 2006
Main Page Results Overall standings Next Stage
Stage 1 - June 29: Best Western Royal Plaza Time Trial, 6.2 miles
Sheedy, Lebance start Fitchburg on top
By Mark Zalewski, North American Editor
Brian Sheedy
Photo ©: Ed Collier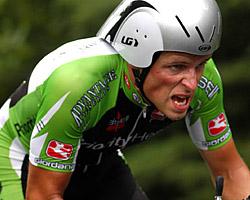 Brian Sheedy (Priority Health) set the best time on the new time trial course at the Fitchburg-Longsjo Classic. The new course is a steady uphill course that climbs more than 300 feet in just over six miles. "It was a good course," said third place Health Blackgrove (Toyota-United Pro.) "Only six miles, but slightly uphill most of the way. I didn't have great legs -- they felt a bit dead after the travel, but hopefully I'll have some good form this weekend. I felt good out training the last few weeks."
In the women's race, Heather Labance of the Advil-Chapstick team, part of the Women's Development Program run by Mike Engleman, finished ahead of Meshy Holt (Colavita-Cooking Light) and Grace Fluery (TEAm Lipton.)
Looking over the men's start list, a familiar name was hidden among the racers -- a certain Frankie McCormack of the Colavita-Sutter Home team who is making a cameo appearance of sorts in his home state. "Yeah, I was the fat guy rolling around in the Colavita-Sutter Home skin suit!," joked McCormack. "Actually, I'm testing some new zippers for Giordana, to see if they can work under stress. The red in the suit also turns pink when I wear it."
On a more serious note, the east coast has been under severe weather for much of the week, possibly affecting the race courses. Even today, a heavy thunderstorm drenched part of the women's time trial. "It's nothing like in Pennsylvania," McCormack said. "Here in Massachusetts it's been off an on the past week, but it sounds like the weather is going to be good for the weekend."
Photography
For a thumbnail gallery of these images, click here
Images by Ed Collier/www.cyclingpix.net
Results

Pro/1 Men
 
1 Brian Sheedy (Priority Health)                          13.47.54
2 Joseph Moody (Kenda/Raleigh Racing)                      0.02.00
3 Heath Blackgrove (Toyota-United)                         0.04.77
4 Bernard Van Ulden (Navigators Insurance)                 0.11.74
5 Jose-Manuel Garcia (Toyota-United)                       0.14.61
6 Todd Herriott (Colavita Olive Oil - Sutter Home)         0.22.21
7 Zak Grabowski (Colavita Olive Oil - Sutter Home)         0.23.08
8 Brent Bookwalter (Priority Health)                       0.25.29
9 Cesar Grajales (Navigators Insurance)                    0.28.85
10 Philip Zajicek (Navigators Insurance)                   0.31.01
11 Ted King (Priority Health)                              0.31.18
12 Stefano Barberi (Toyota-United)                         0.32.95
13 Frank Pipp (TargeTraining)                              0.33.26
14 Mark McCormack (Colavita Olive Oil - Sutter Home)       0.33.73
15 Hilton Clarke (Navigators Insurance)                    0.36.97
16 Scott Zwizanski (Kodakgallery.com/Sierra Nevada)        0.37.55
17 Will Frischkorn (Team TIAA-CREF)                        0.37.58
18 Ivan Dominquez (Toyota-United)                          0.38.15
19 Jackson Stewart (Kodakgallery.com/Sierra Nevada)        0.39.40
20 Jesse Anthony (Kodakgallery.com/Sierra Nevada)          0.40.23
21 Tyler Wren (Colavita Olive Oil - Sutter Home)           0.41.13
22 Zach Bell (Rite Aid)                                    0.41.61
23 Mariano Friedick (Toyota-United)                        0.42.24
24 Kyle Wamsley (Colavita Olive Oil - Sutter Home)         0.42.34
25 Dan Cassidy (CCB/VW)                                    0.45.73
26 Josh Dillon (FiordiFrutta)                              0.46.38
27 Shawn Milne (Navigators Insurance)                      0.50.46
28 Michael Dietrich (Kodakgallery.com/Sierra Nevada)       0.51.92
29 Ryan Dewald (Rite Aid)                                  0.52.43
30 Frankie McCormack (Colavita Olive Oil - Sutter Home)    0.53.35
31 Jon Hamblen (Team Nerac/Outdoorlights.com)              0.54.39
32 Jonathan Page (Colavita Olive Oil - Sutter Home)        0.54.50
33 Robbie King (Priority Health)                           0.57.11
34 Vassill Davidenko (Navigators Insurance)                0.58.55
35 Justin Spinelli (Team Nerac/Outdoorlights.com)          0.59.39
36 Conor Hurley (Boston Scientific)                        0.59.98
37 Troy Wells (Team TIAA-CREF)                             1.02.35
38 Dan Timmerman (FiordiFrutta)                            1.02.60
39 Michael Cody (FiordiFrutta)                             1.02.75
40 Matt Cooke (LSV/Kelly Benefit)                          1.04.08
41 Todd Wells (TargeTraining)                              1.08.39
42 Chris Kuhl (CRCA/Sakonnet)                              1.09.54
43 Michael Norton (Team Nerac/Outdoorlights.com)           1.09.98
44 Brad Viera (Rite Aid)                                   1.10.03
45 Davide Frattini (Colavita Olive Oil - Sutter Home)      1.11.77
46 Richard Geng (CCB/VW)                                   1.12.61
47 Guy East (CRCA/Sakonnet)                                1.13.42
48 Chris Rozdilsky (FiordiFrutta)                          1.15.38
49 Daniel Vaillancourt (CCB/VW)                            1.15.59
50 Amos Brumble (CCB/VW)                                   1.17.80
51 Alec Donahue (Kenda/Raleigh Racing)                     1.17.81
52 Lee Rosenthal (CRCA/Sakonett)                           1.18.61
53 Michael Creed (Team TIAA-CREF)                          1.19.11
54 Caleb Fairly (CRCA/Sakonnet)                            1.19.37
55 Peter Stetina (Team TIAA-CREF)                          1.20.30
56 Taylor Tolleson (Team TIAA-CREF)                        1.21.96
57 Michael Barton (Boston Scientific)                      1.23.16
58 Wesley Sulzberger (South Australia.com-AIS)             1.23.19
59 Dan Greenfield (TargeTraining)                          1.23.49
60 John Delong (Rite Aid)                                  1.23.62
61 Jon Wirsing (Rite Aid)                                  1.24.24
62 Alejandro Acton (TargeTraining)                         1.25.77
63 Ian MacGregor (Team TIAA-CREF)                          1.26.12
64 Josh Bezecny (TargeTraining)                            1.26.99
65 Jake Rytlewski (Priority Health)                        1.27.37
66 Shawn Forsythe (CCB/VW)                                 1.28.75
67 Michael Ford (South Australia.com-AIS)                  1.29.17
68 Matthew White (FiordiFrutta)                            1.29.22
69 Bill Elliston (TargeTraining)                           1.30.06
70 Christopher Jones (Anthem Blue Cross)                   1.33.75
71 Ward Solar (Natures Path)                               1.35.90
72 Matt Shriver (TargeTraining)                            1.37.23
73 Eugene Boronow (GS Mengoni)                             1.39.59
74 Matthew O'Keefe (CCB/VW)                                1.42.87
75 Aidan Charles (Anthem Blue Cross)                       1.44.10
76 Jason Baer (Kenda/Raleigh Racing)                       1.47.38
77 Hayden Brooks (Subaru)                                  1.48.37
78 Peter Penzell (Rite Aid)                                1.52.19
79 Richard England (Priority Health)                       1.52.58
80 Wes Hartman (TargeTraining)                             1.53.80
81 Dan Schmatz (Kodakgallery.com/Sierra Nevada)            1.54.11
82 Andy Guptil (TargeTraining)                             1.54.92
83 Peter Dawson (South Australia.com-AIS)                  1.56.21
84 Alaisand Bialiauski (CCB/VW)                            1.57.76
85 Glen Chadwick (Navigators Insurance)                    1.58.11
86 Miles Olman (South Australia.com-AIS)                   1.58.37
87 Rahsaan Bahati (Team TIAA-CREF)                         1.58.63
88 Patrick Walsh (CCB/VW)                                  2.00.99
89 Pete Lopinto (Kodakgallery.com/Sierra Nevada)           2.02.49
90 Tommy Nankervis (Priority Health)                       2.02.89
91 Benjamin Zawacki (FiordiFrutta)                         2.06.83
92 Ashley Hutchinson (South Australia.com-AIS)             2.07.18
93 Paul Ward (Natures Path)                                2.10.89
94 David Guttenplan (Subaru)                               2.12.19
95 Sean Finning (South Australia.com-AIS)                  2.13.32
96 Justin Lillie (Boston Scientific)                       2.14.27
97 Nathan Rogut (Compliance Depot)                         2.16.77
98 Christoph Herby (Rite Aid)                              2.17.71
99 Larry Perera (FiordiFrutta)                             2.20.37
100 Josh Taylor (Rite Aid)                                 2.20.67
101 Johannes Huseby (FiordiFrutta)                         2.22.42
102 Brian Bibbons (Subaru)                                 2.30.13
103 David Wiswell (CRCA/Sakonnet)                          2.36.02
104 Yahor Buben (CCB/VW)                                   2.43.61
105 Nikola Smutny (Anthem Blue Cross)                      2.48.80
106 Stephen Woolridge (South Australia.com-AIS)            2.52.10
107 Scott Veggeberg (Compliance Depot)                     2.54.72
108 Robby Ketchell (Team Nerac/Outdoorlights.com)          3.05.24
109 Johnny Hayes (CRCA/Sakonett)                           3.12.14
110 Gerardo Castro (Natures Path)                          3.17.66
111 David Werling (Team Nerac/Outdoorlights.com)           5.41.47
112 Mike Lange (Team TIAA-CREF)                            6.32.44
113 Adam Hodges Myerson (Team Nerac/Outdoorlights.com)     9.02.62
DNS Joshua Gewirtz (FiordiFrutta)                                 
DNS Eneas Freyre (TargeTraining)                                  
DNS Mariano Friedick (Toyota-United)                              
DNS Justin England (Toyota-United)                                
DNS Ivan Stevic (Toyota-United)                                   
DNS Kenneth Johnson (Rockville Harley-Davidson)                   
DNS Sonke Thiel (Ideal Tile / Wendy's)                            
 
Pro/1/2 Women
 
1 Heather Labance (Advil-Chapstick)                       15.59.07
2 Meshy Holt (Colavita/Cooking Light)                      0.14.41
3 Suz Weldon (TRIA)                                        0.19.62
4 Grace Fleury (TEAm Lipton)                               0.20.58
5 Sarah Ulmer (Colavita/Cooking Light)                     0.26.09
6 Iona Wynter (Colavita/Cooking Light)                     0.31.49
7 Sarah Tillotson (Colavita/Cooking Light)                 0.36.14
8 Tina Pic (Colavita/Cooking Light)                        0.44.25
9 Laura Van Gilder (TEAm Lipton)                           0.45.28
10 Kele Hulser (Gear Works-Spin Arts)                      0.48.76
11 Heather Sborz (Unattached)                              0.55.66
12 Mara Miller (Advil-Chapstick)                           0.57.45
13 Emily Van Meter (Metromint Cycling)                     0.58.29
14 Kacey Manderfield (Wolverine/Redken)                    1.00.03
15 Sarah Uhl (Gear Works-Spin Arts)                        1.00.12
16 Hiroko Shimada (Gear Works-Spin Arts)                   1.06.11
17 Rebecca Wellons (Gear Works-Spin Arts)                  1.06.99
18 Anna Milkowski (Gear Works-Spin Arts)                   1.07.41
19 Katharine Lundby (Eddie B Cycling)                      1.09.73
20 Holli Steelman (Cheerwine)                              1.10.24
21 Renee Eastman (Vitamin Cottage)                         1.10.53
22 Lynn Patchett (RMS FitTech)                             1.12.62
23 Katherine Lambden (TEAm Lipton)                         1.20.62
24 Allie Warfel (Cheerwine)                                1.20.94
25 Megan Guarnier ()                                       1.22.08
26 Pauline Frascone (Independent Fabrication)              1.23.38
27 Aimee Vasse (Colorado Premier Training)                 1.24.65
28 Janet Olney (ADG/Joe's Bike Shop)                       1.29.01
29 Kerry Litka (Terry Precision)                           1.31.24
30 Beth Leasure (Team Spirit Cycling)                      1.32.57
31 Julia Bradley (Team R.A.C.E.)                           1.33.07
32 Carli Figueroa (Paramount Racing)                       1.34.18
33 Lara Marie Kroepsch (TEAm Lipton)                       1.37.26
34 Gina Kavesh (TRIA)                                      1.39.17
35 Arielle Filiberti (Hot Tubes)                           1.45.45
36 Mandy Lozano (Cheerwine)                                1.48.13
37 Meredith Miller (TEAm Lipton)                           1.48.40
38 MacKenzie Dickey (Aaron's Cycling Team)                 1.49.67
39 Caitlyn McCullough (Advil-Chapstick)                    1.52.17
40 Becky Broeder (Hub Racing)                              1.52.52
41 Kami Tremblay (Gear Works-Spin Arts)                    1.53.34
42 Amity Elliot (ADG/Joe's Bike Shop)                      1.53.62
43 Sarah Caravella (TEAm Lipton)                           1.53.75
44 Brooke O'Connor (Hub Racing)                            1.55.53
45 Lisa Matlock (JR Engineering)                           1.57.71
46 Shannon Koch (Compliance Depot)                         1.59.97
47 Sar Bresnick-Zocchi (Ford Cycling)                      2.04.56
48 Anna Drakulich (Advil-Chapstick)                        2.05.90
49 Elizabeth Frye (Cheerwine)                              2.06.27
50 Michelle Hurley (Team International B)                  2.07.36
51 Jennifer Manefield (Cheerwine)                          2.07.59
52 Reem Jishi (Advil-Chapstick)                            2.15.15
53 Michele Bote (Hub Racing)                               2.15.93
54 Holly Borowski (US Armed Forces)                        2.27.71
55 Marianne Stover (Independent Fabrication)               2.27.95
56 Melissa Petty (BMW-Bianchi)                             2.30.29
57 Diana Joness (Team R.A.C.E.)                            2.36.62
58 Sara Chubb Sauvayre (CRCA/Comedy Central)               2.37.99
59 Lenore Imhof (Colavita/Cooking Light)                   2.42.98
60 Jenner Yaeso (JR Engineering)                           2.43.45
61 Emma Nelson (Advil-Chapstick)                           2.44.44
62 Sheba Farrin (Hub Racing)                               2.46.62
63 Amy Wallace (Wheelworks)                                2.47.47
64 Nikki Raspa (Hub Racing)                                2.50.11
65 Chamblee Abernethy (Team Kenda Tire)                    2.52.18
66 Barbara A Buenahora (ACT)                               3.02.48
67 Lisa Vible (ADG/Joe's Bike Shop)                        3.20.57
68 Beth Mason (US Armed Forces)                            3.32.51
69 Amanda Lawrence (North Atlantic Velo)                   3.41.92
70 Rebeca Jones (Hub Racing)                               4.10.08
71 Priscilla Pang (ADG/Joe's Bike Shop)                    4.15.08
DNS Ann Marie Miller (CRCA Sanchez-Metro)                         
DNS Megan Elliott (Argon 18/Champion System)                      
DNS Jennifer Gersbach (Colorado Premier Training)                 
DNS Nicky Wangsgard (Colorado Premier Training)                   
DNS Noor Azian Alias (Malaysian National)                         
DNS Uracca Hoay Sim (Malaysian National)