47th Fitchburg Longsjo Classic - NE
USA, June 29-July 2, 2006
Main Page Results Overall standings Previous Stage
Stage 4 - July 2: Workers Credit Union Downtown Criterium, 50/25 miles
Ulmer and Milne finish off Fitchburg
by Mark Zalewski, North American Editor
Sarah Ulmer
Photo ©: Ed Collier
Kiwi Sarah Ulmer (Colavita-Cooking Light) completed her almost perfect conquest of the Fitchburg Longsjo Classic, winning the final criterium in convincing fashion. Ulmer, a gold medalist from the Athens Olympics, almost lapped the field on her own today, with teammate Tina Pic finishing off the rest of the field in the sprint for second place.
"I haven't raced here since 2003, and it was good fun," said Ulmer. "The Colavita team here was great, so it was a lot of fun."
Ulmer has spent the last month in the States, guest riding for the Colavita-Cooking Light team. But, much to the women's peloton's relief, she leaves for home on Monday. "I am going back to New Zealand, stepping away from the sport for a while," she said. "I've got an injury -- a nerve problem. It's not really major but more of a nuisance and we can't seem to get to the bottom of it. But I'm not one to do something for the sake of it, and if I can't do it at one hundred percent I won't do it."
Which begs the question, what could she have done if she was at one hundred percent?
Schmatz survives final turn crash for win
Navigators Insurance controlled Sunday's crit to deliver Sean Milne to GC victory
Photo ©: Ed Collier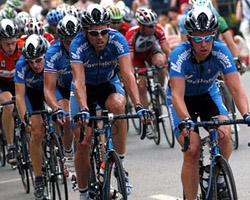 The men's criterium was controlled by the Navigators Insurance team, protecting race leader Sean Milne. Subsequently, the race came down to a field sprint which also subsequently resulted in a final-turn crash with spinters Ivan Dominguez (Toyota-United Pro) and Kyle Wamsley (Colavita-Sutter Home). Luckily, KodakGallery-Sierra Nevada's Dan Schmatz and Jackson Stewart took an inside line and had a clear path all the way to the line for a one-two result.
"We did this race last year and had Dominique in the lead coming into this race and Jon Page won the race and got the time bonus, so we were looking for a little redemption," said Schmatz. "It was pretty steady all day. Navigators controlled it all day for the GC. They let the breaks go that didn't matter. We had some guys in the breaks, but the team kept me and Jackson protected all day."
Even though Milne's lead was safe from the ten second bonus on the line, the high speeds indicated the value of the stage win. "The last five were fast but not crazy -- the team was keeping Jackson and me out of trouble," said Schmatz. "We stayed on Colavita on the back stretch, we went on the inside of the last turn when Ivan and Kyle went into each other. Once we got clear we were going pretty fast so it was just pedaling to the line."
Photography
For a thumbnail gallery of these images, click here
Images by Ed Collier/www.cyclingpix.net
Results

Pro/1 Men
 
1 Dan Schmatz (Kodakgallery.com/Sierra Nevada)           1.55.19
2 Jackson Stewart (Kodakgallery.com/Sierra Nevada)              
3 Frank Pipp (TargeTraining)                                    
4 Miles Olman (South Australia.com-AIS)                         
5 Shawn Milne (Navigators Insurance)                            
6 Rahsaan Bahati (Team TIAA-CREF)                               
7 David Guttenplan (Subaru)                                     
8 Ward Solar (Natures Path)                                     
9 Robbie King (Priority Health)                                 
10 Caleb Fairly (CRCA/Sakonnet)                                 
11 Paul Ward (Natures Path)                                     
12 Zach Bell (Rite Aid)                                         
13 Tommy Nankervis (Priority Health)                            
14 Frankie McCormack (Colavita Olive Oil - Sutter Home)         
15 Josh Dillon (FiordiFrutta)                                   
16 Nikola Smutny (Anthem Blue Cross)                            
17 Heath Blackgrove (Toyota-United)                             
18 Philip Zajicek (Navigators Insurance)                        
19 Tyler Wren (Colavita Olive Oil - Sutter Home)                
20 Matt Shriver (TargeTraining)                                 
21 John Delong (Rite Aid)                                       
22 Patrick Walsh (CCB/VW)                                       
23 Michael Dietrich (Kodakgallery.com/Sierra Nevada)            
24 Peter Penzell (Rite Aid)                                     
25 Alaisand Bialiauski (CCB/VW)                                 
26 Bernard Van Ulden (Navigators Insurance)                     
27 Cesar Grajales (Navigators Insurance)                        
28 Johnny Hayes (CRCA/Sakonett)                                 
29 Ted King (Priority Health)                                   
30 Davide Frattini (Colavita Olive Oil - Sutter Home)           
31 Andy Guptil (TargeTraining)                                  
32 Richard Geng (CCB/VW)                                        
33 Glen Chadwick (Navigators Insurance)                         
34 Alec Donahue (Kenda/Raleigh Racing)                          
35 Ian MacGregor (Team TIAA-CREF)                               
36 Jon Hamblen (Team Nerac/Outdoorlights.com)                   
37 Justin Spinelli (Team Nerac/Outdoorlights.com)               
38 Mariano Friedick (Toyota-United)                             
39 Joseph Moody (Kenda/Raleigh Racing)                          
40 Pete Lopinto (Kodakgallery.com/Sierra Nevada)                
41 Hayden Brooks (Subaru)                                       
42 Amos Brumble (CCB/VW)                                        
43 Jake Rytlewski (Priority Health)                             
44 Brent Bookwalter (Priority Health)                           
45 Peter Stetina (Team TIAA-CREF)                               
46 Stefano Barberi (Toyota-United)                              
47 Josh Bezecny (TargeTraining)                                 
48 Scott Zwizanski (Kodakgallery.com/Sierra Nevada)             
49 Jason Baer (Kenda/Raleigh Racing)                            
50 Jonathan Page (Colavita Olive Oil - Sutter Home)             
51 Troy Wells (Team TIAA-CREF)                                  
52 Jose-Manuel Garcia (Toyota-United)                           
53 Michael Norton (Team Nerac/Outdoorlights.com)                
54 Matt Cooke (LSV/Kelly Benefit)                               
55 Lee Rosenthal (CRCA/Sakonett)                                
56 Johannes Huseby (FiordiFrutta)                               
57 Michael Ford (South Australia.com-AIS)                       
58 Dan Cassidy (CCB/VW)                                         
59 Guy East (CRCA/Sakonnet)                                     
60 Vassill Davidenko (Navigators Insurance)                     
61 Jon Wirsing (Rite Aid)                                       
62 Matthew White (FiordiFrutta)                                 
63 Will Frischkorn (Team TIAA-CREF)                             
64 Ivan Dominquez (Toyota-United)                               
65 Kyle Wamsley (Colavita Olive Oil - Sutter Home)              
66 Daniel Vaillancourt (CCB/VW)                             0.21
67 Gerardo Castro (Natures Path)                                
68 Mark McCormack (Colavita Olive Oil - Sutter Home)            
69 Christopher Jones (Anthem Blue Cross)                        
70 Yahor Buben (CCB/VW)                                         
71 Chris Kuhl (CRCA/Sakonnet)                                   
72 Todd Wells (TargeTraining)                                   
73 Jesse Anthony (Kodakgallery.com/Sierra Nevada)               
74 Alejandro Acton (TargeTraining)                          0.27
75 Aidan Charles (Anthem Blue Cross)                        0.30
76 Bill Elliston (TargeTraining)                            0.44
77 Hilton Clarke (Navigators Insurance)                     0.47
78 Stephen Woolridge (South Australia.com-AIS)              1.01
79 Wesley Sulzberger (South Australia.com-AIS)                  
80 Michael Barton (Boston Scientific)                       1.07
81 Todd Herriott (Colavita Olive Oil - Sutter Home)         1.12
82 Michael Creed (Team TIAA-CREF)                           1.20
83 Robby Ketchell (Team Nerac/Outdoorlights.com)            1.25
84 Peter Dawson (South Australia.com-AIS)                   1.41
85 Dan Greenfield (TargeTraining)                           2.06
86 David Wiswell (CRCA/Sakonnet)                            2.16
87 Richard England (Priority Health)                        2.22
88 Brian Bibbons (Subaru)                                  18.40
DNF Zak Grabowski (Colavita Olive Oil - Sutter Home)            
DNF Matthew O'Keefe (CCB/VW)                                    
DNF Shawn Forsythe (CCB/VW)                                     
DNF Brian Sheedy (Priority Health)                              
DNF Mike Lange (Team TIAA-CREF)                                 
 
Pro/1/2 Women
 
1 Sarah Ulmer (Colavita/Cooking Light)                   1.04.32
2 Tina Pic (Colavita/Cooking Light)                         1.39
3 Laura Van Gilder (TEAm Lipton)                                
4 Sarah Uhl (Gear Works-Spin Arts)                              
5 Heather Labance (Advil-Chapstick)                             
6 Kacey Manderfield (Wolverine/Redken)                          
7 Arielle Filiberti (Hot Tubes)                                 
8 Megan Guarnier ()                                             
9 Holli Steelman (Cheerwine)                                    
10 Brooke O'Connor (Hub Racing)                                 
11 Sheba Farrin (Hub Racing)                                    
12 Elizabeth Frye (Cheerwine)                                   
13 Amity Elliot (ADG/Joe's Bike Shop)                           
14 Sar Bresnick-Zocchi (Ford Cycling)                           
15 Mara Miller (Advil-Chapstick)                                
16 Amanda Lawrence (North Atlantic Velo)                        
17 Sarah Tillotson (Colavita/Cooking Light)                     
18 Hiroko Shimada (Gear Works-Spin Arts)                        
19 Kami Tremblay (Gear Works-Spin Arts)                         
20 MacKenzie Dickey (Aaron's Cycling Team)                      
21 Holly Borowski (US Armed Forces)                             
22 Iona Wynter (Colavita/Cooking Light)                         
23 Renee Eastman (Vitamin Cottage)                              
24 Carli Figueroa (Paramount Racing)                            
25 Jennifer Manefield (Cheerwine)                               
26 Kele Hulser (Gear Works-Spin Arts)                           
27 Suz Weldon (TRIA)                                            
28 Reem Jishi (Advil-Chapstick)                                 
29 Jenner Yaeso (JR Engineering)                                
30 Mandy Lozano (Cheerwine)                                     
31 Janet Olney (ADG/Joe's Bike Shop)                            
32 Kerry Litka (Terry Precision)                                
33 Lisa Matlock (JR Engineering)                                
34 Rebecca Wellons (Gear Works-Spin Arts)                   1.55
35 Anna Milkowski (Gear Works-Spin Arts)                        
36 Lynn Patchett (RMS FitTech)                                  
37 Sarah Caravella (TEAm Lipton)                            2.05
38 Caitlyn McCullough (Advil-Chapstick)                         
39 Gina Kavesh (TRIA)                                       2.17
40 Aimee Vasse (Colorado Premier Training)                  2.20
41 Michelle Hurley (Team International B)                   2.24
42 Meshy Holt (Colavita/Cooking Light)                          
43 Michele Bote (Hub Racing)                                    
44 Katherine Lambden (TEAm Lipton)                          2.56
45 Meredith Miller (TEAm Lipton)                                
46 Lenore Imhof (Colavita/Cooking Light)                    3.05
47 Lara Marie Kroepsch (TEAm Lipton)                        3.27
48 Allie Warfel (Cheerwine)                                11.56
49 Lisa Vible (ADG/Joe's Bike Shop)                             
50 Melissa Petty (BMW-Bianchi)                             12.06
51 Katharine Lundby (Eddie B Cycling)                      13.10
DNS Emily Van Meter (Metromint Cycling)                         
DNS Chamblee Abernethy (Team Kenda Tire)                        
DNS Pauline Frascone (Independent Fabrication)                  
DNS Julia Bradley (Team R.A.C.E.)                               
DNS Diana Joness (Team R.A.C.E.)                                
 
Pro/1 Men final
 
1 Shawn Milne (Navigators Insurance)                     9.11.36
2 Heath Blackgrove (Toyota-United)                          0.12
3 Philip Zajicek (Navigators Insurance)                     0.22
4 Tyler Wren (Colavita Olive Oil - Sutter Home)             0.39
5 Brent Bookwalter (Priority Health)                        0.53
6 Ted King (Priority Health)                                1.06
7 Jackson Stewart (Kodakgallery.com/Sierra Nevada)          1.10
8 Jon Hamblen (Team Nerac/Outdoorlights.com)                1.22
9 Ian MacGregor (Team TIAA-CREF)                            2.31
10 Richard Geng (CCB/VW)                                    2.43
11 Kyle Wamsley (Colavita Olive Oil - Sutter Home)          3.47
12 Mark McCormack (Colavita Olive Oil - Sutter Home)        5.12
13 Glen Chadwick (Navigators Insurance)                         
14 Bernard Van Ulden (Navigators Insurance)                 5.25
15 Scott Zwizanski (Kodakgallery.com/Sierra Nevada)         5.40
16 Joseph Moody (Kenda/Raleigh Racing)                      6.38
17 Josh Dillon (FiordiFrutta)                               7.31
18 Dan Cassidy (CCB/VW)                                     8.25
19 Michael Dietrich (Kodakgallery.com/Sierra Nevada)        8.32
20 Patrick Walsh (CCB/VW)                                   9.02
21 Jason Baer (Kenda/Raleigh Racing)                        9.03
22 Alaisand Bialiauski (CCB/VW)                             9.50
23 Jose-Manuel Garcia (Toyota-United)                      11.10
24 Frank Pipp (TargeTraining)                              11.19
25 Cesar Grajales (Navigators Insurance)                   11.24
26 Stefano Barberi (Toyota-United)                         11.28
27 Will Frischkorn (Team TIAA-CREF)                        11.33
28 Zach Bell (Rite Aid)                                    11.37
29 Matt Shriver (TargeTraining)                            11.41
30 Jonathan Page (Colavita Olive Oil - Sutter Home)        11.44
31 Justin Spinelli (Team Nerac/Outdoorlights.com)          11.54
32 Jesse Anthony (Kodakgallery.com/Sierra Nevada)          11.56
33 Matt Cooke (LSV/Kelly Benefit)                          11.59
34 Michael Norton (Team Nerac/Outdoorlights.com)           12.05
35 Daniel Vaillancourt (CCB/VW)                            12.06
36 Caleb Fairly (CRCA/Sakonnet)                            12.14
37 Peter Stetina (Team TIAA-CREF)                          12.15
38 Vassill Davidenko (Navigators Insurance)                12.18
39 Todd Wells (TargeTraining)                              12.24
40 Paul Ward (Natures Path)                                12.27
41 Todd Herriott (Colavita Olive Oil - Sutter Home)        12.29
42 Robbie King (Priority Health)                           12.30
43 Johnny Hayes (CRCA/Sakonett)                            12.35
44 Hayden Brooks (Subaru)                                  12.43
45 Chris Kuhl (CRCA/Sakonnet)                              12.50
46 Andy Guptil (TargeTraining)                                  
47 Ward Solar (Natures Path)                               13.14
48 Pete Lopinto (Kodakgallery.com/Sierra Nevada)           13.22
49 David Guttenplan (Subaru)                               13.31
50 Frankie McCormack (Colavita Olive Oil - Sutter Home)    13.39
51 Davide Frattini (Colavita Olive Oil - Sutter Home)      14.22
52 Gerardo Castro (Natures Path)                           14.34
53 Peter Dawson (South Australia.com-AIS)                  14.56
54 Hilton Clarke (Navigators Insurance)                    15.08
55 Mariano Friedick (Toyota-United)                        16.54
56 Troy Wells (Team TIAA-CREF)                             16.57
57 Michael Ford (South Australia.com-AIS)                  17.03
58 Guy East (CRCA/Sakonnet)                                17.47
59 Wesley Sulzberger (South Australia.com-AIS)             17.58
60 Rahsaan Bahati (Team TIAA-CREF)                         18.11
61 Miles Olman (South Australia.com-AIS)                        
62 Tommy Nankervis (Priority Health)                       18.15
63 Michael Creed (Team TIAA-CREF)                          18.54
64 Nikola Smutny (Anthem Blue Cross)                       18.56
65 Amos Brumble (CCB/VW)                                   19.19
66 Aidan Charles (Anthem Blue Cross)                       20.33
67 David Wiswell (CRCA/Sakonnet)                           20.38
68 Dan Schmatz (Kodakgallery.com/Sierra Nevada)            21.22
69 Matthew White (FiordiFrutta)                            21.31
70 Josh Bezecny (TargeTraining)                            22.08
71 Peter Penzell (Rite Aid)                                22.32
72 Alec Donahue (Kenda/Raleigh Racing)                     22.46
73 Ivan Dominquez (Toyota-United)                          23.30
74 Dan Greenfield (TargeTraining)                          23.40
75 Lee Rosenthal (CRCA/Sakonett)                           25.22
76 Richard England (Priority Health)                       25.36
77 Yahor Buben (CCB/VW)                                    26.10
78 Christopher Jones (Anthem Blue Cross)                   27.28
79 Bill Elliston (TargeTraining)                           29.42
80 Jake Rytlewski (Priority Health)                        29.49
81 John Delong (Rite Aid)                                  32.40
82 Brian Bibbons (Subaru)                                  37.17
83 Michael Barton (Boston Scientific)                      42.58
84 Johannes Huseby (FiordiFrutta)                          43.29
85 Stephen Woolridge (South Australia.com-AIS)             45.53
86 Alejandro Acton (TargeTraining)                         47.23
87 Robby Ketchell (Team Nerac/Outdoorlights.com)           49.37
88 Jon Wirsing (Rite Aid)                                  53.46
 
Pro/1/2 Women final
 
1 Sarah Ulmer (Colavita/Cooking Light)                   6.18.08
2 Heather Labance (Advil-Chapstick)                         2.14
3 Laura Van Gilder (TEAm Lipton)                            2.23
4 Tina Pic (Colavita/Cooking Light)                         2.32
5 Suz Weldon (TRIA)                                         2.46
6 Iona Wynter (Colavita/Cooking Light)                      2.51
7 Sarah Tillotson (Colavita/Cooking Light)                  3.12
8 Renee Eastman (Vitamin Cottage)                           3.43
9 Mara Miller (Advil-Chapstick)                             3.50
10 Kerry Litka (Terry Precision)                            3.56
11 Hiroko Shimada (Gear Works-Spin Arts)                    4.02
12 Megan Guarnier ()                                        4.09
13 Sarah Uhl (Gear Works-Spin Arts)                         4.14
14 Aimee Vasse (Colorado Premier Training)                  4.19
15 Meshy Holt (Colavita/Cooking Light)                      4.30
16 Kacey Manderfield (Wolverine/Redken)                     4.31
17 Carli Figueroa (Paramount Racing)                        4.36
18 Holli Steelman (Cheerwine)                               4.38
19 Sar Bresnick-Zocchi (Ford Cycling)                       4.40
20 Anna Milkowski (Gear Works-Spin Arts)                    4.42
21 Amity Elliot (ADG/Joe's Bike Shop)                       4.46
22 Arielle Filiberti (Hot Tubes)                            4.57
23 Jennifer Manefield (Cheerwine)                           5.06
24 Elizabeth Frye (Cheerwine)                               5.25
25 Katherine Lambden (TEAm Lipton)                          5.26
26 Rebecca Wellons (Gear Works-Spin Arts)                   5.29
27 MacKenzie Dickey (Aaron's Cycling Team)                  5.32
28 Brooke O'Connor (Hub Racing)                             5.51
29 Mandy Lozano (Cheerwine)                                 5.54
30 Lisa Matlock (JR Engineering)                            6.11
31 Kami Tremblay (Gear Works-Spin Arts)                     6.20
32 Janet Olney (ADG/Joe's Bike Shop)                        6.32
33 Sarah Caravella (TEAm Lipton)                            6.47
34 Holly Borowski (US Armed Forces)                         7.00
35 Kele Hulser (Gear Works-Spin Arts)                           
36 Lara Marie Kroepsch (TEAm Lipton)                        7.05
37 Amanda Lawrence (North Atlantic Velo)                    8.31
38 Caitlyn McCullough (Advil-Chapstick)                     9.37
39 Meredith Miller (TEAm Lipton)                           10.56
40 Gina Kavesh (TRIA)                                      11.12
41 Lynn Patchett (RMS FitTech)                             15.54
42 Sheba Farrin (Hub Racing)                               16.09
43 Allie Warfel (Cheerwine)                                16.57
44 Melissa Petty (BMW-Bianchi)                             16.59
45 Jenner Yaeso (JR Engineering)                           22.10
46 Reem Jishi (Advil-Chapstick)                            25.06
47 Lenore Imhof (Colavita/Cooking Light)                   29.02
48 Michele Bote (Hub Racing)                               32.02
49 Katharine Lundby (Eddie B Cycling)                      35.50
50 Michelle Hurley (Team International B)                  41.51
51 Lisa Vible (ADG/Joe's Bike Shop)                      1.06.05