Australian Cycling Grand Prix - NE
Ballarat, Australia, August 18-20, 2006
Main Page Results Overall standings Previous Race Next Race
Race 2 - August 19: Criteriums, 33 km
More success for Stevenson
By Rod Morris in Ballarat
Cody Stevenson of New South Wales
Photo ©: Shane Goss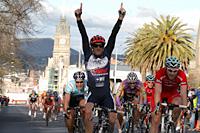 Cody Stevenson enhanced his growing reputation as one of this country's best riders with a stunning victory in the inaugural Australian Cycling Grand Prix criterium in Ballarat today (Saturday, August 19). Stevenson (27) produced a blistering turn of speed to outgun some of Australia's best sprinters in a hectic bunch finish.
"It was a tough finish because it was uphill and into the wind, so you had to judge your final move just right or get run over by the other sprinters," Stevenson said.
The Australian Grand Prix incorporates the Victorian Open Road Cycling Championships and is locked into the Ballarat region for three years. Stevenson kept himself safely tucked away in the peloton for the bulk of the 30 laps on the testing 1.1 km circuit, deep in the heart of Ballarat's CBD. Lapping at an average of 1'30, the field of 90 riders had the pressure on throughout.
Stevenson's final sprint held off Brunswick's Mitch Docker, who was also on the podium the day previously in the individual time trial and Queensland's David Kemp, who had been prominent through the race.
Sydney rider Joe McDonnell was a surprise winner of the sprint championship, which was decided by 11 intermediate sprints. McDonnell tallied 15 points and won from Darren Lapthorne (Vic) and Wes Sulzberger (Tas), who both finished on 10 points. McDonnell and Lapthorne twice attempted to break away from the bunch, but with the pace so hectic, they were quickly reeled back in.
Brendan Washington (NSW), Peter McDonald (NSW), Kemp, Craig McCartney (Vic) and Tasmanian duo Richie Port and Tim Walker all tried solo breaks, but the bunch was not going to let anyone slip away so easily and for the last seven laps, there was a concentration of energy for the final lap sprint. Two hundred metres from the finish post, anyone of about 20 riders were in a position to win. Sulzberger, the current leader of the Tattersall's Cup and recent winner of the Tour of Gippsland, was one of those challengers, but he was outgunned by Stevenson and co. and had to be content with sixth.
A mammoth field of 111 riders will contest the final event on the ACGP calendar, the 153 km road race on the Mt Buninyong circuit on Sunday morning.
Berry outguns Mactier
Cheers Jessica!
Photo ©: Shane Goss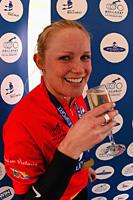 Petite Bendigo cyclist Jessica Berry rode a superb race to claim honours in the women's criterium, also held over 33 km. Berry (25) missed an early break group and was forced to work a little bit harder than expected to bridge the gap.
"It was such a challenging course that it made things very tough if you missed any breaks," she said.
Berry beat former world champion, Katie Mactier in a tight bunch sprint, with the defending Victorian Criterium champion, Briana James a wheel width away in third spot. Mactier was gracious in defeat and offered genuine congratulations to Berry, adding "Its great to see such good young talent emerging in women's cycling in this country."
It was a modest field of just 13 riders that faced the starter for the women's event, but the tough course and hard riding from the early leaders Mactier, Rachel Rademaker and Monique Hanley made life difficult for others.
James summed up the feelings of most beaten riders when she quite simply stated "I'm absolutely knackered.
"I missed that early break and although we eventually got across, it took too much out of me for the final sprint home."
Rademaker, had been impressive in Friday's time trial and although she missed a podium placing in the criterium, she did claim the sprint championship, four points ahead of Mactier. The women's road race on Sunday will also be held at Mt Buninyong, starting at 8 a.m. and held over 91.8 km.
Photography
For a thumbnail gallery of these images, click here
Images by Shane Goss/www.licoricegallery.com
Results
Men

1 Cody Stevenson (Penrith Panthers CC)           46.53
2 Mitchell Docker (Brunswick Cycling Club Inc)        
3 David Kemp (Toowoomba Cycling Club Inc.)            
4 Gary Mueller (Brunswick Cycling Club Inc)           
5 Joshua Marden (Randwick Botany CC)                  
6 Wesley Sulzberger (West Tamar CC)                   
7 Jason Hegert (Ballarat/Sebastopol C C)              
8 Craig Mccartney (Footscray Cycling Club Inc)        
9 Darren Lapthorne (Coburg Cycling Club Inc)          
10 Michael Tolhurst (Canberra Cycling Club)           
11 Jai Crawford (Hobart Wheelers)                     
12 Peter Mcdonald (Colnago-Caravello CC)              
13 Christopher Wilding (Hobart Wheelers)              
14 Chris Steffanoni (Sunbury & Hume Districts C C)    
15 Jacob Sutherland (Brunswick Cycling Club Inc)      
16 Fabio Calabria (Canberra Cycling Club)             
17 Adam Murchie (Footscray Cycling Club Inc)          
18 Richie Porte (Launceston City CC)                  
19 Damien Turner (Ballarat/Sebastopol C C)            
20 Julian Dutton (Carnegie Caulfield CC)              
21 Patrick Shaw (Ballarat/Sebastopol C C)             
22 Joshua Gundry (Bendigo & District CC)              
23 Matthew Sherwin (Carnegie Caulfield CC)            
24 Peter Barnett (Carnegie Caulfield CC)              
25 Kyle Marwood (Bendigo & District CC)               
26 Tom Middleton (Norwood C.C.)                       
27 Allan Sieper (Canberra Cycling Club)               
28 Peter Smith (Carnegie Caulfield CC)                
29 Casey Munro (Brunswick Cycling Club Inc)           
30 Matthew Davis (Carnegie Caulfield CC)              
31 Glen Peterson (St Kilda Cycling Club Inc)          
32 Will Wettenhall (Ballarat/Sebastopol C C)          
33 David Tozer (Port Fairy Cycling Club Inc)          
34 Steven Robb (Brunswick Cycling Club Inc)           
35 Joe Mcdonnell (Sutherland Shire CC)                
36 Peter Milostic (Penrith Panthers CC)               
37 Samuel Rix (St Kilda Cycling Club Inc)         0.08
38 Vaughan Bowman (Blackburn Cycling Club Inc)    0.09
39 Timothy Decker (Bendigo & District CC)             
40 Marcus Hayman (Canberra Cycling Club)              
41 Andrew Ward (Coburg Cycling Club Inc)              
42 Brendan Washington (Lavington Panthers Sports)     
43 Jarrod Harman (Mersey Valley Devonport CC)     0.11
44 Will Dickeson (Sturt Holdfast Marion C.C.)         
45 Nick Culvenor (Brunswick Cycling Club Inc)         
46 Robert Cater (Randwick Botany CC)                  
47 Edwin Crossling (New Zealand)                      
48 Brendan Brooks (Colnago-Caravello CC)          0.14
49 Michael Ford (Carnegie Caulfield CC)           0.17
50 Benjamin Juzwin (St Kilda Cycling Club Inc)    0.19
51 Timothy Walker (West Tamar CC)                 0.27
52 Sean Finning (Castlemaine Cycling Club Inc)    1.00
53 Zakkari Dempster (Bendigo & District CC)           
54 Matthew Jensen (Carnegie Caulfield CC)         1.34
55 Andrew Cochrane (Ballarat/Sebastopol C C)      4.42
56 Benjamin Serpell (Warragul Cycling Club Inc)       
DNF Alistair Crossling (New Zealand)                  
DNF Grant Webster (Echuca/Moama Cycling Club)         
DNF Daniel Furmston (Hobart Wheelers)                 
DNF Jay Bourke (Ballarat/Sebastopol C C)              
DNF Chris Stack (Norwood C.C.)                        
DNF David Ogilvie (Ballarat/Sebastopol C C)           
DNF Andrew Hanigan (Hobart Wheelers)                  
DNF Jordan James (Carnegie Caulfield CC)              
DNF Andrew Rolland (Blackburn Cycling Club Inc)       
DNS Ashley Hutchinson (Cairns Cycle Club)             
DNS Brendan Rowbotham (Carnegie Caulfield CC)         
DNS Tony Mann (Colnago-Caravello CC)                  
DNS Steven Pilson (Coburg Cycling Club Inc)           
DNS Stephen Wooldridge (St George CC)                 
DNS Jan Willhoeft (Carnegie Caulfield CC)             
DNS Robert Mclachlan (Tuggeranong Vikings CC)         
DNS Mark O'brien (Horsham Cycling Club Inc)           
DNS Cameron Wise (Carnegie Caulfield CC)              
DNS Daniel Mcconnell (Bairnsdale & Riviera C C)       
DNS Miles Olman (Rockhampton Cycle Club)              
DNS Reece-Emerson Van Beek (Geelong Cycle Club)       
DNS David Pell (Bendigo & District CC)                
DNS Simon Pearson (Norwood C.C.)                      
DNS Heath Keenan (Shepparton Cycling Club Inc)        
DNS Stephen Isbel (Canberra Cycling Club)             
DNS Mark Howard (Carnegie Caulfield CC)               
DNS Adrian Hanson (Coburg Cycling Club Inc)           
DNS Tim Buchanan (Canberra Cycling Club)              
DNS Andrew Graham (Port Fairy Cycling Club Inc)       
DNS Johnnie Walker (Brunswick Cycling Club Inc)       
DNS Stuart Shaw (Canberra Cycling Club)               
DNS Michael Forbes (St Kilda Cycling Club Inc)        
DNS Leigh Egan (Shepparton Cycling Club Inc)          
DNS Scott Brown (Carnegie Caulfield CC)               
DNS Stephen Price (Hobart Wheelers)    

Sprints championship

1 Joe McDonnell        15 pts
2 Darren Lapthorne     10
3 Wesley Sulzberger    10
4 Peter McDonald        5
5 David Kemp            4
6 Brendan Washington    3
7 Jacob Sutherland      3
8 Craig McCartney       3
9 Brendan Brooks        2
10 Mitchell Docker      2
11 Jason Hegert         2
12 Casey Munro          1
13 Michael Tolhurst     1
14 Patrick Shaw         1
15 Joshua Marden        1
16 Daniel Furmston      1
17 Steven Robb          1
 
Women
 
1 Jessica Berry (Bendigo & District CC)          58.13
2 Katie Mactier (Carnegie Caulfield CC)               
3 Briana James (Carnegie Caulfield CC)                
4 Rachel Rademaker (Blackburn Cycling Club Inc)       
5 Elizabeth Hayman (Canberra Cycling Club)            
6 Monique Hanley (Warragul Cycling Club Inc)      0.03
7 Uracca Leow (Malaysia)                          0.06
8 Jenni King (MTBA)                               0.08
9 Nicole Whitburn (Warragul Cycling Club Inc)     0.43
10 Stephanie Frawley (Mildura-Coomealla C.C.)     1.56
11 Clare Vlahopoulos (Carnegie Caulfield CC)          
12 Azian Alias (Malaysia)                         3.52
13 Rebecca Hanning (Coburg Cycling Club Inc)          
DNS Emma Gaul (Footscray Cycling Club Inc)            
DNS Gemma Kenessy (Brunswick Cycling Club Inc)        
DNS Vicki Eustace (Canberra Cycling Club)             

Sprint championship

1 Rachel Rademaker     24 pts
2 Katie Mactier        20
3 Elizabeth Hayman     12
4 Jessica Berry         5
5 Nicole Whitburn       3
6 Monique Hanley        1
7 Briana James          1