Australian Cycling Grand Prix - NE
Ballarat, Australia, August 18-20, 2006
Main Page Results Overall standings Previous Race
Race 3 - August 20: Road races, 91.8/153 km
Kemp with long range attack
By Mal Sawford in Buninyong
Twenty-two year old Queenslander David Kemp (Queensland Academy of Sport) outlasted a quality field to claim the final race of the Australian Cycling Grand Prix, winning alone after fifteen gruelling laps of the circuit which will decide the Australian Open champion for the next three years. In the women's race, heavy favourite Katie Mactier (Victorian Institute of Sport) was clearly in a different class to her competition, also winning alone, but by a huge margin.
Men's race
David Kemp from Queensland salutes the crowd
Photo ©: Shane Goss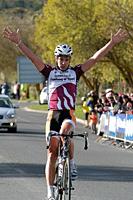 The Buninyong circuit kicks off with a long climb, and riders at the back of the big field were in trouble right from the get go. Christopher Wilding (Praties) punctured very early on, and made a huge but ultimately unsuccessful effort to rejoin the bunch as David Rae led the field over the summit for the first time, with a steady trickle of riders losing contact as the climb twisted its way to the top of Mount Buninyong.
On the second ascent, Tim Walker claimed the opening KOM points ahead of Michael Tolhurst and Andrew Hannigan, before the first attack came, launched by Brendan Brooks. Brooks quickly pulled thirty seconds clear as he took maximum points at the second and third KOMs, and extended his lead to fifty seconds before a chase group of five made contact.
Peter McDonald (FRF Couriers/Caravello) led the chase and showed his intention to take the mountain prize by mopping up the second place KOM points along the way. Behind, the strong cross winds on the lower slopes of the climb were causing havoc, and the trickle of riders losing contact became a stream until just twenty-five riders were left in contention.
With Walker neutralised, McDonald was dominant on the climb, taking maximum points on each of the next seven laps, to build an unassailable lead in the KOM competition. Only Tatt's Cup leader Wesley Sulzberger (SouthAustralia.com), Brad Edmunds and Praties team mates Jai Crawford and Ritchie Porte were able to stay with McDonald as he attacked the climb.
The leaders climbing out of Buninyong
Photo ©: Shane Goss

With nine laps still to complete, the Drapac/Porsche team set the tempo for the bunch, with time trial winner Zak Dempster and Adam Murchie sacrificing themselves to put Mitchell Docker into good position. Eventually, the bunch split, with Docker joined by team mate Darren Lapthorne, Scott Peoples, Kemp and VIS team mates David Pell and Pat Shaw closing to within thirty seconds of the leaders.
With half distance approaching, Edmunds detonated, while Porte was also unable to maintain the pace and dropped back to Docker's group briefly before calling it a day soon after. The two groups merged soon after to form a lead group of nine, 1.45 clear of the remnants of the bunch, and worked steadily to increase their advantage to put the main bunch totally out of contention. Crawford cracked metres from the Mt Buninyong summit at six laps to go, after which the remaining eight seemed to ease slightly with the subsequent two laps uneventful.
Kemps' winning move started on the descent towards the finish line and three laps to go, when he curled his lanky body into an extremely aerodynamic tuck perched atop his top tube. The awkward-looking position allowed him to open a lead of a few bike lengths as he swung onto the finishing straight, which he had extended to 12 seconds as he took the sprint points at the line.
Patrick Shaw, Wes Sulzberger and Mitchell Docker
Photo ©: Shane Goss

Clearly riding within himself on the climb, Kemp maintained his advantage as Sulzberger attacked the group repeatedly, drawing Shaw and Docker clear. At the summit, Kemp's lead was 18 seconds over the three chasers, while Pell, Lapthorne, McDonald and Peoples were in survival mode, conceding a minute and a half.
Despite cooperating well, the three chasers lost ground to the flying Kemp on the descent, who increased his advantage to 39 seconds at two to go, and 46 seconds at the bell. Local hope Shaw did the lion's share of pace making, but it was too little, too late and Kemp had plenty of time to savour his win as he cruised to the line in front of large crowd. Only 22 riders were able to complete the gruelling course, with criterium winner Cody Stevenson 'leading' a bunch of twelve home for an almost comical tenth place – clearly none of the riders knew that tenth place was still up for grabs and the group rolled across the line without sprinting!
Kemp admitted later it had been a difficult day for him. "It was a bit up and down" he said, "since I arrived back [from France] I haven't done the training I wanted to, and it took me 100km to warm up."
David Kemp still holding a narrow margin
Photo ©: Shane Goss

His winning move came about more by chance than design. "I didn't expect to go away. I purely just rolled away and had about ten seconds coming to the hill and thought 'oh well, I'll just ride easy up the hill' and I felt good so I kept riding a bit harder and had a good gap at the top of the hill and thought 'I'll just keep going!' I didn't expect to stay away, I thought the guys would get across to me, but I kept riding my tempo and luckily it was good enough to stay away."
Kemp ranked the win as his biggest in Australia, and was particularly pleased to have dictated terms in the closing stages. "Every solo victory is pretty special!"
Second placed Sulzberger extended his lead in the Tattersall's Cup but had to be content with a convincing sprint to take second place ahead of Shaw. "We gave the chase down our best shot, but David rode very strongly," the Tasmanian said, sentiments echoed by Ballarat based Shaw, who commented "we did everything we could to bring him back, but couldn't." Fourth placed finisher Mitchell Docker claimed the aggregate jersey after second and third place finishes in the criterium and time trail respectively.
Women's race
Katie Mactier, a crowd favourite
Photo ©: Shane Goss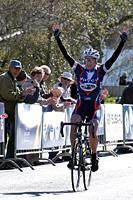 Mactier had been surprised by the finishing sprint of Jessica Berry in Saturday's criterium, but was obviously determined to stamp her authority on the road race. The first six of nine laps were run at a reasonably sedate pace in very cool conditions, with the main interest coming from the battle for sprint points between Briana James (The Freedom Machine), Mary Rogers (Kathy Watt's Personal Training) and Monique Hanley (Quick Cycle Coaching), with Hanley eventually triumphing.
Mactier picked up the pace at the base of the climb on successive laps, "just sussing out who was riding well and who to watch" before escaping for good with three laps remaining. So powerful was Mactier's attack, that she completed the seventh lap in 17.55, over two minutes quicker than any of the previous laps, and went faster again on the penultimate lap.
Mactier's winning margin was a massive 3'49, with the chase group reduced to only five women. Mactier's Carnegie Caulfield club mates James and Rogers sprinted into the minor medals ahead of Christine Foster (Richmond Cyclery) and mountain biker Tory Thomas, with Clare McKechnie (Moroni's) a few seconds back. The former world pursuit champion was a runaway winner of the Queen of the Mountains jersey, winning six of the seven hill sprints.
The field in the women's road race
Photo ©: Shane Goss

Mactier said later, "I certainly didn't plan to go at three to go, but I got a bit of a gap, so I thought I may as well go for it. I didn't expect to win by so much, but I kept thinking if I'm hurting this much, then the others must be hurting as well. It's a course I like, and I've raced here many times. It's not a 'lucky' course: the strongest person wins here."
Mactier dedicated the win to her father, saying "it's terrific to have my Dad here today. He hasn't been very well lately, and this win is for Dad."
The Australian Cycling Grand Prix aggregate jersey went to an "over the moon" James after podium finishes in all three races, and the rapidly improving speedster foreshadowed an attack on the individual pursuit this track season.
Photography
For a thumbnail gallery of these images, click here
Images by Shane Goss/www.licoricegallery.com
Images by Mal Sawford/Cyclingnews.com
Results
Elite Women
 
1 Katie Mactier (Carnegie Caulfield CC)         2.59.31
2 Briana James (Carnegie Caulfield CC)             3.49
3 Maryam Rogers (Carnegie Caulfield CC)                
4 Cristine Foster (St Kilda Cycling Club Inc)          
5 Tory Thomas (Albury-Wodonga CC)                      
6 Clare Mckechnie (Bendigo & District CC)          3.54
7 Jessica Berry (Bendigo & District CC)            4.38
8 Elizabeth Hayman (Canberra Cycling Club)         6.35
9 Gemma Kenessy (Brunswick Cycling Club Inc)       9.00
10 Stephanie Frawley (Mildura-Coomealla C.C.)      9.35
11 Monique Hanley (Warragul Cycling Club Inc)     12.50
12 Nicole Whitburn (Warragul Cycling Club Inc)    15.30
13 Uracca Leow (Mayalsia)                         20.00
14 Clare Vlahopoulos (Carnegie Caulfield CC)           
DNF Azian Alias (Mayalsia)                             
DNF Rebecca Hanning (Coburg Cycling Club Inc)          
DNF Jenni King (MTBA)                                  
DNS Emma Gaul (Footscray Cycling Club Inc)             
DNS Vicki Eustace (Canberra Cycling Club)              

Elite Men

1 David Kemp (Toowoomba Cycling Club Inc.)      4.05.44
2 Wesley Sulzberger (West Tamar CC)                0.18
3 Patrick Shaw (Ballarat/Sebastopol C C)               
4 Mitchell Docker (Brunswick Cycling Club Inc)         
5 David Pell (Bendigo & District CC)               4.30
6 Darren Lapthorne (Coburg Cycling Club Inc)           
7 Peter Mcdonald (Colnago-Caravello CC)            4.34
8 Scott Peoples (Shepparton Cycling Club Inc)      7.12
9 Michael Tolhurst (Canberra Cycling Club)         7.35
10 Cody Stevenson (Penrith Panthers CC)           10.05
11 Damien Turner (Ballarat/Sebastopol C C)             
12 Mark O'brien (Horsham Cycling Club Inc)             
13 Fabio Calabria (Canberra Cycling Club)              
14 Peter Mueller (Adelaide C.C.)                       
15 Michael Ford (Carnegie Caulfield CC)                
16 Will Dickeson (Sturt Holdfast Marion C.C.)          
17 Peter Trigar (Brunswick Cycling Club Inc)           
18 Peter Milostic (Penrith Panthers CC)                
19 Joe Mcdonnell (Sutherland Shire CC)                 
20 Brendan Brooks (Colnago-Caravello CC)               
21 Casey Munro (Brunswick Cycling Club Inc)            
22 Tim Hucker (Bendigo & District CC)             14.32
DNF Matthew Davis (Carnegie Caulfield CC)              
DNF Luke Hanley (Warragul Cycling Club Inc)            
DNF Mark Howard (Carnegie Caulfield CC)                
DNF Andrew Hanigan (Hobart Wheelers)                   
DNF Joshua Gundry (Bendigo & District CC)              
DNF Daniel Furmston (Hobart Wheelers)                  
DNF Christopher Fry (Geelong Cycle Club)               
DNF Brad Edmunds (Echuca/Moama Cycling Club)           
DNF Paul Eberle (Penrith Panthers CC)                  
DNF Marcus Hayman (Canberra Cycling Club)              
DNF Richie Porte (Launceston City CC)                  
DNF Sean Finning (Castlemaine Cycling Club Inc)        
DNF Edwin Crossling (New Zealand)                      
DNF Craig Mccartney (Footscray Cycling Club Inc)       
DNF Zakkari Dempster (Bendigo & District CC)           
DNF Robert Cater (Randwick Botany CC)                  
DNF Jack Alexander (Bendigo & District CC)             
DNF Jason Hegert (Ballarat/Sebastopol C C)             
DNF Nick Culvenor (Brunswick Cycling Club Inc)         
DNF Matthew Jensen (Carnegie Caulfield CC)             
DNF Peter Barnett (Carnegie Caulfield CC)              
DNF Vaughan Bowman (Blackburn Cycling Club Inc)        
DNF Matthew Chessum (Carnegie Caulfield CC)            
DNF Andrew Cochrane (Ballarat/Sebastopol C C)          
DNF Jai Crawford (Hobart Wheelers)                     
DNF Trent Stevenson (Shepparton Cycling Club Inc)      
DNF Andrew Ward (Coburg Cycling Club Inc)              
DNF Simon Van Der Aa (Hobart Wheelers)                 
DNF Steven Robb (Brunswick Cycling Club Inc)           
DNF Andrew Rolland (Blackburn Cycling Club Inc)        
DNF Simon Ross (Albury-Wodonga CC)                     
DNF Brendan Rowbotham (Carnegie Caulfield CC)          
DNF Brendon Sharratt (Coburg Cycling Club Inc)         
DNF Benjamin Juzwin (St Kilda Cycling Club Inc)        
DNF Grant Webster (Echuca/Moama Cycling Club)          
DNF Samuel Rix (St Kilda Cycling Club Inc)             
DNF Brendan Washington (Lavington Panthers Sports)     
DNF David Rae (Marconi CC)                             
DNF Allan Sieper (Canberra Cycling Club)               
DNF Peter Smith (Carnegie Caulfield CC)                
DNF Chris Stack (Norwood C.C.)                         
DNF Chris Steffanoni (Sunbury & Hume Districts C C)    
DNF Jacob Sutherland (Brunswick Cycling Club Inc)      
DNF Will Tehan (Carnegie Caulfield CC)                 
DNF Timothy Walker (West Tamar CC)                     
DNF David Tozer (Port Fairy Cycling Club Inc)          
DNF Reece-Emerson Van Beek (Geelong Cycle Club)        
DNF Jarrod Harman (Mersey Valley Devonport CC)         
DNF Adam Murchie (Footscray Cycling Club Inc)          
DNF Heath Keenan (Shepparton Cycling Club Inc)         
DNF Peter Ladd (Bendigo & District CC)                 
DNF Michael Johnstone (Central District C.C.)          
DNF Jacob Lea (Bendigo & District CC)                  
DNF Joshua Marden (Randwick Botany CC)                 
DNF Shaun Mccarthy (Bendigo & District CC)             
DNF Tom Middleton (Norwood C.C.)                       
DNF Matthew Sherwin (Carnegie Caulfield CC)            
DNF Andras Nagy (Launceston City CC)                   
DNF Phillip Orr (Ballarat/Sebastopol C C)              
DNF Glen Peterson (St Kilda Cycling Club Inc)          
DNF Christopher Wilding (Hobart Wheelers)              
DNF Luke Pledger (Carnegie Caulfield CC)               
DNF Will Wettenhall (Ballarat/Sebastopol C C)          
DNS Robert Mclachlan (Tuggeranong Vikings CC)          
DNS Jan Willhoeft (Carnegie Caulfield CC)              
DNS Ashley Hutchinson (Cairns Cycle Club)              
DNS Alistair Crossling (New Zealand)                   
DNS Stephen Wooldridge (St George CC)                  
DNS Tony Mann (Colnago-Caravello CC)                   
DNS Daniel Mcconnell (Bairnsdale & Riviera C C)        
DNS Miles Olman (Rockhampton Cycle Club)               
DNS Cameron Wise (Carnegie Caulfield CC)               
DNS Stephen Price (Hobart Wheelers)                    
DNS Matthew Jones (Echuca/Moama Cycling Club)          
DNS Stephen Isbel (Canberra Cycling Club)              
DNS Matthew Ladner (Ballarat/Sebastopol C C)           
DNS Adrian Hanson (Coburg Cycling Club Inc)            
DNS Shaun Gatter (Footscray Cycling Club Inc)          
DNS Simon Pearson (Norwood C.C.)                       
DNS Johnnie Walker (Brunswick Cycling Club Inc)        
DNS Julian Dutton (Carnegie Caulfield CC)              
DNS Glyn Thomas (Carnegie Caulfield CC)                
DNS James Pugh (Ballarat/Sebastopol C C)               
DNS Bradley Clark (Albury-Wodonga CC)                  
DNS Stuart Shaw (Canberra Cycling Club)                
DNS Andrew Graham (Port Fairy Cycling Club Inc)        
DNS Ashley Baines (Wangaratta Cycling Club Inc)        
DNS Tim Buchanan (Canberra Cycling Club)               
DNS Steven Pilson (Coburg Cycling Club Inc)