Australian Cycling Grand Prix - NE
Ballarat, Australia, August 18-20, 2006
Main Page Results Overall standings Next Race
Race 1 - August 18: Time trials, 27.4/38.5 km
Youth over experience wins it for Dempster
By Rod Morris in Ballarat, with additional reporting from Mal Sawford
Cheers Zak…
Photo ©: Shane Goss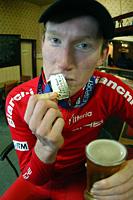 Its not hard to see why Bendigo rider Zakkari Dempster is being touted as the next big thing in Australian cycling. The 18-year-old sensation upstaged a host of highly fancied riders to win the opening event on the inaugural Australian Grand Prix in Ballarat today (Friday, August 18).
Dempster won the 38.5 km individual time trial with seven seconds to spare from his Bendigo Cycling Club teammate, David Pell. Brunswick's Mitch Docker finished a further three seconds adrift of Pell to claim third spot.
"I've been aiming for this event for quite a while," Dempster said. "I have done a lot of serious training throughout the Victorian road season and I've now realized my immediate goal."
Dempster is certainly a name to watch in Australian cycling; the versatile youngster took out the prestigious Austral Wheelrace in 2004 at the age of 16, and as an under 19 rider claimed Australian Championships in both the individual pursuit and points race. He said a recent bout of food poisoning nearly derailed his campaign. "It was a bit touch and go there as to whether I would be able to race at all."
The men's time trial in Learmonth, just 15 km north of Ballarat, attracted a field of 82 riders, with New South Wales' Peter Milostic the pre-race favourite. Milostic had won the NSW time trial earlier this year, has won the Victorian title three times and entered this event as the defending champion. Milostic rode hard on the course, but his time of 53.01.53 minutes could not lift him onto the podium.
The men's time-trial podium
Photo ©: Shane Goss

Tasmanian Wesley Sulzberger is the current leader of the Tattersall's Cup series, which started earlier this month with the Tour of Gippsland and includes the AGP, Tour of the Murray River and Tour of Tasmania. Sulzberger didn't set the world on fire in the time trial, finishing 12th in a time of 54.22.63.
Dempster did not compete in the Tour of Gippsland, but his victory at Learmonth will push him up the leaderboard in the Tattersall's Cup. "I wasn't well enough to race in Gippsland, but am looking forward to this weekend's events in Ballarat," he said.
Riders contested the event in reverse seed order and the early leaders included Peter McDonald (54.20.51), Jacob Sutherland (53.47.30) and Julian Dutton (53.36.25)
Hayman too good for the women's field
Elizabeth Hayman (Canberra Cycling Club)
Photo ©: Shane Goss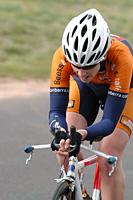 Canberra cyclist Elizabeth Hayman rode a perfectly judged race to win the women's individual time trial over 27.4 km, ahead of the ever improving Briana James, while internationally ranked triathlete Bridie O'Donnell registered the third best time. Hayman stopped the clock at 45.12.01 minutes and she had a five second advantage over James, with a further eight seconds out to O'Donnell.
"I am very excited about winning this, it was a particularly tough course and I admire all of the girls who competed," Hayman said.
Hayman admitted she was tired from the long drive from her home town to Ballarat and did not expect to perform so well in the time trial. "The road race on Sunday is the event I was really concentrating on, so to win the time trial is a bit of a bonus," she explained.
Runner-up – Briana James – agreed with Hayman that the course was a testing layout. She told Cyclingnews she was very happy with her ride. "It was a tough course, and so windy! I'm delighted to have finished so close to Elizabeth, she was always going to be the one to watch."
O'Donnell is just back from overseas where she has been contesting ironmen races and is in hard training for the Hawaiian Ironman.
She will miss Saturday's criterium because of a planned 200 km training ride. The Australian Grand Prix continues over the weekend with criteriums in Ballarat's busy CBD on Saturday afternoon and men's and women's road races on the testing Buninyong circuit on Sunday morning.
Photography
For a thumbnail gallery of these images, click here
Images by Shane Goss/www.licoricegallery.com
Results
Elite Men
 
1 Zakkari Dempster (Bendigo & District CC)            52.20.04
2 David Pell (Bendigo & District CC)                   0.09.68
3 Mitchell Docker (Brunswick Cycling Club Inc)         0.12.03
4 Peter Milostic (Penrith Panthers CC)                 0.41.49
5 Scott Peoples (Shepparton Cycling Club Inc)          0.59.48
6 Adam Conquest (Randwick Botany CC)                   1.01.04
7 Julian Dutton (Carnegie Caulfield CC)                1.16.21
8 Jacob Sutherland (Brunswick Cycling Club Inc)        1.27.26
9 Michael Ford (Carnegie Caulfield CC)                 1.49.50
10 Jai Crawford (Hobart Wheelers)                      2.00.05
11 Peter Mcdonald (Colnago-Caravello CC)               2.00.47
12 Wesley Sulzberger (West Tamar CC)                   2.02.59
13 Michael Tolhurst (Canberra Cycling Club)            2.07.42
14 Joshua Marden (Randwick Botany CC)                  2.11.06
15 Will Dickeson (Sturt Holdfast Marion C.C.)          2.30.54
16 Reece-Emerson Van Beek (Geelong Cycle Club)         2.37.94
17 Casey Munro (Brunswick Cycling Club Inc)            2.55.03
18 Allan Sieper (Canberra Cycling Club)                3.09.38
19 David Rae (Marconi CC)                              3.19.02
20 Luke Bell (Melbourne University CC)                 3.19.92
21 Damien Turner (Ballarat/Sebastopol C C)             3.21.53
22 Peter Ladd (Bendigo & District CC)                  3.26.78
23 Richie Porte (Launceston City CC)                   3.28.82
24 Marcus Hayman (Canberra Cycling Club)               3.36.32
25 Michael Gallagher (Carnegie Caulfield CC)           3.50.87
26 Jason Hegert (Ballarat/Sebastopol C C)              4.00.50
27 Joe Mcdonnell (Sutherland Shire CC)                 4.03.01
28 Timothy Walker (West Tamar CC)                      4.15.11
29 Christopher Wilding (Hobart Wheelers)               4.23.86
30 Nick Culvenor (Brunswick Cycling Club Inc)          4.24.97
31 Andrew Ward (Coburg Cycling Club Inc)               4.34.76
32 Daniel Furmston (Hobart Wheelers)                   5.06.18
33 Andrew Hanigan (Hobart Wheelers)                    5.07.71
34 Will Wettenhall (Ballarat/Sebastopol C C)           5.14.54
35 Samuel Rix (St Kilda Cycling Club Inc)              5.14.99
36 Kyle Marwood (Bendigo & District CC)                5.17.31
37 Adam Murchie (Footscray Cycling Club Inc)           5.27.96
38 Brendan Brooks (Colnago-Caravello CC)               5.29.11
39 Jarrod Harman (Mersey Valley Devonport CC)          5.36.26
40 Michael Johnstone (Central Districts)               5.36.97
41 Mark Mathews (St Kilda CC)                          5.40.83
42 Brendan Washington (Lavington Panthers Sports)      5.41.38
43 Chris Stack (Norwood CC)                            6.19.11
44 Matthew Davis (Carnegie Caulfield CC)               6.19.78
45 Michael Forbes (St Kilda Cycling Club Inc)          6.21.61
46 Andrew Rolland (Blackburn Cycling Club Inc)         6.26.40
47 Brett Franklin (Leongatha Cycling Club Inc)         6.38.42
48 Luke Hanley (Warragul Cycling Club Inc)             6.57.28
49 Mitchell Vervaart (Hawthorn Citizens Youth Club)    7.08.35
50 Harry Fricke (Hawthorn Citizens Youth Club)         7.35.09
51 Robert Cater (Randwick Botany CC)                   7.36.84
52 Tom Middleton (Norwood C.C.)                        7.39.25
53 Cody Stevenson (Penrith Panthers CC)                7.52.94
54 Chris Jensen (Footscray CC)                         8.17.57
55 Paul Eberle (Penrith Panthers CC)                   8.33.43
56 Glyn Thomas (Carnegie Caulfield CC)                 8.40.12
57 Jordan James (Carnegie Caulfield CC)                9.26.87
58 Simon Van Der Aa (Hobart Wheelers)                  9.28.88
59 Grant Webster (Echuca/Moama Cycling Club)           9.45.53
60 Martin Tobin (Wangaratta Cycling Club Inc)         10.23.93
61 Niall Mcdonagh (Mornington Cycling Club)           10.30.82
62 Wayne Gebert (Coburg Cycling Club Inc)             12.30.51
DNS Mitchell Anderson (Melbourne University CC)               
DNS Daniel Mcconnell (Bairnsdale & Riviera C C)               
DNS Robert Mclachlan (Tuggeranong Vikings CC)                 
DNS Sean Finning (Castlemaine Cycling Club Inc)               
DNS Stephen Wooldridge (St George CC)                         
DNS Tony Mann (Colnago-Caravello CC)                          
DNS Darren Lapthorne (Coburg Cycling Club Inc)                
DNS Ashley Hutchinson (Cairns Cycle Club)                     
DNS Ashley Baines (Wangaratta Cycling Club Inc)               
DNS Miles Olman (Rockhampton Cycle Club)                      
DNS Stuart Shaw (Canberra Cycling Club)                       
DNS Cameron Wise (Carnegie Caulfield CC)                      
DNS Peter Barnett (Carnegie Caulfield CC)                     
DNS Vaughan Bowman (Blackburn Cycling Club Inc)               
DNS Daryl Burns (MTBA)                                        
DNS Stephen Isbel (Canberra Cycling Club)                     
DNS Simon Pearson (Norwood CC)                                
DNS Steven Pilson (Coburg Cycling Club Inc)                   
DNS Stephen Price (Hobart Wheelers)                           
DNS Brendan Rowbotham (Carnegie Caulfield CC)                 
DNS Jan Willhoeft (Carnegie Caulfield CC)                     
DNS Andrew Graham (Port Fairy Cycling Club Inc)               
 
Elite Women
 
1 Elizabeth Hayman (Canberra Cycling Club)            45.12.01
2 Briana James (Carnegie Caulfield CC)                 0.05.42
3 Bridie O'donnell (Brunswick Cycling Club Inc)        0.13.25
4 Rachel Rademaker (Blackburn Cycling Club Inc)        0.23.62
5 Monique Hanley (Warragul Cycling Club Inc)           0.49.56
6 Clare Mckechnie (Bendigo & District CC)              0.58.02
7 Stephanie Frawley (Mildura-Coomealla C.C.)           1.06.51
8 Nicole Whitburn (Warragul Cycling Club Inc)          1.25.11
9 Clare Vlahopoulos (Carnegie Caulfield CC)            2.32.74
10 Suzanne Always (Hawthorn Cycling Club)              3.36.78
11 Rebecca Hanning (Coburg Cycling Club Inc)           9.05.63
DNS Brooke Condon (Coburg Cycling Club Inc)                   
DNS Heidi Buntrock (Blackburn Cycling Club Inc)               
DNS Vicki Eustace (Canberra Cycling Club)