An interview with Henk Vogels - Part II
Come fly with me
By Anthony Tan
Henk Vogels: one tough Aussie
Photo: © Jim Pravetz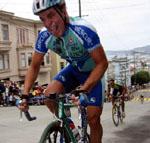 Every time Aussie hard-man Henk Vogels watches Paris-Roubaix from his home in Boulder it hurts. A lot. The overall winner of the 2002 Pro Cycling Tour was awfully close to winning the Hell of the North on two occassions, and became one of GAN's most valuable Classics riders in the mid to late nineties. That was before a knee injury followed by a "very sub-standard" offer resulted in a move to the US - with a promising team named Mercury. And most of us know about that story[1].
In the second part of this interview, Vogels (the Dutch name for birds) chirps to Cyclingnews' Anthony Tan about living in Boulder, the US racing scene, that unique Aussie mentality and (not) thinking about life after pro cycling.
The first part of the interview with Henk Vogels
CN: So what made you choose Boulder (Colorado) - did the beneficial effects of living and training at altitude have something to do with your decision, or was it more the relaxed environment that allows you to train under ideal conditions?
HV: Yeah, I've always lived in Boulder - it's been great. There are a lot of cyclists here that are professionals in the US scene, and it's an athlete-friendly environment. There are a lot of rowers, skiers and snowboarders here, so it's very athlete friendly.
But you're right - the main thing I came here for is that we're 1,600 metres above sea level and I can train at 2,500 if I want. I've had great experience at altitude training camps as an elite amateur, so it's a great advantage for me.
CN: Cycle racing in America at both elite and amateur levels appears to be growing very nicely at the moment. Can you cite any particular reasons for this - is it simply due to the Lance Armstrong factor?
"every time I see Roubaix since '99 I get goose bumps because I know I could have been there in the finish"
HV: Lance has had a great deal to do with the racing scene. He's promoted a lot of the one-day events over here really well, but people in America no longer look at cycling as this "European thing". There's a lot of Europeans that have come over here and racing for domestic teams, and that brings up the racing to a higher level.
I don't think there's any other country that has such a strong base of professionals - there's a lot of racing here, so the domestic scene is really strong - but not to the depth of Europe of course.
CN: On the subject of European teams, what are some of the biggest differences you have come across since your time at Mercury? Did you find the culture or atmosphere difficult to deal with at first?
HV: No, life here in America is very user friendly. It's a very easy lifestyle - you can get sucked into it. Going from France where the roads are small and it's very overpopulated to things like... drive through banks for example [laughs].
It's an easier lifestyle but no less demanding on the body, because we do a lot of traveling around the US, a huge amount in fact. We're flying from different cities every weekend to all the major events so it's no easier [on the body] - that's for sure.
CN: Before you left Europe, you had some great rides in notable races such as two top ten's in the queen of the Classics, Paris-Roubaix, and rode the Tour de France on two occasions. Do you miss the atmosphere of this type of races that is unique to cycling in Europe?
Trying to get back to Europe
Photo: © AFP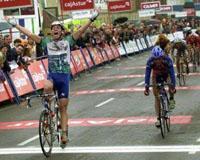 HV: Ohhh... [big sigh] every time I see Roubaix since '99 I get goose bumps because I know I could have been there in the finish. Twice I've been up for the win, and it's hard for me to sit over here racing in American team doing small races watching the Classics when I was so good for those couple of years [1996-98].
And I'm trying to get back there [Europe] and do that, but whether that's realistic is another thing. I know that the market now in Europe is pretty bad - a lot of teams have folded and the thing is the European directors see me as invisible. Hopefully races like San Francisco and Philadelphia where the Europeans do come, albeit on a whim will have done something for me. I'm talking to some teams now, and we'll find out in the future where I'm going to be.
CN: Many people don't realise that you have come from Australia, but also have Dutch heritage - and now you're living in the States! Do you still consider yourself an Aussie; or half-Aussie, half-Dutch; or maybe one-third Aussie, Dutch and American?
HV: I'm an Australian through and through. I'm an Australian riding in America - I do own two passports, but I was born in Australia and my father lived in Australia since he was 11; he even raced for Australia in the 1964 Olympics with Stuart O'Grady's uncle in the bronze medal fight-off for third, so there's a bit of history for you. My son is American, but I'm an Australian and that's all there is to it.
CN: Can you tell us a bit about how you started riding a bike back in WA? Didn't your Dad used to race?
HV: To be honest, my old man actually never pushed me into cycling; I used to play soccer, and did so for eight years. He never wanted me to ride a bike, but I was always around bike riders and bike races all the time so I guess it was inevitable. But my first love was soccer and I still love watchin' the game. And I'll probably do the same to my son too. [laughs]
CN: Speaking of Australia, did you ever think you would see so many guys and gals doing so well over in Europe and the US?
Anglo posse: Class of '97
Photo: © AFP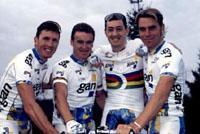 HV: I'm not surprised at all, because Australians are, by nature tough, and I've seen a lot of the French and a lot of the other European guys who need to be at home and who need to be pampered. Being away from home, the Australians have to do it the hard way - so if they're going to give up those luxuries of living away from home, of course they're going to try and make it as much as possible and give it 100 percent - so no, I'm not surprised in the least.
The Australian mentality I think is one of the best in the world. I mean, these guys have to leave their home, get on a plane for 24 hours and shack up somewhere, 17,000 kilometres away from home. And they need to win, because that's their bread and butter for the next day. They have to be hard to make it, and I think everyone is paying attention to Australian bike riders now because they've got such a good attitude.
CN: You were nurtured under the direction of Heiko Salzwedel [former Australian Institute of Sport cycling coach] for a number of years that allowed talented Aussie amateurs such as yourself to taste life in Europe - and now Shayne Bannan [head cycling coach at the AIS] has firmly established his U23 road squad in Italy. Do you think these initiatives have a lot to do with the success of the Aussies in both the US and Europe?
HV: Absolutely. Shayne Bannan was one of Charlie's [Walsh, former head track coach] mean back in the early to mid nineties, and Heiko Salzwedel was imperative for the career outcomes of Robbie McEwen, Patrick Jonker, Matt White and myself. Stuart O'Grady and Bradley McGee were part of Charlie and Shayne's program, but all those guys have nurtured a lot of Australian guys to their futures and they've done an amazing job.
And I think there's a lot more to come, especially if they keep doing what they're doing. Heiko is pretty much the reason why I'm a professional now, and he actually negotiated my first contract, so I have a lot of respect for that guy... he's the reason why I'm still riding my bike today.
CN: Just on that, how much of the knowledge that you acquired when you were with the Australian Institute of Sport do you still use today with your training and racing?
""I think I'd go mad if I didn't come back to Australia""
HV: A lot of things have changed, but the basic blocks and principles are still there. You never forget those things - you never forget to train hard. With Heiko, we were doing 45,000 kilometres a year in training and racing, and if you're not doing that now, it's not going to happen for you. Obviously you've got to remember where you've come from, and it's one of the staples of being a pro.
CN: Having said that, do you think it's strange that nearly half of the Aussie pros have come from track cycling backgrounds, such as Stu O'Grady, Brad McGee, Matt Wilson and Baden Cooke? Do you think that the two programs should possibly work more closely together for this reason?
HV: To tell you the truth, I'm a bit out of the loop with the track program... last time I rode the track was back in '92. But both programs have shown their merits - take Brad McGee for example. He's a freak - he's just an amazing bike rider who can do anything he wants. But with those guys like Stu [O'Grady], Brad McGee, Brett Lancaster and Luke Roberts, it shows that you still need to have the road background to be competitive.
CN: While on the subject of Australia, have you had a chance to come back at all since leaving for America almost three years ago?
HV: Yeah sure - I come back every October and do the Sun Tour, and spend the end of October through to February back in Australia. I do a bit of surfing and have a couple of beers with the boys; I think I'd go mad if I didn't come back to Australia.
CN: So you are thinking about relocating back to Australia after your finish your career in pro cycling?
Henk, Cindy and Jett
Photo: © AFP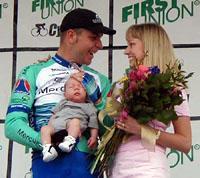 HV: Oh absolutely - I'm Australian through and through, and it's the best country in the world - even better than being in the States, so I'll always be in Australia after I finish unless I get some directing job, but I don't want to think about that now. I'm 29 and I've four good years left in me at least.
CN: So you're not even thinking about life after cycling then?
HV: No, I just take everything day by day and be the best that I can be. After that, who knows - I'm sure my life will expand into different areas, be it directing, coaching, representing - we'll find out later.
CN: The top dogs at Mercury issued a statement saying that they weren't continuing their involvement in the sport beyond 2003. What was your initial reaction after being with the team through thick and thin over the last three or four years?
HV: Mercury have been in the sport for five years, so that's pretty much normal for a company like that. I wasn't surprised at all that they were leaving; they've had a great five years with the team.
John Wordin has probably been the most outspoken guy in cycling in the US, so I'm sure he's going to rope a sponsor in no worries. We're the number one team in America - we've won 98 races this year, so for any sponsor, that's interesting.
CN: With a great 2002 season, you must have spoken with a number of teams since Mercury's announcement to discontinue their sponsorship. Are you able to tell us who you're likely to be riding with next year?
HV: I'm talking to some American teams and I've got a couple of connections in Europe, but we'll all find out shortly. I'll know in about two weeks what my future holds; that's all I can say for now.
CN: On a final note, what are your plans for the 2003? Any specific ambitions - another USPRO Champs win, defend your Pro Cycling Tour title - or maybe revenge on your ever so-close second place in next year's San Francisco Grand Prix?
HV: At the moment I'm torn between what I want to do. I'd love to go to Europe next year and continue where I left in '99, but at the same time, I can really do well here, be a team leader in the US, and make a good living. I really won't know for a couple of weeks, but I'm torn between the two at the moment and really can't say what I want to do.
CN: No worries mate, keep in touch and we hope it all goes well for you.
[1] Mercury's rollercoaster ride
Other Talking Cycling Interviews