Pavel Tonkov: Never giving up hope
By Sergey Kurdukov, Russian Eurosport commentator
Despite Mercury's non-inclusion in the Tour de France, the team's Russian climbing star is philosophical about what he has achieved this season and in the past.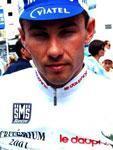 In white at the Dauphine
Photo: © Jean-Francois Quenet

I spoke to Pavel Tonkov after the Russian road championships where he finished seventh yet looked rather content. It was a look of a man who had done a great job. After all, Dmitri Konychev, the man superior to him in military rank, had just been up the top of podium (both are Russian army officers, at least when they are back home). Pavel himself wasn't left prizeless as he finished third in the military champs which was held during the same race. So he readily received congratulations.

PT: "I rode a steady race, and I feel glad that our army man, Konychev, finally won. We — the pro's from different teams — organized our counterattack wonderfully. ITERA worked excellently for Markov and Ekimov. On the top of all that I got the bronze medal of the Russian military championships."

CN: "It seems you rate the national championship quite highly. Was it because of this start that you left Volta a Catalunya with a couple of stages to go?

PT: "Certainly. Last year I rode the whole of it and came to Russia quite tired. While two or three days are normally enough to recuperate. If there had been a chance for me to get a high position in General Classification perhaps I would have kept on trying, but after the catastrophic TTT in the very first day everything was over. My right hand man Teteriouk was out with a concussion, and three minutes deficit in General Classification was too much, of course.

CN: The headlines highlighting Mercury's problems have topped the news more than once. They also included contract trouble dealing with bike manufacturers. What is your impression of a LeMond bike?

PT: Frankly speaking, I didn't find those bikes to my liking. LeMond was a great rider, but the bikes we were given felt not so great. In early spring we rode steel frames — to me it seemed like time-travelling some 20 years back. Steel is out of date.

CN: Yet LeMond had promised to equip the team with titanium models…

PT: It was done, and yet… No, for me there is the only bike worth riding no matter what, that is Colnago. I remain true to Colnagos since, I think, 1985. Stiffness, geometry, everything. I've ridden it all through my amateur and professional life. So even when it wasn't yet clear that the contract with LeMond would fall through, I managed to convince them to give me special permission to ride the bike I like. I visited Maestro Ernesto, and he made for me exactly what I needed.

CN: And what about Fuji, the Japanese/Australian manufacturers who were initially sidelined despite the ongoing contract? They seem to be getting back their own.

PT: Yes, they are back with the team. What can I say: quite a light and ridable frame and fork. My time trailing Fuji is especially good.

CN: Your most impressive performance in a stage race this year was in Criterium Dauphine Libere. And how disappointed your fans were when you failed to close the one second gap between yourself and Moreau in the final GC!

PT: Oh, yes, it was annoying indeed. On the other hand, it is completely explicable. You should call it to mind that last autumn I tried to bring a couple of good climbers with me. A couple of riders who know what it is about to work for a leader. Finally I got only one, Andrei Teteriouk, but you understand that one man, even such a classy all-rounder like him, is not enough to help you in a big battle like Dauphine. An all-star squad and a team are different things, and it normally takes months to turn the former into the latter. Even if it consists of experienced Europeans, but when you've got overseas riders in the line-up, sometimes it complicates things more.

Right, alongside Christophe Moreau in the Dauphine
Photo©AFP

CN: Mercury, perhaps somewhat 'raw' yet rather promising, was left out by the organizers of the Tour. You still feel discouraged by that, no doubt.

PT: Naturally; we were almost sure we would get a wild card. But at the moment it is not as if I was completely destroyed by the fact. After all, I've had so many races this season, they add up to something. Including a good preparation for Vuelta.

CN: La Vuelta automatically became your top priority this season. [This interview was conducted before Mercury's non-participation in the Vuelta was confirmed - Ed]

PT: Absolutely. I am very serious about this race and I've already started getting ready especially to it. Everything should be nice, last year the Giro strategically helped me, this season a couple of smaller races do the same job.

CN: You've got a couple of hard mountain stages to your credit in previous editions of the Tour of Spain. Though the most desired is still missing from the list of your success. Do you often remember those battles on the Angliru?

Shadowing Moreau on the Galibier
Photo©AFP

PT: They are hard to forget. Last year Simoni was really extra strong. But a year earlier I should have taken the Angliru stage. I still keep wondering how a man with some 40 seconds deficit 1 km to go can overtake you? Only if he's got a former rider on a motorbike at hand.

CN: The cycling world knows you as one of the most consistent Giro and Vuelta riders, but the territory around the Tour is not where luck has been with you. This year is yet another illustration. Aren't you giving up hope bit by bit?

PT: Not at all, just the reverse. To my mind, I've got no less than four years of my career in store, so the chance to do something memorable at the Tour must present itself. By today's standards, I'm still quite a young rider.

Other Talking Cycling Interviews
---