Cyclingnews talks with Floyd Landis
Floyd goes Postal
By Paul Goldsmith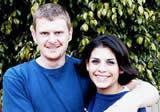 Floyd Landis and his wife Amber
Photo: © Richard Bryne
American Floyd Landis has made a big impact in his three years as a pro rider. Whilst the 26 year old Landis may not look back on the 2001 season, beset with team problems, as one of his best or brightest, 2002 is looking decidedly rosier with his move to the US Postal Service team.
"Next year is the most exciting opportunity of my career. After all what young basketball player wouldn't be honoured to play beside Michael Jordan. Likewise I'm thrilled to be able to learn from Lance. All this on top of the best organized and managed team in the world. I can't tell you how excited I am," Landis said. "I feel like I am going from one extreme to the next."
Renowned as a climbing and Time Trial specialist, Landis began his career on a mountain bike. "A friend of mine had a mountain bike, with 18 gears, and I had to get one," he said. "We used to use them to go fishing, but we eventually dumped the fishing poles and just went riding."
Landis' physique also pushed him towards cycling. "I was too small and skinny for other sports," he says.
The good
Landis describes himself as an "almost successful" mountain bike racer. Almost successful or not, Landis bike handling skills, and courage haven't left him in his move to the road. On the descent of Oh My God hill, in this years' Saturn Cycling Classic, Landis was passing riders, who had switched to mountain bikes for the dirt section, on his road bike. From all accounts it was pretty impressive. Landis himself downplayed the ride. "Actually I didn't think I was going that fast," he said. But then Landis is like that. For a professional sportsman, his modesty and candor is pretty refreshing.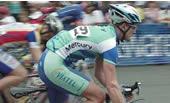 BMC Tour of Arlington
Photo: © Jonathan Devich
Originally from Pennsylvania, Landis moved to San Diego, California, six years ago to help with his training. 'I love Pennsylvanians, but Pennsylvania is like Belgium in the winter. I really do prefer the sun!" he said.
One of the main differences Landis has found between road and mountain biking is the training. "On the road, you have to train so much more. With a mountain bike race, the start is so critical. It's not really like a time trial. But as soon as I decided that I wanted to get into bikes I have trained a lot. In the beginning I probably used to train too much. I don't need to train between stage races!"
In line with Landis' approach to life, he is very happy with move to road bikes. "I like road racing better. It is more of a social thing. You can ride along for 3 or 4 hours, most of the riders get along well, then you go for it. I enjoy it a lot," he said.
Even though Landis was picked up by the Mercury team in 1999, it was during the '99 French Tour de l'Avenir that convinced him he could really be a pro rider. "I finished third. That's when I decided I could make it (cycling) worthwhile. I know it's not the hardest race in the world, but for me it is a career highlight. It was pretty exciting."
Landis made a race-shaping four-man break in Stage Four and, three days later, took the race lead after some very aggressive riding on the Cote de Cieutat. While he lost the yellow jersey the next day to the Banesto tag team of David Latasa and Unai Osa (the eventual winner, who'd also taken the Classique Des Alpes in May), he finished l'Avenir strongly in third place, 3:06 down,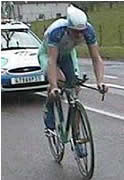 Paris - Nice
Photo: © Severine Cottin
Not as exciting has been the demise of the Mercury team. He joined Mercury as a neo-pro in 1999, and it has been his only pro team, until the 2002 move to Postal. "I got to do a lot of good races. I had a lot of good times. But it wasn't so well organised, so it was hard to keep your head on straight," he says of his time with Mercury.
And the not so good....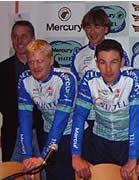 Landis and Lemond
Photo: ©Jean Francois Quenet
Of the 2001 season, Landis is understandably dismissive. "The last year has just been stressful. It was doomed from the beginning," he says. "As far as reaching any goals for this year, I can't seem to remember what they were, it all seems a blur. The team morale was great with the new guys in the beginning (of 2001) but those of us who had to start the 2001 season having not been paid what we were promised in 2000 were a little less motivated..."
"Things got more stressful when we went to Europe and had to race Paris-Nice with one pair of shorts and angry mechanics who had no parts. Also not once were any of us given any sort of schedule for future races and some times we were told the day before that we had to race the next day. Most of this could be laughed off with the hope that it was going to get better, but about the time we gave up on that we learned, without any warning, that our last paycheck had been the one we received a month before."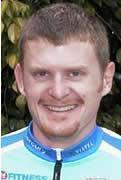 A man to be watched
Photo: © Richard Bryne
The Mercury team's ambitious European plans were curtailed when team co-sponsor Viatel filed for bankruptcy.
The team's problems certainly haven't helped in calming Landis, who describes himself as "pretty high strung." "I am trying to learn to relax but that only seems to work when I am asleep. So I have become pretty good at taking naps in the afternoon if I'm not riding," he said.
"Although I try to seem light hearted about it and don't make my goals known, I am one of the hardest working people you will ever meet. I am hopeful that with the right environment 2002 will be the payoff."
This payoff would see Landis pushing for a Tour de France berth alongside Lance Armstrong. "Certainly I think stage races are my strong point."
Other Talking Cycling Interviews
---