An interview with Alexis Rhodes and Oenone Wood, February 7, 2007
Rhodes and Wood, putting the past behind them
A horrific auto crash into the Australian Institute of Sports' women's team in July 2005 continues to make itself felt in the lives of two T-Mobile riders; only one of whom was involved in the accident. Alexis Rhodes was critically injured but has recovered so well that she is making her professional debut with the German team this year. One of her teammates will be fellow Australian Oenone Wood, also new to the team, who feels the effects of the accident on her career. Cyclingnews' Susan Westemeyer sat down with Rhodes and Wood last month at the team's presentation on Mallorca.
Rhodes
Alexis Rhodes celebrates
Photo ©: CJ Farquharson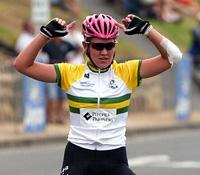 It was July 18, 2005, and the AIS team was checking out the time trial course of the upcoming Thüringen Rundfahrt, when an oncoming car crashed into them. Amy Gillett was killed, and her six teammates were all seriously to critically injured. One of those was the then-20 year-old Rhodes, who broke two bones in her neck, seven thoracic vertebrae, 12 ribs, her scapula, sternum, nose, and a hand, as well as having crushed lungs. Seemingly miraculously, she was able to return quickly to competitive cycling within six months, winning a stage of the Jayco Bay Classic in January 2006.
She was twice as good this year, winning two stages in a row. In the third stage, she broke away from the bunch and not only came in 54 seconds ahead of the peloton, but nearly lapped them on the circuit course. She pulled the same stunt the next day, riding the last five laps alone to take the win. Rhodes was riding for a composite team, Pitcher Partners. The other riders were T-Mobile teammate Kate Bates, Bates' sister Natalie, Olivia Golan and Amanda Spratt. "Between Kate and myself, we managed to win four of the five stages, so we're pretty happy with that," she said modestly. Kate Bates took the overall win, while Rhodes didn't figure in the final overall, crashing out of two of the stages.
Now 23 years-old, she is in her first pro year. What's it like being in the big leagues? "Pretty scary, actually. I always looked up to people like Judith Arndt and Oenone Wood and Ina [Teutenberg], and now I'm riding in the same team with them. It's a little daunting," she admitted. "I hope I don't mess up."
Alexis Rhodes
Photo ©: Shane Goss
Her larger goals for the season include the usual rookie ambitions of "riding for the team and just contributing to the team as much as possible." Rhodes wants to take advantage of her teammates and "hopefully learn a lot along the way from Judith and Ina and Oenone." She also hopes to ride well enough to recommend herself for the national team for the World Championships in Stuttgart."
Women's cycling seems to be more international than men's cycling, as least in the location of the races. "Yes, I guess because there's not so many of us that we get to travel a little bit more." Her own schedule reflects the around-the-world nature of the sport; she'll be "doing Geelong in New Zealand, and then Redlands in America and then racing in Europe."
Even if the road there has been rough, Rhodes is happy with where she has ended up. "It's awesome that T-Mobile is getting behind women's cycling and putting together such a fantastic team. I think the sport needs it."
"One One"
Oenone Wood in T-Mobile colours
Photo ©: Shane Stokes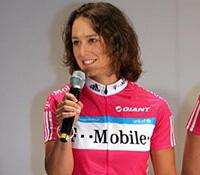 Another newcomer to the team is no newcomer to women's pro cycling. Oenone Wood is a two-time World Cup winner with a long list of successes and titles. While she wasn't involved in the Thüringen accident, she knew the women involved and felt a strong emotional impact.
In fact, she said that is probably the reason she didn't ride as well last year as she had the previous two seasons. "The main reason, I would say, was probably that I found it difficult to get motivated to race again after losing Amy. That was actually in 2005, but I think it probably really hit me more in 2006," she said. "I struggled with that for a lot of the season, and towards the end of the year I think I finally sort of broke through and finally started wanting to race again."
The lesson she learned from it all is that "you can't race without the passion. You can't get the same results, and I think that is reflected in the results I obtained last year." Does she have the passion back for 2007? "Yeah, definitely," she said confidently.
Wood is more eager than ever for the challenges of the new team and the new season. "I can't wait to race again. I'm really looking forward to it," she enthused, before turning philosophical. "I think that after something like Thüringen sometimes you just have to give yourself a bit of time, but it also forces to really decide if you want to race. So I think that will be a big advantage to me this year."
Not all of the faces on the new team are new to her. "I have raced with Judith before when she was with Nürnberg, and two of the other girls also came over with me from Nürnberg, Kate Bates and Anke Wichmann. So it's not entirely new, but [there are] a lot of new girls."
Oenone Wood
Photo ©: Rob Jones

She is not concerned about personality conflicts on the team. "I think they really handpicked the team, so it's not surprising that the personalities on the team gel. We'll see how we go through this year. Obviously things are going to come up during the year, but I think we've got the stuff to be able to deal with it," she said. She added optimistically, "We've also got the strength and the motivation within the team that we need to work together, and everybody wants to. I think it's a good atmosphere."
Wood's unusual first name derives from Greek mythology and the Greek word for wine, but as it happens, Wood does not particularly care for wine. Faced with the difficulty of trying to figure out how to pronounce "Oenone," teammates in the past have come up with the nickname "One One."
She is willing to do her part for the team this year, whether it involves riding for herself or for her teammates. "I guess my personal goal is really, that I want to qualify for a place on the Olympic team, so that means I've got to put in a really consistent strong season. Whether that means I'm working for other people or having my own opportunities, it really doesn't matter," she noted, adding that "I want to get back to the point where I'm really consistently performing."