Jayco Bay Cycling Classic - NE
Geelong, Australia, January 4-8, 2006
Main Page Results Overall standings Previous Stage Next Stage
Stage 3 (Australian Criterium Championship) - January 6: Geelong - Ritchie Boulevard
Rhodes caps off incredible comeback
England wins big
By Mal Sawford in Geelong
You can't forget that feeling!
Photo ©: Shane Goss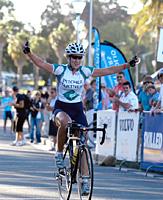 Dreams can come true, and a large and supportive crowd witnessed something special in Geelong tonight, as Alexis Rhodes soloed to an emotional win on Round 3 of the 2006 Jayco Bay Cycling Classic. With the stage doubling as the Australian Criterium Championships, Rhodes has earned the right to once again wear the Australian Champion's Jersey, only six months since she was fighting for her life in a hospital bed in Germany, and on the eve of Amy's Ride, the official launch of the Amy Gillet-Safe Cycling Foundation.
The men's race which followed may not have brought the same emotional response, but after an extremely tough hour of racing race favourites Robbie McEwen, Baden Cooke, Greg Henderson and Hilton Clarke were out-foxed by 24 year old Victorian Richard England (Jayco VIS), who claimed the biggest win of his career.
Held on a very short hotdog circuit officially 750 metres in length – but significantly shorter at just under 600 metres according to the SRM computer onboard Under 23 Champion Simon Clarke's machine – the men lapped consistently in under 50 seconds, and Rhodes managed a succession of 55 second laps on her way to victory.
Elite Women
Ambulance officers carry Rademaker
Photo ©: Shane Goss

After a fast paced start with the tempo set by the Jayco VIS team mates of overnight leader Katie Mactier, the women's race had to be stopped ten minutes in after a fall at the treacherous top corner brought six riders down. Rachel Rademaker (Siemens) landed heavily and was rushed to Geelong Hospital by ambulance where X-rays later confirmed a fractured L2 vertebra which will unfortunately keep her off the bike for around six weeks.
Officials re-started the race, but shortened the duration to 30 minutes, with the intermediate sprints to come at the 10 and 20 minute marks. At the restart, the Jayco VIS team returned to the head of affairs, before Kate Bates (Pitcher Partners) launched the first attack. Mactier and Oenone Wood (Mercure Hotel) were quickly on the wheel, but an attempt to bridge from sprint leader Jo Kiesanowski (Pitcher Partners) only succeeded in towing the bunch back up.
Series leader Mactier had missed out on the lead in the sprint competition on a countback, and looked to have moved back into the outright lead after pulling clear of Kiesanowski in the dash for the 10 minute sprint, but an awkward throw - she is still learning this sprint caper - saw her lose momentum and allowed the Kiwi to pinch maximum points.
The Pitcher Partners team were straight back on the offensive after the sprint, with Bates, Rhodes and Olympic Champion Sara Carrigan producing a series of attacks, but Mactier and Wood were initially up to the challenge, before a Rhodes counter attack at the 17 minute mark saw her go clear without a VIS shadow.
Rhodes was still clear at the 20 minute sprint, with Mactier besting Kiesanowski for the minor places, to end the day equal on points again - but once more out of the green jersey on a countback.
Alexis Rhodes showed her class
Photo ©: Shane Goss

Out front, Rhodes kept motoring along, maintaining a 15 second advantage over the peloton. When the call of 'ten to go' came, Rhodes faced a virtual pursuit match against a succession of Jayco VIS riders; as Mactier was clearly worried that an all out chase would leave her vulnerable to an attack from a fresh looking Wood.
Helen Kelly, Jenny Macpherson, Emma Rickards and Peta Mullens all took their turn at unsuccessfully trying to reel in the flying Rhodes, who actually managed to extend her lead by a second each lap until only four laps remained and the field became more concerned about the battle for second place.
Rhodes was cheered home to an inspirational win, while half a lap behind another fall on the top corner saw Kiesanowski slide across the bitumen and manage to take skin off both hips. Mactier comfortably led the bunch home with her new found sprinting talents once again on display, with Wood third and Belinda Goss (Volvo Team T5) recording her third straight fourth place finish.
A surprisingly composed Rhodes told the large media contingent "It's been awesome. Those last five laps, I didn't want to celebrate too early, but I was nearly in tears. It's really amazing! I mean I had a lot of help today, not only from my team mates at Pitcher Partners, but also the support of Lou (Yaxley) and Katie (Nichols) and Lorian (Graham) and all the girls, it's been amazing. And of course my biggest supporter, Amy, I'm sure she'd be pretty stoked today. It's pretty emotional, I had all my family here and my boyfriend, it's a great afternoon."
Rhodes plans for the green and gold striped Aussie Champion's jersey to get plenty of use, saying "I'll be wearing it with a lot of pride for the next few weeks -I'll probably even be out training in it!" but has her sights set even higher.
"It's only the Criterium Championships, it's not the Road Championships, it's not the World Championships, but it's a good stepping stone for me. (The celebrations) will be pretty low profile tonight - I don't think for my parents it will be - I've got national road championships coming up and then I've got the track championships, so pretty early to bed for me for the next few months."
The possibility of a Commonwealth Games spot is clearly looming. When asked her chances Rhodes responded, "I'm not a selector – if I was a selector then maybe, but I've still got a long way to go. But obviously I'm coming back pretty quickly, so...!"
The women's podium
Photo ©: Shane Goss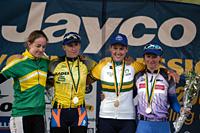 Katie Mactier extended her series lead over Wood to six points, but was denied the National Title by Rhodes' fantastic ride. After Rhodes had nearly pulled off a win in the opening stage with a late attack, Mactier had said, "to be honest if I didn't win I would have liked her to be the winner." As she warmed down tonight, Mactier told Cyclingnews "I'm rapt for her. It wasn't like we weren't trying! She earned that fair and square. She's so gutsy, it's fabulous. A fairy tale ending really."
Wood admitted it would be very difficult for her to overhaul Mactier for the series win saying, "Now I'm probably looking more at individual stages, but it's not out of the realms of possibilities." She was also full of praise for Rhodes: "I think it's fantastic, I'm so proud of her. She's such a fantastic girl and I think for her to have the determination to get back on the bike for a start, and then to come to Bay Series with such fantastic form - she's just great and I think she deserves everything she gets.
Elite Men
Richard England looks very happy
Photo ©: Shane Goss

With the men's race run at frightening speeds, it was little wonder that the 75 rider field was down to 30 odd riders before the 30 minute mark. One rider after another lost contact with the tail of the strung out bunch as Greg Henderson and Christian Lademann (both Drapac-Porsche Development Team) and Hilton Clarke and Baden Cooke (both Portfolio Partners) launched a devastating series of attacks.
Simon Gerrans (Pitcher Partners) hit out a lap from the first intermediate sprint, taking Jonathan Clarke (Jayco VIS) and Trent Wilson (Grand Mercure) with him, with Wilson's second placing moving him within striking distance of the green jersey held by Henderson.
Hilton Clarke continued to throw everything into trying to escape his Drapac-Porsche shadows, and with Ben Brooks (Skilled) built a five second lead after 25 minutes. Lademann powered across the gap, shortly followed by Robbie McEwen (Volvo Team T5). Clarke immediately jumped again, but Lademann was straight on his wheel, and then as McEwen and Brooks struggled to regain contact Henderson shot out of the bunch, straight past the chasers to join the leading pair.
England, David Pell (Team UNO) and Mark Renshaw (Skilled) were next to bridge to the leaders before McEwen found the energy to tow the bunch back up. Another attack from Lademann earned him the second sprint ahead of Clarke and Wilson, before 'Willo' launched an attack of his own.
Robbie McEwen gets out of the saddle
Photo ©: Shane Goss

By this stage only 23 riders were in contention, and a counter attack from Cooke shook off a few more! McEwen and England tried to bridge to Cooke but came up short, with Cooke lasting five laps before the bunch got back on terms. Wilson attacked to take maximum points in the final intermediate sprint and overtake Henderson in that competition, although the powerful Kiwi clearly has yellow in mind!
Cooke attacked again with 11 minutes remaining, and had England for company. Clarke had Lademann glued to his wheel and could only watch as Henderson once again shot off the front of the bunch to make contact with the leaders after a three lap chase. Wilson also tried, but found the gap too big to cross on his own, and the three leaders were gone for good. Both McEwen and Clarke made big efforts to reduce the margin which hovered around seven seconds, but England and Henderson in particular were up to the challenge.
Known for his pursuiting strength, England, who will ride for the US based Priority Health Team later in the year, sensed that his two companions were holding a little in reserve for the dash to the line, and attacked hard before the final hairpin corner. Cooke came close to closing the gap, but England kicked even harder out of the corner, and held off the former Tour de France green jersey winner in the drag race to the line to take his biggest win.
The men's leaders
Photo ©: Shane Goss

England summed up his thinking: "I knew I couldn't leave it to a sprint finish coming out of the last corner against Henderson and Baden, so I just hid down the back straight and sort of saved my legs with about two laps to go, I figured I'd done all my hard work, just thought I'll give it whatever I've got in the last corner. I sort of noticed that I was jumping out of the corners a bit quicker than them, so I knew if I jumped out of the corner really hard and just whacked it down into the 11 as quick as I possibly could and hopefully hold on - and it worked!"
McEwen led the bunch home to move into a share of fourth place and a mathematical chance of defending his 2005 Bay Classic title, with Hilton Clarke limiting his losses to Henderson by crossing in fifth place. The race within a race for the Under 23 Championship saw Simon Clarke defend his title and keep both jerseys on Jayco VIS shoulders for the second year running.
Cyclingnews diarist Trent Wilson couldn't explain the form that propelled him into the green jersey. "I've got no idea. Just being aggressive, staying at the front. Yesterday started going out for few sprints 'cause I was up there already, and today I thought 'oh well, may as well try and get the jersey.'"
In seven previous visits to the Bay Classic, Wilson hadn't recorded a top ten placing. This year he is three from three! "I'm not a noted sprinter," he said in the understatement of the year. "I've never had a sprint jersey in my life, I've had a few KOM's." Wilson is banking on Clarke and Henderson's battle for the yellow jersey helping him stay in green until Sunday.
Support Men
After showing signs of his power by bridging alone to the winning break at Portarlington, Angus Morton escaped the field just before the second intermediate sprint, and held off the chase for over fifteen minutes to record an impressive win.
Portarlington winner Evan Oliphant (Team UNO) got the judges nod in a tight bunch sprint for second ahead of Gary Mueller and Fabio Calabria to move into the leader's Yellow Jersey, with Morton also overhauling overnight leader Stephen Rossendell (Praties) by a single point.
Photography
For a thumbnail gallery of these images, click here
Images by Shane Goss/www.licoricegallery.com
Results
Elite Men
 
1 Richard England (Vic) Jayco / Giant                     12 pts
2 Baden Cooke (Vic) Portfolio Partners                    10
3 Greg Henderson (NZl) Drapac-Porsche Cycling Team         8
4 Robbie McEwen (Qld) Volvo Team T5                        7
5 Hilton Clarke (Vic) Portfolio Partners                   6
6 Mark Renshaw (NSW) Skilled                               5
7 Simon Clarke (Vic) Jayco VIS                             4
8 Trent Wilson (NSW) Grand Mercure on Swanston             3
9 Johny Walker (Vic) Pitcher Partners                      2
10 Ray Forbes (Vic) Portfolio Partners                     1
 
Sprint 1
 
1 Johnny Clark (Vic) Jayco VIS                              
2 Trent Wilson (NSW) Grand Mercure on Swanston              
3 Christian Lademann (Ger) Drapac-Porsche Cycling Team      
 
Sprint 2
 
1 Christian Lademann (Ger) Drapac-Porsche Cycling Team      
2 Hilton Clarke (Vic) Portfolio Partners                    
3 Trent Wilson (NSW) Grand Mercure on Swanston              
 
Sprint 3
 
1 Trent Wilson (NSW) Grand Mercure on Swanston              
2 Ben Brooks (NSW) Skilled                                  
3 Richard England (Vic) Jayco / Giant                       
 
Elite Women
 
1 Alexis Rhodes (SA) Pitcher Partners                       
2 Katie Mactier (Vic) Jayco VIS                             
3 Oenone Wood (ACT) Mercure Hotel Welcome                   
4 Belinda Goss (Tas)                                        
5 Jennie MacPherson (Vic) Jayco VIS                         
6 Rachel O'Connell (Vic)                                    
7 Tiffany Cromwell                                          
8 Gemma Mckenzie                                            
9 Belinda Diprose (NSW)                                     
10 Teressa Ryan (ACT) Mercure Hotel Welcome                 
 
Sprint 1
 
1 Jo Kiesanowski (NZl) Pitcher Partners                     
2 Katie Mactier (Vic) Jayco VIS                             
3 Oenone Wood (ACT) Mercure Hotel Welcome                   
 
Sprint 2
 
1 Alexis Rhodes (SA) Pitcher Partners                       
2 Katie Mactier (Vic) Jayco VIS                             
3 Jo Kiesanowski (NZl) Pitcher Partners                     
 
Support Race
 
1 Angus Morton (Port Macquarie)                           12 pts
2 Evan Oliphant (Scotland)                                10
3 Gary Mueller (Brunswick Cycling Club Inc)                8
4 Fabio Calabria (Canberra Cycling Club)                    
5 Stephen Rossendell (Hobart Wheelers)                     6 pts
6 Dale Scarfe (Central Coast CC)                            
7 Daniel Braunsteins (Hawthorn Youth Club)                 4 pts
8 Andrew Stalder (Carnegie Caulfield CC)  3                 
9 Andrew Naylor (Blackburn Cycling Club Inc)                
10 Nicholas Walker (Brunswick Cycling Club Inc)            1
 
Sprint 1
 
1 Andrew Naylor (Blackburn Cycling Club Inc)                
2 Shaun Lewis (SA)                                          
3 Jack Bobridge (Norwood C.C.)                              
 
Sprint 2
 
1 Angus Morton (Port Macquarie)                             
2 Shaun Lewis (SA)                                          
3 Andrew Naylor (Blackburn Cycling Club Inc)                
 
Overall standings after race 3
 
Elite Men
 
1 Hilton Clarke (Vic) Portfolio Partners                  26 pts
2 Greg Henderson (NZl) Drapac-Porsche Cycling Team        24
3 Christian Lademann (Ger) Drapac-Porsche Cycling Team    18
4 Mark Renshaw (NSW) Skilled                              12
5 Robbie McEwen (Qld) Volvo Team T5                       12
6 Richard England (Vic) Jayco / Giant                     12
7 Peter Mcdonald (NSW) FRF Couriers-Caravello             12
8 Trent Wilson (NSW) Grand Mercure on Swanston            12
9 Baden Cooke (Vic) Portfolio Partners                    10
10 Simon Gerrans (Vic) Pitcher Partners                    8
11 David Kupka (Cze) Volvo Team T5                         8
12 Johnny Clark (Vic) Jayco VIS                            4
 
Elite Women
 
1 Katie Mactier (Vic) Jayco VIS                           33 pts
2 Oenone Wood (ACT) Mercure Hotel Welcome                 27
3 Belinda Goss (Tas)                                      21
4 Alexis Rhodes (SA) Pitcher Partners                     18
5 Jo Kiesanowski (NZl) Pitcher Partners                   15
6 Hayley Brown (WA) Pitcher Partners                      12
6 Jennie MacPherson (Vic) Jayco VIS                       12
7 Sally Cowman (Qld) Werribee Mansion Hotel / NSWIS       10
8 Olivia Gollan (NSW) Werribee Mansion Hotel / NSWIS       6
9 Rachel O'Connell (Vic)                                   5
10 Tiffany Cromwell                                        4
 
Men's Support Race
 
1 Evan Oliphant (Scotland)                                22 pts
2 Angus Morton (Port Macquarie)                           20
3 Stephen Rossendell (Hobart Wheelers)                    19
4 Gary Mueller (Brunswick Cycling Club Inc)               18
5 Daniel Braunsteins (Hawthorn Youth Club)                12
6 Shaun Lewis (SA)                                        12
6 Dale Scarfe (Central Coast CC)                          11
7 Fabio Calabria (Canberra Cycling Club)                  11
8 David Tanner (NSW)                                      10
9 Julian Dutton (Carnegie Caulfield CC)                    7
10 Casey Munro (Brunswick Cycling Club Inc)                7
11 Nicholas Walker (Brunswick Cycling Club Inc)            7
 
Sprint classification
 
Elite Men
 
1 Trent Wilson (NSW) Grand Mercure on Swanston            11 pts
2 Greg Henderson (NZl) Drapac-Porsche Cycling Team         9
3 Hilton Clarke (Vic) Portfolio Partners                   6
4 Simon Gerrans (Vic) Pitcher Partners                     5
 
Elite Women
 
1 Jo Kiesanowski (NZl) Pitcher Partners                   11 pts
2 Katie Mactier (Vic) Jayco VIS                           11
3 Oenone Wood (ACT) Mercure Hotel Welcome                  4
4 Amanda Spratt (NSW) Werribee Mansion Hotel / NSWIS       3
5 Alexis Rhodes (SA) Pitcher Partners                      3
 
Teams classification
 
Elite Men
 
1 Drapac Porsche                                          42 pts
2 Portfolio Partners                                      37
3 Jayco VIS                                               22
 
Elite Women
 
1 Jayco VIS                                               45 pts
2 Pitcher Partners                                        45
3 Mercure Welcome                                         28
4 Volvo                                                   25