Jayco Bay Cycling Classic - NE
Geelong, Australia, January 3-7, 2007
Main Page Results Overall standings Previous Stage Next Stage
Stage 4 - January 6: Geelong Botanic Gardens
By Malcolm Sawford in Geelong
Gale force winds decimate fields in Geelong
Dean Windsor (Drapac Porsche)
Photo ©: CJ Farquharson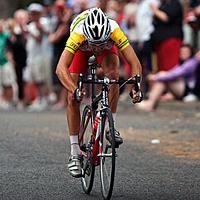 Dean Windsor (Drapac-Porsche Cycling Team) triumphed in an epic race that saw a break of four riders, containing three winners of Australian criterium championships, lap virtually the entire field on a night when strong winds left a class field with nowhere to hide.
Windsor and David McPartland (Portfolio Partners) eventually rode away from Johnny Walker (HLP Mortgage Co) and Richard England (Jayco VIS), with Windsor holding off McPartland in a desperate sprint to the line.
Overnight leader Mark Renshaw (Skilled) extended his lead by finishing sixth, coming in ahead of Robbie McEwen (Volvo) after the remnants of the bunch were lapped just before the forty-five minute mark.
In the women's race, Alexis Rhodes (Pitcher Partners) recorded her second win in succession after riding the final five laps alone. She had bridged to lone leader Rosara Joseph (NZ National Team) a lap earlier. Then she lifted the pace and dropped Joseph while racing to an emphatic win.
Series leader and teammate Kate Bates led the bunch home for second place and extended her lead on third placed Belinda Goss (Volvo) to three points, while Nikki Egyed (Rapido Cycles) dropped from overall contention after putting all her efforts into an unsuccessful early break.
How the men's race unfolded
The top-ten so far in the men's series line up
Photo ©: Shane Goss

The fierce wind still hadn't relented for the start of the elite men's race, which saw the field quickly lined out in single file. Simon Gerrans (Portfolio Partners) was at the head of affairs, but couldn't break free. The first attack to gain any distance proved to be the one that stuck, with Windsor, the reigning Under 23 crit champion, joined after only nine minutes by David McPartland (Portfolio Partners - 2005 Elite champion), Johnny Walker (HLP Mortgage Co), and Richard England (Jayco VIS - 2006 Elite champion).
Craig McCartney (Landlink) chased for three laps but the break pulled further away each lap, and was twenty seconds clear after twenty minutes. Henk Vogels (BBB) and Wesley Gough (NZ National Team) combined to try to cross the gap, but were also unsuccessful, as the break's margin to the main bunch neared forty seconds.
While the four leaders combined well, the bunch was shrinking in size with each passing lap, until just fourteen riders remained in pursuit, including yellow jersey wearer Mark Renshaw (Skilled) and the rest of the GC leaders: Rory Sutherland (Landlink), Johnny Clarke (Portfolio Partners), Robbie McEwen, and Joel Pearson (NSWIS). Soon after the half-way sprint, Sutherland drove the chase group for three laps and pegged the leaders back to just a ten second lead, but once his huge motor had run dry the margin quickly grew once more.
Jack Bobridge (BBB) shot out of the bunch, and while his effort was never likely to see him reach any of the leading four, it was enough to see him go well clear of the rest of the chasers.
The leaders (L-R): McPartland, Walker, England and Windsor,
Photo ©: Shane Goss

Approaching the final sprint, Windsor forced the pace and split the group, with only McPartland able to follow. This pair kept the pressure on, and lapped Renshaw's chase group a lap before the final intermediate sprint. Windsor took the three points, completing a clean sweep on the day, and leapfrogging Clarke to take the lead in the sprint ace competition.
Officials ruled that the dozen or so lapped riders would sprint for sixth place two laps later, with the other five given four laps to finish. Renshaw got the better of McEwen on the uphill finish to extend his lead and all but wrap up the series win. The race panned perfectly for Renshaw. "For me it was probably a good thing, because it had four riders who are not really a concern to GC, and it's hard to go red line every day." Beating McEwen was a bonus, too. "It's good for the morale. Now I know I've definitely got good form coming on."
Windsor claimed the stage, holding off McPartland in a desperate sprint to the line, while the third place sprint saw Johnny Walker upstage his more experienced rival England in scenes reminiscent of older brother Will's historic win on the same circuit in 2003.
Windsor rated the win as bigger than the national criterium title he won last month. "I love racing with Dave McPartland, he was really strong out there, and we sort of teamed up a bit early on and then we fought it out. We shook on it and said 'It's man on man,' and it was so good to finally get the chance! I've tried so hard for days, like last night I went, oh, ten times but I couldn't get the gap I wanted, and today it just came through. It's the best victory of my life, unbelievable!"
And then the catch was made…by Dean Windsor and David McPartland
Photo ©: Shane Goss

The 20-year-old primary education student said he hadn't had any doubt the move would stick. "We had four strong riders…we had three national champions, all crit champions, so of course they're going to dig deep and we really teamed up and were doing even turns and then with twenty minutes to go it was time to see who had the strong legs. We sort of knew that we had the gap there and we could fight on to the finish. I had a bit of a point to prove, I wore the jersey today [Windsor elected not to wear the distinctive Australian champion's jersey in Friday night's stage, preferring to keep other riders guessing just which of the aggressive Drapac riders was on the attack at any stage]. You've got the likes of Robbie McEwen and Mark Renshaw there. I look up to Mark, I'm from Bathurst too and I go out and do a bit of training with him, and he's such an inspiration. It doesn't get much better than racing these guys, let alone getting up and beating them."
McPartland was a little disappointed to miss the win, admitting "with four, I wasn't real confident with my sprint, so I got it down to myself and Dean Windsor, but I think I had a bit too much confidence coming into the finish straight. He kicked out of the bottom corner, and I left my run too late. He deserved to win; it was a good ride by Dean."
How the women's race unfolded
Riders in stage four of the women's series
Photo ©: Shane Goss

Nikki Egyed (Rapido Cycles) started the stage in third place overall after finishing directly behind Kate Bates (Pitcher Partners) and Belinda Goss (Volvo) in each of the first three stages. The former triathlete who raced the 2006 season with a French professional team changed tactics and attacked in the opening minutes, holding a lead between ten and fifteen seconds through the first of the intermediate sprints. "I was on one of the girl's wheels who wasn't cornering as fast as most of the others and leaving a bit of gap. The lap before I went, she took me to the front, and I came around her just before the corner and knew she was on my wheel. I assumed that there would be the gap she had been leaving, plus whatever I got accelerating out of the corner, so even though it was early in the race I knew it was a good time to get away quickly, so it was perfect timing. Sara is going really well, so between us I figured I'd either stay away and go for the win, or set her up to have a big attack after that."
Once Rhodes took up the chase in defense of Bates' series lead, Egyed's margin began to come down, and she was eventually caught by Rhodes, both Bates sisters, Goss, Bianca Rogers (Volvo), Jo Kiesonowski (Portfolio Partners), Jenny Macpherson (Jayco VIS), teammates Sara Carrigan and Emma Colson and three of the Kiwis: Joseph, Michelle Hyland, and Toni Bradshaw.
The chase is on in the home straight beneath the trees
Photo ©: Shane Goss

Joseph immediately attacked, and was joined the following lap by Carrigan, and shortly after by Macpherson and Natalie Bates. The bunch reformed at nine laps to go, which was also the second of the intermediate sprints, and Carrigan claimed maximum points to build an unbeatable lead in the sprint competition.
Bradshaw kept the power down after the sprint, and pulled clear with Carrigan and Natalie Bates, but the trio was reeled in crossing the finish line with seven laps remaining. Joseph immediately counter attacked, with Rhodes powering across on the next lap to begin her charge towards the win. Rhodes said that her intentions for the stage had only been "to mark the main players like Belinda Goss and Nikki, and just to make sure that they didn't get up on Kate and to try and make sure that Kate got up in the bunch finish."
A convincing win for Alexis Rhodes (Pitcher Partners)
Photo ©: Shane Goss

She was a little surprised, but very pleased to have pulled up so well after the previous day's efforts. "Normally I have one good day in me and then I can't scratch myself the next, so to be able to back up with another solid ride is a big step for me. Wazza [AIS women's coach Warren McDonald] and I have been working really hard on just not trying to push too big a gear, and that's trying to help with the backing up."
Kate Bates led the bunch home for second place and extended her overall lead on Goss to three points, while Egyed's early efforts took their toll and she dropped out of overall contention after not figuring in the bunch sprint. Egyed said the Rapido team will focus on a stage win at the Docklands. "Neither Sara nor I are in yellow jersey contention now, so we're really just trying to take out a stage win. Both of us have been up there trying every day but we haven't actually won one yet, so that would be really nice."
Support Men
Robert Lyte (L) of the Bankstown Sports Cycling Club
Photo ©: Shane Goss

A long break by two youngsters, Robert Lyte (NSWIS) and 17-year-old Lachlan Stewart, who has only been racing since June, saw a similar scenario to the elite men's race unfold. Only four other riders, Jarrod Moroni, Rohan Dennis, Daniel Johnston, and Matt King were left on the circuit when the final group of chasers were told to sprint for seventh place to avoid being lapped.
Lyte was a comfortable winner in the two-up sprint, but Stewart, who also finished third in stage 3 is certainly a rider to watch in the coming years.
Photography
For a thumbnail gallery of these images, click here
Images by Shane Goss/www.licoricegallery.com
Images by CJ Farquharson/WomensCycling.net
Results
Elite Men Grade
 
1 Dean Windsor (Drapac-Porsche)                                         12 pts
2 David Mcpartland (Portfolio Partners)                                 10
3 Johnny Walker (HLP Mortgage Co)                                        8
4 Richard England (Jayco Vis)                                            7
5 Jack Bobridge (BBB)                                                    6
6 Mark Renshaw (Skilled)                                                 5
7 Robbie Mcewen (Volvo)                                                  4
8 Simon Gerrans (Portfolio Partners)                                     3
9 Joel Pearson (NSW IS)                                                  2
10  Rory Sutherland (Landlink)                                           1
 
1st Intermediate Sprint - Volvo Sprint Ace
 
1 Dean Windsor (Drapac-Porsche)                                          3 pts
2 Richard England (Jayco Vis)                                            2
3 David Mcpartland (Portfolio Partners)                                  1
 
2nd Intermediate Sprint - Volvo Sprint Ace
 
1 Dean Windsor (Drapac-Porsche)                                          3 pts
2 Richard England (Jayco Vis)                                            2
3 David Mcpartland (Portfolio Partners)                                  1
 
3rd Intermediate Sprint - Volvo Sprint Ace
 
1 Dean Windsor (Drapac-Porsche)                                          3 pts
2 David Mcpartland (Portfolio Partners)                                  2
3 Richard England (Jayco Vis)                                            1
 
Elite Women Grade
 
1 Alexis Rhodes (Pitcher Partners)                                      12 pts
2 Kate Bates (Pitcher Partners)                                         10
3 Belinda Goss (Volvo)                                                   8
4 Jennie Mcpherson (Jayco Vis)                                           7
5 Jo Kiesonowski (Portfolio Partners)                                    6
6 Catherine Cell (Portfolio Partners)                                    5
7 Kate Mercer (Hitachi)                                                  4
8 Naomi Williams (NSW IS)                                                3
9 Niki Egyed (Rapido Cycles)                                             2
10  Michelle Hylan (New Zealand National)                                1
 
1st Intermediate Sprint - Volvo Sprint Ace
 
1 Michelle Hyland (NZ National Team)                                     3 pts
2 Sara Carrigan (Rapido Cycles)                                          2
3 Alexis Rhodes (Pitcher Partners)                                       1
 
2nd Intermediate Sprint - Volvo Sprint Ace
 
1 Sara Carrigan (Rapido Cycles)                                          3 pts
2 Natalie Bates (Pitcher Partners)                                       2
3 Rosara Joseph (NZ National Team)                                       1
 
Support Men Grade
 
1 Robert Lyte                                                           12 pts
2 Lachlan Stewart                                                       12
3 Jarrod Maroni                                                          8
4 Rohan Dennis                                                           7
5 Matt King                                                              6
6 Daniel Johnston                                                        5
7 Dale Scarf                                                             4
8 Christopher Luxton                                                     3
9 Jackson-Leigh Rathbone                                                 2
10 Brendan Washington                                                    1
 
1st Intermediate Sprint
 
1 Matt King                                                              3 pts
2 Brendon Washington                                                     2
3 Jackson-Leigh Rathbone                                                 1
 
2nd Intermediate Sprint
 
1 Lachlan Stewart                                                        3 pts
2 Robert Lyte                                                            2
3 Rohan Dennis                                                           1
 
Elite Men Overall Classification After Stage 4
 
1 Mark Renshaw (Skilled)                                                35 pts
2 Rory Sutherland (Landlink)                                            23
3 Dean Windsor (Drapac-Porsche)                                         22
4 Robbie Mcewen (Volvo)                                                 22
5 Johnny Clarke (Portfolio Partners)                                    19
6 David Mcpartland (Portfolio Partners)                                 18
7 Joel Pearson (Nswis)                                                  15
8 Simon Gerrans (Portfolio Partners)                                    13
9 Robbie Williams (Drapac-Porsche)                                      10
10  Darren Lapthorne (Drapac-Porsche)                                    9
 
Elite Men Volvo Sprint Ace - Overall Classification After Stage 4
 
1 Dean Windsor (Drapac-Porsche)                                         12 pts
2 Johnny Clarke (Portfolio Partners)                                     9
3 Robbie Williams (Drapac-Porsche)                                       6
4 Richard England (Jayco Vis)                                            5
5 John Embling (Nswis)                                                   5
6 Simon Gerrans (Portfolio Partners)                                     5
7 David Kemp (Volvo)                                                     5
8 Mark Renshaw (Skilled)                                                 4
9 Darren Lapthorne (Drapac-Porsche)                                      4
10 Pat Shaw (HLP)                                                        4
11 Trent Wilson (Skilled)                                                1
 
Elite Men Team Standings After Stage 4
 
1 Portfolio Partners                                                    50 pts
2 Drapac                                                                44
3 Skilled                                                               35
4 Landlink                                                              27
5 Volvo                                                                 22
6 BBB                                                                   16
7 NSW IS                                                                15
8 Jayco Vis                                                             11
9 HLP                                                                    9
10 FRF Courier                                                           3
 
Elite Women Overall Classification
 
1 Kate Bates (Pitcher Partners)                                         40 pts
2 Belinda Goss (Volvo)                                                  37
3 Alexis Rhodes (Pitcher Partners)                                      24
4 Nikki Egyed (Rapido Cycles)                                           24
5 Jo Kiesonowski (Portfolio Partners)                                   22
6 Jennie Macpherson (Jayco Vis)                                         17
7 Sara Carrigan (Rapido Cycles)                                         16
8 Catherine Cell (Portfolio Partners)                                    7
9 Rosara Joseph (NZ National Team)                                       6
10 Sky-Lee Armstrong (Nswis)                                             6
 
Elite Women Volvo Sprint Ace - Overall Classification
 
1 Sara Carrigan (Rapido Cycles)                                         12 pts
2 Katie Mactier (Portfoilo Partners)                                     5
3 Rosara Joseph (NZ National)                                            4
4 Alexis Rhodes (Pitcher Partners)                                       4
5 Michelle Hyland (NZ National)                                          3
6 Rushlee Buchanan (NZ National)                                         3
7 Nicole Whitburn (Hitachi)                                              2
8 Kate Mercer (Hitachi)                                                  2
9 Amanda Spratt (Pitcher Partners)                                       2
10 Emma Rickards (Jayco Vis)                                             2
11 Jennie Mpherson (Jayco Vis)                                           2
 
Elite Women Teams Standings After Stage 4
 
1 Pitcher Partners                                                      69 pts
2 Rapido Cycles                                                         43
3 Volvo                                                                 37
4 Portfolio Partners                                                    29
5 Jayco Vis                                                             23
6 NZ National                                                           15
7 NSW IS                                                                 9
8 Hitachi                                                                7
 
Support Men Overall Classification After Stage 4
 
1 Rohan Dennis                                                          26 pts
2 Dale Scarf                                                            22
3 Reuban Young                                                          22
4 Steven Rankine                                                        21
5 Lauchlan Stewart                                                      18
6 Jarrod Maroni                                                         18
7 Dylan Newell                                                          16
8 Brendan Washington                                                    14
9 Robert Lyte                                                           13
10 Andrew Stalder                                                       12
11 David Tanner                                                         10
12 Christopher Luxton                                                    9
13 Peter Braunstein                                                      8