Jayco Bay Cycling Classic - NE
Geelong, Australia, January 3-7, 2007
Main Page Results Overall standings Previous Stage Next Stage
Stage 3 - January 5: Geelong - Ritchie Boulevard
By Malcolm Sawford in Geelong
Robbie McEwen delights crowd with lightning sprint
Elite men
In for another big year
Photo ©: Shane Goss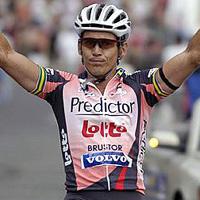 An emotional Robbie McEwen (Volvo) took the Elite Men's win after a fast paced race dominated by attacking rides by youngsters Dean Windsor (Drapac-Porsche Cycling Team), David McPartland (Portfolio Partners) and David Kemp (Volvo) came down to a bunch sprint of twenty riders. McEwen dedicated the win to the memory of a young club mate from the Gold Coast, Daniel Bennett, who passed away after suffering an apparent heart attack earlier in the morning while on a training ride.
The Tour de France star was fourth out of the final corner, following the wheel of series leader Mark Renshaw (Skilled), but jumped first and held off the up and coming sprinter to take his first win in the 2007 Classic.
McEwen knew Renshaw was his main danger. "He's going very, very well. He's riding very strongly and I knew that for me he was going to be the man to beat - especially with a kick like that out of the corner. I mean the guy rides sub four minute four-kilometre, and he's got a really great turn of acceleration so I knew I had to watch him, and I went just before him and I was able to hold him out – and the race finishes on the line, that's it. I've still got the edge on him at the moment, I'm not gone yet!"
How it unfolded
The attacking Dean Windsor (Drapac Porsche)
Photo ©: Shane Goss

Simon Gerrans (Portfolio Partners) was the first to shake off the bunch which had been lined out in single file for the opening ten minutes, chased by Kemp and McPartland. Windsor was also quick to respond, setting the tone for most of the rest of the hour long race.
McEwen moved to the front of the bunch in response to Gerrans' second attack, which saw Renshaw and Rory Sutherland (Landlink) briefly clear, before Kemp, McPartland and Windsor attacked again to share the points at the first sprint. Renshaw's Skilled team mates took responsibility for keeping the field together, with Trent Wilson spending many laps at the head of the bunch.
The second sprint was James Medley (Landlink) hold off local youngster James Langedyk (Geelong Cycling Club – Mercure Geelong), with Johnny Clarke (Portfolio Partners) taking the final place to extend his lead in the sprint competition. Clarke tried to continue his effort with stage one work horse Robbie Williams (Drapac-Porsche), without success.
The biggest split saw Mitch Chapman (NSWIS) joined by Pat Shaw (HLP Mortgage Co), Craig McCartney (Landlink), McPartland, Peter McDonald (FRF Couriers – NSWIS), Kemp and Windsor with Matt Sherwin (SHM Bikes/Carnegie Caulfield) a few seconds back, but this group was chased down by the Skilled train before the final sprint, taken by Shaw with a strong second effort.
Windsor and Clarke launched multiple attacks in the final ten laps, before Skilled took control at two to go. Tommy Nankervis lead at the bell, but Clarke emerged from the final corner first, followed by Sutherland, Renshaw and McEwen.
Interviewed by the on course commentator, Matt Keenan, McEwen acknowledged just how tough the race had been. "That was a hard race. You get almost zero recovery time because you come out of these corners and you've just got to wind up every time. It's always super aggressive; I think thanks in part - or a big part - to the crowd, just cheering madly. We feel the atmosphere here.
"I said I was going to try and do something in one of the stages, so it's worked out. I didn't think I was going to be able to do much before the stage, but you never know until you're out there. I just didn't give up, and after about half way, I'd been trying a few moves, got covered a lot by about three different teams, so sit in and just wait for it to get whittled down, wait for them to get tired, try and keep things together for a sprint and it worked out exactly like that."
He also praised the efforts of the youngest rider on the Volvo squad. "David Kemp did a great job. He was in absolutely everything; he was on them like a rash. That gave me the chance to just sit in the group and let the other teams chase the groups that he was in, and that's when I can recover a bit and I've got to rely on my sprint."
Later, McEwen revealed his other source of inspiration. "I wanted to do something for the Volvo squad, being one of the major sponsors, and supporting a men's and a women's team and also supporting Amy's Ride tomorrow. Also for Australian cycling, but particularly for Gold Coast cycling, we lost a young rider this morning, a guy by the name of Daniel Bennett. He died out training this morning, we're very sad to hear that news, and our thoughts are with his family and all his friends up there on the coast. It's a really sad day... Following upon the tragic death of Scott Peoples the other week."
The men's series leader Mark Renshaw (Skilled)
Photo ©: Shane Goss

Renshaw was philosophical about his near miss. "I'm pretty happy with it. I think second to Robbie McEwen is not all that bad. I haven't beaten him in a bunch sprint yet. I thought today was my day, I started to come back at him, but this kind of finish, it's just too fast and I ran out of road. He's definitely a superior sprinter, but I'm nipping at his heels."
Renshaw is one of many riders in the field with the SRM system mounted, and gave Cyclingnews a run down on just what it takes to compete at this level. "I just had a look at my SRM, and it was a maximum of 1700 watts in the sprint, so I'm pretty happy with that, that's my maximum power ever, and I'm just coming into form. Out of the corners, it was up around 700 or 800, 900 watts out of each corner. [This course] definitely needs a lot of power. It's definitely a good sign for nationals and Tour Down Under coming up.
With two stages remaining, Renshaw will be hard to beat. "I'll have a pretty good lead now. We'll assess the situation tonight; it might just be a bit of a game of tactics the next few days, but I'd still like to win one more."
Support Race
A huge pile up on the first corner only six minutes in saw officials forced to restart the race. A long break by Steve Rankine, Reuben Young and Lachlan Stewart paid off, although Rankine spent a number of laps on his own after his two companions wiped out on the other corner and resumed racing in the main bunch before being told that were actually entitled to be back in the break.
Soon after the three were re-united, Rankine attacked again, to solo to an impressive win. Young was too quick for Stewart in sprint for second, while the bunch was led home by South Australian criterium champion Chris Luxton.
Rhodes repeats on Ritchie Boulevard
Elite women
Alexis Rhodes (Pitcher Partners)
Photo ©: Shane Goss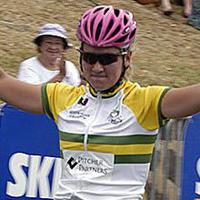 Reigning Australian criterium champion Alexis Rhodes (Pitcher Partners), powered to a dominant win on the hot dog circuit where she won her first title in 2006. Rhodes broke away with Jenny Macpherson (Jayco VIS) after twenty five minutes and built a commanding lead before dropping Macpherson and time trialing to the finish – coming within five seconds of lapping the main bunch in the process.
An overnight check of the rule book saw the yellow jersey taken off Kate Bates (Pitcher Partners) and re-awarded to stage 2 winner Belinda Goss of the Volvo team (Goss and Kate Bates are tied on 22 points), but Bates claimed the jersey outright after beating Goss and Nikki Egyed (Rapido Cycles) to the line in the sprint for third place.
How it unfolded.
Despite hopes that she would be able to start, Katie Mactier was a heavily bandaged spectator. She told Cyclingnews "I'm just too sore. I had a roll behind the motorbike with John [Beasley] this morning, and I was ok once I was clipped in and going in a straight line, but racing would be different." She was also relieved to have discovered the reason behind her near identical fall on the first stage.
"Both falls caught me by surprise; I didn't know the reason which was really starting to shake my confidence. But I spoke to my rep at Vittoria and it turns out I was somehow riding an 18mm slick crono tyre, not the right choice on that circuit!" Mactier is still cautiously optimistic about returning to the series – Beasley chipped in with the traditional coaches comment "We're taking it one day at a time."
Belinda Goss (Volvo)
Photo ©: Shane Goss

Out on the circuit, the Volvo team went on the offensive in the opening laps, with Bianca Rogers jumping away on the second lap. The response came nit from Bates' Pitcher Partners team, but from the New Zealand girls, with Michelle Hyland leading the chase to reel in Rogers. The pace then eased for a few laps, before Sara Carrigan (Rapido Cycles) shot away to take the first intermediate sprint, and finally take the lead in the sprint competition away from Mactier.
She was quickly joined by Emma Rickards (Jayco VIS), Naomi Williams (NSWIS) and Olivia Gollan (Pitcher Partners). The move lasted only a lap before the field regrouped, with Lisa Friend (Rapido) the next to go on the offensive.
Macpherson launched her first attack at the twenty minute mark, joined by team mate Peta Mullens, Egyed, Nicole Whitburn (Hitachi Construction Machinery/HIT Racing), Gollan, Rogers, Goss and Kate Bates. Sky-Lee Armstrong shut the move down for NSWIS, only to see a counter come from Rickards.
After Rickards was chased down, Macpherson launched the decisive move, which Rhodes covered. Just past the thirty minute mark, the pair was twelve seconds clear, with Carrigan in solo pursuit. Once Natalie Bates towed the bunch up to Carrigan, the chase slowed, and the leaders began to pull away. Rhodes attacked Macpherson at ten laps to go: for the next few laps Macpherson fought bravely and the margin between the pair hovered around four seconds, with the bunch still losing ground.
Macpherson reflected on her early aggression, saying "I probably went away a little bit earlier than I thought [I should have], but when I saw Alex on my wheel I knew that she was the strongest rider out there to have in a break, so yeah I was rapt to get the break that I did. Every corner I was losing a couple of inches off her wheel, and it was really hurting just to try and stay with her every time she did a turn, so I knew she'd do it and I just had nothing to try and stay with her. Unfortunately, with the heat and the tired legs, I just didn't have it at the end. After the last two DNFs it's good to finally get a result on the board."
Rhodes had the tail of the bunch in the same straight, and came within a whisker of lapping the bunch before the bunch wound up for the sprint for third. Her eventual winning margin was twenty-seven seconds over Macpherson, and forty-four seconds over the Bates led bunch.
When we asked Rhodes if she'd planned to attack Macpherson so far from home, she replied "I knew if it came down to a sprint that Jen would just absolutely flog me, so I thought I'd better get away. I came out of the corners a bit faster than I did in Wednesday, and managed to stay up this time, and got a little bit of a gap and thought 'this is my opportunity' and managed to stay away. That's my strength. Jenny is an awesome sprinter and I definitely didn't want her on my wheel and luckily I was able to pull away from her."
With two impressive solo wins on the hot dog circuit, you would expect it would have been her favourite venue, but her reply was more than a little surprising. "I actually don't particularly like it very much, to tell you the truth! So I think if I'm a little bit scared of it I may as well as try and get it over and done with as quick as possible! [It's] just really sketchy corners, and there's always a lot of crashes, but for me it obviously works!
Kate Bates (Pitcher Partners)
Photo ©: Shane Goss

Rhodes isn't competing in the national championships road race next week in Ballarat, as she will join her international T-Mobile team mates for a training camp on the resort island of Majorca. Rhodes admitted to being a little surprised to be selected for what looks set to be one of the dominant teams on the European circuit this season, saying "it's a fantastic opportunity. I'm really excited. I didn't really think I'd actually get it when I wrote to them, but they've been really supportive of me, and hopefully it'll be a fantastic year."
Back in the leader's jersey, Bates was pleased with her recovery after her struggle in the extreme heat at Port Arlington. "It wasn't too bad today with the wind. When I rode down here I thought 'oh god it's hot again!' but without the sun shining and with a nice sea breeze it made a lot of a difference."
Bates had a relatively easy day of it. "I was just cruising all day," she admitted. "I had nothing to do except follow Belinda and we're pretty smart. Between Nat, Liv, Spratty and Al going up the road, Belinda had to chase everything and I almost felt sorry for her! I was just sitting back watching Al and thinking 'we're both in T-Mobile this year, geez it's going to be a good year!' We don't even have to talk about it a lot before we start. As soon as we're out there we know what to do and that's a pretty big advantage to have a team like that."
Bates is confident she can keep the yellow jersey for good. "Today, tomorrow and Docklands, I'm really confidant with how I sprint there. Port Arlington, I'm notoriously 'gumby' around the bottom corner and I didn't do it too badly yesterday, but Belinda capitalized on every bit of 'gumbiness' I had.
"Going into the last corner today, I felt like a million bucks! I felt so good I didn't doubt it for a second, and I don't often have that feeling, but I think that compared to how badly I suffered yesterday, today was like a flat road stage compared to going up Alpe d'Huez! You race around Port Arlington in 37 degrees and this is a piece of cake.
Only one point behind Bates with two races remaining, Goss certainly hasn't given up the ghost. "There's still two days to go. The girls have got some really strong teams out there working. My team did an awesome job today, Bianca on the front there helping me out, but it just didn't happen. Tomorrow is a technical circuit [contrary to previous reports, Goss has previously won on the Botanical Gardens circuit - ed.], so I'll have to be alert, watch for breaks. Kate has been pretty keen to let other girls go up the road so I'll have to be mindful of that.
Photography
For a thumbnail gallery of these images, click here
Images by Shane Goss/www.licoricegallery.com
Images by CJ Farquharson/WomensCycling.net
Results
Jayco Bay Cycling Classic - Elite Men Grade

1 Robbie McEwen (Volvo)                                        12 pts
2 Mark Renshaw (Skilled)                                       10
3 Rory Sutherland (Landlink)                                    8
4 Joel Pearson (NSW IS)                                         7
5 Evan Oliphant (BBB)                                           6
6 Johnny Clarke (Portfolio Partners)                            5
7 Fabio Calabria (Landlink)                                     4
8 Robbie Mclachlan (Drapac-Porsche)                             3
9 David McPartland (Portfolio Partners)                         2
10 Darren Lapthorne (Drapac-Porsche)                            1
 
1st Intermediate Sprint – Volvo Sprint Ace Stage Three
 
1 David Kemp (Volvo)                                            3 pts
2 David McPartland (Portfolio Partners)                         2
3 Dean Windsor (Drapac-Porsche)                                 1
 
2nd Intermediate Sprint – Volvo Sprint Ace Stage Three
 
1 James Medley (Landlink)                                       3 pts
2 James Langedyk (Geelong-Mercure)                              2
3 Johnny Clarke (Portfoilo Partners)                            1
 
3rd Intermediate Sprint - Volvo Sprint Ace Stage Three
 
1 Pat Shaw (HLP)                                                3 pts
2 David Kemp (Volvo)                                            2
3 David McPartland (Skilled)                                    1
 
Elite Women Grade
 
1 Alexis Rhodes (Pitcher Partners)                             12 pts
2 Jennie McPherson (Jayco)                                     10
3 Kate Bates (Pitcher Partners)                                 8
4 Belinda Goss (Volvo)                                          7
5 Nikki Egyed (Rapido Cycles)                                   6
6 Joanne Kiesanowski (Portfolio Partners)                       5
7 Sara Carrigan (Rapido Cycles)                                 4
8 Peta Mullens (Jayco)                                          3
9 Emma Mackie (Hitachi)                                         2
10 Emma Rickards (Jayco)                                        1
 
1st Intermediate Sprint – Volvo Sprint Ace
 
1 Sara Carrigon (Rapido Cycles)                                 3 pts
2 Emma Rickards (Jayco)                                         2
3 Naomi Williams (NSW IS)                                       1
 
2nd Intermediate Sprint – Volvo Sprint Ace
 
1 Alexis Rhodes (Pitcher Partners)                              3 pts
2 Jennie McPherson (Jayco)                                      2
3 Olivia Golan (Pitcher Partners)                               1

Support Men Grade
 
1 Steven Rankine                                               12 pts
2 Reuben Young                                                 10
3 Lachlan Stewart                                               8
4 Christopher Luxton                                            7
5 Brendan Washington                                             
6 Jarrod Maroni                                                 5 
7 Rohan Dennis                                                  4
8 Dale Scarf                                                    3
9 Dylan Newell                                                  2
10 Michael Teggerlove                                            
 
1st Intermediate Sprint Stage Two
 
1 Matt King                                                      
2 Chris Winn                                                     
3 Rohan Dennis                                                   
 
2nd Intermediate Sprint Stage Two
 
1 Lachlan Stewart                                                
2 Steve Rankin                                                   
3 Ruben Young                                                    

Elite Men - Overall Classification After Stage Three
 
1 Mark Renshaw (Skilled)                                       30 pts
2 Rory Sutherland (Landlink)                                   22
3 Johnny Clarke (Portfolio Partners)                           19
4 Robbie McEwen (Volvo)                                        18
5 Joel Pearson (NSW IS)                                        13
6 Robbie Williams (Drapac-Porsche)                             10
7 Dean Windsor (Drapac-Porsche)                                10
8 Simon Gerrans (Portfolio Partners)                           10
9 Darren Lapthorne (Drapac-Porsche)                             9
10 David McPartland (Portfolio Partners)                        8 

Volvo Sprint Ace - Overall Classification After Stage Three
 
1 Johnny Clarke (Portfolio Partners)                            9 pts
2 Robbie Williams (Drapac-Porsche)                              6
3 John Embling (NSW IS)                                         5
4 Simon Gerrans (Portfolio Partners)                            5
5 Dean Kemp (Volvo)                                             5
6 Mark Renshaw (Skilled)                                        4
7 Darren Lapthorne (Drapac-Porsche)                             4
8 Pat Shaw (HLP)                                                4
9 Dean Windsor (Drapac-Porsche)                                 3
10 Trent Wilson (Skilled)                                       1
 
Team Standings After Stage Three
 
1 Portfolio Partners                                           37 pts
2 Drapac                                                       32
3 Skilled                                                      30
4 Landlink                                                     26
5 Volvo                                                        18
6 NSW IS                                                       13
7 BBB                                                          10
8 Jayco                                                         4
9 FRF Courier                                                   3
10 HLP                                                          1
 
Elite Women Classification
 
1 Kate Bates (Pitcher Partners)                                30 pts
2 Belinda Goss (Volvo)                                         29
3 Nikki Egyed (Rapido Cycles)                                  22
4 Sara Carrigon (Rapido Cycles)                                16
5 Joanne Kiesanowski (Portfolio Partners)                      14
6 Alexis Rhodes (Pitcher Partners)                             12
7 Jennie McPherson (Jayco)                                     10
8 Rosara Joseph (Nz National Team)                              6
9 Sky-Lee Armstrong (NSW IS)                                    6
10 Natalie Bates (Pitcher Partners)                             5
11 Toni Bradshaw (Nz National Team)                             4
12 Michelle Hyland (Nz National Team)                           4
13 Peta Mullins (Jayco)                                         3
14 Rickards (Jayco Vis)                                         3
15 Emma Mackie (Hitachi)                                        3
16 Emma Colson (Rapido Cycles)                                  3
17 Catherine Cells (Portfolio Partners)                         2
 
Volvo Sprint Ace - Overall Classification
 
1  Sara Carrigan (Rapido Cycles)                                7 pts
2  Katie Mactier (Portfoilo Partners)                           5
3  Rushlee Buchanan (Nz National)                               3
4  Rosara Joseph (Nz National)                                  3
5  Alexis Rhodes (Pitcher Partners)                             3
6  Nicole Whitburn (Hitachi)                                    2
7  Kate Mercer (Hitachi)                                        2
8  Amanda Spratt (Pitcher Partners)                             2
9  Emma Rickards (Jayco)                                        2
10  Jennie Mpherson (Jayco)                                     2
 
Teams Standings After Stage Three
 
1 Pitcher Partners                                               
2 Rapido Cycles                                                  
3 Volvo                                                          
4 Portfolio Partners                                             
5 Jayco                                                          
6 NZ National                                                    
7 NSW IS                                                         
8 Hitachi                                                        
 
Support Grade Classification
 
1 Ruben Young                                                  22 pts
2 Steven Rankine                                               21
3 Rohan Dennis                                                 19
4 Dale Scarf                                                   18
5 Dylan Newell                                                 16
6 Brendan Washington                                           13
7 Andrew Stalder                                               12
8 Jarrod Maroni                                                10
9 David Tanner                                                 10
10 Christopher Luxton                                           9
11 Lauchlan Stewart                                             8
12 Peter Braunstein                                             8
13 Brendon Jones                                                3
14 Richard Lang                                                 2
15 Robert Lyte                                                  1
16 Michael Teggelove                                            1