An interview with Daniele Contrini, February 6, 2007
A strong backbone
Daniele Contrini may not be a household name but the Italian has a winning spirit and plays a role like a strong backbone supporting the newly formed Tinkoff Credit Systems team. Gregor Brown of Cyclingnews sat down with the rider who made headlines in last year's Tour de Suisse to learn more about his new team.
In new team colours
Photo ©: Roberto Bettini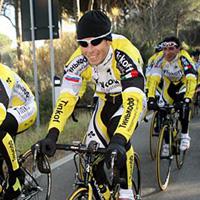 "It is the best team, for sure," quipped Daniele Contrini when I met him in Rome, just prior to the team's presentation at a swanky jazz club. We took a seat in the Hotel Victoria Roma lobby to talk about last year's LPR, and what has changed since Russian Oleg Tinkov came along to sponsor the team, now known as Tinkoff Credit System.
"Nothing against the other teams but this is a good team. I have already known Omar Piscina [Tinkoff team manager - ed.] for a while and he does a great job organizing the team. For me it was not a big change, I had already had a contract with Piscina to continue, and I was really happy to do so," noted the rider from Gardone Val Trompia (near Brescia, Lombardy). He rode under the direction of 30 year-old Piscina for the last three years and is confident in the young manager's abilities, even now with the influx of Russian money and additional star riders, like Tyler Hamilton and Salvatore Commesso.
"The Russians add a lot of enthusiasm, maybe they still are lacking the experience," he noted of the new arrivals. Last year Oleg Tinkov owned the Russian continental team, Tinkoff Restaurants, which has now fused with Piscina's team. "We are getting along well; when we talk it is a mix of Spanish and Italian. Last year they were based in Spain as Tinkoff Restaurants, so a few of them speak in Spanish well. It is like this in the world of cycling; there are so many languages, and you get to learn a lot."
The team really made headlines over the off-season when it started courting big named riders. Oleg eventually landed the 2004 Olympic time trial champion, American Hamilton, who headlines the squad with other robust additions.
Contrini in 2006
Photo ©: Roberto Bettini

"Hamilton... I think that he really has a desire to start racing again. Almost like he is angry inside and he wants to hit out at the world. His mind is focused on the bike and nothing else. Like all the grand champions. Like [Davide] Rebellin.
"I raced with Rebellin at Gerolsteiner in 2002 and 2003. On that team there were many Germans and just a small group of Italians, around four of us. We tried to lean some of their language, but maybe in Germany they are just a little bit colder and harder to understand. Here, the environment is good; the young Russians want to learn speak the other languages.
"We are forming a good group; we have to, we have to learn to make a bond, and that is important in a team," noted the rider with eleven seasons under his belt. "In the last two weeks we have been working on this. Like [German sprinter Danilo] Hondo. He has been working with some of the Russians; he was showing them how to do a proper sprint lead-out. There are a couple of them that can go so strong, 70 km/h for a kilometre! They need experience on the road, but they are getting there."
Piscina and Tinkov
Tinkoff's Colnago
2007 Colnago
Photo ©: Sirotti

Team President Oleg Tinkov made sure to bring in the best equipment to the Italian team, including bikes made by famed Milan bike firm, Colnago. For 2007 the boys will be outfitted with C50s.
Contrini noted, "They are nice bikes." A further node to the team's staff he added, "It is the first time for me to use a Colnago. This year, for the first time, the bike position was setup perfectly when I received it. That is largely thanks to [Director Sportif] Claudio Cozzi; he got all he measurements right."
Due to Contrini's continued contract with Piscina he did not meet the Russian backer of the team until their first camp. He was immediately impressed by Oleg Tinkov, and explained this with enthusiasm. "I first knew met him at Riccone. I had already had a contract with Piscina so I only needed to show up at the camp in December. When I met him there I realized that he is a truly a grand person. Look, I understood that he is spending all of his money on the team. It is a dream for us and cycling. In Italy there does not exist anything like it.
"We understood from these actions that he is really a great person, with love for the sport. But not only him, there is Piscina. In the 12 years I have raced professional I have never had another manager like him. He is young but he is very smart, and what he says he will do, he does. If he says we will leave at this time, then we will leave at that time."
Like the other riders, Contrini is impressed with the team owner's abilities on and off the bike. You know that Oleg was even registered on last year's team? "Yes. I have seen those photos of Oleg racing; I think it is great. [Laughs]"
2007 Planning
"This year I want to win."
- Contrini on 2007 goals.
Contrini will have a similar schedule to 2006, wishing to stay off the pavé and take part in his home tour. "I hope that we have our invitation to Tirreno-Adriatico. [My racing season] will start in France at GP d'Ouverture La Marseillaise, Etoile de Bessèges, and then the GP Chiasso and GP Lugano. My season usually goes well in the early months; March, April and May." [See Cyclingnews' 2007 calendar.]
Contrini said he is hoping to get into breaks like last year in the Tirreno-Adriatico and the Tour de Suisse. "Yeah, those were long escapes. 155 kilometres in Tirreno and then a 90 kilometre escape in Suisse; both of them happened in stage 2. In the last kilometre of Tirreno I got caught; it was really hard for me. I did not cry but inside I felt bad, like I was crying on the inside. After a day like that... Of course it was not the fault of [stage winner Paolo] Bettini. I lost to a great champion, but if I would have won it would have better."
After this year's edition of Tirreno, Contrini hopes to stay in the south. "Well, it is important that I don't do the Belgian races. I have done them in the past and it never goes well for me. I like the competitive races in France, and also in Spain and Italy; they suit me. They [the team] know this, but in the last years I have gotten the call at the last minute to race. All those Belgium races add up and it is long. The water and pavé frighten me.
Daniele Contrini wins in Einsiedeln
Photo ©: AFP

"Plus it is so flat, I come from a land of mountains and to be in the flat lands for so long makes me sad. My home in Gardone Val Trompia is surrounded by mountains. I really enjoy riding on this type of terrain."
If you stay away from Belgium, focusing on your races, what do you hope to accomplish? "This year I want to win," he declared. Contrini scored big last year when he won in the Tour de Suisse, representing the LPR team well, the only non-ProTour team in the stage race. "I will look for victories in Tirreno, Coppi-Bartali or Catalunya. But really I just want to win.
"And if the team goes to the Giro d'Italia I hope I will be there. It has been three years since I have raced, and for the Italians it is very important. It is not the objective to win a stage but to just be there for three weeks is and show off the name of Tinkoff, our sponsor. I want to attack and get into the escapes. [In a three-week stage race] there are many days to try this there; it will be important for the team.
Brescia man
With Commesso (l)
Photo ©: Gregor Brown

"I started racing at 16 years-old," said Contrini. "I always liked sport. I really like the hard sports. I did a lot of running, skiing and even football. I tried it for the first year in the junior ranks and I won right away. It started that way."
Was there anyone who persuaded you to get into the sport of cycling? "No. Sure I saw some racing on the TV but the desire came from within. I said 'I have to be a cyclist, what else will I do in life?' [Laughs]
"I always raced in Brescia. I started the amateur with Brescialat. I started following professional races soon after. The riders I followed then were Gianni Bugno and then Johann Museeuw.
"I have an older brother and sister, but for the last three years I have lived alone. My girlfriend, Daniela, lives in Lumezzane. You know the zone?" he asked. "It is the area most industrialised in Italy; the area is famous for making kitchen items out of Aluminium, like these spoons," he noted, pointing out the spoon next to the caffè.
"Due to the amount of industry, the traffic can be bad. I go north, to escape; I ride around the Lago d'Iseo area. I go out with Marco Zanotti and Danilo Napolitano. They are good guys, and can't drop me in the climbs, so they are good training partners [Laughs]. There can be a lot of traffic in Lombardy versus in Tuscany, where we had our camp. [In Tuscany] you only see a stop-light once or twice in a ride. The roads are great, whereas in my zone there are stoplights everywhere. But, really, it is only with the team camps that I go away from home for training."
Expect to see Contini play his part in helping deliver the victories of his Tinkoff teammates, but also take a chance of his own when the moment is right.