An interview with Salvatore Commesso, February 1, 2007
Finding support in Tinkoff
Italian Salvatore Commesso is entering his tenth year as a professional cyclist, and the skills that garnered him two national championships were just what Omar Piscina and Oleg Tinkov wanted when forming their new team, Tinkoff Credit Systems. Gregor Brown of Cyclingnews spoke with Totò about his off-season transfer right after the team's training camp, on the day of its presentation in Rome.
In new Tinkoff colours
Photo ©: Roberto Bettini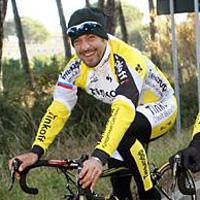 "I have one child, a boy; he is three years-old," the 32 year-old explained to me as we sat down on a couch in the lobby of Hotel Victoria Roma on the day of the team's presentation. "His name is Dylan. My wife and I actually selected the name because it was a name that we liked from Beverly Hills 90210, the name of the character played by Luke Perry. When we heard it, we immediately liked. You know he drove a Porsche in the show, and, of course, at the end he had a drug problem but it was the name we liked.
"We are expecting another child around June. Maybe it will be a girl," he proudly continued. Will it be a 90210 name for him or her? "No. We have been thinking of the names. 'Ginevra' we like a lot. Like the wife of King Arthur."
Man of warm climates
Originally from Napoli, where his love affair with the bike began, Commesso retains his desire for the warm climates even though he now lives in Lombardia. "I started at 10 years-old, just for fun," he recalled. "My uncle raced through the amateur ranks. I raced the first two years in Napoli and then we moved to the north.
"I have been in the north [Lombardia] for 20 years; I left at 12 years-old. It has really been a long time. I left first for cycling, but now for my family. We moved to Pusiano, near Erba, but now I live in Bergamo because I found my wife, who is from there. My parents came, too. They still live in Pusiano.
"[Lombardia] is better for work even though it is a little colder up in the north. Luckily, I will go to Malaysia. For the heat, it will be nice to be there, racing for ten days [at the Tour de Langkawi], and getting to know the team better."
Schedule
Looking forward to 2007
Photo ©: Gregor Brown

Commesso is really a man of stage races, particularly the Tour de France, where he has won two stages, one each in 1999 and 2000. "You have to have some trust in this team and put in the training, being ready to go well. We have been training for two weeks, up until yesterday [January 22], and the atmosphere is there. My sensations are good. With respect to the other years, I never really began like this-so strong."
Oleg Tinkov speaks up, from a near by couch, where he is reading a cycling magazine. He pokes at Commesso for his extra winter kilograms. Showing us a photo, he says, "Totò, look, so skinny!" He responds, "It is just a few kilograms... Come on!"
The rapport between the team president and the riders is there, as evident in the exchange of words. "I first met him in September at his office in Milano; right away, I could see that he was a great guy," expanded Commesso. "A very good person that really likes cycling. I had heard he raced up until last year. [His love for the sport] creates a great atmosphere, and I have found a good ambient here and now it is up to me to repay them.
"I first met him in September at his office in Milano; right away, I could see that he was a great guy."
- Commesso on team owner, Oleg Tinkov.
"For this reason I started sooner in my training. It is an early beginning but with lots of peacefulness and not a lot of pressure. But you know, I feel better then the last years, OK, a few extra kilograms, but coming back from Malaysia I think I will be two kilograms less."
He continued to outline his schedule. "I will come back to Europe and I will participate in the weekend of Chiasso and Lugano [March 3 & 4 - ed.], and then we will see how it goes from there. It sort of depends on how our requests [for wild cards] go. It is likely we will race [ProTour events] Tirreno-Adriatico and Milano-Sanremo, and maybe also some races up north. It depends on the response of our requests. But we should participate in the 3 Days de Panne, and then we will have to see for Flanders. We will also have to wait for the Giro d'Italia. [Giro teams will be announced on February 12 - ed.]"
There are many non-ProTour teams who want to race the Giro. Acqua & Sapone with Stefano Garzelli and Panaria and Selle-Italia are usually selected. "We have to start the season strong, to make a good impression," noted Commesso. "Then the organisers can see our results, and that will make an impact for this new team. I have trust in the team; that we will be able to race these events."
Talk of the Giro is interrupted when a hotel staff member brings a caffè;, and of course the conversation turns to Commesso's Napolitano roots. "For sure the caffè; in Napoli is better, even than here in Roma. You can find good caffè; in the north, in Lombardia, but not like Napoli. If you go there you have to get caffè; con nocciola."
The Italian champion
Commesso wins against Vinokourov
Photo ©: AFP

The parcours of the Italian championships were announced just prior to our interview and Commesso, a two-time campione, will be ready for the June event. "I saw that it was announced, and it will be in Genova, but I have never have seen the course that they will use. I always go the day before and have a look. I start thinking about the championships at the Tour de Suisse and then formulate a plan."
When you took the maglia tricolore to the Tour in 1999, and won a stage, was that your greatest win? "Well, they say that every race has its own beauty, and that a win is a win," he stated simply. "I think that my win in 2000 might have even been better, when I was up against [Alexandre] Vinokourov. He is big champion and it meant a lot. Then, this last year, in 2006, I finished second [stage 14 to Gap] and missed my chance. I am sorry I lost my opportunity; you don't have many times like this.
"Also, I only had so much space in the team and that was my opportunity," he noted of his responsibilities in Lampre-Fondital. "I had my job in the team and I had no problem with working. But when you work you need to have your boss say 'thanks' and have it be pointed out that you went well, even just a pat on the back to say 'bravo.'
"Martino [Giuseppe Martinelli] was always great and perfect. I really don't want to talk bad about my past team, about what happened, it is the past, but I would have liked a little more gratitude and thanks." Commesso maybe felt dwarfed in a team whose ambitions were clearly with Damiano Cunego and in the sprints, with Daniele Bennati.
"With this team I feel more considered," he continued. "I know that at 32 years-old I have to have my responsibilities and give back. I have the trust that if I give my maximum then it will be appreciated."
Commesso had an offer to renew with the team managed by Giuseppe Saronni but preferred to be with a Professional Continental team, where he will have more space. "There were no other ProTour teams that were asking. Lampre was asking for me to return, certainly, but to stay in an environment that I did not like 100% was of no use. Here I can [have] more probabilities. And, every day that passes, I am thinking more and more that I did make the correct decision."
He does have found memories of his old teammates, like Alessandro Ballan. You think Ballan could win the Ronde Van Vlaanderen? "I think it will be who always wins, one of the Belgians, likely [Tom] Boonen. I think Ballan has the strength, but it is hard to beat the Belgians, they know every metre of the road. For sure, he will be up in the front group and, for sure, it would be great to see him win.
Riding in stage 14 of 2006 Tour
Photo ©: Roberto Bettini

"In Milano-Sanremo, they all say Petacchi, Petacchi, Petacchi. But we have to see what happens at the Tirreno-Adriatico to get an idea of who is going well. But wait, for Flanders... [Paolo] Bettini. He could win, he has the mentality. Then, also, Boonen could win Sanremo. It would be beautiful to see this change, to see Boonen take Sanremo and then Bettini win in Flanders."
His preferred winner for the Giro d'Italia is his old mate, Gilberto Simoni. The two became good friends during their stints at Saeco, under the guidance of Claudio Corti. "If he [Simoni] does not win then he will be very close. I have known Gibo for a long time and when he gets an objective in his head it is difficult to stop him. In 2006, there was a fast Ivan Basso, but he was still there. He has the tenacity; he sticks with the race, like last year, where he ended up getting third.
"I just read today [January 23] that Simoni will start his season in Argentina," Commesso continued. "He will have his whole schedule planned out, up until the Giro. He won't look back and second guess; even if a week before the Giro, if he is going slowly, it won't bother him, he will go on and do well.
"My very first thought of him was that he is very persistent, un testardo, or hard-headed. He could even go on in 2008 and race the mountain bike event in the Olympics. Maybe even I will start and train. I go well on the mountain bike; I train a lot in this way. So maybe I will try to be on the team for the Olympics. Regardless, being on the mountain bike really helps with your technical skills."
Commesso's appreciation of team and teammates will mix well with the Tinkoff group. He, like the rest of his teammates, is excited to get on the road and prove his worth.