An interview with Oleg Tinkov and Omar Piscina, December 9, 2006
Tinkoff Credit Systems: Tinkov and Piscina
Oleg Tinkov and Omar Piscina ready for 2007 season
One of the biggest news items this fall was the emergence of Tinkoff Credit Systems. The formation took the step up from continental to the professional continental level and along the way signed some big name riders like Tyler Hamilton, Salvatore Commesso and Danilo Hondo. During the Giro d'Italia presentation Gregor Brown of Cyclingnews caught up with the two men that are making the team a reality, Omar Piscina and Oleg Tinkov.
Oleg Tinkov, Stefano Feltrin and Omar Piscina
Photo ©: Gregor Brown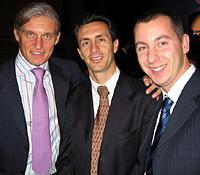 Russia-based Tinkoff Restaurants is advancing to professional continental level in 2007 thanks to the shrewd signings of Team Manager Omar Piscina. Piscina, former Team LPR manager, made a wave by signing German cyclist Danilo Hondo, but then made even a bigger wave when he took onboard American Tyler Hamilton.
Both riders have served their time for doping offences and both are now free to race. These two will form part of the core of riders in the Italy-based Tinkoff Credit Systems for 2007. The main sponsor name has changed slightly but the man supplying the money, Oleg Tinkov, has not.
Financial backer Oleg Tinkov
The energetic Siberian, 40 years-old this Christmas day, made his money in the beer industry (currently producing seven million bottles a month). After 20 years of riding and racing, Tinkov started his own team to help promote his chain of restaurants, Tinkoff Restaurants, and he even signed himself as one of the team's riders. For 2007 he will not be an official racer but will work closely with the team to ensure success its riders and help promote his line of online banks.
"I am a business man and I like to have a clear 'yes' or 'no.'"
- Tinkov on Operación Puerto.
"I was really happy with my riders," Tinkov said regarding the performance of Mikhail Ignatiev and Nikolai Trussov in the Sydney round of the UCI Track World Cup, where they won the Men's Madison. "Unfortunately I was only there one day. It was a stop-over on my way to vacation in Fiji."
Tinkov was heading off to a well deserved vacation but no doubt his mind was on his newly formed team. Although pro-continental, Tinkoff Credit Systems should receive wild card selections to some of the major ProTour events, like the Giro d'Italia. Similar to other teams in the second-tier category, it will leverage its star riders to gain invitations.
"We will have a lot of opportunities. Omar has promised the team five to seven [ProTour] races for sure," Tinkov continued. "We have a good chance for the Giro d'Italia." What about the proposed split of grand tours from the ProTour? "Yes. Especially if this problem between them continues, and forms a split. It would probably help us.
Hamilton and Tinkov pose
Photo ©: Roberto Bettini

"We should be at the Tirreno-Adriatico, Milano-Sanremo and I hope some of the classics up north." The team's latest signing, Tyler Hamilton, won Liège-Bastogne-Liège in 2003, which could give the team an advantage when race organizers, ASO, select the race's wild cards.
"We will talk this week in Riccò, and then we will talk further with Cyclingnews in Roma at the team presentation. Starting tomorrow [December 3 to 7], the team will be in Riccò for camp. All of the riders are coming. Tyler Hamilton and the others have already arrived in Italy today."
Hamilton served a two-year ban from the sport of cycling for being found positive for a blood transfusion. His last race at the top of the sport was in the 2004 Vuelta a España. "Tyler will have a good year. Look, it is clear he has served his time."
But what about riders like Jan Ullrich and Ivan Basso who are now returning after being linked to Operación Puerto? "I am a business man and I like to have a clear 'yes' or 'no.' The issue with Operación Puerto that I don't like is the unclarity. Basso and Ullrich can race because there are not rules against them... It is very vague."
Tinkov, although not an official rider of the 2007 team, looks very fit. When asked, he confirmed he will be riding amongst his team in Riccò. "Of course. That is the main reason I am here in Italy," he added, half-jokingly.
Team Manager Omar Piscina
The Tinkoff Credit Systems team
Photo ©: Roberto Bettini

The man Tinkov selected to manage the team in 2007 is Omar Piscina. As Team Manager of LPR for the last two years he has gained experience in running a team. The Italian's big goal for next year will be to have his boys race in the Giro d'Italia.
"It will be a good route in 2007," said Piscina to Cyclingnews after the Giro d'Italia presentation. It was a cold winter's night in Milano but the young team manager's mind was on his home tour, this year starting on the island of Sardegna. "I really liked the mountain time trial and the stage to Zoncolan. ... But it is the riders who really make the race, even if on paper this year's route [2007] looks easier than 2006."
Talking with Piscina you start to understand that he has the energy to handle Oleg Tinkov's new adventure. "I am 30 years-old," he responded when asked his age. "I think even Matteo Algeri [director sportif of Saunier Duval-Prodir] is older than me." Piscina is hoping to use his youthfulness to help create a bond that will enable to the team conquer its opponents. There is even talk that Hamilton may move to Italy to be near his new teammates.
"Tyler has been talking of moving to Piacenza, near the team's headquarters. He does not really know how to speak Italian but Spanish is close enough of a language. We will talk about this in Riccò at the training camp."
During the most of the 2007 Giro presentation Ernesto Colnago was at the side of Oleg Tinkov. The Milanese bike firm will supply the riders, nine of whom are Russian, their frames for next season. Colnago is expected to join the team again in Roma on January 23 for the team's presentation, which will be at the end of the team's next camp, January 8 to 24 in Marina di Grosseto (Toscana).
Riders: Tyler Hamilton (USA), Elio Aggiano (Ita), Pavel Brutt (Rus), Ilya Chernetsky (Rus), Salvatore Commesso (Ita), Daniele Contrini (Ita), Danilo Hondo (Ger), Sergey Klimov (Rus), Mikhail Ignatiev (Rus), Ruggero Marzoli (Ita), Anton Mindlin (Rus), Evgeni Petrov (Rus), Ivan Rovny (Rus), Alexander Serov (Rus), Ricardo Serrano (Spa), Nikolai Trussov (Rus), Steffen Weigold (Ger) and Vasil Kiryienka (Blr)
Staff: General Manager Stefano Feltrin, Team Manager Omar Piscina, Director Sportifs Orlando Maini, Dimitri Konyshev and Claudio Cozzi.
Photography
For a thumbnail gallery of these images, click here
Images by Roberto Bettini/www.bettiniphoto.net
Images by Gregor Brown/Cyclingnews.com
Cyclingnews' December 2006 interview with Tyler Hamilton.