An interview with Oleg Tinkov, June 5, 2006
Minding his own business
One of Russia's best-known businessmen, Oleg Tinkov, is now owner and rider in the former Soviet country's newest professional cycling team. Sponsored by the restaurant chain he made famous, this highly driven Siberian loves a big challenge, especially one very close to his heart, and as Sergey Kurdyukov finds out, he's determined to make it a success.
Oleg Tinkov
Photo ©: Sergey Kurdyukov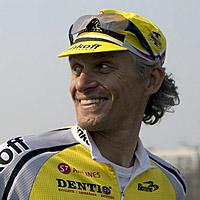 The man at the centre of Russia's newest cycling team stands apart from others. The idea of 'a man apart' was the central theme of a Tinkoff beer advertising campaign, with the slogan ďHeís the only oneĒ. It worked perfectly in Russia, a place used to uniformity rather than this sort of philosophy.
But it wasnít just an ad gimmick, itís a fact of life for Oleg Tinkov, who has his own way of doing just about everything, and he doesnít care whether itís proper for a wealthy businessmen to be as thin as a rake or to put 180km in his legs on a daily basis. Heís not the type of guy to pose for a reason, which has been all too common in the post-Soviet era; heís a man of action, a ranger if you like, who constantly needs a fresh dose of adrenaline to keep him going.
Every time he feels the things go too smoothly and life becomes a sniff dull, heís more likely to go for a fresh start. In this case it meant selling his thriving business and opening up a new page.
Youíd ask where cycling comes in here. For Tinkov cycling is one thing that has never changed in his life. It doesn't matter that for almost 20 years he hadnít thrown his leg over a bike; his passion for cycling can be compared to an early teenage love who flew away with her parents to some distant country only to come across the boy, grown up into a man, at a connection airport after time had passed, finding out that thoughts of her have never left his head.
For Tinkov that romance has been rekindled with the development of a team sponsored by the Tinkov chain of restaurants. And a strange twist of the tale he'll be the first team manager/owner to ride races with his young charges, most of whom could be his sons. It's a reflection of the discipline Tinkov possesses that he's ridden himself into shape to ride with some of Russia's most talented young riders - no small task at all.
In true Tinkov style, our interview wasn't formal; heading out on a training ride, Tinkov's plan was to keep his heart rate down to a maximum of 120 beats per minute. On the Olympic Krylatskoye circuit itís much easier to push it up to 200 in a wild attempt to try and climb one of too many walls on the course. The way to keep this tendency under control was to discuss various subjects, from Tinkov's business to his cycling ambitions. And there was a little instruction from his friend Viatcheslav Ekimov, of course.
Cyclingnews: Then it was Slava [Ekimov] who wrote your training programme? Did you follow it to a T?
Tinkov and Oleg Grishkinea
Photo ©: Sergey Kurdyukov
Oleg Tinkov: Absolutely. At the beginning of March I had my last sip of alcohol, squeezed myself into the framework of a regime - and here I am, two months later, with 7000 kilometres in my legs.
CN: 3500km in a month? What about the intensity?
OT: It depends. First I worked out alone in the States, in California, laying the foundation. Six hours in the saddle all by myself is not a problem for me psychologically as long as I have a clear-cut goal. When I was ready to digest something more serious, I arrived in Spain for a training camp with my team. The youngsters put the final touches to their preparation, so every second day it was like a race with more than 150km distance. I didnít drop out after all, so thereís a reason to be cautiously optimistic about racing in Moscow.
CN: Establishing a cycling team is an excellent PR move for the team and your company, isnít it? I can hardly remember a PR campaign which took so much physical effort from the company owner, though...
OT: To hell with PR. Frankly speaking, Iíve never given a thought to this promotional effect; and youíre right, itís not worthwhile to tear your muscles to pieces on 2km high Catalonian passes for that. I do it to see whether Iím capable [of doing it] or not - thatís the long and the short of it.
CN: Thereís something symbolic about your comeback in the fact it comes as an 'anniversary' of your previous racing days - tell us about that.
OT: That's right. It was in the middle of spring 1986, and I was feeling pretty good. My main strength was sprinting - itís easy to guess from my build! I was then sent to the army, and when I returned two years later, I was an old guy with no prospects in the eyes of the specialists. That was the approach in Soviet times - if you didnít jump impressively enough while still a junior, nobody would bother with you; there were plenty of human resources at their disposal.
CN: So you called it a day?
OT: Yeah...to stand cap in hand asking for a favour - that was not devised for me. I left Siberia for St Petersburg and started my studies in the Mining Institute.
CN: But you didnít finish them.
OT: No, I didnít, I left after three years. It was the time of rapid changes in every aspect of life; the breakup of the USSR, the collapse of the state-controlled economy. In some ways it was a catastrophe, but it also opened up new opportunities, and if you observed what was going on from the side of the road, you risked missing the boat.
I tried my hand at business; well, I had done it even before things fell apart, in the form of so-called cooperatives. But in the early nineties it was far more serious. As for the education, Iíve got a marketing diploma from a six-month training program at the University of California - Iíve caught up with it, yet education never ends. People ask me why I bring my children to the States for such lengthy periods - it isnít immigration, I just make sure they master excellent English.
CN: It was in the previous decade that your Daria pelemeni (Russian equivalent of ravioli, normally filled with meat and poultry - Ed.) and then of course your Tinkov beer made you famous throughout the country. And not chiefly due to aggressive commercials, but because you didnít make your money out of air, you dealt with something people could appreciate.
OT: I always prefer something real, tangible. For example, I prefer to support a good promising team to chanting the slogans of bringing about the rebirth of Russian cycling.
Oleg Tinkov watches over
Photo ©: Sergey Kurdyukov

CN: Back to the business, however...when you reached a peak with Daria you sold it. Last year you did the same with the Tinkov brand, something you had made enormously popular in this country. Youíre very quick in parting with what you've established the hard way instead of sitting on it, 'clipping the coupons', so to speak.
OT: I lose interest in whatever doesnít feel like a challenge anymore. When a thing doesn't excite me, I simply stop doing it, and start looking for a new breakthrough. I'm not saying that selling the businesses was a bad deal - it was timed pretty well, actually.
CN: Is this likely to happen with your cycling endeavours? I mean, dropping it at the right time...
OT: No, with cycling it's all different. And I've come a very long way before I found myself where I am at the moment. There were a couple of encounters which led me in the right direction. Firstly - in St Petersburg I ran into Sergey Sukhorutchenkov. He was an idol for a young cyclists in the eighties . For me he still is. I didnít hesitate to tell him so. The Olympic road race champion, does it take any firther proof? Though there was nothing star-like about himÖ
Then I started travelling after big races like the Tour de France, and it was there that I met Slava Ekimov. I expressed my admiration of his achievements, and he complimented me on the quality of the beer he drank from time to time. So we had known each other by our activities long before we came across each other. Eki brought me into that elite club called Discovery Channel; I followed Tour stages in the team car frequently.
For the last couple of years weíve mingled a lot with Johan Bruyneel; I closely watched the way he worked in his sphere, trying to learn the ins and outs. I mean, I didnít jump to the decision to start a team straight away, it took me quite a while to make up my mind, to look at it from all angles. Because if I take something up, I take it seriously.
Oleg Tinkov rides alone
Photo ©: Sergey Kurdyukov

Slava recommended St Petersburgís Lokomotiv to me, which his team in his junior years, as it was a living tradition, a heritage in methods and achievements for a few decades by then, a good basis to start from. I began the 'quest' with a clear aim in mind to reach the top divisions and to ride in the legendary races Iíve followed as a spectator all these years.
Compromises are out of question; itís in the nature of sports to target the absolute peak. For the moment, the budget is 1 million [euros] a year, the title sponsor is my chain of restaurants, Tinkov, but it's just the beginning too. The projectís boundaries are open to new sponsors and new strong riders, and we're constantly working in this strategic direction.
CN: So the idea of returning to cycling in a new capacity was born last year. And when did the idea of trying your legs again as a rider come about?
OT: Just about simultaneously. You know, I weighed 95 kilos last summer. First I had to put these basic things in order before setting myself any other goal. Now Iím down to 77, being 190 cm tall. I feel different. Younger than a decade ago. I made a lot of new friends, the riders, some of them are substantially younger than me, but itís all to my benefit, itís refreshing. Vladimir Gusev, for example, is a frequent guest at my family house in Toscana.
CN: A traditional question - do you see your childrenís future in cycling?
OT: For Daria - no, I donít. Perhaps for the boys. Weíll see.
CN: During your stay in Italy, yet another Russian rider is a neighbour of yours, living in Toscana too. I mean Evgeny Petrov.
OT: Oh, it was quite a revelation to find out he was from the same Siberian region as me. For two cyclists born thousands of kilometers from there to get acquainted in Toscana - itís something, isnít it? And the circumstances were pretty funny. I was out on a training ride when I saw a guy in a Lampre outfit. I asked him: ďSai dovíŤ Petrov?Ē ďIo sono Petrov!Ē he shouted. It was a good exchange of phrases between two Siberians! Well, I like the atmosphere so much!
Photography
For a thumbnail gallery of these images, click here
Images by Sergey Kurdyukov