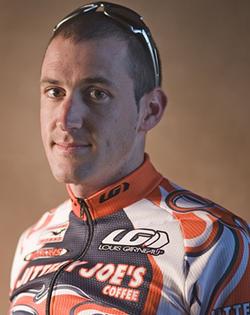 Photo ©: Jittery Joe's
Cody the Roadie: The Cody Stevenson diary 2007
After two seasons in Belgium with Team Cyclingnews.com, Cody Stevenson returned to his homeland last year to ride for the brand new Australian outfit, FRF Couriers-Caravello. Now it's all change once more as Cody packed up and headed Stateside in '07 with a clutch of other Aussies on the Jittery Joe's Continental team based in Athens, Georgia.
Follow Cody's adventures on the US domestic circuit as he gets to grips with a new style of racing and picks up some choice phrases along the way.
May 13, 2007
Coming into form
Well golly it has been hectic the last month.
I came out of the Tour de Georgia a bit sick, and was beginning to wonder if I would ever see the finish line in the front group this season! I couldn't point to an acute problem with my form, just an overall fatigue. Willo told me to just "relax" the form will come.
I took a few days off the bike, slept a lot and hung out in coffee shops around Athens...just watching life pass me by.
With a renewed mind I headed off to the next series of races - the Southeast Crit series. Eight crits in nine days, beginning with the now infamous Athens Twilight race. If you have read Willo's diary you can get his perspective on the carnage. We came out of that race with one broken bike, two broken wheels and three broken riders.
Willo's nasty injuries
Photo ©: Trent Wilson

Willo cut his eye open after a rogue tried to come up the inside on turn 2. The rogue managed to hit the barricade and then drag it out into the middle of the road, causing mayhem and stopping the race for 10 minutes. This guy obviously had no respect, if you are coming that close to the barricade there probably is not room for you to pass. Put your brain back in! This crash also took out Tommy.
The next crash, this was actually the third crash for the evening, took out Hoppy and gave him a nice four-week break with a broken wrist! Just when his season was getting into full swing. Willo, blood dripping from his head, decided to jump on a spare bike and took third. Tough!
The next week was honestly a blur. A good blur, but a blur none the less. The following day we raced the Roswell crit where alot of guys were missing due to the crashes from the night before although I managed to get in the winning break. Rollin from Kodak took the win and I managed to win the bunch kick for second.
The Roswell podium
Photo ©: Trish Albert

Suddenly I had a result. I didn't feel any different, but as I was to find out that thing called 'form' was heading my way. Over the next week we drove to South Carolina, Georgia, Alabama and Nashville, Tennessee. With the help of my team mates, Trent, Tim, Thad and Tommy I managed to pick up a string of results over the week: a second, third, two fifths, an eighth and two ninth placings and I finished the series in second place. (I also noticed that I was the only rider who did not have a first name starting with T)
I was certainly very pleased with my turn around of 'form'. As I said, each race was a blur and pretty much the same scenario. Racing would start at around eight or nine in the night and we would race for about 70km. I would jump into bed around 1am. Wake up at 10 and drive 3 hours to the next crit. I can safely say I am "over" the van.
The racing was flat gas from the start and is akin to NASCAR racing down here in the south! People come out to watch, and alot come out to drink beer and watch us crash! There was certainly more than our fair share of crashes during the series with everybody taking at least one tumble. A big thanks to sports director Jesse Lawler for being mechanic, swanny etc all week.
I am currently in Nashville at the Lawler's home. I am about to go check out downtown, better throw on my hat and boots! Now where did I leave my Guitar?
Cody