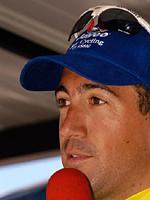 Photo: © Shane Goss
Moving on up: The Trent Wilson Journal 2007
After four years as a pro in Europe, "Willo" is heading Stateside, joining Jittery Joe's-Zero Gravity. . With a leadership role at the Athens, Georgia-based team, 2007 will no doubt provide exciting times for the likeable boy from Sydney's west. Trent also has his own web site at www.trentwilson78.com where you can find out even more about this Sydney rider.
May 3, 2007
Broken bikes and battle scars
G'day,
I got a nasty bump in the night
Photo ©: Trent Wilson

I am just starting to think it must take a lot for me to take the time to sit down and do a diary entry. Last time it was an airport delay, this time it's a broken bike.
I went into battle two nights ago in Vietnam, ah hang on a second, no it was just the Athens Twilight Criterium. You could have been mistaken thinking we had been to battle though, after the carnage of an 80 kilometre criterium. I survived 'nam' but only just!
I was in a break of seven guys who took a lap up on the field after the half way point. From here it was a dog fight and it was a race within a race. The break and the bunch were lining up to sprint together, some guys racing for first and some for eighth. It was a change of events for many, as in our team: Hoppy leading me out in a bunch kick! That'll never happen again.
Hmmm...it didn't look like that
Photo ©: Trent Wilson

So this made for the desperado factor to be turned up to 11. Three major crashes ended up sealing the race's fate. The first crash actually stopped the race. A guy came underneath me on a corner and kept trying to go underneath the next guy. He didn't make it and ripped the barrier out of the curb. I head butted the barrier on the way down, while copping 20 riders on top of me in the mass pile up. Tommy crashed also and had some concussion. I had blood all down my face but managed to get on Tommy's bike to at least try and finish: my bike was in three pieces.
With three laps to go there was another crash and Hop went down, he is now out for a week with his wrist. I dodged and ducked and scrambled to run third. Happy? Yes, though it could've been better if there wasn't a few lapped riders (guys now two laps down) getting amongst the bunch kick. I was happy, especially with the home crowd going bananas all night. The ten beers they'd probably had helped the atmosphere too!
After the dust cleared, I got to bed by 2 am after the race finished at midnight. Since then I haven't had a bike to ride and that's probably actually a good thing. My second bike is in Nashville and my new one is getting built up as I write this. Roswell was on last night and being as sore as I was, I was not complaining about sitting one race out.
I was happy with third
Photo ©: Trent Wilson

Hop and I exchanged the bike for a beer, for the arvo. Cody came home with the good though, finishing a very impressive second. A great result for the five foot nothing little fella, who needed a boost of moral. Good on ya champ!
Going back about three week I was coming into a block of racing that I'd been getting gee'd for. The US Open was up first and I suppose by now everyone has heard how cold and terrible the weather was, so I won't go into it too much. I will, however, mention that even in Belgium I'd never raced in conditions like that. Snow, rain and zero degree temperatures on the start line! It did eventually stop snowing and I had to get motivated after shivering for the first hour. To cut a very, very long story short I made the break with four laps to go but was caught with a lap to go. I spent a lot of energy but once it came back together it split again and I finished seventh.
I was happy to finally feel good on the bike again but with a little luck it could've been a huge result. I still finished the race with two sets of shoe covers, a beanie and four layers of clothing: that's a first!
Rolling across the finish -
Photo ©: Trent Wilson

After that epic day we had a week to kick back in Athens before the Tour of Georgia. A few of the boys and I went to the mountains to re-con the tour's route and we were doing it tough at Tom Palmers cabin. Big Ev and I managed to get a game of golf in and he was pleasantly surprised that I got three pars and a birdie (off a 28 foot putt!). We also had a fair few team things to do before the tour kicked off.
The tour itself had its ups and downs. The first two days we got the Youngest Rider and the Most Aggressive jerseys with Tommy Nankervis and Austin King respectively. I had underlined stage three as a day for me to go up the road. I went with everything but missed the break that rode away and gained 30mins. A man once said 'tour over'.
After an almost day off, with the 30km TT that I just cruised, we had Brasstown Bald. The team had big plans for Caesar Grahales to win the stage. A break went up the road and we, along with Saunier Duval, rode tempo all day and then ripped the time gap back to a two minute margin before the bottom of the berg. The team rode awesome and we set the Colombian up perfectly, unfortunately he didn't have the best of days. It was good experience though for some of the team's younger guys to control the race.
Look who's on the coffee cup!
Photo ©: Trent Wilson

The next day for me was a tough one and I knew something was wrong. Sure enough by that night I had a fever and couldn't start the next day. The last day was a circuit race around Atlanta and it sucked to have to just watch, but Caesar got up the road and gained the Most Aggressive jersey and big Ev ran ninth on the stage.
After the tour I went back to Nashie for a few days and that brings me to now. So the last month has been race, recovery, race, recovery with a bit of golf thrown in. I did also go to a Nashville Preds (ice hockey for the Aussies) game just before the play offs. They were leading the comp and since I went and saw a game they have lost every game and went straight out of the play offs.
Next up I have six crits in six nights, which I am pretty excited about….hmmm. Yeah right, then back to Nashie before racing Joe martin and getting ready for Philli week.
Cheers
Willo