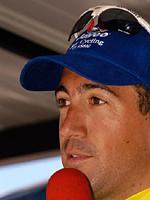 Photo: © Shane Goss
Moving on up: The Trent Wilson Journal 2006
After four years as a pro in Europe, "Willo" is heading Stateside, joining Jittery Joe's-Zero Gravity. . With a leadership role at the Athens, Georgia-based team, 2006 will no doubt provide exciting times for the likeable boy from Sydney's west. Trent also his own web site at www.trentwilson78.com where you can find out even more about this Sydney rider.
Canada, June 16, 2006
Off the couch, on the road
G'day,
Willo and General Lee…
Photo ©: Willo & friends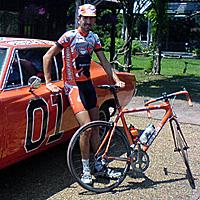 I had two and a half weeks home in Nashville, the longest stint I've had in my pad all year. After Tour de Georgia, the USA Crits and being on the road for ages I was a bit tired and needed the down time in Nashie.
After a few easy days and a lot of couch time I started to get back into the training. On top of that, Hoppy and I got to a few local races. Two weekends in a row Hoppy and I raced locally, and by no means were they easy races. It was great training, good miles, bit of coin and a few wins.
Training has been great with days hitting the 30 degree mark and enjoying the long training in the out back Tennessee countryside.
We also got the chance to get into a few other activities while we were home. For the first time I went to a game of soccer, a friendly between America and Morocco, a fortnight out from the world cup. I didn't really care who won so when Morocco scored the only goal with two minutes remaining there weren't too many people impressed with me and Hoppy high-fiving each other and hugging when they scored.
We then hit the road again for a big line up of races. We raced Raleigh and Summerville in the first week, then Captech classic, then Philly week. After that we have a day off to start the Tour Beauce in Canada. I didn't have the best run in the first two crits with bad legs and a mix of weather. My form wasn't as good as it had been but I definately have the miles in the legs and was hoping it came together for Philly week and Tour de Beauce.
Hoppy (l) and Willo
Photo ©: Willo & friends

The form then started heading in the wrong direction, especially when I do stuff like dropping myself out training. It's always the slow crashes that knock you around the most. After a last minute call to turn left I dropped myself in some gravel and opened up my knee. I had to get a few stitches but it just meant I could hardly walk and had to take a few days off the bike.
I had to sit out the Captech Classic which was hard to take as it was a hard hilly criterium and would've suited me. I also skipped the CSC Classic and my first race back was Lancaster. After doing about 100km in five days I was a bit worried about going into this race, especially seeing as I couldn't walk. Things didn't get much better after 2km when I got caught in a crash and had to chase for 20km to get back on. The boys did an awesome job to get me back in contact. I suffered for a while after that but hung on to finish 12th in a 30-up bunch kick.
The Jittery Joe's crew
Photo ©: Willo & friends

A few easy days and the next race was Reading. After a few slow and boring days and the Day Inn, my knee was back to 100%, although still with stitches. The race finished with a 2km climb with 4km to go. It obviously split to bits and I finished 14th.
Finally, onto Philly, the big one! I had good legs all day and the team rode awesome for me. After 255km it came down to a 35-rider sprint with a few fast guys still there. I was out of my league in the sprint and hung on for 15th. I was happy with that but the legs were great over all the climbs all day and I would've been happier to come to the line in a smaller group.
Now I have just arrived for Tour de Beauce in Canada, a six day stage race. My legs are tired, the form's ok but I need a rest. After Beauce I'm going to have a week off the bike and have a holiday in New York, that will be my mid season break… Well deserved.
Cheers,
Willo