CSC Invitational- NE
Arlington, Virginia, USA, June 3, 2006
Colavita Doubles Up Again at CSC Invitational
by Mark Zalewski, North American Editor in Arlington, VA
McCormack Surpises with Field Sprint Win
Mark McCormack (Colavita Olive Oil - Sutter Home Wines)
Photo ©: Jon Devich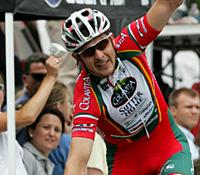 "When it doubt, lead out!" Colavita-Sutter Home's Mark McCormack explained after taking the field sprint at the CSC Invitational. "That's the old theory. It's not a total suprise -- I have won sprints before -- but I didn't come here expecting to win a field sprint! Realistically I thought I was going to get second or third, which still would have been great for our team today."
McCormack continues a strong mid-season winning streak for the team following Davide Frattini's win at CapTech and Kyle Wamsley's win at BikeJam. "I've always had a lot of confidence in our guys. We've been racing good but just haven't been winning. It's been a lot of field sprints all season but now the races have been breaking up more. It gives our team more opportunity to win."
Even though today's win was a field sprint victory for the team, and that the team is riding well, McCormack readily admits this win did not come from being the strongest team. "We didn't win the race out of control or dominance, we won it out of opportunity. But in cycling, that is half the battle -- being in the right place at the right time."
"I was following wheels that last ten laps, fighting for position. I was hoping that Kyle Wamsley would get to my wheel but we never connected. With three to go there were a lot of solo jumps and I tried to go with them, but it really just set me up in good position."
Brad Huff (TIAA-CREF)
Photo ©: Bill McCarrick

Lots of counter attacks tried to make a go when the break was eventually caughts, all involving TIAA-CREF riders. Francois Porisien went solo for a few laps. After he was caught Danny Pate took a chance, bringing another rider with him in the closing laps.
"There were two away and I could tell Navigators were setting it up so I sat behind Oleg for a lap," McCormack said. "They didn't quite close it with three corners to go so I led it. I caught them before two [corners] to go and thought, 'I'm committed now, I can't just wait for guys to come by me.' So I relaxed into the last turn thinking nobody would want to pass me here, took an easy line and stayed on the fence out of the wind. Honestly I just kept going thinking, 'When is the swarm coming?' Because last year I was doing the same thing with Bahati on my wheel going for sixth and he just flew by me -- and he was there again today. But fortunately for me nobody came by me."
But before the field sprint finale, a long breakaway drew the attention of the crowd, started by an unlikely solo rider. Brad Huff (TIAA-CREF) is more of a sprinter than a time trialing solo rider, yet he found himself off the front in just the first handful of laps around the one kilometer course. Team director Jonathan Vaughters was a little tentative in wasting one of his lead-out riders so early. "But at the same time I thought he was just going to be out there a couple of laps," Vaughters explained. "Then all of a sudden it was thirty seconds and another guy comes up to him so you just have to play as you go."
Joining Huff was Priority Health's Brooke Waters. This breathed new life into the fledgling break which was further bolstered a few laps later by Navigators criterium specialist Hilton Clarke. "I thought more guys would come up but I knew they were letting me sit out there," said Huff. "I was glad Brooke Waters bridged up to me -- he was working well. And then Hilton Clarke bridged and he was really laying the stick to us. That definitely gave us a boost."
The trio then pushed the gap to more than thirty seconds. Back in the field it was all Toyota-United Pro on the front with Health Net-Maxxis close behind. While the break never gained more than thirty seconds the gap was not coming down either, and Toyota-United Pro was burning more than a few matches with pulls by Juan Juse Haedo, Ivan Dominguez and Ivan Stevic.
Eventually a frustrated Tony Cruz (Toyota-United Pro) rolled off the field to rattle a few cages and inspire some cooperation. "I noticed I was carrying a lot more speed through the turns so I just let it roll," said Cruz. "Next thing you know I got a gap and went into TT mode. It was a pivotal point because we had been chasing so hard and the other teams were letting us tire out -- I knew they would try to counter."
Cruz, who finished fourth, expressed his contempt for his team having to do all the work. "[Heath Net] played like wimps today -- it was disappointing. I know we battle head-to-head every weekend, but they are playing a game where they either have the advantage or will just play for second place and let us work ourselves over. So I went to the front to at least make them chase me."
A late attack
Photo ©: Bill McCarrick

Health Net-Maxxis team director Jeff Corbet was totally upfront with the tactics today, but says they were a result of the team's recent return from their maiden European campaign. "Toyota did ninety-nine percent of the work to bring it back -- they really did most of it," Corbet said. "We helped them a little but when you miss the move you don't have anything to do. We weren't going to waste the gas trying to bridge up to it. We didn't do CapTech because we needed the rest from Europe, so I think most of the guys were a little flat and needed an opener."
A lot of crashes also ended the day early for many riders, including the race sponsor's team, Team CSC. Hopeful winner Lars Michaelson was an early victim. "Lars was unlucky -- he was looking forward to this race for sure," said fifth place Matti Breschel. "I was pretty tired and had some jet lag. I did the Tour of Bayern and just came back from an injury. It was so fast out there... unbelievable. It was almost harder than a normal pro race in Europe, because it is so stressful and you were always on the limit!"
Further illustrating Breschel's point was the fact that the field for yet another year only consisted of around twenty-five riders in the finale. "It was hard as usual -- one of the hardest 100km criteriums ever," said Jeff Corbet. "If you look at the numbers over the years of how many start and finish I bet the attriition rate of this race is way above the others. The whiplash is so great here, especially out of the last corner."
Tina Pic does it again, and again, and...
Tina Pic (Colavita)
Photo ©: Jon Devich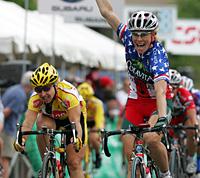 At BikeJam last week it was Tina Pic (Colavita-Cooking Light) powering past the top sprinters for the win. At CapTech on Tuesday, it was Tina Pic powering around everybody in the final turns to take the win. Today at the CSC Invitational, it was Tina Pic powering around everybody again, this time in the long final stretch to take the win. The four-year running national criterium champion looks well on her way to a fifth title, and in convincing fashion.
"The team did great today," said Pic. "They did a great job for me, especially in the end." Teammate Iona Wynter led the field around the final lap with TEAm Lipton's Laura Van Gilder stuck on her wheel. Around the final two turns, however, the Victory Brewing team organized a three rider lead-out trying to set-up Laura Yoisten. "Victory came around the outside and Laura was in the middle," said Pic. "I went on the inside and just started sprinting from there."
After that it was lights out for everyone, for when Pic gets to the last turn first, she almost always gets to the line first as well. "I was on Tina's wheel going into the last turn. Nobody is unbeatable, but you just need to beat her to the last turn," said Van Gilder.
The wind played more of a factor in the women's race -- with strong gusts and a smaller field to hide behind. The only significant break came from Sarah Tillotson (Colavita-Cooking Light) who tried a two rider break. However, the strong winds kept them close and an ill-timed prime closed the door quickly. "It was really hard, especially with the wind on the main stretch."
Charm Breon (Cheerwine)
Photo ©: Bill McCarrick

Yet the most aggressive rider of the day was Cheerwine's Charm Breon, who launched multiple solo attacks throughout the fifty kilometer race.
Photography
For a thumbnail gallery of these images, click here
Images by Jonathan Devich/epicimages.us
Images by Bill McCarrick/www.buffalo2step.com
Results
Men Pro/Elite - 100km

1 Mark Mccormack (Colavita Olive Oil - Sutter Home Wines)       2.12.37
2 Karl Menzies (Health Net Presented By Maxxis)                        
3 Alex Candelario (Jelly Belly)                                        
4 Tony Cruz (Toyota-United Pro)                                        
5 Matti Breschel (Csc)                                                 
6 Jeff Hopkins (Jittery Joes/Kalahari)                                 
7 Rahsaan Bahati (Tiaa-Cref)                                           
8 Brad Huff (Tiaa-Cref)                                                
9 Shawn Milne (Navigators Insurance)                                   
10 Jackson Stewart (Kodakgallery.Com - Sierra Nevada)                  
11 Robbie King (Priority Health)                                       
12 Gustavo Artacho (Colavita Olive Oil - Sutter Home Wines)            
13 Mike Friedman (Tiaa-Cref)                                           
14 Mike Sayers (Health Net Presented By Maxxis)                        
15 Ivan Stevic (Toyota-United Pro)                                     
16 Scott Zwizanski (Kodakgallery.Com - Sierra Nevada)                  
17 Kyle Wamsley (Colavita Olive Oil - Sutter Home Wines)           0.11
18 Oleg Grichkine (Navigators Insurance)                               
19 Caleb Manion (Jelly Belly)                                      0.16
20 Danny Pate (Tiaa-Cref)                                          0.18
21 David O'loughlin (Navigators Insurance)                         0.22
22 Kirk O'bee (Health Net Presented By Maxxis)                     0.29
23 Ted King (Priority Health)                                      1.05
24 Bruno Langlois (Aeg Toshiba - Jetnetwork)                           
 
1 lap behind
 
25 Jesse Anthony (Kodakgallery.Com - Sierra Nevada)                    
26 Dan Schmatz (Kodakgallery.Com - Sierra Nevada)                      

DNF Ivan Dominguez (Toyota-United Pro)                                 
DNF Jose Garcia (Toyota-United Pro)                                    
DNF Jose Haedo (Toyota-United Pro)                                     
DNF Heath Blackgrove (Toyota-United Pro)                               
DNF Sean Sullivan (Toyota-United Pro)                                  
DNF Chris Wherry (Toyota-United Pro)                                   
DNF Vassili Davidenko (Navigators Insurance)                           
DNF Ben Brooks (Navigators Insurance)                                  
DNF Siro Camponogara (Navigators Insurance)                            
DNF Hilton Clarke (Navigators Insurance)                               
DNF Ciaran Power (Navigators Insurance)                                
DNF Gord Fraser (Health Net Presented By Maxxis)                       
DNF Kyle Gritters (Health Net Presented By Maxxis)                     
DNF Tim Johnson (Health Net Presented By Maxxis)                       
DNF Mike Jones (Health Net Presented By Maxxis)                        
DNF Jeff Louder (Health Net Presented By Maxxis)                       
DNF Lars Michaelsen (Csc)                                              
DNF Andria Perone (Csc)                                                
DNF Kasper Klostergaard (Csc)                                          
DNF Martin Pedersen (Csc)                                              
DNF Luke Roberts (Csc)                                                 
DNF Chad Hartley (Tiaa-Cref)                                           
DNF Ian Macgregor (Tiaa-Cref)                                          
DNF Francois Porisien (Tiaa-Cref)                                      
DNF Taylor Tolleson (Tiaa-Cref)                                        
DNF Emile Abraham (Aeg Toshiba - Jetnetwork)                           
DNF Chris Frederick (Aeg Toshiba - Jetnetwork)                         
DNF Greg Wolf (Aeg Toshiba - Jetnetwork)                               
DNF Eric Keim (Aeg Toshiba - Jetnetwork)                               
DNF Jake Rubelt (Aeg Toshiba - Jetnetwork)                             
DNF Frank Travieso (Aeg Toshiba - Jetnetwork)                          
DNF Ryan Jensen (Jelly Belly)                                          
DNF Kirk Albers (Jelly Belly)                                          
DNF Andrew Bajadali (Jelly Belly)                                      
DNF Brice Jones (Jelly Belly)                                          
DNF Nick Reistad (Jelly Belly)                                         
DNF Matty Rice (Jelly Belly)                                           
DNF Richard England (Priority Health)                                  
DNF Brent Bookwalter (Priority Health)                                 
DNF Eddy Hilger (Priority Health)                                      
DNF Glen Mitchell (Priority Health)                                    
DNF Tommy Nankervis (Priority Health)                                  
DNF Jacob Rytletlewski (Priority Health)                               
DNF Viktor Rapinski (Colavita Olive Oil - Sutter Home Wines)           
DNF Tyler Wren (Colavita Olive Oil - Sutter Home Wines)                
DNF Davide Frattini (Colavita Olive Oil - Sutter Home Wines)           
DNF Todd Herriott (Colavita Olive Oil - Sutter Home Wines)             
DNF Jonathan Page (Colavita Olive Oil - Sutter Home Wines)             
DNF Marc Anderson (Jittery Joes/Kalahari)                              
DNF Evan Elken (Jittery Joes/Kalahari)                                 
DNF Neil Shirley (Jittery Joes/Kalahari)                               
DNF Phil Wong (Jittery Joes/Kalahari)                                  
DNF Frank Pipp (Targetraining)                                         
DNF Aleajandro Acton (Targetraining)                                   
DNF Enaes Freyre (Targetraining)                                       
DNF Danny Greenfield (Targetraining)                                   
DNF Andy Guptil (Targetraining)                                        
DNF Wes Hartman (Targetraining)                                        
DNF Josh Bezecny (Targetraining)                                       
DNF Matt Shriver (Targetraining)                                       
DNF Zach Bell (Rite Aid)                                               
DNF John Delong (Rite Aid)                                             
DNF Mike Beers (Rite Aid)                                              
DNF Ryan Mckinney (Rite Aid)                                           
DNF Russell Langley (Rite Aid)                                         
DNF Peter Penzell (Rite Aid)                                           
DNF Brad Viera (Rite Aid)                                              
DNF Jon Wirsing (Rite Aid)                                             
DNF Martin Gilbert (Kodakgallery.Com - Sierra Nevada)                  
DNF Jason Allen (Kodakgallery.Com - Sierra Nevada)                     
DNF Ben Jacques-Maynes (Kodakgallery.Com - Sierra Nevada)              
DNF Pete Lopinto (Kodakgallery.Com - Sierra Nevada)                    
DNF Todd Henrikgen (Vmg)                                               
DNF Spencer Beamer (Vmg)                                               
DNF Zach Bolian (Vmg)                                                  
DNF Alex Boyd (Vmg)                                                    
DNF Chase Fullerton (Vmg)                                              
DNF Phil Gaimon (Vmg)                                                  
DNF Brooke Boocock (Calyon-Litespeed)                                  
DNF Joel Dion-Poitras (Calyon-Litespeed)                               
DNF Erik Lyman (Calyon-Litespeed)                                      
DNF Jean-Sebastian Perron (Calyon-Litespeed)                           
DNF Charly Vives (Calyon-Litespeed)                                    
DNF Maxime Vives (Calyon-Litespeed)                                    
DNF Jacob Fetty (Nerac/Outdoorlights.Com)                              
DNF Hoyt Halvorson (Nerac/Outdoorlights.Com)                           
DNF Jon Hamblen (Nerac/Outdoorlights.Com)                              
DNF John Hanson (Nerac/Outdoorlights.Com)                              
DNF Robby Ketchell (Nerac/Outdoorlights.Com)                           
DNF Adam Myerson (Nerac/Outdoorlights.Com)                             
DNF David Werling (Nerac/Outdoorlights.Com)                            
DNF Todd Yezefski (Nerac/Outdoorlights.Com)                            
DNF Ken Johnson (Rockville Harley-Davidson)                            
DNF Sean Barrie (Rockville Harley-Davidson)                            
DNF Ian Birlem (Rockville Harley-Davidson)                             
DNF Brian Butts (Rockville Harley-Davidson)                            
DNF Adam Fung (Rockville Harley-Davidson)                              
DNF Mark Johnson (Rockville Harley-Davidson)                           
DNF Mario Sanchez (Rockville Harley-Davidson)                          
DNF Hayden Godfrey (Monex)                                             
DNF Peter Stewart (Rockville Harley-Davidson)                          
DNF Rudy Robaina (Vmg)                                                 
DNF Zach Taylor (Vmg)                                                  
 
Women Pro/Elite - 50 km

1 Tina Pic (Colavita Cooking Light)                             1.14.30
2 Laura Vanguilder (Team Lipton)                                       
3 Gina Grain (Colavita Cooking Light)                                  
4 Kelly Benjamin (Cheerwine)                                           
5 Theresa Cliff-Ryan (Verducci/Breakaway Bikes)                        
6 Laura Yoisten (Victory Brewing Company)                              
7 Lara Kroepsh (Team Lipton)                                           
8 Shannon Hutchison-Krupat (Aaron's Corporate Furnishings/L5Flyers)    
9 Brenda Lyons (Victory Brewing Company)                               
10 Laura Bowles (Victory Brewing Company)                              
11 Charm Breon (Cheerwine)                                             
12 Kate Sherwin (Victory Brewing Company)                              
13 Iona Wynter (Colavita Cooking Light)                                
14 Sarah Caravella (Team Lipton)                                       
15 Deidre Winfield (Charlottesville Racing Club)                       
16 Rebecca Larson (Team Florida)                                       
17 Sarah Tillotson (Colavita Cooking Light)                            
18 Beth Leasure (Team Spirit)                                          
19 Taitt Sato (Mcguire Cycling)                                        
20 Kathleen Billington (Connecticut Coast)                             
21 Courtenay Brown (Mcguire Cycling)                                   
22 Catherine Powers (Aaron's Corporate Furnishings/L5Flyers)           
23 Clara Beard (Cheerwine)                                             
24 Brooke O'connor (Hub Racing)                                        
25 Andrea Dvorak (Charlottesville Racing Club)                         
26 Liz Young (Hub Racing)                                              
27 Rebecca Wellons (Gear Works Cyclery)                                
28 Meshy Holt (Colavita Cooking Light)                                 
29 Lisa Jellett (Verducci/Breakaway Bikes)                             
30 Sheba Farrin (Hub Racing)                                           
31 Sima Trapp (Colavita Cooking Light)                                 
32 Sue Palmer-Komar (Colavita Cooking Light)                           
33 Candice Blickem (Aaron's Corporate Furnishings/L5Flyers)            
34 Mackenzie Dickey (Aaron's Corporate Furnishings/L5Flyers)           
35 Emma Nelson (Advil-Chapstick)                                       
DNF Katherine Lambden (Team Lipton)                                    
DNF Tara Ross (Victory Brewing Company)                                
DNF Rachel Gunn (Cheerwine)                                            
DNF Sarah Bamberger (Cheerwine)                                        
DNF Allie Warfel (Cheerwine)                                           
DNF Cory Bemis (Hub Racing)                                            
DNF Michele Bote (Hub Racing)                                          
DNF Becky Broeder (Hub Racing)                                         
DNF Rebeca Jones (Hub Racing)                                          
DNF Nikki Raspa (Hub Racing)                                           
DNF Cody Harris (Ncvc/Inova Health System)                             
DNF Tracy Rankin (Dc Velo/Martens Volvo)                               
DNF Kathryn Clark (Team Fuji/ Bolt Brothers)                           
DNF Donna Kerby (Team Fuji/Bolt Brothers)                              
DNF Lisa Young (Tripower)                                              
DNF Beth Mason (Us Armed Forces)                                       
DNF Christian Hansley (Olympus)                                        
DNF Elizabeth Morse Hill (Team Fugi /Bolt Bros)                        
DNF Wendy Ulmer (Snow Valley)                                          
DNF Reem Jishi (Advil-Chapstick)                                       
DNF Michelle Hart (Lsv/Kelly Benefit Strategies)                       
DNF Megan Esmonde (Travel Girl)                                        
DNF Stephanie Swinerton (Cheerwine)                                    
DNF Heidi Woolever (Annapolis Racing)                                  
 
Men Cat 1/2/3 - 44 km

1 Matt Cooke (Lsv/Kelly Benefit Strategies)                     1.00.29
2 Ramon Benitez (Team Alliance Environmental)                          
3 Patrick Walsh (Ccb/Volkswagon)                                       
4 Joshua Frick (Dcvelo/Martens Volvo)                              0.11
5 Jason Snow (Cycle Science)                                           
6 Brent Arthurs (Evolution-Dls)                                        
7 Keck Baker (Team Seigler/Cvcc)                                       
8 Daniel Vaillancourt (Ccb/Volkswagon)                                 
9 Ed Beamon (Navigators Insurance)                                     
10 David Osborne (Artemis)                                             
11 Chris Schmidt (Ncvc/Inova Health System)                            
12 Jay Moglia (Ncvc/Inova Health System)                               
13 Nima Ebrahimnejad (Team Dls / Evolution Cycling Club)               
14 Amos Brumble (Ccb/Volkswagon)                                       
15 Evan Fader (Capitol Hill Bikes/Route 1 Velo)                        
16 Dan Cassidy (Ccb/Volkswagon)                                        
17 Terry Huss                                                          
18 Jason Meidhof (Ncvc/Inova Health System)                            
19 Jonathan Swain (Crca/Sakonnet Technology U25)                       
20 Ciaran Mangan (Ccb/Volkswagon)                                      
21 Jeff Dickey (Ncvc/Inova Health System)                              
22 David Bozak (Dc Velo)                                               
23 Tim Scesney (Rockville Harley Davidson / Silver Cycles)             
24 Peter Dickason (Evolution Cycling / Dls)                            
25 Paul Mica (Ncvc/Inova Health System)                                
26 Pedro Hijar (Team Dls / Evolution Cycling)                          
DNF Greg Abbott (Ncvc/Inova Health System)                             
DNF Fredrik Andersson (Ncvc/Inova Health System)                       
DNF Rusty Williford (Team Ipro)                                        
DNF Jonathan Baggett                                                   
DNF Paul Basler (Team Snow Valley)                                     
DNF Mike Bradbury (Evolution Cycling Club / Team Dls)                  
DNF Zach Browne (Ncvc/Inova Health System)                             
DNF Darek Bushnaq (Lsv/Kelly Benefit Strategies)                       
DNF Nigel Chinemilly (Dls/Evolution Team)                              
DNF Michael Esmonde (Route 1 Velo/Capital Hill Bikes)                  
DNF Aaron France (Ncvc/Inova Health System)                            
DNF James Pettengill (Rockville Harley-Davidson/Silver Cycles)         
DNF Tom Godfrey (Ncvc/Inova Health System)                             
DNF Roger Gorke (Rockville Harley-Davidson)                            
DNF Steven Grant (Ncvc/Inova Health System)                            
DNF Bill Gros (Squadra Coppi/Im Saab)                                  
DNF Andreas Gutzeit (Ncvc-Inova Health Systems)                        
DNF Tony Hall (Team Seigler Imports/Cvcc)                              
DNF James Harris (Artemis)                                             
DNF Owen Hassig (Im Saab/Squadra Coppi)                                
DNF Todd Hipp                                                          
DNF Teddy Hockenberry (Cycle Science)                                  
DNF Wade Jennings (Ncvc/Inova Health System)                           
DNF Darren Jiron (Dc Velo/Martens Volvo)                               
DNF Garner Woodall (Rockville Harley-Davidson)                         
DNF Stephen Jones (Rockville Harley-Davidson/Silver Cycles)            
DNF Christopher Kent (Dc Velo/Martens Volvo)                           
DNF Mark Kerlin (Evolution Cycling Club/Team Dls)                      
DNF Stewart Kidston (Evolotion)                                        
DNF Ben King (Hot Tubes)                                               
DNF Mark King (Crc)                                                    
DNF Stephen Koelbl (Warrenton Cycling Race Team)                       
DNF Larry Byvik (Warrenton Cycling Race Team)                          
DNF Bo Lee (Wwvc/10-8 Duty Gear Cycling Team)                          
DNF Mitchell Luck (Artemis)                                            
DNF Brian Marchionini (Dc Velo/Martens Volvo)                          
DNF Rick Monterosa (Ncvc/Inova Health System)                          
DNF Jared Nieters (Warrenton Cycling)                                  
DNF John Raley (Artemis)                                               
DNF Stephen Robinson (Squadra Coppi)                                   
DNF Gregory Vadas (Rockvile Harley-Davidson/Sylver Cycles`)            
DNF Victor Siegfried (Evolution / Team Dsl)                            
DNF Tom Soladay                                                        
DNF Mark Sommers                                                       
DNF Jason Stevenson (Ncvc/Inova Health System)                         
DNF Constantinos Tombras (Squadra Coppi/Im Saab)                       
DNF James Wagner                                                       
DNF Peter Whitlock (Team Seigler Imports/Cvcc)                         
DNF John Whittington (Ncvc/Inova Health System)                        
DNF Gregory Wood (Dc Velo/Martens Volvo)                               
DNF Kenneth Young (Prince William Elite Racing Power)                  
DNF Jake Hollenbach (Ccb/Volkswagon)                                   
DNF Aliaksandr Bialiauski (Ccb/Volkswagon)                             
DNF Mathew Hansley                                                     
 
Men Master 35+ - 33 km
1 Ramon Benitez (Team Alliance Environmental)                     46.21
2 David Le Duc (Mercy Cycling Team)                                0.21
3 Grant Soma (Snow Valley)                                         0.26
4 Michael Price (Team Snow Valley)                                     
5 Roger Friend (Monticello Velo Club/B Lue Wheel)                      
6 Darren Jiron (Dc Velo/Martens Volvo)                                 
7 Bernard Del Rosario (Squadra Coppi Im Saab)                          
8 Chris Bruce (Charlottesville Racing Club)                            
9 Michel Vandenhueval (Spin City/Felt Bicycles)                        
10 William Luecke (Ncvc/Inova Health System)                           
 
1 lap behind
 
11 Joseph Baremore (Dcvelo/Martens Volvo)                              
12 Bo Lee (Wwvc/10-8 Duty Gear Cycling Team)                           
13 Peter Lindeman (Ncvc/Inova Health System)                           
14 Dan Stimpson (Giordana - Clif Bar)                                  
15 Tom Godfrey (Ncvc/Inova Health System)                              
16 Mark King (Crc)                                                     
17 Larry Byvik (Warrenton Cycling Team)                                
18 Shawn Fenty (Dc Velo/Marten's Volvo)                                
19 Arthur Brown (Dc Velo/Martens Volvo)                                
20 Eric Williams (Team N-Tieractive/Bike Doctor-Waldorf)               
21 Walter Risse (Main Line Cycing)                                     
22 Aric Line (Racing Union)                                            
23 Will Browne (Dc Velo/Martens Volvo)                                 
24 William Davis (Ncvc/Inova Health Systems)                           
25 David Kay (Dc Velo/Martens Volvo)                                   
26 Mark Kerlin (Evolution/Dls)                                         
27 Mehmet Tuncer (Bicycle Place Velo Club)                             
28 James Schaefer (Cycor/Contes)                                       
29 Bill Gros (Squadra Coppi/Im Saab)                                   
30 Bill Short (Squadra Coppi)                                          
31 Gregory Wood (Dc Velo/Martens Volvo)                                
32 Guy Perotti (Team Snow Valley)                                      
33 Keith Mitchell (Team Snow Valley)                                   
34 Christopher Guidry                                                  
DNF Brian Baysinger                                                    
DNF Shawn Blumenfeld (Hub Racing)                                      
DNF Jason Carrico                                                      
DNF Nigel Chinemilly (Dls/Evolution Team)                              
DNF Christopher Clarke (Ncvc)                                          
DNF Steven Dontigny (Evolution Cycling)                                
DNF Kyle Drummond                                                      
DNF Bernie Gumucio (Dc Velo/Martens Volvo)                             
DNF Daniel Hill                                                        
DNF John Kamenick (Evolution Cycling/Dls)                              
DNF Christopher Kent (Dc Velo/Martens Volvo)                           
DNF Marc Klein (Ncvc/Inova Health System)                              
DNF Erik Leaver (Ncvc/Inova Health System)                             
DNF Christopher Long (Sqadra Coppi/Im Saab)                            
DNF Ray Manyoky (Bpvc)                                                 
DNF Mike May (Artemis)                                                 
DNF Conor O'brien (Bicycle Place Velo Club (Bpvc))                     
DNF Luis Ochoa (Snow Valley)                                           
DNF Douglas O'donnell (Dc Velo/Martens Volvo)                          
DNF Mike Petrakis (Ncvc/Inova Health Systems)                          
DNF Thomas Ragland (Squadra Coppi/Im Saab)                             
DNF Joseph Rudolph (Squadra Coppi/Im Saab)                             
DNF Keith Sandbloom (Ncvc - Inova Health System)                       
DNF Don Saroff (Squadra Coppi/Im Saab)                                 
DNF William Schaffer                                                   
DNF William Shelton (Ncvc/Inova Health System)                         
DNF Eric Sloman (Ncvc)                                                 
DNF Steve Soltes (Team Snowvalley)                                     
DNF Scott Thompson (Squadra Coppi/Im Saab)                             
DNF Walter Tyree (Squadra Coppi/Im Saab)                               
DNF Michael Vanderwerker (Cts)                                         
DNF Rudy Vercaigne (Evolution/Team Dls)                                
DNF Scott Wilets (Bicycle Place Velo Club)                             
DNF Michael Krotine (Squadra Coppi/Im Saab)                            
DNF Justin O'malley (Evolution Cycles)                                 
DNF Aziz Elhallou (Dc Velo)                                            
DNF Brian Poochigian (City Bikes)                                      
DNF Luke Pingel                                                        
DNF James Bronson (Lsu)