Captech Classic - NE
Richmond, Virginia, USA, June 1, 2006
2005 Results Results Past winners
Colavita Pairs up Wins at CapTech
by Mark Zalewski, North American Editor
Frattini Solos in final lap to win
Davide Frattini (Colavita-Sutter Home)
Photo ©: Bill McCarrick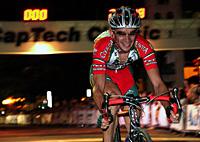 Known more for his breakaway moves on long road stages than criterium wins, Colavita-Sutter Home's Davide Frattini saw the fruits of his off-season training pay off with a win at the tough CapTech Classic. "This really is a good win for me, especially in the criterium, " said Frattini. "I am not a criterium guy. I changed my style a lot this year. Frank and Mark [McCormack] told me to do the cyclocross and that would help me with the criterium."
Frattini was part of a five rider break that had more than a minute on the rest of the field heading into the last ten laps of a long 100km criterium. Also in the break was Ivan Stevic (Toyota-United Pro), Navigators Insurance's Mark Walters and Sergey Lagutin as well as Ben Jacques-Maynes (KodakGallery-Sierra Nevada). "It was one of the hardest crits in the U.S.," said Stevic. "It's unusual -- it's 100km, very technical, lots of corners and a tough climb."
With eight laps to go, Jacques-Maynes was dropped and the two Navigators riders began their tactics. But before they could put any to use Frattini soloed off the front with three laps to go. "We were playing a lot in the last five laps," said Stevic. "With three to go, Davide attacked but we caught him with one and a half to go."
The catch was made on the climb, which combined with the counter-attack watch slowed the riders enough for Frattini to take advantage. "I tried to jump the last lap and they caught me on the top of the hill," said Frattini. "They were looking at each other and I tried again. I was lucky, it was perfect. Sometimes you need the luck."
"I'm happy for Davide," said Stevic. "I've known him for a long time and I think he needed this win for his morale."
Pic powers past peloton
Tina Pic
Photo ©: Bill McCarrick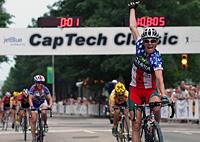 Colavita-Cooking Light's sprinter Tina Pic pulled out another win at the CapTech Classic, powering past eight riders after the final climb to take the sprint ahead of Brenda Lyons (Victory Brewing) and Laura Van Gilder (TEAm Lipton). "Sue took it over at the bottom of the climb," said Pic. "Down the bottom of the hill everybody was going and I didn't think we were going to make it. Out of the third corner to go I just floored it because I was eight back. I wasn't willing to take big risks before, but after we got around to the last two corners it was safer."
"We were attempting to overtake Sue Palmer who was leading Tina up the QOM," said Van Gilder." Tina got caught behind and made a huge surge to get to the front in the final two straights." With that gap, Pic held on to her lead through the finish. "Tina jumped before the final two turns and I got on her wheel," said Lyons. "We went through the final two turns and tried to jump her but she has such a lightening fast speed, so I hung on for second."
The storm-threatened race was quickly blown apart by the warm conditions, technical course and tough hill. "It was fast and hot," said Lyons. "I think the heat took its toll immediately. Cheerwine lit it up from the start and there was a QOM on the second lap, so people were popping off pretty quickly."
"Last year was a bit tougher, there were more riders here," Van Gilder said. "But the course is so selective it dictates the race. It decimates the big men's field and it does that to ours as well. I like the climb! It definitely wears on you. It is just long enough and it's a mini-test before Philly."
Photography
For a thumbnail gallery of these images, click here
Images by Bill McCarrick/www.buffalo2step.com
Results
Women
 
1 Tina Pic (Colavita/ Cooking Light Cycling)                        1.08.04
2 Brenda Lyons (Victory Brewing Team)                                  0.01
3 Laura Van Gilder (TEAm Lipton)                                           
4 Charm Breon (Cheerwine)                                              0.02
5 Lara Kroepsch (TEAm Lipton)                                              
6 Sarah Bambeger (Cheerwine)                                           0.03
7 Katherine Lambden (TEAm Lipton)                                          
8 Iona Wynter (Colavita/ Cooking Light Cycling)                        0.04
9 Sue Palmer-Komar (Colavita/ Cooking Light Cycling)                   0.05
10 Kate Sherwin (Victory Brewing Team)                                     
11 Deidre Winfield (Charlottesville Racing Club)                           
12 Sarah Tillotson (Colavita/ Cooking Light Cycling)                       
13 Andrea Dvorak (Charlottesville Racing Club)                             
14 Kelly Benjamin (Cheerwine)                                          0.08
15 Kathleen Billington (Connecticut Coast Cycling)                     0.09
16 Taitt Sato (McGuire Cycling)                                        0.15
17 Meshy Holt (Colavita/ Cooking Light Cycling)                        2.01
18 Laura Bowles (Victory Brewing Team)                                 2.29
19 Becky Broeder (Hub Racing)                                          2.41
20 Allie Warfel (Cheerwine)                                            3.26
21 Laura Yoisten (Victory Brewing Team)                                3.27
22 Sima Trapp (Colavita/ Cooking Light Cycling)                            
23 Liz Young (Hub Racing)                                                  
24 Mandy Lozano (Cheerwine)                                                
 
QOM
 
1 Sue Palmer-Komar (Colavita/Cooking Light Cycling Team)                 12 pts
2 Charm Breon (Cheerwine)                                                 6
3 Andrea Dvorak (Charlottesville Racing Club)                             3
4 Laura Van Gilder (Team Lipton)                                          3
5 Lara Kroepsch (Team Lipton)                                             2
6 Kate Sherwin (Victory Brewing Team)                                     1
7 Katherine Lambden (Team Lipton)                                         1
 
Primes ($100 each)
 
Kate Sherwin (Victory Brewing Team)                                       
Charm Breon (Cheerwine)                                                   
Lara Kroepsch (Team Lipton)                                               
Sarah Tillotson (Colavita Cooking Light Cycling Team)                     
Meshy Holt (Colavita Cooking Light Cycling Team)                          

 
Men
 
1 Davide Frattini (Colavita Olive Oil - Sutter Home)                2.25.07
2 Sergey Lagutin (Navigators Insurance Cycling Team)                   0.07
3 Ivan Stevic (Toyota-United Pro Cycling team)                             
4 Mark Walters (Navigators Insurance Cycling Team)                     0.09
5 Valeriy Kobzarenko (Navigators Insurance Cycling Team)               0.54
6 Hilton Clark (Navigators Insurance Cycling Team)                     0.55
7 Mark Mccormack (Colavita Olive Oil - Sutter Home)                    0.56
8 Shawn Milne (Navigators Insurance Cycling Team)                          
9 Ivan Dominguez (Toyota-United Pro Cycling team)                          
10 Caleb Manion (Jelly Belly)                                          0.57
11 Juan Jose Haedo (Toyota-United Pro Cycling team)                        
12 Emile Abraham (AEG - TOSHIBA - JetNetwork)                              
13 Siro Camponogara (Navigators Insurance Cycling Team)                    
14 Jackson Stewart (Kodakgallery.com/Sierra Nevada)                    0.59
15 Vassili Davidenko (Navigators Insurance Cycling Team)               1.00
16 Christian Valenzuela (Monex)                                            
17 Tony Cruz (Toyota-United Pro Cycling team)                          1.01
18 Todd Herriott (Colavita Olive Oil - Sutter Home)                        
19 Rahsaan Bahati (Team TIAA-CREF)                                         
20 Jesse Anthony (Kodakgallery.com/Sierra Nevada)                          
21 Eneas Freyre (TARGETRAINING)                                        1.02
22 Scott Zwizanski (Kodakgallery.com/Sierra Nevada)                        
23 Predrag Prokic (AEG - TOSHIBA - JetNetwork)                             
24 Tyler Wren (Colavita Olive Oil - Sutter Home)                           
25 Andrew Bajadali (Jelly Belly)                                       1.03
26 Stefano Barberi (Toyota-United Pro Cycling team)                        
27 Matt Cooke (LSV/Kelly Benefit Strategies)                               
28 Sean Sullivan (Toyota-United Pro Cycling team)                      1.04
29 David O'loughlin (Navigators Insurance Cycling Team)                    
30 Dan Vaillencourt (CCB/Volkswagen)                                   1.11
31 Heath Blackgrove (Toyota-United Pro Cycling team)                   1.53
32 Robbie King (Priority Health)                                       1.54
33 Ben Jacques-Maynes (Kodakgallery.com/Sierra Nevada)                 3.12
34 Viktor Rapinski (Colavita Olive Oil - Sutter Home)                  3.13
35 Mike Friedman (Team TIAA-CREF)                                          
36 Nick Waite (LSV/Kelly Benefit Strategies)                           3.14
 
KOM
 
1 Mark Walters (Navigators Insurance Cycling Team)                       11 pts
2 Sergey Lagutin (Navigators Insurance Cycling Team)                      8
3 Ivan Stevic (Toyota-United Pro Cycling Team)                            7
4 Scott Zqizanski (Kodakgallery.com/Sierra Nevada Pro Cycling Team)       7
5 Brent Bookwalter (Priority Health)                                      5
6 Todd Herriott (Colavita Olive Oil-Sutter Home Pro Cycling Team)         3
7 Frank Pipp (TARGETRAINING)                                              3
8 Ben Jacques-Maynes (Kodakgallery.com/Sierra Nevada Pro Cycling Team)    2
9 Robbie King (Priority Health)                                           2
10 Nicholas Reistad (Jelly Belly)                                         2
11 Davide Frattini (Colavita Olive Oil-Sutter Home Pro Cycling Team)      2
12 Andrew Bajadali (Jelly Belly)                                          1
13 Nick Waite (LSV/Kelly Benefit Strategies)                              1
14 Jason Allen (Kodakgallery.com/Sierra Nevada Pro Cycling Team)          1
 
Primes ($100 each)
 
Justin England (Toyota-United Pro Cycling Team)                           
Ivan Stevic (Toyota-United Pro Cycling Team)                              
Ivan Stevic (Toyota-United Pro Cycling Team)                              
Davide Frattini (Colavita Olive Oil-Sutter Home Pro Cycling Team)         
Davide Frattini (Colavita Olive Oil-Sutter Home Pro Cycling Team)         


Past winners
Men
 
2005 Vassili Davidenko (Rus) Navigators
2004 Gordon McCauley (Monex)
2003 Charles Dionne (Can) Saturn
 
Women
 
2005 Ina Yoko Teutenberg (Ger) T-Mobile
2004 Laura Van Gilder (Genesis Scuba/FFCC)
2003 Lynn Gaggioli (USA) Velo-Bella