Recently on Cyclingnews.com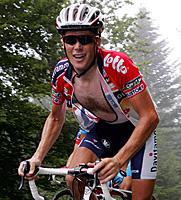 © Jon Devich
Stepping up - The Chris Horner diary
From being the USA's top domestic rider for several years to riding for a ProTour team in the Tour de France, Chris Horner is always on the up.
A talented all-rounder, Chris had a successful year Saunier Duval-Prodir in 2005, and is now riding for Davitamon-Lotto. As one of the team's key men in the Vuelta, Horner will be detailing his progress in this special diary for Cyclingnews during the race.
September 6: A delirious idiot
Going into today's stage, I expected a really hard race. The profile was pretty tough looking and with ten stages in the legs already, I expected things to really start to hurt today. The start was fast, with big names attacking and making the race fast, but after 27 kilometres, a group of 13 got clear, filled with non-threats to GC, and then it was game over, at least for the main field. For the rest of the day, Caisse d'Epargne led the field, but at a pretty low-key pace - riding it at a good tempo, 15 minutes or so behind the break.
The break
Photo ©: Unipublic

But for me, the real trauma of the stage started with 15 kilometres to go in the race. I was starting to get hungry, but after consuming tons of 'ride' food already during the stage, I decided I was going to hold out until I got to the finish, so I could get to the bus, grab my sandwich and Coke and relax on the couch in the bus with a real meal! But, things didn't exactly go as planned… With a couple of kilometres left in the stage, I started to really bonk. At that point, all I could think about was my sandwich, so I put myself as far up in the field as I could, so that I could be in a good position to make a beeline straight to the bus after the finish line. Of course, it never works out the way you hope.
I saw our soigneur at the finish, and he told me that the bus was another kilometre straight down the road - not right at the finish as it usually is. I was unhappy to hear that, but Freddy and I got going right away, heading down the road to the bus. We got within 100 metres of the back of the bus, and it started to pull away. I couldn't believe it - I was watching my sandwich drive away from me!
At that point, I was so delirious from low sugar that in my mind, my sandwich really was driving away. AHHHH... The soigneur drove up and told us that the hotel was only six kilometres away, so we could either ride there or go with him. Unfortunately, I was so focused on food and not thinking very clearly, that I missed the whole 'ride with him' part of the speech, so I was convinced that we had to go after the bus. Obviously, we didn't catch it, and Freddy and I ended up riding to the hotel, holding on to the director's car and ranting about the situation.
Caisse d'Epargne set the tempo on the stage
Photo ©: Unipublic

I was really grumpy by the time I got there, and managed to yell at just about everyone I saw before sitting down and inhaling my sandwich, Coke and any other food I could find. Since I'm generally a pretty vocal guy, you can only imagine how much yelling I did. Once I got some food in me, my brain started to function and I realised that I was a total idiot.
I had to wander around to find pretty much everyone on the team and apologise for yelling at them and being a delirious idiot, since it clearly was my own fault for not just getting in the soigneur's car to begin with. I've definitely learned a lesson - just eat some stupid race food with 15 kilometres to go and avoid the whole situation. But now I have to give a huge (public) apology to our soigneur Frankie, who definitely took the brunt of my stupidity today. Sorry Frankie.
But hey, at least I finally had a story to tell. Now it's time for bed again, since there's another stage tomorrow. Hopefully a less traumatising stage though….
Thanks for reading.
Chris