Recently on Cyclingnews.com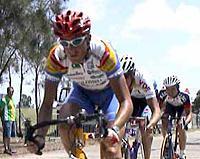 Photo: © Bob Bykerk
Moving on up: The Trent Wilson Journal 2004
After being one of six iTeamNova riders who made the cut last year when his Aussie Div III team merged with RDM-Flanders to form Flanders-iTeamNova, "Willo's" earned a place in Division II with Colombia Selle Italia in 2004. Follow his progress and get a taste of Aussie humour as he lights up the road in Europe. Trent also his own web site at www.trentwilson78.com where you can find out even more about this Sydney rider.
Sydney, Australia, October 6, 2004
Goodbye Italy, hello Oz
G'day,
It's been a while since I have written my last diary, seven weeks to be exact. No excuses, just been slack and settling back into the Aussie lifestyle. I decided to pull my finger out and write a diary entry after getting told numerous times while out on the infamous Coluzzi ride, that there has been no news from me. It also saves me telling the same story 15 times over, when people read this. It leaves us time to take about other stuff like how dark I was when Canterbury won the league Grand final or who won the Coluzzi tunnel sprint.
Last time I wrote an entry, my form was on the way up and I was heading off to ride the three big one dayers back to back, Tre Valle, Benocchi and Agostini. I remember watching these races on TV five years ago when I was in Italy racing as an U23 and they looked real hard. Well, I just reassured myself they were! In saying that though, I rode reasonably well in all three races. Tre Valle was the worse of them and didn't finish, but I wasn't alone in that, with 30-odd finishers. The next day was Benocchi and the legs were better again, but once again didn't see the finish line, and again there were a handful of finishers. The final race though, I had good legs and rode comfortably in the bunch all day. On every climb it split down to 30-odd riders and I was there every time,but it came back together for an 80-up sprint. After those three one dayers, we had a day off and headed to Veneto, for the Giro del Veneto. This was my last race with my team for the year and was pretty geed to get a result. It was a great day as we rolled out of town but within 30km it turned ugly. It started bucketing down with rain and had gale-force winds. I always wear an undershirt and always have my rain bag in the car. Today, I had neither! I can't remember the last time I was so cold. I was going to call it a day, but it cleared up as we hit the major climb of the day with 50km to go. My legs were toasted and I found a big group to ride to the finish with.
After the race, I said goodbye to all my team-mates and headed to Bibano, where I used to live for two years when I raced as an U23. Since then, it has now turned into a little Oz. John Cantwell and Dave Betts are with my old team, Dave McPartland is just down the road and Scotty Davis is 7km away. All have or are currently riding with my old team. I love that area and while I was there, I often thought about moving back up there for next year. It was a good week, training with the boys and going out to a few local restaurants most nights. Both Scotty and Dave were in good form, with Scott in or around the top 10 in most races, while Bettsy was about to start with Tenax as a stagiaire. Before I headed back to Cossato, I had one last race. My team was in Venezuela racing, but I wanted to race Giro del Friuli 'cause it's close to where I used to live, so the promoters put Russ in a composite team. It was my last race in Europe and once again it was a nasty race with not too many finishers. I was there till 30km to go, on the local laps. The form was OK and on the way up, so I was fairly content.
I headed back to Cossato for a week to pack up and tie up a few loose ends before heading back to Oz. A few fiestas later and I was on the plane home. I had double the luggage I would normally have and was a bit worried about excess luggage, but had some special baggage things for the Sun Tour. I was allowed 40kg and thought I'd be right. When I got in Rome though, I had 60kg, I couldn't believe it. I had to do my best to be nice to this girl but she didn't want a bar of it so I called her supervisor and I walked away paying nothing and had one pissed off attendant, 'cause she had a bad day and wanted me to pay.
Back in Oz and it was such a shock to the system. Great to be home but it all happened so quickly, and jet lag hit me big time. I was down and creepin' on the bike for over a week. The first morning I woke up, it was a beautiful morning and had that spring feel to it, it was awesome! Breakky... what I've waited for, for months, Vegemite on toast with BUTTER and a home-made cappuccino. What could be better than that? Well, it did get better 'cause while I was away, the old man bought Fox Digital, so while I was munching on my toast and sipping on my brew I could watch Eurosport.
In action at "The Grafton"
Photo ©: Mark Gunter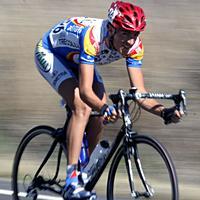 A few barbies later, the next thing I know is I'm lining up for another race, the Grafton to Inverell. I really wanted to win this one, and anything less I was going to be pissed. The race was a weird one and 15 riders went from the start and got 15 mins after 70km. Back in the bunch, it was so negative and everyone had a team-mate in the front. I was nervous and definitely got carried away. I attacked with 150km to go and went solo. It definitely wasn't the smartest thing to do, but I knew the race was gone and I was ropable. I caught the remnants of the break after Gibraltar Range and at the second feed was solo, 8mins behind the front and 5mins in front of the bunch. I had awesome legs and anything I did, didn't seem to hurt. With 70km to go, I was 5mins behind the break and 5mins in front of the bunch. From here on in, every minute I caught on the break, the bunch caught on me. I got to 1min 30sec with 15km to go and that's as close to the three leaders I ever got. In the end I was fourth and not entirely ropable. I didn't win but had a good ride, maybe next year. It took me virtually all week to recover from my individual 150km time trial. I had Russ up from South Oz staying with me as there was no racing down there, he was 7th at Grafton by the way.
The next race on the program was the Lake Macquarie Classic (the old Hornsby to Swansea). I have won the this race two years in a row and wanted three, but once again it wasn't my day. The plan was to smash the race to bits up through Somersby, but when that didn't happen, I went to the back for a breather. While I was there, the winning break of seven riders went and by the time I tried to jump across I had every man and their dog on my wheel. I had Russ and Dave Tanner in the break so I had to kick back and watch the break go. I got away towards the end of the race and finished 8th, while Tanner was third and Russ 4th. This was a special teams' race along with the Grafton, where you had to be a part of a team of six. We won the teams classification today and was second at the Grafton.
Straight after the race we were off to the airport to pick up my Colombian team-mate Ruber Marin, who is out for the Sun Tour. Unfortunately, he will be the only one out of the team to join Russ and I at the Sun Tour. The team want Illiano and Schnieder to do another race in Europe after telling me to organise the Sun Tour. It looks bad for me and John Craven is not impressed, and I don't blame him. Anyway, he had a smile from ear to ear when he got off the plane and no wonder. Because Malaysian Air is the sponsor of the Sun Tour he had to fly from New York. So he went from Colombia to New York to Hawaii to Kuala Lumpur to Sydney. Then of course, being a Colombian, he was searched for an hour in customs. He has settled into Australian life and loves how everything is big here (e.g., coffee, Powerade, Coke). Although he does think Aussies eat a lot more BBQs and drink more beer than other countries. Maybe or maybe it's just this household?
I have Melbourne to Warrnambool this weekend which is now 299km long, because the old distance of 280km was just too short. No, I actually don't know, but I do know it's going to be a long day. I'm off to the airport to pick up another friend of mine, Tomas Buchacek, who is also out for his fourth Sun Tour, so I better go.
Cheers,
Willo