76th Giro del Veneto - 1.1
Italy, August 21, 2004
2003 Results Results Past winners
Simoni back in winning form
Gilberto Simoni (Saeco)
Photo ©: Sirotti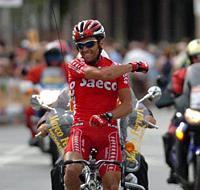 After a less than stellar season in 2004, Saeco's Gilberto Simoni has bounced back for a big win in the Giro del Veneto, beating Matteo Tosatto (Fassa Bortolo) and Massimo Giunti (Domina Vacanze) in a solo victory. It was Simoni's first win since stage 3 of the Giro d'Italia, and he was able to take advantage of his team's strength in numbers in the decisive 10 man breakaway that also included Damiano Cunego and Leonardo Bertagnolli.
Even though Simoni did not perform brilliantly in the Tour de France, he did come out of the Tour in form, ready to do well in the final part of the season. In the decisive part of the Giro del Veneto, Simoni showed he was riding well with an attack six kilometres from the finish, helped by Cunego and Bertagnolli. The move was chased down but Simoni went again in the last kilometre of the race and this time he was unstoppable and won alone.
"I'm very happy to have won, I needed a this victory," Simoni said. "During the most difficult moments of the last few months I never gave up and now I think I've got a great chance of getting the results I deserve."
The podium
Photo ©: Sirotti

Photography
Images by Fotoreporter Sirotti
Images by Roberto Bettini
Results - 206 km
1 Gilberto Simoni (Ita) Saeco                               5.28.22 (37.641 km/h)
2 Matteo Tosatto (Ita) Fassa Bortolo                           0.13
3 Massimo Giunti (Ita) Domina Vacanze                              
4 Damiano Cunego (Ita) Saeco                                       
5 Franco Pellizotti (Ita) Alessio-Bianchi                          
6 Rinaldo Nocentini (Ita) Acqua & Sapone-Caffè Mokambo             
7 Luca Mazzanti (Ita) Ceramiche Panaria-Margres                    
8 Paolo Tiralongo (Ita) Ceramiche Panaria-Margres                  
9 Leonardo Bertagnolli (Ita) Saeco                                 
10 Andrea Noè (Ita) Alessio-Bianchi                                
11 Pietro Caucchioli (Ita) Alessio-Bianchi                     0.45
12 Mauro Facci (Ita) Fassa Bortolo                                 
13 Filippo Simeoni (Ita) Domina Vacanze                            
14 Jure Golcer (Slo) Formaggi Pinzolo-Fiave                        
15 Ruggero Marzoli (Ita) Acqua & Sapone-Caffè Mokambo          0.58
16 Andrea Moletta (Ita) Team Barloworld-Androni Giocattoli         
17 Francesco Bellotti (Ita) Team Barloworld-Androni Giocattoli     
18 Allan Davis (Aus) Liberty Seguros                               
19 Paolo Lanfranchi (Ita) Ceramiche Panaria-Margres                
20 Ryan Cox (RSA) Team Barloworld-Androni Giocattoli               
21 Emanuele Sella (Ita) Ceramiche Panaria-Margres                  
22 Daniele Pietropolli (Ita) Tenax                                 
23 Marco Gili (Ita) Vini Caldirola-Nobili Rubinetterie             
24 Pasquale Muto (Ita) Miche                                       
25 Tiaan Kannemeyer (RSA) Team Barloworld-Androni Giocattoli       
26 Igor Pugaci (Mda) De Nardi                                      
27 Vladimir Miholjevic (Cro) Alessio-Bianchi                       
28 Roberto Sgambelluri (Ita) Vini Caldirola-Nobili Rubinetterie    
29 Massimo Iannetti (Ita) Domina Vacanze                           
30 Valery Kobzarenko (Ukr) Acqua & Sapone-Caffè Mokambo            
31 Gianluca Tonetti (Ita) Tenax                                    
32 Timothy Jones (Zim) Domina Vacanze                              
33 Andrea Masciarelli (Ita) Vini Caldirola-Nobili Rubinetterie     
34 Pavel Tonkov (Rus) Vini Caldirola-Nobili Rubinetterie           
35 Przemyslaw Niemec (Pol) Miche                               4.59

Past winners
2003 Cristian Moreni (Ita) Alessio
2002 Danilo Di Luca (Ita) Saeco-Longoni Sport
2001 Giuliano Figueras (Ita) Ceramiche Panaria-Fiordo        
2000 Davide Rebellin (Ita) Liquigas-Pata
1999 Davide Rebellin (Ita) Team Polti
1998 Davide Rebellin (Ita) Team Polti
1997 no event
1996 Michele Bartoli (Ita)
1995 Flavio Vanzella (Ita)
1994 Gianluca Bortolami (Ita)
1993 Maximilian Sciandri (Ita)
1992 Massimo Ghirotto (Ita)
1991 Roberto Pagnin (Ita)
1990 Massimo Ghirotto (Ita)
1989 Roberto Pagnin (Ita)
1988 Moreno Argentin (Ita)
1987 Gerhard Zadrobilek (Aut)
1986 Maurizio Rossi (Ita)
1985 Claudio Corti (Ita)
1984 Moreno Argentin (Ita)
1983 Jesper Worre (Den)
1982 Pierino Gavazzi (Ita)
1981 Giovanni Mantovani (Ita)
1980 Carmelo Barone (Ita)
1979 Francesco Moser (Ita)
1978 Valerio Lualdi (Ita)
1977 Giuseppe Saronni (Ita)
1976 Alfio Vandi (Ita)
1975 Roland Salm (Swi)
1974 Roger De Vlaeminck (Bel)
1973 Franco Bitosssi (Ita)
1972 Enrico Paolini (Ita)
1971 Giancarlo Polidori (Ita)
1970 Franco Bitossi (Ita)
1969 Mino Denti (Ita)
1968 Alberto Della-Torre (Ita)
1967 Luciano Galbo (Ita)
1966 Michele Dancelli (Ita)
1965 Michele Dancelli (Ita)
1964 Italo Zilioli (Ita)
1963 Italo Zilioli (Ita)
1962 Angelino Soler (Spa)
1961 Nino Defilippis (Ita)
1960 Diego Ronchini (Ita)
1959 Rino Benedetti (Ita)
1958 Adriano Zamboni (Ita)
1957 Angelo Conterno (Ita)
1956 Giorgio Albani (Ita)
1955 Adolfo Grosso (Ita)
1954 Luciano Maggini (Ita)
1953 Fiorenzo Magni (Ita)
1952 Adolfo Grosso (Ita)
1951 Antonio Bevilacqua (Ita)
1950 Luigi Casola (Ita)
1949 Fausto Coppi (Ita)
1948 Luciano Maggini (Ita)
1947 Fausto Coppi (Ita)
1945 Luigi Casola (Ita)
1942 Pierino Favalli (Ita)
1941 Fausto Coppi (Ita)
1939 Adolfo Leoni (Ita)
1938 Secondo Magni (Ita)
1936 Renato Scorticati (Ita)
1935 Vasco Bergamaschi (Ita)
1934 Aldo Canazza (Ita)
1931 Aldo Canazza (Ita)
1930 Aldo Canazza (Ita)
1928 Alfredo Binda (Ita)
1927 Alfonso Piccin (Ita)
1926 Costante Girardengo (Ita)
1925 Costante Girardengo (Ita)
1924 Costante Girardengo (Ita)
1923 Costante Girardengo (Ita)
1922 Alfredo Sivocci (Ita)
1912 Giovanni Roncon (Ita)
1911 no event
1910 no event
1909 Pogliani (Ita)


The first edition of this race was in 1909. There was no race in the years 
  1910-11, 1913-21, 1929, 1932-33, 1937, 1940, 1943-44, 1946, and 1997. 



Past winners by Mario Stiehl, www.world-of-cycling.com