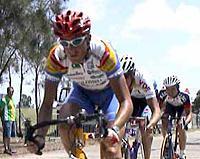 Photo: © Bob Bykerk
Moving on up: The Trent Wilson Journal 2004
After being one of six iTeamNova riders who made the cut last year when his Aussie Div III team merged with RDM-Flanders to form Flanders-iTeamNova, "Willo's" earned a place in Division II with Colombia Selle Italia in 2004. Follow his progress and get a taste of Aussie humour as he lights up the road in Europe. Trent also his own web site at www.trentwilson78.com where you can find out even more about this Sydney rider.
Settimana Ciclistica Internazionale Coppi-Bartali, March 24-28, 2004
Coppi-ng a floggin' at Coppi-Bartali
G'day,
Out training
Photo ©: Trent Wilson

Trent and Marlon Perez on St Patrick's Day
Photo ©: Trent Wilson

It has warmed up here in Italy since I last wrote. It was just in time too. We had a big week of km's planned and the warmer weather couldn't have come at a better time. With a few of the Colombians having a week or two easy before training again to prepare for the Giro, it was only a few of us doing the long kms. We headed to the mountains most days, climbing up through the snow while it's melting away. A few days the weather was that good the leg warmers stayed at home. Unbelievable what a difference a week makes.
A few big days and we moved again to another hotel. This time it's for good. We are here for the rest of the year. It's a nice hotel in a small town about 60km from Torino. It was good to be able to unpack the bags finally. The family is unbelievably nice and the hospitality is great. The mum treats me and Russ like her own kids. The other day I happened to mention I had a wine rack back in Oz. The following day she gives me a bottle of '88 red as a momento to remember her by. She uses the old school theory of trying to fatten us both up to make us BIG and STRONG! The food is fantastic and hard to knock back, but in saying that, the skin folds are good and I'm leaner now. I suppose hard training and the right food isn't too bad for you even if it does taste awesome. Healthy food can taste great...
We did a real big week of training here before we headed to Coppi-Bartali. It was great training, doing some six hour, 200km rides with two hours of that behind the car and the rest in the mountains. That's when big mama's cooking came in handy! It's a pretty small town where we are, but I did manage to find an Irish pub to have a few Guinness' on St Pat's day, which has been a tradition of mine over the years. We found out that not too many people celebrate St Patrick's day in Italy. Marlon Perez, Russ and I were 50 percent of the patrons. We went for two pints, enough to score a 2004 St Pat's day shirt each.
Next was Coppi-Bartali, starting down on the east coast in a town called Rimini. A beautiful town that will be packed with holiday makers in two months' time. We got there Tuesday afternoon and went for a spin. I was quick to turn left into the Navigators' hotel when I saw the van out the front. It was good to have a brew with Dave Macca and catch up on news from the past two months.
Stage 1a - March 24: Riccione-Riccione, 84.8 km
Day one of Coppi-Bartali was a double stage day. I hate these days with a passion! Stage one was a 90km circuit race with a sharp 800m climb in it. The race started fairly cruisy until the KOM lap. I followed wheels most of the race apart from one lap when I attacked before the climb, but paid the penalty towards the top. So that was the last time I tried that move. Marlon Perez slipped away in a move on the last lap and finished third in the stage.
Stage 1b - March 24: Misano-Misano TTT, 10.7 km
The afternoon stage was a 10km team time trial. With all the small hill climbing Colombians on the team, it was the first time in my life I've been called one of the flat land drivers for the time trial. I actually had good legs and felt good. Russ, Perez, one of the Italians and I did most of or virtually the whole 10km.
Stage 2 - March 25: Riccione-Faenza, 206.9 km
Day two was a 220km day with four climbs. I remembered this stage from last year and it's one hard day! As they did last year, they cruised out of the blocks for the first 80km. It was a great day and a good chance to roll the legs over and chat to mates. Once they started racing though it full on. Panaria rode tempo to the bottom of the first climb and then the race really started. I climbed over the first climb comfortably and thought I was on a good day, but after the descent they hit the next climb so quick. I was in the big chain wheel out of the seat sprinting. There was no way I could keep this going for 7km. They did eventually slow down, but I blew and found myself in a big group. We rode over the next few climbs and cruised to the finish.
We had a long drive after the finish to the hotel, which we shared with Navigators for the next three days. It was great to kick back and chew the fat with Dave Macca, my old director Franky van Haesenbrouke and Irishman Ciaran Power every night.
Stage 3 - March 26: Finale Emilia-Scandiano, 175.5 km
Day three was a fairly flat day and one for the sprinters. Problem was, it rained for the first 150km of the total 175km stage. It was so damn cold! There goes that sudden weather change again. I had a thermal undershirt, jersey, vest, rain jacket and thermal rain jacket and I was only just warm. It was a miserable day but in the hard times it was good to be able to warm up with a bit of Aussie humour. Freezing cold and raining, Aussies still know how to joke around and take the piss. Dave Macca was asking me, "How would a four and twenty dogs eye go down right about now?" Or telling Scotty Davis "Your home town tour in Bundaberg was looking fantastic right about now." Ah we got through it though, minus socks, cap and knicks which can never be worn again. Oh yeah, by the way, it was a bunch kick, but who cares cause that's not a story...
Stage 4 - March 27: Casalgrande-Pavullo, 156.5 km
The next day was supposed to be the hardest but it was tamed a little by Saeco controlling the bunch for most of the race. Perez once again went up the road. This time he claimed the KOM jersey and got caught 15km from the finish. I got popped on the first climb and rode in with a big group. My Italian team-mate, Raffaele Illiano, was seventh on the stage.
Stage 5 - March 28: Castellarano-Sassuolo, 170.3 km
The last day is a hard one and once you're dropped, you're off to the showers. It was 170km day with five bergs. I had bad legs and struggled all day but somehow managed to feel better after every climb. I helped Marlon get in position before every climb and just found my own rhythm over the climb. The second last climb I actually thought I'd get over in the remnants of the main group but blew towards the top blew and was in a group with Simoni and Piccoli, so with 25km to go, it was to the showers for a warm one.
The new bike.
Photo ©: Trent Wilson

Vegemite
Photo ©: Trent Wilson

Russ struggles on the Playstation
Photo ©: Trent Wilson

The form was ok at times but there's still a lot of room for improvement. I have two weeks now before my next race, Giro d'Abruzzo. This week has been pretty cruisy. It's a recovery week after Coppi-Bartali and I got a little bit sick after a head cold went through the whole team. I got my new black carbon Daccordi with carbon record levers, brakes, front and rear derailleur, and it looks HOT!
Russ and I headed out for two four hour rides this week without any intensity. We met a group down the road from our hotel that meet every morning at 10am at a brew shop. They all seem like good blokes. Reminded me of a few of the boys back in Sydney. Some of them getting geed from the coffee and yahooing for a while. One guy in particular though, made us feel right at home, Sergio Barbero from Lampre. What a top bloke! One of those guys you start chatting to and within a few minutes, it seems like one of your long-lost mates. A former Giro stage winner, he's down to earth and willing to slow his speaking down so we understand everything. Russ and I have a big week of training planned next week so we'll head out with him and train on some good roads and do some good loops.
The Colombians went home after Coppi-Bartali and its been just Russ and I. So mama's been taking extra good care of us! The Playstation has been getting a bit of a flogging, the game of the month being Colin McCrae 04. At the moment I'm fifth in the World Cup rally standings with my domestique, Russ holding down last place. Improvement needed for both of us though before we flick the bike and turn pro at the Playstation. Although it's raining today, so by 5pm we could move up a few positions.
The clippers got another start last night; this time Russ had a trim, then we cut Marco's (son of mama). Marco wanted the "Russ look", even though I suggested not to. Russ gave him an Aussie mullet and he is a dead ringer for Adam Sandler out of the Wedding Singer. I thought mama was going to freak, but on the contrary. She was happy that he had something in common with her adopted Aussie boys. On that note, I'm outta here to knock Colin out of a podium position.
Cheers,
Willo