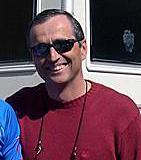 Dr Michele Ferrari
Photo: © CN/Tim Maloney
Doctor's orders: The Dr Michele Ferrari Journal
Dr Michele Ferrari, coach to cycling greats including Moser, Bugno, Argentin and Rominger, in addition to four-time Tour de France winner and defending champion Lance Armstrong, has never been afraid to push the boundaries of sports science.
In this very special edition of Le Tour, cycling's most controversial sports doctor will be providing Cyclingnews readers with his unique insight into the mindset of what makes or breaks a champion.
Stage 1 - Crashes at the Tour de France
Sunday, July 6, 2003
Photo: © AFP

The consequences of a crash during a stage race could be much more important than we usually tend to think.
Excluding major injuries such as bone fractures and concussions, even the seeming most insignificant crash might have a negative consequence such as postural problems, with unusual extra load for muscles, tendons and joints.
The everyday struggles to finish the stages only worsen such imbalance, and the more this increases, the more it decreases the rider's performance ability, eventually forcing him to give up.
Internal muscular-fascial and articular frictions can also remarkably increase, raising the energy expenditure of certain muscular groups and subjecting tendon structure to excess work.
This fascial tension around the muscular fibers even decreases the very vascularization of the involved muscles.
Also the diaphragm is subjected to such tensions (miofascial tensions), compromising the whole respiratory efficiency.
Therefore a crash, even if trivial, can truly be an AGGRESSOR to the harmony of the athlete's organism: it should never be underestimated and it should be properly treated and solved as soon as possible.