Stage 2 - September 9: Calamanca - Valladolid, 147.2 km
Results & report Live report Profile Description Previous stage Next stage
Course Profile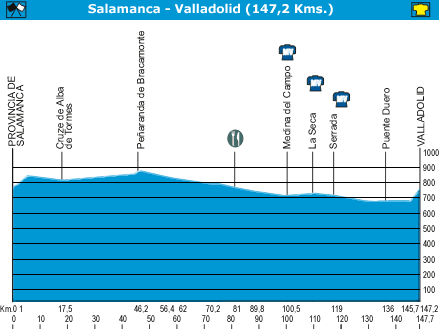 image © LaVuelta 2001
| | | | | | |
| --- | --- | --- | --- | --- | --- |
| | intermediate sprint | | category of climbs | | feed zone |
Course description
There are many incentives in this first flat stage along a route in which the average speed is going to be dizzy. The wind is always the worst enemy of the riders, but at the same time it might also be an ally. Many things may happen on the way to Valladolid, but a start en masse seems to be guaranteed as the sprinters won´t be willing to waste a single day of the race. Distance is short. Those teams who have not any sprinter will want to break the race and those who have them are going to fight for keeping the group together. Over 45 kilometres per hour is the predicted average speed.
Signing time /Rassemblement de départ et signature: De 12:50 a 13:35 en la Plaza de Burgos.
Call /Appel: A las 13:40
Pre-start time /Départ fictif: A las 13:48 por: Avda. Valles Mineros, Avda. Salamanca, Glorieta Ruta de la Plata, Avda. Raimundo de Borgoña, Glorieta Plaza de Toros, Pº Torres Villarroel, Puerta Zamora, Av. Mirat, Pl. de España, Pº Canalejas, Glorieta el Espolón, Pº Rio Tormes, Glorieta Leonardo da Vinci, ctra. de Madrid, ctra. Alba de Tormes. Total: 5,2 Kms.