Stage 15 - September 23: Valencia - Alto de Aitana, 207.2 km
Results & report Live report Profile Description Previous stage Next stage
Profile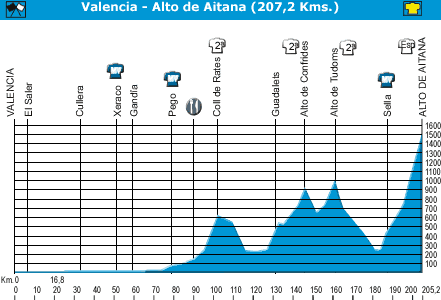 image © LaVuelta 2001
Description
This is the longest stage in Vuelta 2001 with 211 kilometres; the last 19 ones hard, difficult and dangerous as they finish at Alto de Aitana; before that, Col de Rates, Puerto de Confrides and Alto de Tudons, three second-category climbs which are going to become the first "battle field"in a day in which those who pursuit the podium in Madrid, must be very alert not to lose what they had achieved for 14 days. Team work must be essential during the first 90 kilometres. That climb is very well known by the riders from Valencia as well as by the Kelme riders.
Signing time /Rassemblement de départ et signature: De 10:10 a 10:55 en el Museo de las Ciencias (Alameda).
Call /Appel: A las 11:00.
Pre-start time /Départ fictif: A las 11:07 por: Pº de la Alameda, Guadalaviar, Llano de Zadia, Avda. Menendez Pidal, Vía Fernando el Católico, Vía Ramón y Cajal, Gran Vía Germanías, Marqués del Turia, Avda. Jacinto Benavente y autopista al Saler. Total: 11,5 Kms.