92nd Milan - San Remo
Italy, March 24, 2001
Course Map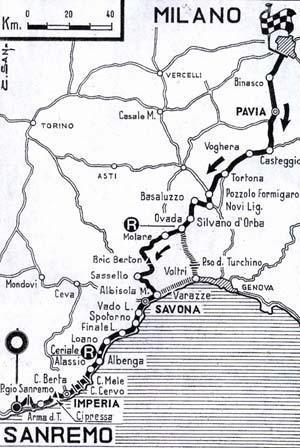 Course Profile

Course Description
The Turchino Pass will not be present in the route of Milan-San Remo for the first time in 94 years, due to a landslide near the locality of Fado. The 532 metre climb has been a key point throughout La Primavera's history, but the riders will have to take an alternative route this year via Bric Berton (773 m). The summit of this climb comes at 140 kilometres, approximately halfway through the 287 kilometre classic. It is followed by a small rise at kilometre 158.5 (Colle del Giovo) before descending to Varazze for the race to the finish along the Liguran coast.
The total distance has been reduced from 294 kilometres to 287, as the organisers have tried to keep as much as possible to the original Milan-San Remo parcours. Of course, the small climbs that punctuate the final 50 kilometres are still there: Capo Mele (65 m), Capo Servo (77 m), Capo Berta (130 m), Cipressa (240 m) and Poggio (162 m), setting things up for the traditional finish in San Remo.
With the extra altitude at halfway, it is possible that the race will not end in a bunch sprint as it has done for the past four years. Although the Bric Berton climb is quite a long way from the finish, its effects may be felt on the Cipressa and Il Poggio.
Route in detail
Locality                                         Alt.    km      km      Time schedule (km/h)
                                                 (m)    gone   to go    40.00   42.00   44.00
PROVINCIA DI MILANO                              
Milano - Via della Chiesa Rossa ex Dazio         112     0.0    287.0    9.30    9.30    9.30
Valleambrosia di Rozzano - SS. 35 "dei Giovi"    106     5.0    282.0    9.37    9.37    9.36
Badile di Zibido San Giacomo                      99     8.0    279.0    9.42    9.41    9.40
Binasco - SS 35                                  101     11.0   276.0    9.46    9.45    9.45
Casarile - Statale                                98     13.0   274.0    9.49    9.48    9.47
PROVINCIA DI PAVIA                               
Torre Mangano - Certosa di Pavia                  89     20.5   266.5   10.00    9.59    9.57
Pavia - P.zza Alighieri - V.le C. Battisti - V.   77     29.0   258.0   10.13   10.11   10.09
Gravellone                                        63     31.8   255.2   10.17   10.15   10.13
S. Martino Siccomario (circonvallazione)          63     32.8   254.2   10.19   10.16   10.14
Tre Re di Cava Manara                             64     36.4   250.6   10.24   10.22   10.19
Ponte di Mezzana sul Fiume Po                     70     39.4   247.6   10.29   10.26   10.23
Bressana Bottarone - SS. 35                       69     42.2   244.8   10.33   10.30   10.27
Casatisma SS. 35                                  77     46.2   240.8   10.39   10.36   10.33
Casteggio                                         90     50.0   237.0   10.45   10.41   10.38
Montebello della Battaglia                        95     52.5   234.5   10.48   10.45   10.41
Genestrello                                       90     54.5   232.5   10.51   10.47   10.44
Voghera                                           93     60.5   226.5   11.00   10.56   10.52
PROVINCIA DI ALESSANDRIA                         
Pontecurone - Via Milano - Via Torino            104     68.0   219.0   11.12   11.07   11.02
Tortona                                          122     77.0   210.0   11.25   11.20   11.15
Pozzolo Formigaro                                171     92.0   195.0   11.48   11.41   11.35
Novi Ligure (centro)                             193     95.0   192.0   11.52   11.45   11.39
Basaluzzo (circonvallazione) S.P. 155            149    101.3   185.7   12.01   11.54   11.48
Capriata d'Orba - S.P. 155                       176    106.9   180.1   12.10   12.02   11.55
Silvano D'Orba                                   175    112.3   174.7   12.18   12.10   12.03
Ovada - Bivio dx per la SS. 456                  186    118.0   169.0   12.27   12.18   12.10
Molare - Bivio dx per la SP. 205                 226    122.5   164.5   12.33   12.25   12.17
Cassinelle - SP. 208                             380    127.0   160.0   12.40   12.31   12.23
Bivio di Bandita                                 536    130.9   156.1   12.46   12.37   12.28
Bivio sx per Abasse - S.P. 210                          136.6   150.4   12.54   12.45   12.36
Abasse                                                  138.0   149.0   12.57   12.47   12.38
Pian Castagna                                    732    140.3   146.7   13.00   12.50   12.41
Bric Berton                                      773    143.6   143.4   13.05   12.55   12.45
PROVINCIA DI SAVONA                              
Croce del Grigno a dx S.P. 49                    600    146.7   140.3   13.10   12.59   12.50
Sassello - Innesto SS. 334                       385    152.8   134.2   13.19   13.08   12.58
Colle del Giovo                                  516    158.5   128.5   13.27   13.16   13.06
Il Giovo                                         490    159.8   127.2   13.29   13.18   13.07
S.Giustina                                       348    162.9   124.1   13.34   13.22   13.12
Mad. Del Salto - SS. 334                         318    165.0   122.0   13.37   13.25   13.15
Stella                                           222    168.0   119.0   13.42   13.30   13.19
Albisola Superiore - SS. 334                      17    172.9   114.1   13.49   13.37   13.25
Albisola Marina - innesto SS. 1                   7     174.0   113.0   13.51   13.38   13.27
Galleria Valloria mt. 115                               176.0   111.0   13.54   13.41   13.30
Savona - Lungomare Matteotti                      7                                        
C.so Colombo - C.so Vittorio Veneto                     177.5   109.5   13.56   13.43   13.32
Zinola                                            5     181.5   105.5   14.02   13.49   13.37
Vado Ligure                                       4     183.5   103.5   14.05   13.52   13.40
Spotorno - Galleria art. mt. 220                  5     190.5    96.5   14.15   14.02   13.49
Noli - Galleria Capo Noli                         6     193.0    94.0   14.19   14.05   13.53
Varigotti - Galleria Varigotti mt. 116            8     197.5    89.5   14.26   14.12   13.59
Finale Ligure                                     10    202.5    84.5   14.33   14.19   14.06
Lido di Borgio Verezzi                            3     206.2    80.8   14.39   14.24   14.11
Pietra Ligure                                     4     208.2    78.8   14.42   14.27   14.13
Loano                                             5     211.2    75.8   14.46   14.31   14.18
Borghetto S. Spirito                              3     214.2    72.8   14.51   14.36   14.22
Ceriale - 2¡ rifornimento                         2     216.2    70.8   14.54   14.38   14.24
Albenga - V.le dell'Agricoltura - V.le Pontelungo 5     222.0    65.0   15.03   14.47   14.32
P.zza Garibaldi - Via Genova - Ponte L.E. Viveri                                          
Via Piave - innesto SS 1 "Aurelia"                                                         
Alassio - Via Mazzini - Corso L. da Vinci         6     228.8    58.2   15.13   14.56   14.42
Laigueglia                                        5     232.1    54.9   15.18   15.01   14.46
Capo Mele                                         65    235.1    51.9   15.22   15.05   14.50
Andora Marina                                     6     237.4    49.6   15.26   15.09   14.53
PROVINCIA DI IMPERIA                                                                       
Capo Cervo - Mimosa                               77    240.4    46.6   15.30   15.13   14.57
Cervo                                             66    241.4    45.6   15.32   15.14   14.59
Diano Marina - P.zza Garibaldi-V.le XX Settembre  2     245.4    41.6   15.38   15.20   15.04
Capo Berta                                       130    247.9    39.1   15.41   15.24   15.08
Oneglia - Via Serrati - Via della Repubblica      5     251.0    36.0   15.46   15.28   15.12
Imperia - V.le Matteotti - Via Nizza              35    253.6    33.4   15.50   15.32   15.15
S. Lorenzo al Mare                                7     259.6    27.4   15.59   15.40   15.24
Cipressa                                         240    265.4    21.6   16.08   15.49   15.31
Innesto Via Aurelia SS 1 - a dx                   12    268.7    18.3   16.13   15.53   15.36
S. Stefano al Mare                                8     270.1    16.9   16.15   15.55   15.38
Riva Ligure                                       7     272.1    14.9   16.18   15.58   15.41
Arma di Taggia - Galleria di Castelletti mt. 14   8     275.1    11.9   16.22   16.03   15.45
Capo Verde                                        45    277.5    9.5    16.26   16.06   15.48
SS. 1 - Bivio dx Poggio di Sanremo                20    278.0    9.0    16.27   16.07   15.49
Santuario N.S. della Guardia                     115    279.7    7.3    16.29   16.09   15.51
Poggio di Sanremo                                162    281.3    5.7    16.31   16.11   15.53
Innesto Via Aurelia SS 1                          14    284.6    2.4    16.36   16.16   15.58
Via Cavallotti - Rond˜ Garibaldi - C.so Raimondo                                            
SANREMO - Via Roma                                8     287.0    0.0    16.40   16.20   16.01