85th Ronde van Vlaanderen (Tour of Flanders) (CDM)
Belgium, April 8, 2001
Bortolami takes the Ronde
By Jeff Jones

Bortolami's Ronde
Photo: © AFP

Tacconi-Sport's Gianluca Bortolami has won the 85th Ronde van Vlaanderen, beating Erik Dekker (Rabobank) and Denis Zanette (Liquigas) in an eight man sprint. The former World Cup winner rode an intelligent race, saving everything for the finale while the stronger riders wore each other out. He also profited from the lack of co-operation between the favourites (Tchmil, Museeuw, Bartoli, Vainsteins etc.), who were in a chasing group but not willing to close it down.

The 85th Ronde rolled out of Brugge with 196 riders, minus Mercatone Uno's Fabio Fontanelli (high hematocrit) and Jean Patrick-Nazon (sick). The wet conditions on the coast led to several crashes, with Johan Museeuw, Erik Zabel and Peter van Petegem amongst those who fell. The speed at the start was also very high, as the riders had a tailwind for most of the first 150 km.

An attack from Collstrop's Karel Pauwels and Bert Scheirlinckx succeeded in drawing off a 15 rider chasing group, which eventually caught the pair after 93 kilometres. They held a 5 minute advantage at that stage. 20 kilometres later (just before Oudenaarde), Nico Eeckhout (Lotto), Paolo Bossoni (Tacconi), Christophe Detilloux (Collstrop) and Martin van Steen (Bankgiroloterij) countered, and established themselves at the head of the race.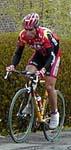 Eeckhout strong
Photo: © Sabine Sunderland
Their gap to the main peloton had shrunk from 5 minutes to 2'30, as Domo, Telekom, US Postal, and Saeco led the chase. They were captured at km 161, by a 18 rider group containing Fabian DeWaele and Paul van Hyfte (Lotto), Servais Knaven (Domo), Matthew White and Christian Vandevelde (USPS), Stefano Zanini and Daniele Nardello (Mapei), Fabio Baldato, Alessandro Petacchi and Leonardo Giordani (Fassa Bortolo), Maarten Den Bakker and Erik Dekker (Rabobank), Michel Vanhaecke (Landbouwkrediet), Mariano Piccoli and Ludo Diercxksens (Lampre), Frank Hoj (Coast), and Arvis Piziks (CSC).
These riders made the race over the next 100 kilometres, but fortunes continually changed at the head. The 5th of the 16 climbs was Kluisbergen (km 189) and from here on there was almost no chance to recover before the next hill. The leaders disintegrated on the 2,200m Oude Kwaremont, as Dierckxsens (Lampre), Nardello (Mapei), Knaven (Domo), Vandevelde (USPS), Zanini (Mapei) and Baldato (Fassa) emerged at the top. They were caught later by Piziks (who fell into a ditch on the Oude Kwaremont), Maarten den Bakker and Michel Vanhaecke, forming a leading group of 9 riders with 56 km to go.

Tchmil urges
Photo: © AFP
The race was far from over though, as many of the favourites (Tchmil, Sciandri, Wesemann, Bartoli, Planckaert, Vainsteins, Sorensen) were in a larger peloton, 1'00 behind. In the lead, Lampre's Ludo Dierckxsens was "having fun" as he later recalled, and led the break up almost every climb, helping to keep the bunch at bay. Perhaps the critical moment in a constantly changing race came at 41 km to go, when Max Sciandri (Lampre), Gianluca Bortolami (Tacconi) and Geert Van Bondt (Mercury) escaped the peloton, which stopped working. These three caught some of the stragglers ahead, and then the front riders on the steep, cobbled Taaienberg (climb 12, 37 km to go).
Chris Peers (Cofidis), Denis Zanette (Liquigas) and Rolf Sorensen (CSC) had also made it across, but no-one could manage to make an attack stick. Sciandri, Dierckxsens, Peers, Nardello and Zanette looked to be the strongest over the final 20 kilometres, while Dekker bided his time at the back and looked behind for the chasing group.
As it headed towards the feared Muur at Geraardsbergen, the race finally found its feet. In the lead were 8 riders: Sciandri, Dierckxsens, Peers, Nardello, Zanette, Vandevelde, Bortolami and Sorensen. Chasing them was a group of 9, with Wesemann, Planckaert, Mattan, Museeuw, Tchmil, Vainsteins, Bartoli, Bettini, Balducci and Hincapie. At the base of the Muur, the gap was approximately 16 seconds, and that turned out to be enough for the leaders to stay away on the Bosberg and the subsequent downhill run into Ninove.

Bortolami triumphs
Photo: © AFP
There were several attacks in the leading group, but there was too much at stake to let anything go. Ludo Dierckxsens rode his heart out to keep Max Sciandri in a winning position, but unfortunately it didn't work. Sciandri led out the uphill sprint with 400 metres to go, but was quickly passed by Denis Zanette. On Zanette's right was Bortolami, lurking in the shadow of the barriers, and the powerful Italian moved past with less than 100 metres to go. On the other side, Erik Dekker was finishing very fast and got past Zanette but needed another few metres to get Bortolami.
The 32 year old Italian took his biggest victory since the Leeds Classic and Meisterschaft von Zurich in 1994, and was surprised but happy. "I helped Museeuw win Roubaix (1996), and across the line here I was congratulated by Museeuw. I never thought I would win - it's a dream come true."
"I began the day by having problems. I chased after 20 km because my bike broke in two, and I had to use the spare. Then I tried really hard to remain in the front."
"In the group we all had a chance to win. I had at least a small chance in a sprint. I passed Zanette in a very narrow space. If he had moved his line, I would have been blocked. Dekker was very strong, but he missed by a few centimetres."
"I have felt good since the beginning of the season, especially since the first stage of the Driedaagse van de Panne. The day after, I gave up in order not to get sick."
Bortolami now moves into the equal lead in the World Cup, as Erik Zabel didn't pick up any points today.
Results - 287 km

1 Gianluca Bortolami (Ita) Tacconi Sport-Vini Caldirola  6.10.23 (43.58 km/h)
2 Erik Dekker (Ned) Rabobank
3 Denis Zanette (Ita) Liquigas
4 Rolf Sorensen (Den) CSC-World Online
5 Daniele Nardello (Ita) Mapei-Quick Step
6 Chris Peers (Bel) Cofidis
7 Max Sciandri (GBr) Lampre-Daikin
8 Ludo Dierckxsens (Bel) Lampre-Daikin
9 Andre Tchmil (Bel) Lotto-Adecco                          0.19
10 Romans Vanisteins (Lat) Domo-Farm Frites
11 Nico Mattan (Bel) Cofidis
12 Steffen Wesemann (Ger) Telekom
13 George Hincapie (USA) US Postal Service
14 Gabriele Balducci (Ita) Tacconi Sport
15 Michele Bartoli (Ita) Mapei-Quick Step
16 Johan Museeuw (Bel) Domo-Farm Frites
17 Christian Vandevelde (USA) US Postal Service            1.19
18 Frank Hoj (Den) Team Coast
19 Hans De Clercq (Bel) Lotto-Adecco
20 Guido Trenti (USA) Cantina Tollo
21 Bart Voskamp (Ned) Bankgiroloterij-Batavus
22 Marcus Zberg (Swi) Rabobank
23 Paolo Bettini (Ita) Mapei-Quick Step
24 Arvis Piziks (Lat) CSC-World Online
25 Servais Knaven (Ned) Domo-Farm Frites
26 Aart Vierhouten (Ned) Rabobank
27 Marco Serpellini (Ita) Lampre-Daikin
28 Jo Planckaert (Bel) Cofidis
29 Roberto Petito (Ita) Fassa Bortolo
30 Matteo Tosatto (Ita) Fassa Bortolo
31 Fabio Baldato (Ita) Fassa Bortolo                       2.16
32 Jaan Kirsipuu (Est) Ag2R Prevoyance
33 Frederic Guesdon (Fra) La Francaise des Jeux
34 Pieter Vries (Ned) Bankgiroloterij-Batavus
35 Bert Hiemstra (Ned) Bankgiroloterij-Batavus
36 Rolf Huser (Swi) Team Coast
37 Paul Van Hyfte (Bel) Lotto-Adecco
38 Cédric Vasseur (Fra) U.S. Postal Service
39 Leon Van Bon (Ned) Mercury-Viatel                       3.58
40 Stefano Zanini (Ita) Mapei-Quick Step
41 Vjatceslav Ekimov (Rus) U.S. Postal Service
42 Franco Ballerini (Ita) Mapei-Quick Step
43 Michel Van Haecke (Bel) Landbouwkrediet-Colnago
44 Geert Van Bondt (Bel) Mercury-Viatel                    4.06
45 Fabian De Waele (Bel) Lotto-Adecco                      5.40
46 Thor Hushovd (Nor) Credit Agricole
47 Peter Farazijn (Bel) Cofidis
48 Dario Pieri (Ita) Saeco Macchine Per Caffe
49 Marco Melisi (Ita) Domo-Farm Frites
50 Eric De Clercq (Bel) Collstrop-Palmans
51 Matthew White (Aus) U.S. Postal Service
52 Guennadi Mikhailov (Rus) Lotto-Adecco
53 Erik Zabel (Ger) Team Deutsche Telekom                  8.50
54 Franck Perque (Fra) La Francaise Des Jeux
55 Remco Van Der Ven (Ned) Bankgiroloterij-Batavus
56 Jurgen Guns (Bel) Vlaanderen-T Interim
57 Matthé Pronk (Ned) Rabobank
58 Diego Ferrari (Ita) Tacconi Sport-Vini Caldirola
59 Max Van Heeswijk (Ned) Domo-Farm Frites
60 Stuart O'Grady (Aus) Credit Agricole
61 Cristian Salvato (Ita) Liquigas-Pata
62 Andrea Tafi (Ita) Mapei-Quick Step
63 Biagio Conte (Ita) Saeco Macchine Per Caffe
64 Leonardo Giordani (Ita) Fassa Bortolo
65 Jens Voigt (Ger) Credit Agricole
66 Maarten Den Bakker (Ned) Rabobank
67 Karsten Kroon (Ned) Rabobank
68 Gian Matteo Fagnini (Ita) Team Deutsche Telekom
69 Mario Cipollini (Ita) Saeco Macchine Per Caffe
70 Paolo Bossoni (Ita) Tacconi Sport-Vini Caldirola       10.56
71 Roger Hammond (GBr) Collstrop-Palmans
72 Lars Michaelsen (Den) Team Coast
73 Cristian Pepoli (Ita) Cantina Tollo
74 Plamen Stainov (Bul) Mercury-Viatel
75 Martin Van Steen (Ned) Bankgiroloterij-Batavus
76 Miquel Van Kessel (Ned) Team Gerolsteiner
77 Levy Leipheimer (USA) U.S. Postal Service
78 Corey Sweet (Aus) Bankgiroloterij-Batavus
79 Benoît Joachim (Lux) U.S. Postal Service
80 Christopher Jenner (Fra) Credit Agricole
81 Piotr Wadecki (Pol) Domo-Farm Frites
82 Christophe Mengin (Fra) La Francaise Des Jeux
83 Koen Beeckman (Bel) CSC-World Online
84 Antonio Cruz (USA) U.S. Postal Service
85 Ludovic Capelle (Bel) Ag2R Prevoyance
86 Björn Leukemans (Bel) Vlaanderen-T Interim
87 Karl Pauwels (Bel) Collstrop-Palmans

Finishers: 87

World Cup standings after round 2

1 Gianluca Bortolami (Ita) Tacconi Sport-Vini Caldirola   100 pts
2 Erik Zabel (Ger) Deutsche Telekom                       100
3 Erik Dekker (Ned) Rabobank                               75
4 Mario Cipollini (Ita) Saeco                              70
5 Romans Vainsteins (Lat) Domo-Farm Frites                 66 
6 Rolf Soerensen (Den) CSC-World Online                    56 
7 Denis Zanette (Ita) Liquigas-Pata                        50 
8 Biagio Conte (Ita) Saeco Macchine per Caffe              40 
9 Gabriele Balducci (Ita) Tacconi Sport-Vini Caldirola     40 
10 Paolo Bettini (Ita) Mapei-Quick Step                    39 
11 Daniele Nardello (Ita) Mapei-Quick Step                 36 
12 George Hincapie (USA) US Postal Service                 33 
13 Chris Peers (Bel) Cofidis                               32 
14 Gabriele Colombo (Ita) Cantina Tollo                    32 
15 Maximilian Sciandri (GBr) Lampre-Daikin                 29 
16 Beat Zberg (Swi) Rabobank                               28 
17 Michele Bartoli (Ita) Mapei-Quick Step                  26 
18 Ludo Dierckxsens (Bel) Lampre-Daikin                    24 
19 Andrei Tchmil (Bel) Lotto-Adecco                        20 
20 Guido Trenti (USA) Cantina Tollo                        20 
 
Team classification
 
1 Cofidis (Fra)                         13 pts
2 Lampre-Daikin (Ita)                   12 
3 Saeco Macchine per Cafe (Ita)         12 
4 Rabobank (Ned)                        11 
5 Mapei (Ita)                           10 
6 Tacconi (Ita)                         10 
7 US Postal (USA)                       10 
8 Telekom (Ger)                          9 
9 Cantina Tollo (Ita)                    8 
10 Domo-Farm Frites (Bel)                6 
11 Lotto Adecco (Bel)                    5 
12 Fassa Bortolo (Ita)                   4