85th Ronde van Vlaanderen (Tour of Flanders) (CDM)
Belgium, April 8, 2001
2000 Results Start list Past winners
Preview
By Jeff Jones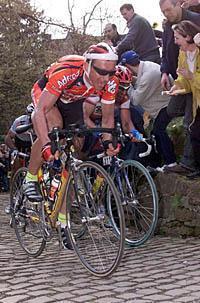 Andrei Tchmil, last year's winner
Photo: © AFP
Belgium's most anticipated race, the Ronde van Vlaanderen, is in its 89th year this year and continues to hold its place as one of the most prestigious classics to win. At 269 kilometres it is also one of the longest classics, with Milan-San Remo the only World Cup race to boast more kilometres. The race is steeped in tradition, and was first held prior to the First World War in 1913. The war that almost destroyed Flanders made it impossible to continue staging the event, and after 1914 it wasn't until 1919 that it was run again. Since then, it has continued uninterrupted and is now in its 85th edition.
There is only one rider in this year's event who could break the record for the most ever RVV victories, and that is Johan Museeuw (winner in 1993, 1995, and 1998). Museeuw holds the joint record along with Achiel Buysse (1940, 1941, 1943), Eric Leman (1970, 1972, 1973) and Italian Fiorenzo Magni (1949, 1950, 1951). He is starting this year with the new Domo-Farm Frites team, who have recieved a lot of attention in Belgium this year after failing to dominate in the early season races like they said they would. Despite his comments leading up to the Ronde (Sickness, not in form, working for others etc.), Museeuw will be Domo's main man for this race, and a win would do much to repair the team's battered ego.
Although a triple winner, Museeuw will have his work cut out this year to get a fourth Ronde. The strongest team in the pre-season has been Lotto-Adecco, and they will be working 100 percent for Andrei Tchmil, winner of this race last year. With Nico Eeckhout, Hans de Clercq, Paul van Hyfte, Fabien De Waele, Guennadi Mikhailov and Hendrik van Dijck all in good shape, Lotto has the strength to control the race when it counts in the latter half.
Aside from Tchmil, another big favourite is Mapei's Michele Bartoli. The Italian champion won Omloop Het Volk last month, surprising a few Belgians, and is certainly capable of matching Tchmil on the Muur. The Mapei team features Franco Ballerini in one of his last races, Paolo Bettini, Andrea Tafi (who is not 100%), Stefano Zanini, Paolo Fornaciari, Daniele Nardello and Bart Leysen. If Bartoli misses the cut, then Bettini is also quite able to take the role of leader.
If the weather stays dry and Mapei, Lotto and the other teams are all too strong to break up the race, there is a strong chance that Erik Zabel (Telekom) will finish in front. He showed last year that he was able to handle the climbs, eventually finishing fourth behind Tchmil, Pieri and Vainsteins. His Telekom team also contains Steffen Wesemann who is a good classics man.
Lampre-Daikin will miss Robert Hunter and Zbigniew Spruch, and will probably rely on Ludo Dierckxsens, Max Sciandri and Marco Serpellini to lead the charge. Dutch team Rabobank will miss the in-form Michael Boogerd for this race, as he is concentrating on Liege-Bastogne-Liege. Erik Dekker, Aart Vierhouten and Markus Zberg are the riders to watch.
US Postal Service have had a solid lead up to the Ronde, with Ekimov, Vandevelde and Hincapie riding strongly in Driedaagse van de Panne. They should feature in the finale, with Ekimov and Hincapie good chances for a top 10. Another strong Belgian team is Cofidis, with De Panne winner Nico Mattan a good chance for a solo breakaway, ably backed by Jo Planckaert, Philippe Gaumont and Chris Peers.
Saeco will rely on Dario Pieri (second last year), Fabio Sacchi and Mirko Celestino to try and finish on the podium, and maintain their number one World Cup team's ranking. CSC-World Online's Tristan Hoffman and Nicolay Bo Larsen are excellent classics riders, and should play a role in the race.
Mercury-Viatel will likely not have Peter van Petegem in top condition. The 1999 RVV winner has been sick for over a week, and was forced to abandon De Panne after he had been dropped. Leon Van Bon and Fabrizio Guidi are the likely backups.
Of the other teams and riders, Frank Hoj (Coast), Bart Voskamp (Batavus), and Saulius Ruskys (Gerolsteiner) are probably the standouts, and may sneak into the top 10 when the race finishes in Ninove-Meerbeke on Sunday afternoon.
Start list
Final list

Lotto-Adecco                      Domo-Farm Frites 

1 Andrei Tchmil (Bel)             11 Romans Vainsteins (Lat)
2 Fabien De Waele (Bel)           12 Enrico Cassani (Ita)
3 Nico Eeckhout (Bel)             13 Servais Knaven (Ned)
4 Thierry Marichal (Bel)          14 Marco Milesi (Ita)
5 Guennadi Mikhailov (Rus)        15 Johan Museeuw (Bel)
6 Hans De Clercq (Bel)            16 Wilfried Peeters (Bel)
7 Hendrik Van Dijck (Bel)         17 Piotr Wadecki (Pol)
8 Paul Van Hyfte (Bel)            18 Max Van Heeswijk (Ned)
Reserves                          Reserves
Stive Vermaut (Bel)               Wilfried Cretskens (Bel)
Jeroen Blijlevens (Ned)           Karel Vereecke (Bel)

Mapei-Quick Step                  Team Deutsche Telekom 

21 Michele Bartoli (Ita)          31 Erik Zabel (Ger)
22 Franco Ballerini (Ita)         32 Gian Matteo Fagnini (Ita)
23 Paolo Bettini (Ita)            33 Kai Hundertmark (Ger)
24 Paolo Fornaciari (Ita)         34 Andreas Klier (Ger)
25 Daniele Nardello (Ita)         35 Jan Schaffrath (Ger)
26 Andrea Tafi (Ita)              36 Steffen Wesemann (Ger)
27 Stefano Zanini (Ita)           37 Rolf Aldag (Ger)
28                                38 Danilo Hondo (Ger)
Reserves                          Reserves
Laszlo Bodrogi (Hun)              Ralf Grabsch (Ger)
Bart Leysen (Bel)                 Stephan Schreck (Ger

Fassa Bortolo                     Lampre-Daikin 

41 Leonardo Giordani (Ita)        51 Ludo Dierckxens (Bel)
42 Vlodomir Gustov (Rus)          52 Raivis Belohvosciks (Lat)
43 Kim Kirchen (Lux)              53 Rubens Bertogliati (Swi)
44 Nicola Loda (Ita)              54 Mariano Piccoli (Ita)
45 Alessandro Petacchi (Ita)      55 Marco Serpellini (Ita)
46 Roberto Petito (Ita)           56 Maximilian Sciandri (GBr)
47 Matteo Tosatto (Ita)           57 Jan Svorada (Cze)
48 Fabio Baldato (Ita)            58 Johan Verstrepen (Bel)
Reserves                          Reserves
Marco Fincato (Ita)               Matteo Frutti (Ita)
Andrea Peron (Ita)                Gabriele Missaglia (Ita)

Rabobank                          Tacconi Sport-Vini Caldirola 

61 Erik Dekker (Ned)              71 Gianluca Bortolami (Ita)
62 Jan Boven (Ned)                72 Diego Ferrari (Ita)
63 Markus Zberg (Swi)             73 Gabriele Balducci (Ita)
64 Maarten den Bakker (Ned)       74 Andrej Hauptman (Slo)
65 Steven de Jongh (Ned)          75 Zoran Klemencic (Slo)
66 Aart Vierhouten (Ned)          76 Mauro Radaelli (Ita)
67 Karsten Kroon (Ned)            77 Mauro Gerosa (Ita)
68 Matthe Pronk (Ned)             78 Paolo Bossoni (Ita)
Reserves                          Reserves
Matthew Hayman (Aus)              Massimo Apollonio (Ita)
Coen Boerman (Ned)                Nicola Chesini (Ita)

US Postal Service                 Liquigas-Pata 

81 Vjatcheslav Ekimov (Rus)       91 Daniele Contrini (Ita)
82 Antonio Cruz (USA)             92 Paolo Bono (Ita)
83 Levi Leipheimer (USA)          93 Fabio Marchesin (Ita)
84 George Hincapie (USA)          94 Mirko Marini (Ita)
85 Benoit Joachim (Lux)           95 Giancarlo Raimondi (Ita)
86 Christian Vandevelde (USA)     96 Christian Salvato (Ita)
87 Cedric Vasseur (Fra)           97 Denis Zanette (Ita)
88 Matthew White (Aus)            98 Marco Zanotti (Ita)
Reserves                          Reserves
Stephane Barthe (Fra)             Ellis Rastelli (Ita)
Steffen Kjaergaard (Nor)          Fausto Dotti (Ita)

Cofidis                           Saeco Macchine per Caffe

101 Nico Mattan (Bel)             111 Dario Pieri (Ita)
102 Peter Farazijn (Bel)          112 Mario Cipollini (Ita)
103 Tom Flammang (Lux)            113 Jorg Ludewig (Ger)
104 Philippe Gaumont (Fra)        114 Mirko Celestino (Ita)
105 Chris Peers (Bel)             115 Mario Scirea (Ita)
106 Jo Planckaert (Bel)           116 Biagio Conte (Ita)
107 Jean-Michel Tessier (Fra)     117 Alessio Galletti (Ita)
108 Rob Hayles (GBr)              118 Fabio Sacchi (Ita)
Reserves                          Reserves
Juris Silovs (Lat)                Christian Wegmann (Ger)
Claude Lamour (Fra)               Giuseppe Calcaterra (Ita)

Mercatone Uno                     CSC-World Online 

121 Ermanno Brignoli (Ita)        131 Rolf Sorensen (Den)
122 Christian Moreni (Ita)        132 Koen Beeckman (Bel)
123 Gianpaolo Mondini (Ita)       133 Tristan Hoffman (Ned)
124 Maurizio Caravaggio (Ita)     134 Nicolas Jalabert (Fra)
125 Gian Mario Ortenzi (Ita)      135 Nicolay Bo Larsen (Den)
126 Roberto Savoldi (Ita)         136 Bjarke Nielsen (Den)
127 Massimo Di Fresco (Ita)       137 Michael Steen Nielsen (Den)
128 Fabiano Fontanelli (Ita)      138 Arvis Piziks (Lat)
Reserves                          Reserves
Marcello Siboni (Ita)             Michael Blaudzun (Den)
Michael Andersson (Swe)           Raphael Jeune (Fra)

Mercury-Viatel                    Team Coast 

141 Peter Van Petegem (Bel)       151 Frank Hoj (Den)
142 Geert Van Bondt (Bel)         152 Bekim Christensen (Den)
143 Plamen Stoianov (Bul)         153 Rolf Huser (Swi)
144 Leon Van Bon (Ned)            154 Lars Michaelsen (Den)
145 Michael Sayers (USA)          155 Eduard Gritsun (Rus)
146 Jans Koerts (Ned)             156 Anton Chantyr (Rus)
147 Wim Vansevenant (Bel)         157 Raphael Schweda (Ger)
148 Gordon Fraser (Can)           158 Malte Urban (Ger)
Reserves                          Reserves
Fabrizio Guidi (Ita)              Sascha Henrix (Ger)
Derek Bouchard-Hall (USA)         Jason Phillips (Aus)

Credit Agricole                   Vlaanderen-T-Interim 

161 Magnus Backstedt (Swe)        171 Bjorn Leukemans (Bel)
162 Sebastien Hinault (Fra)       172 Davy Daniels (Bel)
163 Thor Hushovd (Nor)            173 Geoffrey Demeyere (Bel)
164 Christopher Jenner (Fra)      174 Kris Gerits (Bel)
165 Jerome Neuville (Fra)         175 Jurgen Guns (Bel)
166 Stuart O'Grady (Aus)          176 Andy Vidts (Bel)
167 Jens Voigt (Ger)              177 Jurgen Van Roosbroeck (Bel)
168                               178 James Vanlandschoot (Bel)
Reserves                          Reserves
Anthony Morin (Fra)               Gert Vanderaerden (Bel)
Benoit Poilvet (Fra)              Yoeri Beyens (Bel)

Landbouwkrediet-Colnago           Collstrop-Palmans 

181 Michel Vanhaecke (Bel)        191 Karl Pauwels (Bel)
182 Jurgen Vandewalle (Bel)       192 Eric De Clercq (Bel)
183 Bert De Waele (Bel)           193 Hans De Meester (Bel)
184 Andrei Tcherviakov (Rus)      194 Christophe Detilloux (Bel)
185 Gordon McCauley (NZl)         195 Roger Hammond (GBr)
186 Gunther Cuylits (Bel)         196 Kristof Trouve (Bel)
187 Jeff Louder (USA)             197 Donatas Virbickas (Lit)
188 Masahiko Mifune (Jap)         198 Dany Baeyens (Bel)
Reserves                          Reserves
Nico Weynants (Bel)               Oleg Pankov (Lat)
Pauly Burke (USA)                 Bert Scheirlinkx (Bel)

Bankgiroloterij-Batavus           Gerolsteiner 

201 Tom Desmet (Bel)              211 Michael Rich (Ger)
202 Bart Voskamp (Ned)            212 Frederico Morini (Ita)
203 Pieter Vries (Ned)            213 Saulius Ruskys (Lit)
204 Mart Van Steen (Ned)          214 Torsten Schmidt (Ger)
205 Remco Van Der Ven (Ned)       215 Tobias Steinhauser (Ger)
206 Bert Hiemstra (Ned)           216 Marcel Strauss (Ger)
207 Jan Van Velzen (Ned)          217 Miquel Van Kessel (Ned)
208 Corey Sweet (Aus)             218 Peter Wrolich (Aut)
Reserves                          Reserves
Wim Omloop (Bel)                  Rene Haselbacker (Aut)
Bram Schmitz (Bel)                Uwe Peschel (Ger)

La Francaise de Jeux              AG2r Prevoyance-Decathlon 

221 Jacky Durand (Fra)            231 Jaan Kirsipuu (Est)
222 Frederic Guesdon (Fra)        232 Lauri Aus (Est)
223 Emmanuel Magnien (Fra)        233 Linas Balciunas (Lit)
224 Christophe Mengin (Fra)       234 Stephane Berges (Fra)
225 Jean-Patrick Nazon (Fra)      235 Ludovic Capelle (Fra)
226 Franck Perque (Fra)           236 Sebastien Demarbaix (Bel)
227 Patrick D'Hont (Bel)          237 Laurent Estadieu (Fra)
228                               238 Innar Mandoja (Est)
Reserves                          Reserves
Yvon Ledanois (Fra)               Alexandre Grux (Fra)
Bradley McGee (Aus)               Ludovic Turpin (Fra)

Cantina Tollo 

241 Gabriele Colombo (Ita)
242 Claudio Astolfi (Ita)
243 Federico Colonna (Ita)
244 Danilo di Luca (Ita)
245 Frederico Giabbecucci (Ita)
246 Christian Pepoli (Ita)
247 Miguel A. Martin Puerdigero (Spa)
248 Guido Trenti (Ita)
Reserves
Cesare Di Cintio (Ita)
Simone Masciarelli (Ita)


Past winners
     First                     Second                   Third

2000 Andrei Tchmil (Bel)       Dario Pieri (Ita)        Romans Vainsteins (Lat)
1999 Peter Van Petegem (Bel)   Frank Vandenbroucke (Bel)Johan Museeuw (Bel)
1998 Johan Museeuw (Bel)       Stefano Zanini (Ita)     Andrei Tchmil (Bel)
1997 Rolf Sörensen (Den)       Frédéric Moncassin (Fra) Franco Ballerini (Ita)
1996 Michele Bartoli (Ita)     Fabio Baldato (Ita)      Johan Museeuw (Bel)
1995 Johan Museeuw (Bel)       Fabio Baldato (Ita)      Andrei Tchmil (Ukr)
1994 Gianni Bugno (Ita)        Johan Museeuw (Bel)      Andrei Tchmil (Ukr)
1993 Johan Museeuw (Bel)       Franz Maassen (Ned)      David Bottaro (Ita)
1992 Jacky Durand (Fra)        Thomas Wegmuller (Swi)   Edwig Van Hooydonck (Bel)
1991 Edwig Van Hooydonck (Bel) Johan Museeuw (Bel)      Rolf Sörensen (Den)
1990 Moreno Argentin (Ita)     Rudy Dhaenens (Bel)      John Talen (Ned)
1989 Edwig Van Hooydonck (Bel) Herman Frison (Bel)      Dag Otto Lauritzen Nor)
1988 Eddy Planckaert (Bel)     Phil Anderson (Aust)     Adri Van Der Poel (Ned)
1987 Claude Criquielion (Bel)  Sean Kelly (Ire)         Eric Vanderaerden (Bel)
1986 Adri Van Der Poel (Ned)   Sean Kelly (Ire)         Flup Vandenbrande (Bel)
1985 Eric Vanderaerden (Bel)   Phil Anderson (Aust)     Hennie Kuiper (Ned)
1984 Johan Lammerts (Ned)      Sean Kelly (Ire)         Jean-Luc Vandenbroucke (Bel)
1983 Jan Raas (Ned)            Ludo Peeters (Bel)       Marc Sergeant (Bel)
1982 Rene Martens (Bel)        Eddie Planckaert (Bel)   Rudy Pevenage (Bel)
1981 Hennie Kuiper (Ned)       Frits Pirard (Ned)       Jan Raas (Ned)
1980 Michel Pollentier (Bel)   Francesco Moser (Ita)    Jan Raas (Ned)
1979 Jan Raas (Ned)            Marc Demeyer (Bel)       Daniel Willems (Bel)
1978 Walter Godefroot (Bel)    Michel Pollentier (Bel)  Greg Braun (Ger)
1977 Roger De Vlaeminck (Bel)  (3) *                    (3) *
1976 Walter Planckaert (Bel)   Francesco Moser (Ita)    Marc Demeyer (Bel)
1975 Eddy Merckx (Bel)         Frans Verbeeck (Bel)     Marc Demeyer (Bel)
1974 Cees Bal (Ned)            Frans Verbeeck (Bel)     (2)*
1973 Eric Leman (Bel)          Freddie Maertens (Bel)   Eddy Merckx (Bel)
1972 Eric Leman (Bel)          André Dierickx (Bel)     Frans Verbeeck (Bel)
1971 Evert Dolman (Ned)        F. Kerremans (Bel)       Cyril Guimard (Fra)
1970 Eric Leman (Bel)          Walter Godefroot (Bel)   Eddy Merckx (Bel)
1969 Eddy Merckx (Bel)         Felice Gimondi (Ita)     Marino Basso (Ita)
1968 Walter Godefroot (Bel)    Rudi Altig (Ger)         Jan Janssen (Ned)
1967 Dino Zandegu (Ita)        Noél Foré (Bel)          Eddy Merckx (Bel)
1966 Ward Sels (Bel)           Adriano Durante (Ita)    Georges Vandenberghe (Bel)
1965 Jo De Roo (Ned)           Edward Sels (Bel)        Georges Vanconingsloo (Bel)
1964 Rudi Altig (Ger)          Benoni Beheyt (Bel)      Jo De Roo (Ned)
1963 Noél Foré (Bel)           Frans Melckenbeeck (Bel) Tom Simpson (GB)
1962 Rik Van Looy (Bel)        Michel Van Aerde (Bel)   Norbert Kerckhove (Bel)
1961 Tom Simpson (GB)          Nino Defilippis (Ita)    Jo De Haan (Ned)
1960 Arthur De Cabooter (Bel)  Jean Graczyk (Fra)       Ric Van Looy (Bel)
1959 Rik Van Looy (Bel)        Frans Schoubben (Bel)    Gilbert Desmet (Bel)
1958 Germain Derijcke (Bel)    Willy Truye (Bel)        Angelo Conterno (Ita)
1957 Fred De Bruyne (Bel)      Jos Planckaert (Bel)     Norbert Kerckhove (Bel)
1956 Jean Forestier (Fra)      Stan Ockers (Bel)        Leon Van Daele (Bel)
1955 Louison Bobet (Fra)       Hugo Koblet (swi)        Rik Van Steenbergen (Bel)
1954 Raymond Impanis (Bel)     Francois Mahe (Fra)      Alfons Van Den Brande (Bel)
1953 Wim Van Est (Ned)         Désiré Keteleer (Bel)    Bernard Gauthier (Fra)
1952 Roger Decock (Bel)        Loretto Petrucci (Ita)   Briek Schotte (Bel)
1951 Fiorenzo Magni (Ita)      Bernard Gauthier (Fra)   Attilio Redolfi (Fra)
1950 Fiorenzo Magni (Ita)      Briek Schotte (Bel)      Louis Caput (Fra)
1949 Fiorenzo Magni (Ita)      Valére Ollivier (Bel)    Briek Schotte (Bel)
1948 Briek Schotte (Bel)       Albert Ramon (Bel)       Marcel Rijckaert (Bel)
1947 Emiel Faignaert (Bel)     René Desmet (Bel)        Henri Renders (Bel)
1946 Rik Van Steenbergen (Bel) Louis Thiétard (Fra)     Briek Schotte (Bel)
1945 Sylvain Grysolle (Bel)    Albert Sercu (Bel)       Jos Moerenhout (Bel)
1944 Rik Van Steenbergen (Bel) Briek Schotte (Bel)      Jos Moerenhout (Bel)
1943 Achiel Buysse (Bel)       Albert Sercu (Bel)       K. Beeckman (Bel)
1942 Briek Schotte (Bel)       Georges Claes (Bel)      Robert Van Eenaeme (Bel)
1941 Achiel Buysse (Bel)       Gustaaf Van Overloop (B) O. Vanden Meerschaut (Bel)
1940 Achiel Buysse (Bel)       G. Christiaens (Bel)     Briek Schotte (Bel)
1939 Karel Kaers (Bel)         Romain Maes (Bel)        Ward Vissers (Bel)
1938 Edgard De Caluwe (Bel)    Sylveer Maes (Bel)       Marcel Kint (Bel)
1937 Michel D'Hooghe (Bel)     Herman Deltour (Bel)     Louis Hardiquest (Bel)
1936 Louis Hardiquest (Bel)    Edgard De Caluwe (Bel)   Francois Neuville (Bel)
1935 Louis Duerloo (Bel)       Eloi Meulenberg (Bel)    C. Leemans (Bel)
1934 Gaston Rebry (Bel)        Alfons Schepers (Bel)    Félicien Vervaecke (Bel)
1933 Alfons Schepers (Bel)     Leon Tommies (Bel)       Romain Gijssels (Bel)
1932 Romain Gijssels (Bel)     Alphonse Deloor (Bel)    Alfred Haemerlinck (Bel)
1931 Romain Gijssels (Bel)     Cesar Bogaert (Ned)      Jean Aerts (Bel)
1930 Frans Bonduel (Bel)       Aimé Dossche (Bel)       Emile Joly (Bel)
1929 Jef Dervaes (Bel)         Georges Ronsse (Bel)     Alfred Haemerlinck (Bel)
1928 Jan Mertens (Bel)         August Mortelmans (Bel)  Louis De Lannoy (Bel)
1927 Gerard Debaets (Bel)      G.Van Slembrouck (Bel)   M. Dewaele (Bel)
1926 Denis Verschueren (Bel)   Gustaaf Van Slembrouck   Raymond Decorte (Bel)
1925 Julien Delbecque (Bel)    Jef Pé (Bel)             Hector Martin (Bel)
1924 Gerard Debaets (Bel)      René Vermandel (Bel)     Felix Sellier (Bel)
1923 Henri Suter (swi)         Charles De Ruyter (Bel)  Albert De Jonghe (Bel)
1922 Leon Devos (Bel)          Jean Brunier (Fra)       Francis Pelissier (Fra)
1921 Rene Vermandel (Bel)      Jules Van Hevel (Bel)    Louis Budts (Bel)
1920 Jules Van Hevel (Bel)     Albert De Jonghe (Bel)   Alfons Van Hecke (Bel)
1919 Henri Van Lerberghe (Bel) Leon Buysse (Bel)        Jules Van Hevel (Bel)
1914 Marcel Buysse (Bel)       Henri Van Lerberghe (Bel)Pierre Van De Velde (Bel)
1913 Paul Deman (Bel)          Jozef Van Daele (Bel)    Victor Doms (Bel)

(1) Reybrouck (2nd) disqualified (doping)
(2) Godefroot (3rd) disqualified (doping)
(3) Walter Planckaert (2nd) and Guy Sibille (3rd) disqualified (doping)