Olympic news for September 28
Men's road race wrapup
By Jeff Jones, online editor

Along the seashore
Photo: © AFP
A new day and eventual sun greeted the 154 starters in the men's individual road race yesterday. By the finish, we saw two Germans and a Khazakh mount the podium to claim the second ever fully 'professional' men's Olympic road race. The fact that they all rode almost identical purple bikes with "Telekom" covered by black masking tape was a significant point. More on that later.
The winner of the race, Jan Ullrich has once again come back from a poor early season to shine in the big end of season races. He was full of good intentions this year, training in Mallorca early on and keeping his weight down, but then sickness and some annoying injuries kept him out of serious competition until June, when he started his race preparation for the Tour de France.
By July, he was almost at top form, finishing second to a seemingly unbeatable Lance Armstrong. After that, he continued racing, placing well a series of Italian classics, including a win in the Coppa Agostoni, his first real road victory of the season. Then came the Vuelta a Espańa (August 26-September 17), where he was the defending champion. After a poor 20th in the opening time trial, Ullrich slowly moved up the rankings to fourth before he abandoned halfway. There was some criticism that he should go out in this manner, but his sights were clearly set on an Olympic gold medal. 'In which race?' was the question, and 'Was he still in form?' was the other.
Ullrich's time trialling skills are formidable, but he did not manage to beat Armstrong in the Tour de France. Given that Armstrong's clear focus is on the TT, then gambling everything in that race might not have paid off for Ullrich in Sydney. His one day skills are good (he is a past amateur World Champion), but not finely honed given his sole success this year. Would the course be selective enough for a 'super-rouleur' to beat a field containing a large number of sprinters?
On the day, all these questions were answered. After the sun came out in the early laps, Ullrich and his team grew more confident. Klöden and Voigt were particularly aggressive, throwing in constant attacks up the climb along with the other teams who had similar game plans. Zabel was of course being saved for a bunch sprint, which he eventually won for 14th place, while Aldag was seen helping his teammates move up.
By halfway, it was clear Ullrich was having a good day along with the others that made the final selection. He rode on the front when it mattered, before joining the big selection with three and a half laps to go. When he attacked with Klöden and Vinokourov on the penultimate climb, it seemed as though the Italian duo (Bartoli and Bettini) would make it across, but Telekom were simply too strong.
The 'odd' man out was Vinokourov from Kazakhstan. His country had never won a medal in cycling and here was a chance to win gold. He has a good sprint, and could have pushed Ullrich to the line had it come down to it. However, it didn't have to after a quick discussion between the three Telekom teammates with around 3 kilometres to go. From there, Ullrich launched his attack and the others did not chase, giving the German an assured win.
Vinokourov took the silver after he crossed five seconds in front of Klöden. It wouldn't have mattered if this was arranged or not, as Vino is far quicker than Klöden. The final result? A Telekom 1-2-3.
Ullrich's comments

Jan Ullrich
Photo: © Peter Derley
"It is sensational to have won an Olympic gold medal, and even more so to have done it in the road race," said Ullrich in an interview with Spanish EFE afterwards. "I was aiming more for the time trial, but this win gives me great satisfaction."
"I tried harder than Armstrong today, and he held back. He is so professional that he will be focussed on the gold medal in the time trial and it will be very tough to beat him," added Ullrich. "I don't know if my win today was a psychological blow or not. If it is, then good. And if not, then it is also good. I have the advantage of already having a gold medal, while he is still looking for one. In any case, I don't think it will be a race between Armstrong and I, as there are at least 10 others who can win the time trial."
Ullrich described the team tactics, saying it was either going to be set up for Erik Zabel or to try and attack. Ullrich had brief words with Zabel afterwards, and was congratulated by his teammate for the win. Both could have won the race, given their excellent skills.
"This is not necessarily repayment for a second place in the Tour, because to come second is not so bad. But I have worked for this and I am very satisfied. In the morning, my morale was a little low due to the rain. I almost wanted to go back to the airport. But everything turned out phenomenally," he added.
The team worked well right from the outset, and Zabel was not prominent at the end when Ullrich decided to attack. He reduced the group to 14, before attacking with Klöden and Vinokourov and working "very well together and we had a great understanding. I was able to win and I am very content."
Klöden added that "we are a team and Jan is the strongest, for that reason he was the one who won. Vinokourov has been working all year for the team and for that reason there were no problems with second position."
Finally, Vinokurov added that "the fact that we belong to the same team does not seem to me to go against the Olympic spirit. At the end of the race there were three of us left, and we knew we were all going to get a medal. It didn't matter which. Jan was the best and for that reason he won," said the Khazakh.
Jan Ullrich's major results
1993: World Champion amateurs
1994: 3rd in World ITT Championships, Catania
1996: 2nd overall, Tour de France
1997: 1st overall, Tour de France, winner HEW Cyclassics World Cup race
1998: 2nd overall, Tour de France
1999: 1st overall, Vuelta, World ITT Championships, Verona
2000: 2nd overall, Tour de France , 2nd GP Zurich World Cup, Gold Medal, Olympics RR
Prognosis for the time trial
The last cycling events in this year's Olympic Games are the women's and men's individual time trials on Saturday, September 30. The obvious question after yesterday is 'can Ullrich do it again, or will Armstrong confirm his status as favourite?'
The answer is probably the latter, as the riders only have two days recover and Ullrich gave a lot yesterday. He is a top quality rider when in form, and who can forget his devastating attack on the Col de la Madeleine in the 1998 Tour after copping a hiding the day before from Pantani and the rain? Although the parcours in Centennial Park is several orders of magnitude different from the Alps, his recovery from hard efforts is what counts.
Lance Armstrong played his cards well yesterday for a good result in the TT. He rode at the front toward the end in order to help teammate George Hincapie get up to the break. Unfortunately, they were a little too late and did not realise that the Germans (Telekoms) had attacked with one and a half laps to go. "Our plan went as we saw it. We sent Fred Rodriguez up the road before launching George Hincapie into the break," he told the media afterwards.
"When we caught up with the group in front of us, we thought we were in the gold medal position. But when we passed in front of the big screen, I saw that there were three riders in front of us and I said 'George, who are those three?'" George's reply was predictable and will not be printed here.
Whoever they were, they won the race, while Hincapie finished 8th and Armstrong 13th. A far better result than the luckless US women's team. "The end of the race was harder than I thought, but I had good luck. I am very optimistic for the time trial," finished Armstrong.
What happened to the Italians?

Marco Pantani
Photo: © cyclingnews
Paolo Bettini, Michele Bartoli and Danilo Di Luca were the main strengths in the Italian team, however Francesco Casagrande and Marco Pantani were not as prominent as expected. The latter's selection was particularly controversial back home, given that he is a stage and not a one day racer (unless the course is exceptionally hilly).
Two of the biggest names to miss out were Andrea Tafi and Davide Rebellin. It was a course suited to both of them, and Italy could have done with Tafi who is well known for burying himself for the team. The fact that he rides for Mapei could have helped as well...
As for Rebellin, he has been in as good a form as Bartoli, Casagrande and Bettini, and was quite vocal in his criticism of the team selection. "After having seen the race today, I regret even more that I wasn't there: I am sure that I could have played a part. Bartoli raced according to the script and he has not disappointed, even if he missed the final break. The fourth place is however a good result, even if it was not the podium. As for Bettini, he was one of the best of the Azzurri in the race."
"With hindsight, it can surely be said that it was a mistake to take Pantani. It must have been for sponsorship reasons or the fact that he is a symbol of Italian cycling, and not for technical reasons," said the clearly disappointed Rebellin.
Pantani was disappointed with his race, blaming the media in part for his poor showing (69th), "I rode a mediocre contest, I was never in a race," he said. "The press and the officials have made terrorism psychological. The necessary calm for me to face the race was taken away."
As for Bettini, who rode an exceptional race, being in everything before eventually finishing 9th: "The others could have gone more strongly. Myself and Bartoli were never separated by more than 10 metres."
Jalabert's race
French leader, Laurent Jalabert placed himself in all the major breaks yesterday, but missed the final move although he did manage to finish 5th. He was clearly in good form, but lacked racing in the month leading up to the Games. However, he was not disappointed at his finish, saying "when you give your all, you can't regret it. I don't feel bad about coming fifth."
"I rode an aggressive race and that was the key today. But I missed having competition, not having raced for a month. When they attacked at the finish, I saw it was necessary to follow, but it was also necessary to have the legs," he told AFP afterwards.
His ideal preparation would have been a minor stage race in the leadup but this did not occur. It was his second last chance at an Olympic medal, and he will try again in the time trial. He affirmed that he liked the course, which doesn't contain the Bronte climb, but does have more turns, "Today's race gave me confidence," he added.
Trade team influence: a good or a bad thing?
The tactics in yesterday's race clearly showed the importance of trade team allegiances in World Championships and Olympic Games road racing. It has been shown time and time again at the World's although the national teams there are far larger (up to 13), and it was the same in the second professional edition of the Olympic road race. It didn't only apply to Telekom, but also to Mapei who had Paolo Bettini and Michele Bartoli working in unison, while the other Italians were nowhere to be found. Similarly the Polish based Mroz team had two of their riders in a mid race break: Piotr Wadecki (Pol) and Remigijus Lupeikis (Ltu).
Of course there were some differences, with Axel Merckx (Bel, Mapei) being chased down by the Italians at the end, and Jens Voigt probably favoured the German team rather than his Credit Agricole teammate, Stuart O'Grady. Similarly, the French worked well together, despite all being from disparate teams.
There was no question that it was a great race to watch. There was no negativity, the pace was high and the many of the world's top riders finished in the final cut. The crowds got their money's worth and a great day was had by all.
However, as far as the spirit of the Olympics is concerned, then that went out the window as soon as professionals were allowed in four years ago. The race used to be for upcoming amateurs to show themselves on the biggest world stage every four years. Although there were several non-professional riders in the race yesterday, none of them finished anywhere near the front as expected.
A similar situation came about with the US men's professional basketball 'Dream Team' that won gold in Barcelona and Atlanta before they were restricted from doing so in these Games. The case is a little different in cycling, as there are so many countries with good pro's - the race was certainly not a lay down misere for Germany.
Do we trade the Olympic ideal for a better quality race? It's a tough call and as far as spectators are concerned there is really only one answer. Quality rules. As for aspiring cyclists, they will have to content themselves with the U23 World Championships, which are the two biggest races left after the scrapping of the amateur category and the Olympics. As far as the IOC and TV broadcasters are concerned, then quality and audience rules. Finally, as far as Frank and Donna Conceciao at Albion Cycles are concerned, then it was a damn good excuse for a party. Thanks guys!
A story from the back: Jazy Garcia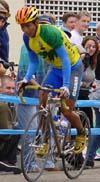 Jazy Garcia
Photo: © cyclingnews
Guam's sole competitor in the race was Jazy Fernandez Garcia, who was dropped early and lapped after about 6 laps. However, the crowd lining the streets up Bronte Road gave him huge support as he made his way up the hill each time. In fact, on the descent into Bronte a group had made a large Jazy Fernandez Garcia sign from an old sheet on the side of the road. The people, who lived on the course, were not cycling fans but had read the start list and picked a cool sounding name of a little known country as their man to support for the day. They didn't know him from the Ullrichs, Bartolis and Armstrongs of the race but were cheering him on from the start.
When he was dropped they continued cheering and on lap 5 or 6 he was due to be lapped. On the previous lap he waved as they cheered him through but as the convoy appeared Jazy looked like he was to be lapped and put out the race. He rolled along just in front of the bunch down to the cheer squad and stopped to thank his supporters and have his picture taken with the sign. He didn't have a great race but will always remember the Australians who supported him at Sydney 2000. He even got a chant of "Garcia, Garcia, Garcia" and "Jazy, Jazy, Jazy, Oi, Oi, Oi"
Thanks to Michael Meryment for this story