98th Paris - Roubaix - Cat. CDM
France, April 9, 2000
---
1999 Results
Latest News
By numbers
Start List
History
Winning times
Preview
Not everyone likes the Queen of the Classics but Sunday's Paris-Roubaix will be guaranteed to put the winner up along the great names in cycling. "I hated it but I had to have a go at it," said five-times Tour de France winner Bernard Hinault of France who mastered the Hell of the North in 1981. "The big problem is a bad fall. The race itself isn't any more dangerous than other events but an injury now could ruin a rider's preparations for the Tours of Italy or France," he added.

Spain's Miguel Indurain, another five-time Tour de France winner, always avoided the race and was defended by Roger Legeay, Chris Boardman's team manager."A great rider doesn't have to race it but a great rider with the potential of winning should take part. That wasn't Indurain's case," he said. The Spaniard's only goal was the Tour de France and everything was planned accordingly, so one-day classics, especially with the cobbled-stone barriers the 273 km long Paris-Roubaix throws up, rarely figured in his race programme.

Manolo Saiz, who leads the Spanish ONCE team which includes World number one, Laurent Jalabert, will not even be at this year's race, and most of the other Spanish teams tend to avoid it.

"Anything can happen, any time," says Francaise des Jeux team manager, Marc Madiot who rode the event for 12 years.

"But they shouldn't change anything. This is THE race in which you have got to have tragedy and glory. People expect real drama," he said of the 104-year-old event. It wouldn't have lasted this long if it had been made easier."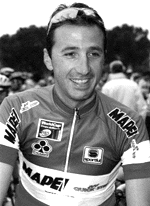 Last year's winner, Andrea Tafi
Latest News
The men's World Cup and the Classics season is at full throttle now, with three major events in the next three weekends, not counting the mid-week Fleche Wallone. This Sunday is the Hell of the North: Paris-Roubaix - arguably one of the toughest classics to win, due to a greater likelihood of crashes and punctures on the terrible cobbles in the north of France. Speaking from (a little) experience, having an old set of cleats is not such a good idea.
The race has seen several unlikely winners - Dirk Demol, Jean-Marie Wampers and Frederic Guesdon to name a few - mixed in with the greats such as Fausto Coppi, Eddy Merckx, Roger de Vlaeminck, Sean Kelly, Francesco Moser, Bernard Hinault, and Johan Museeuw. Despite the toughness of the parcours, a "lesser" rider may prevail if luck swings their way on the day.
An example is La Francaise des Jeux' Frederic Guesdon, who won in 1997 gaining an enormous amount of prestige, despite never having done much since. He has never even been back to the Roubaix velodrome, the scene of his triumph three years ago.
He said in an interview with AFP, that "On that day, I didn't really have a chance and was let go. It is true that all the pavé races - my specialty - are grouped into two weeks in the season and luck is a big part. In 1998, I was away in the Tour of Flanders, but I then fell in Paris-Roubaix in the Arenberg forest, just near Johan Museeuw."
"Last year, I had to have two surgical operations in January and March. I did not contest Paris-Roubaix. It's funny, I've never re-examined the velodrome in Roubaix." Who knows, he might be back this year in the top 10 at least.
Former French champion, Charly Mottet thinks that Guesdon can do well, better than Durand even after he won the Tour of Flanders in '92. Guesdon will not put himself under pressure though. "I know what I am worth, I know what is necessary to do well on the cobblestones, but Marc [Madiot] knows his trade as well," he commented.
"He knows each of our qualities. I will not ask for anything, but I hope to have some protection. It would be good to have a team member to look after me for as long as possible. Marc had his brother Yvon. I would like to have Frank Perque, who is a super team-member."
Madiot is a somewhat frustrated team director - he lives for these races, and does not care a lot for stage races. "Even the Tour," he says, "there are only a few occasions to show yourself in the first week."
Peter van Petegem is not a believer either. After training for 120 kilometers on the Paris Roubaix parcours today, he commented about the organisers of pre-season classics:
"We are the clowns in a circus. They send us to terrible roads and make it more difficult every year. I only fell on the cobblestone-section of Wallers. In the past we could ride beside the cobblestones. But now they put fencing there and they force you to ride in the middle of the road: then you are asking for falls," he said.
When asked if the classic was less without the Forest of Wallers, he replied, "There are no problems with the Muur of Geraardsbergen or even the Koppenberg. When you fall on those parts of the parcours it is at a very slow speed. No broken bones. But why do they put a cobblestone section from Wannegem to Lede in the Ronde van Vlaanderen? You have to be crazy to put this part as the first one in a race. The whole peloton wants to be the first on the small road. And you saw what happened with Nico Mattan. Now he can forget his preseason. Nice, isn't it? But Wallers in Paris-Roubaix? Don't they remember what happened with Johan Museeuw? Do they need a second accident?"
Tafi v. Ballerini
These two Tuscans are former teammates, and have both won the Hell of the North. Ballerini now rides for Lampre, while Tafi has remained with Mapei, who have dominated this race in recent times. Tafi has the edge over Ballerini in terms of team strength, but neither have shown outstanding form so far this year. The race may well go to someone else - Tchmil, Museeuw, Van Petegem are all in better shape, however they will be closely marked. It may be another year for a "lesser" rider.
Tafi/Ballerini form guide
Andrea Tafi
Born: May 7, 1966 in Fucecchio (close to Florence)
Height: 1.87 m
Weight: 73 kg
First year as a pro: 1989
Winner of Paris-Roubaix in 1999
Other notable wins: Italian Championship in 1998, Tour of Lombardy 1996, Rochester Classic 1997, Paris-Brussels 1996
Paris-Roubaix history: 77th (1991), 79th (1992), 14th (1995), 3rd (1996), 19th (1997), 2nd (1998), 1st (1999)
Franco Ballerini
Born: December 11, 1964 in Florence (Italy)
Height: 1.83 m
Weight: 76 kg
First year as a professional: 1986
Winner of Paris-Roubaix in 1995 and 1998
Other notable victories: GP de Americas 1990, Het Volk 1995, Paris-Brussels 1990
Paris-Roubaix history: 3rd (1989), 19th (1990), 5th (1991), 11th (1992), 2nd (1993), 3rd (1994), 1st (1995), 5th (1996), 2nd (1997), 1st (1998), 11th (1999)
Paris-Roubaix in numbers
From cyclingnews.com's 1999 coverage:
1 cm: The closest margin of victory (Planckaert over Bauer in 1990)
4: The record for the most victories by Belgian Roger De Vlaeminck (9 times amongst the first 3)
5 min 21 sec: the greatest margin of victory after 1945 between first (Merckx) and second (De Vlaeminck) in 1970
8 bar: the average tire pressure at the start of the race.
9: French teams that will start the race.
10:30AM: The time that the race starts in Compiègne
12 hours (and 15 minutes): The finishing time of Henri Pélissier, winner in
1919, over the destroyed roads after World War I.
16: The most Paris-Roubaix finishes by Belgian Raymond Impanis
between 1947 and 1963 (15 by Gilbert Duclos-Lassalle).
24: The number of starting teams
25: The number of pave sections
30: The number of French victories
38 years and 8 months: Gilbert Duclos-Lassalle's age, the oldest winner (1993).
40.519 km/h: The average speed for last year, by Andrea Tafi.
45.129 km/h: The highest average speed recorded (Peter Post, 1964)
47: The number of Belgian victories.
49.1: the kilometers of pave in 2000
66: The number of finishers last year, from a total of 183 starters
98: The number of winners in 97 editions (André Mahé and Serse Coppi both placed first in 1949)
134: The number of seconds separating Tafi (1st) from Peeters (2nd) last year.
222 km: The distance of the winning breakaway by Belgian Dirk Demol (1988).
272 km: The length of the race between Compiègne and the Roubaix velodrome.
1000 Francs: The prize given to the winner of the first edition in 1896,
German Josef Fischer (seven times the monthly salary of a miner at the time).
1968: The year that the route was changed.
2400 m: The distance of the Arenberg forest section
Complete Starting List
MAPEI-QUICK STEP                 TEAM DEUTSCHE TELEKOM

1 Andrea Tafi (Ita)              11 Erik Zabel (Ger)
2 Bart Leysen (Bel)              12 Rolf Aldag (Ger)
3 Johan Museeuw (Bel)            13 Ralf Grabsch (Ger)
4 Daniele Nardello (Ita)         14 Danilo Hondo (Ger)
5 Wilfried Peeters (Bel)         15 Kai Hundertmarck (Ger)
6 Tom Steels (Bel)               16 Jan Schaffrath (Ger)
7 Max Van Heeswijk (Ned)         17 Stephan Schreck (Ger)
8 Stefano Zanini (Ita)           18 Steffen Wesemann (Ger)

FASSA BORTOLO                    RABOBANK

21 Fabio Baldato (Ita)           31 Rolf Sorensen (Den)
22 Gabriele Balducci (Ita)       32 Jan Boven (Ned)
23 Volodomir Gustov (Ukr)        33 Steven De Jongh (Ned)
24 Dimitri Konyshev (Rus)        35 Matthe Pronk (Ned)
25 Nicola Loda (Ita)             36 Léon Van Bon (Ned)
26 Alessandro Petacchi (Ita)     37 Aart Vierhouten (Ned)
27 Roberto Petito (Ita)          38 Marc Wauters (Bel)
28 Matteo Tosatto (Ita)          40 Matthew Hayman (Aus)

AG2R PREVOYANCE                  KELME-COSTA BLANCA

41 Jaan Kirsipuu (Est)           51 Ruben Galvan (Spa)
42 Christophe Agnolutto (Fra)    52 Alvaro Forner Munoz (Spa)
43 Lauri Aus (Est)               53 Isaac Galvez (Spa)
44 Stéphane Barthe (Fra)         55 Francisco Leon (Col)
45 Laurent Estadieu (Fra)        56 José-Angel Vidal (Spa)
46 Arturas Kasputis (Lit)        59 Francisco Cabello (Spa)
47 Innar Mandoja (Est)

COFIDIS                          VITALICIO SEGUROS

61 Jo Planckaert (Bel)           72 Francisco Tomas Garcia (Spa)
62 Laurent Desbiens (Fra)        73 Pedro Horillo (Spa)
63 Peter Farazijn (Bel)          74 Miguel Mercado Juan (Spa)
64 Philippe Gaumont (Fra)        76 Luis Perez Rodriguez (Spa)
65 David Millar (Gbr)            77 José Luis Rebollo (Spa)
66 Janeck Tombak (Est)           78 Juan Carlos Vicario (Spa)
67 Francis Moreau (Fra)          
68 Chris Peers (Bel)             

FARM FRITES                      LAMPRE DAIKIN

81 Peter Van Petegem (Bel)       91 Franco Ballerini (Ita)
83 Andreas Klier (Ger)           92 Raivis Belohvosciks (Lat)
84 Servais Knaven (Ned)          93 Marco Cannone (Ita)
85 Martin van Steen (Bel)        94 Robert Hunter (Rsa)
86 Geert Van Bondt (Bel)         95 Marco Serpellini (Ita)
87 Remco Van Der Ven (Ned)       96 Zbigniew Spruch (Pol)
88 Wim Vansevenant (Bel)         98 Johan Verstrepen (Bel)
89 Steven Kleynen (Bel)          100 Matteo Frutti (Ita)

VINI CALDIROLA SIDERMEC          MEMORYCARD-JACK & JONES

101 Romans Vainsteins (Lat)      112 Frank Corvers (Bel)
102 Massimo Apollonio (Ita)      113 Matthew Gilmore (Bel)
103 Gianluca Bortolami (Ita)     114 Tristan Hoffman (Ned)
104 Andrej Hauptman (Slo)        115 Michael Steen Nielsen (Den)
105 Marco Milesi (Ita)           116 Bjarke Nielsen (Den)
106 Mauro Radaelli (Ita)         117 Arvis Piziks (Lit)
107 Matthew White (Aus)          118 Jacob Moe Rasmussen (Den)
108 Pietro Zucconi (Swi)         119 Allan Johansen (Den)

FRANCAISE DES JEUX               LOTTO ADECCO

121 Frédéric Guesdon (Fra)       131 Andrei Tchmil (Bel)
122 Frank Hoj (Den)              132 Koen Beeckman (Bel)
123 Emmanuel Magnien (Fra)       133 Fabien De Waele (Bel)
125 Christophe Mengin (Fra)      134 Christophe Detilloux (Bel)
126 Lars Michaelsen (Den)        135 Jacky Durand (Fra)
127 Patrick Nazon Jean-(Fra)     136 Thierry Marichal (Bel)
128 Franck Perque (Fra)          137 Paul Van Hyfte (Bel)
129 Jimmy Casper (Fra)           138 Peter Wuyts (Bel)

LIQUIGAS PATA                    FESTINA-LOTUS

141 Denis Zanette (Ita)          151 Stéphane Auge (Fra)
143 Alexandre Fedenko (Ukr)      152 Florent Brard (Fra)
145 Giancarlo Raimondi (Ita)     153 David Clinger (USA)
147 Cristian Salvato (Ita)       154 Andy Flickinger (Fra)
148 Marco Zanotti (Ita)          156 Jaime Hernandez (Spa)
150 Fabio Merchesin (Ita)        157 Rolf Huser (Swi)
                                 158 Nicolas Reynaud (Fra)
                                
US POSTAL SERVICE                SAECO-VALLI & VALLI

161 Frankie Andreu (USA)         171 Salvatore Commesso (Ita)
162 Julian Dean (NZl)            172 Christophe Brandt (Bel)
163 Merty Jemison (USA)          174 Alessandro Guerra (Ita)
164 George Hincapie (USA)        175 Jorg Ludewig (Ger)
165 Benoït Joachim (Lux)         176 Torsten Nitsche (Ger)
167 Christian Vandevelde (USA)   177 Dario Pieri (Ita)
168 Cédric Vasseur (Fra)         
169 Vjatceslav Ekimov (Rus)      

TEAM POLTI                       CREDIT AGRICOLE

182 Rossano Brasi (Ita)          191 Stuart O'grady (Aus)
183 Enrico Cassani (Ita)         192 Magnus Backstedt (Swe)
184 Mirko Celestino (Ita)        193 Frédéric Finot (Fra)
185 Michele Colleoni (Ita)       194 Sébastien Hinault (Fra)
186 Mirco Crepaldi (Ita)         195 Thor Hushovd (Nor)
187 Rafael Mateos Perez (Spa)    197 Jérome Neuville (Fra)
188 Eddy Mazzoleni (Ita)         198 Franck Pencole (Fra)
                                 199 Perrick Fedrigo (Fra)

JEAN DELATOUR                    BONJOUR-TOURPARGEL

201 Eddy Seigneur (Fra)          211 François Simon (Fra)
203 Jérome Bernard (Fra)         212 Sylvain Chavanel (Fra)
204 Cyril Dessel (Fra)           213 Christophe Faudot (Fra)
205 Gregory Lapalud (Fra)        214 Sebastien Joly (Fra)
206 Eddy Lembo (Fra)             215 Damien Nazon (Fra)
207 Bruno Thibout (Fra)          216 Olivier Perraudeau (Fra)
                                 217 Franck Renier (Fra)
                                 218 Fabrice Salanson (Fra)

BIG MAT AUBER 93                 SAINT-QUENTIN - OKTOS

221 Guillaume Auger (Fra)        231 Oleg Kozlitine (Kaz)
222 Ludovic Auger (Fra)          232 Linas Balciunas (Lit)
223 Stéphane Berges (Fra)        233 Freddy Ravaleu (Fra)
224 Alexandre Chouffe (Fra)      235 Saulius Ruskys (Lit)
225 Carlos Da Cruz (Fra)         236 Ole Simensen (Nor)
226 Thierry Gouvenou (Fra)       237 Vincent Templier (Fra)
227 Jeremy Hunt (GBr)            238 Michel Thilloy Jean (Fra)
228 Alexei Sivakov (Rus)         240 Mindagous Goncaras (Lit)
 
Past Winners
Click on the link to obtain picture (courtesy of Roger Hughes)
     First                          Second              	    Third

1896 Josef Fischer (Ger)           C. Meyer (Den)                Maurice Garin (Fra)
1897 Maurice Garin (Fra)           M. Cordang (Ned)              Michel Frederic (Swi)
1898 Maurice Garin (Fra)           Etienne Stéphane (Fra)        Edouard Wattelier (Fra)
1899 Albert Champion (Fra)         Paul Bor (Fra)                A. Garin (Fra)
1900 Emile Bouhours (Fra)          Josef Fischer (Ger)           Maurice Garin (Fra)
1901 Luc Lesna (Fra)               A. Garin (Fra)                Luc Itsweire (Fra)
1902 Luc Lesna (Fra)               Edouard Wattelier (Fra)       A. Garin (Fra)
1903 Hippolyte Aucouturier (Fra)   Claude Chapperon (Fra)        Louis Trousselier (Fra)
1904 Hippolyte Aucouturier (Fra)   Charles Garin (Fra)           Lucien Pothier (Fra)
1905 Louis Trousselier (Fra)       René Pottier (Fra)            Henri Cornet (Fra)
1906 Henri Cornet (Fra)            Marcel Cadolle (Fra)          René Pottier (Fra)
1907 Georges Passerieu (Fra)       Cyrille Van Hauwaert (Bel)    Louis Trousselier (Fra)
1908 Cyrille Van Hauwaert (Bel)    Georges Lorgeou (Fra)         François Faber (Lux)
1909 Octave Lapize (Fra)           Louis Trousselier (Fra)       Jules Masselis (Bel)
1910 Octave Lapize (Fra)           Cyrille Van Hauwaert (Bel)    Eugené Christophe (Fra)
1911 Octave Lapize (Fra)           Alphonse Charpiot (Fra)       Cyrille Van Hauwaert (Bel)
1912 Charles Crupelandt (Fra)      Gustave Garrigou (Fra)        Maurice Leturgie (Fra)
1913 François Faber (Lux)          Charles De Ruyter (Bel)       Charles Crupelandt (Fra)
1914 Charles Crupelandt (Fra)      Louis Luguet (Bel)            Louis Mottiat (Bel)
1919 Henri Pelissier (Fra)         Philippe Thys (Bel)           Honoré Barthelemy (Fra)
1920 Paul Deman (Bel)              Eugené Christophe (Fra)       Leon Buysse (Bel)
1921 Henri Pelissier (Fra)         Francis Pelissier (Fra)       Léon Scieur (Bel)
1922 Albert Dejonghe (Bel)         Jean Rossius (Bel)            Emile Masson Snr (Bel)
1923 Henri Suter (Swi)             René Vermandel (Bel)          Félix Sellier (Bel)
1924 Jules Van Hevel (Bel)         Maurice Ville (Fra)           Félix Sellier (Bel)
1925 Félix Sellier (Bel)           Piero Bestetti (Ita)          Jules Van Hevel (Bel)
1926 Julien Delbecque (Bel)        Gustaaf Van Slembroeck (Bel)  Gaston Rebry (Bel)
1927 Georges Ronsse (Bel)          Joseph Curtel (Fra)           Charles Pelissier (Fra)
1928 Andre Leducq (Fra)            Georges Ronsse (Bel)          Charler Meunier (Bel)
1929 Charles Meunier (Bel)         Georges Ronsse (Bel)          Aimé Déolet (Bel)
1930 Julien Vervaecke (Bel)        Jean Marechal (Fra)           Antonin Magne (Fra)
1931 Gaston Rebry (Bel)            Charles Pelissier (Fra)       Emile Decroix (Bel)
1932 Romain Gyssels (Bel)          Georges Ronsse (Bel)          Herbert Sieronski (Ger)
1933 Sylvere Maes (Bel)            Julien Vervaecke (Bel)        Léon Le Calvez (Fra)
1934 Gaston Rebry (Bel)            Jean Wouters (Bel)            Frans Bonduel (Bel)
1935 Gaston Rebry (Bel)            Andre Leducq (Fra)            Jean Aerts (Bel)
1936 Speicher (Fra)                Romain Maes (Bel)             Gaston Rebry (Bel)
1937 Jules Rossi (Ita)             Albert Hendrickx (Bel)        Noël Declercq (Bel)
1938 Lucien Storme (Bel)           Louis Hardiquest (Bel)        M. Van Houtte (Bel)
1939 Emile Masson Jnr (Bel)        Marcel Kint (Bel)             Roger Lapebie (Fra)
1943 Marcel Kint (Bel)             Jules Lowie (Bel)             Louis Thiétard (Fra)
1944 Maurice Desimpelaere (Bel)    Jules Rossi (Ita)             Louis Thiétard (Fra)
1945 Paul Maye (Fra)               Lucen Teisseire (Fra)         Kleber Piot (Bel)
1946 Georges Claes (Bel)           Louis Gauthier (Fra)          Lucien Vlaemynck (Bel)
1947 Georges Claes (Bel)           Adolf Verschueren (Bel)       Louis Thiétard (Fra)
1948 Rick van Steenbergen (Bel)    Emile Idee (Fra)              Georges Claes (Bel)
1949 André Mahe (Fra) =1           Serse Coppi (Ita) =1          Frans Leenen (Bel)
1950 Fausto Coppi (Ita)            Maurice Diot (Fra)            Fiorenzo Magni (Ita)
1951 Antonio Bevilacqua (Ita)      Louison Bobet (Fra)           Rik Van Steenbergen (Bel)
1952 Rick van Steenbergen (Bel)    Fausto Coppi (Ita)            André Mahe (Fra)
1953 Germain Derycke (Bel)         Donato Piazza (Ita)           Wout Wagtmans (Ned)
1954 Raymond Impanis (Bel)         Stan Ockers (Bel)             M. Rijckaert (Bel)
1955 Jean Forestier (Fra)          Fausti Coppi (Ita)            Louis Bobet (Fra)
1956 Louison Bobet (Fra)           Alfred De Bruyne (Bel)        Jean Forestier (Fra)
1957 Alfred De Bruyne (Bel)        Rik Van Steenbergen (Bel)     Leon Van Daele (Bel)
1958 Leon Van Daele (Bel)          Miguel Poblet (Spa)           Rik Van Looy (Bel)
1959 Noel Fore (Bel)               Gilbert Desmet (Bel)          Marcel Janssens (Bel)
1960 Pino Cerami (Bel)             Tino Sabbadini (Ita)          Miguel Poblet (Spa)
1961 Rik Van Looy (Bel)            Marcel Janssens (Bel)         René Vanderveken (Bel)
1962 Rik Van Looy (Bel)            Emile Daems (Bel)             Frans Schoubben (Bel)
1963 Emile Daems (Bel)             Rik Van Looy (Bel)            Jan Janssen (Ned)
1964 Peter Post (Ned)              Benoni Beheydt (Bel)          Yvo Molenaers (Bel)
1965 Rik Van Looy (Bel)            Edward Sels (Bel)             W. Vannitsen (Bel)
1966 Felice Gimondi (Ita)          Jan Janssens (Ned)            Gilbert Desmet (Bel)
1967 Jan Janssen (Ned)             Rik Van Looy (Bel)            Rudi Altig (Ger)
1968 Eddy Merckx (Bel)             Herman Vanspringel (Bel)      Walter Godefroot (Bel)
1969 Walter Godefroot (Bel)        Eddy Merckx (Bel)             W. Vekemans (Bel)
1970 Eddy Merckx (Bel)             Erik De Vlaeminck (Bel)       Eric Leman (Bel)
1971 Roger Rosiers (Bel)           Herman Vanspringel (Bel)      Marino Basso (Ita)
1972 Roger De Vlaeminck (Bel)      André Dierickx (Bel)          Barry Hoban (GB)
1973 Eddy Merckx (Bel)             Walter Godefroot (Bel)        Roger Rosiers (Bel)
1974 Roger De Vlaeminck (Bel)      Francesco Moser (Ita)         Marc Demeyer (Bel)
1975 Roger De Vlaeminck (Bel)      Eddy Merckx (Bel)             André Dierickx (Bel)
1976 Marc Demeyer (Bel)            Francesco Moser (Ita)         Roger De Vlaeminck(Bel)
1977 Roger De Vlaeminck (Bel)      Willy Teirlinck (Bel)         Freddy Maertens (Bel)
1978 Francesco Moser (Ita)         Roger De Vlaeminck (Bel)      Jan Raas (Ned)
1979 Francesco Moser (Ita)         Roger De Vlaeminck (Bel)      Hennie Kuiper (Ned)
1980 Francesco Moser (Ita)         Gilbert Duclos-Lassalle (Fra) DietrichThureau (Ger)
1981 Bernard Hinault (Fra)         Roger De Vlaeminck (Bel)      Francesco Moser (Ita)
1982 Jan Raas (Ned)                Yvon Bertin (Fra)             Greg Braun (Ger)
1983 Hennie Kuiper (Ned)           Gilbert Duclos-Lassalle (Fra) Francesco Moser (Ita)
1984 Sean Kelly (Ire)              Rudy Rogiers (Bel)            Alain Bondue (Fra)
1985 Marc Madiot (Fra)             B. Wojtinek (Fra)             Sean Kelly (Ire)
1986 Sean Kelly (Ier)              Rudy Dhaenens (Bel)           Adri Van der Poel (Ned)
1987 Eric Vanderaerden (Bel)       Patrick Versluys (Bel)        Rudy Dhaenens (Bel)
1988 Dirk Demol (Bel)              Thomas Wegmuller (Swi)        Laurent Fignon(Fra)
1989 Jean-Marie Wampers (Bel)      Dirk De Wolf (Bel)            Edwig Van Hooydonck (Bel)
1990 Eddy Planckaert (Bel)         Steve Bauer (Can)             Edwig Van Hooydonck (Bel)
1991 Marc Madiot (Fra)             Jean-Paul Colotti (Fra)       Carlo Bomans (Bel)
1992 Gilbert Duclos-Lassalle (Fra) Olaf Ludwig (Ger)             Johan Capiot (Bel)
1993 Gilbert Duclos-Lassalle (Fra) Franco Ballerini (Ita)        Olaf Ludwig (Ger)
1994 Andrei Tchmil (Mol)           Fabio Baldato (Ita)           Franco Ballerini (Ita)
1995 Franco Ballerini (Ita)        Andrei Tchmil (Mol)           Johan Museeuw (Bel)
1996 Johan Museeuw (Bel)           Gianluca Bortolami (Ita)      Andrea Tafi (Ita)
1997 Frederic Guesdon (Fra)        Jo Planckaert (Bel)           Johan Museeuw (Bel)
1998 Franco Ballerini (Ita)	   Andrea Tafi (Ita)             Wilfried Peeters (Bel)
1999 Andrea Tafi (Ita)             Wilfried Peeters (Bel)        Tom Steels (Bel) 

The Winners, Distance and Average Speeds

1896 Josef Fischer (Ger)                        280 kms 30.162 avs
1897 Maurice Garin (Fra)                        280 kms 28.124 avs
1898 Maurice Garin (Fra)                        268 kms 32.599 avs
1899 Albert Champion (Fra)                      268 kms 31.976 avs
1900 Emile Bouhours (Fra)                       268 kms 37.352 avs
1901 Lucien Lesna (Fra)                         280 kms 25.861 avs
1902 Lucien Lesna (Fra)                         268 kms 28.088 avs
1903 Hippolyte Aucouturier (Fra)                268 kms 29.104 avs
1904 Hippolyte Aucouturier (Fra)                268 kms 32.518 avs
1905 Louis Trousselier (Fra)                    268 kms 33.206 avs
1906 Henri Cornet (Fra)                         270 kms 27.034 avs
1907 Georges Passerieu (Fra)                    270 kms 30.971 avs
1908 Cyrille Van Hauwaert (Bel)                 271 kms 25.630 avs
1909 Octave Lapize (Fra)                        276 kms 30.469 avs
1910 Octave Lapize (Fra)                        266 kms 29.274 avs
1911 Octave Lapize (Fra)                        266 kms 31.345 avs
1912 Charles Crupelandt (Fra)                   266 kms 31.294 avs
1913 François Faber (Lux)                       265 kms 35.333 avs
1914 Charles Crupelandt (Fra)                   274 kms 30.332 avs
1919 Henri Pelissier (Fra)                      280 kms 22.857 avs
1920 Paul Deman (Bel)                           263 kms 24.377 avs
1921 Henri Pelissier (Fra)                      263 kms 29.068 avs
1922 Albert DeJonghe (Bel)                      262 kms 34.690 avs
1923 Henri Suter (Swi)                          270 kms 30.098 avs
1924 Jules Van Hevel (Bel)                      270 kms 25.962 avs
1925 Felix Sellier (Bel)                        260 kms 28.031 avs
1926 Julien Delbecque (Bel)                     270 kms 31.962 avs
1927 Georges ronsse (Bel)                       260 kms 30.449 avs
1928 André Leducq (Fra)                         260 kms 33.597 avs
1929 Charles Meunier (Bel)                      260 kms 29.168 avs
1930 Julien Vervaecke (Bel)                     255 kms 31.146 avs
1931 Gaston Rebry (Bel)                         255 kms 36.342 avs
1932 Romain Gijssels (Bel)                      255 kms 37.320 avs
1933 Sylvère Maes (Bel)                         255 kms 36.523 avs
1934 Gaston Rebry (Bel)                         255 kms 32.415 avs
1935 Gaston Rebry (Bel)                         255 kms 37.363 avs
1936 Georges Speicher (Fra)                     262 kms 36.137 avs
1937 Jules Rossi (Ita)                          255 kms 34.935 avs
1938 Lucien Storme (Bel)                        255 kms 30.936 avs
1939 Emile Masson (Bel)                         262 kms 35.934 avs
1943 Marcel Kint (Bel)                          250 kms 41.822 avs
1944 Maurice De Simpelaere (Bel)                246 kms 39.897 avs
1945 Paul Maye (Fra)                            246 kms 31.212 avs
1946 Georges Claes (Bel)                        246 kms 34.055 avs
1947 Georges Claes (Bel)                        246 kms 39.831 avs
1948 Rik Van Steenbergen (Bel)                  246 kms 43.612 avs
1949 André Mahe (Fra) and Serse Coppi (Ita)     244 kms 39.356 avs
1950 Fausto Coppi (Ita)                         247 kms 39.123 avs
1951 Antonio Bevilacqua (Ita)                   247 kms 40.355 avs
1952 Rik Van Steenbergen (Bel)                  245 kms 41.938 avs
1953 Germain Derycke (Bel)                      245 kms 43.522 avs
1954 Raymond Impanis (Bel)                      246 kms 35.590 avs
1955 Jean Forestier (Fra)                       249 kms 40.741 avs
1956 Louison Bobet (Fra)                        252 kms 41.831 avs
1957 Fred De Bruyne (Bel)                       252 kms 34.738 avs
1958 Léon Van DaelE (Bel)                       269 kms 33.300 avs
1959 Noël Fore (Bel)                            262 kms 42.760 avs
1960 Pino Cerami (Bel)                          262 kms 43.538 avs
1961 Rik Van Looy (Bel)                         263 kms 41.700 avs
1962 Rik Van Looy (Bel)                         258 kms 38.321 avs
1963 Emile Daems (Bel)                          266 kms 37.681 avs
1964 Peter Post (Ned)                           265 kms 45.129 avs
1965 Rik Van Looy (Bel)                         267 kms 41.847 avs
1966 Felice Gimondi (Ita)                       262 kms 37.546 avs
1967 Jan Janssen (Ned)                          263 kms 36.824 avs
1968 Eddy Merckx (Bel)                          262 kms 36.606 avs
1969 Walter Godefroot (Bel)                     264 kms 38.939 avs
1970 Eddy Merckx (Bel)                          266 kms 41.644 avs
1971 Roger Rosiers (Bel)                        266 kms 42.108 avs
1972 Roger De Vlaeminck (Bel)                   272 kms 36.709 avs
1973 Eddy Merckx (Bel)                          272 kms 36.370 avs
1974 Roger De Vlaeminck (Bel)                   274 kms 37.567 avs
1975 Roger De Vlaeminck (Bel)                   277 kms 40.406 avs
1976 Marc De Meyer (Bel)                        279 kms 40.811 avs
1977 Roger De Vlaeminck (Bel)                   250 kms 40.464 avs
1978 Francesco Moser (Ita)                      263 kms 36.494 avs
1979 Francesco Moser (Ita)                      259 kms 41.010 avs
1980 Francesco Moser (Ita)                      264 kms 43.106 avs
1981 Bernard Hinault (Fra)                      263 kms 40.868 avs
1982 Jan Raas (Ned)                             270 kms 36.733 avs
1983 Hennie Kuiper (Ned)                        274 kms 40.308 avs
1984 Sean Kelly (Ire)                           265 kms 36.074 avs
1985 Marc Madiot (Fra)                          265 kms 36.109 avs
1986 Sean Kelly (Ire)                           268 kms 39.374 avs
1987 Eric Vanderaerden (Bel)                    264 kms 36.982 avs
1988 Dirk De Mol (Bel)                          266 kms 40.324 avs
1989 Jean-Marie Wampers (Bel)                   265 kms 39.164 avs
1990 Eddy Planckaert (Bel)                      265 kms 34.855 avs
1991 Marc Madiot (Fra)                          266 kms 37.332 avs
1992 Gilbert Duclos-Lassalle (Fra)              267 kms 41.480 avs
1993 Gilbert Duclos-Lassalle (Fra)              267 kms 41.652 avs
1994 Andreï Tchmil (Bel)                        270 kms 36.160 avs
1995 Franco Ballerini (Ita)                     266 kms 41.303 avs
1996 Johan Museeuw (Bel)                        262 kms 43.310 avs
1997 Frédéric Guesdon (Fra)                     267 kms 40.280 avs
1998 Franco Ballerini (Ita)                     267 kms 38.270 avs
1999 Andrea Tafi (Ita)                          273 kms 40.519 avs