98th Paris-Roubaix - CDM
Results and reports
---
Results Post race comments World Cup standings
Reports
Mapei do it by numbers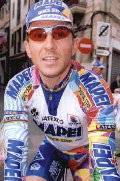 Johan Museeuw
Photo: © Mario Stiehl

The 98th edition of the Paris-Roubaix certainly was a "Queen of the Classics". The usual high drama, atmosphere and danger that mark this race were present in full force, and the winner was the best man on the day. Mapei Quick-Step's Johan Museeuw had just on 250 metres when he crossed the finish line in the hallowed Roubaix velodrome, lifting his left leg in triumph as he did so. He demonstrated his enourmous will to return to the top after injuring it so badly in the Arenberg forest in 1998. An impressive ride backed by a great team.

Peter van Petegem (Farm Frites) led the shattered top group home for 2nd, with Telekom's Erik Zabel putting in another fantastic ride for third, increasing his overall World Cup lead. The strong men rounded out the top 10: Tristan Hoffman (MC J&J),Stefano Zanini (Mapei), George Hincapie (USPS), Marc Wauters (Rabobank), Franco Ballerini (Lampre), Steffen Wesemann (Telekom) and Andrea Tafi (Mapei). The latter had pucntured with just a few kms to go, or he could well have gained a top 5 spot. The only rider missing was Lotto's Andrei Tchmil, who had punctured and fallen early in the race and could only manage 24th.

The race came down, as it usually does, to whichever team could place the most riders at the front. Mapei, Farm Frites, and Telekom had probably the strongest at the start, but only Mapei was prepared to send a man in the early break: Belgain Tom Steels, 3rd last year, was the designated sacrificial lamb and he went with 11 others at the 35 km point on a break that was to last 160 km. With him went Dimitri Konychev (Fassa Bortolo), Jan Boven (Rabobank), Jacky Durand (Lotto), Robert Hunter (Lampre), Marty Jemison (USPS), Sebastien Joly (Bonjour) and Matthew White (Vini Caldirola). These were the eight that remained after the first two cobbled sections at 115 km, and they gained three and a half minutes lead at the maximum. No representatives from Farm Frites or Telekom, who had to rely on the fact that the break would exhaust themselves.

Punctures and crashes are a key feature of this race, and Andrei Tchmil (Lotto) experienced both in the first 100 km. Although he was able to rejoin the peloton, it did not bode well for later when he needed the stength. Up front, his teammate Durand punctured in the break at the 140 km point. He suffered from a slow wheel change and was caught by the rapidly thinning bunch, which was being driven by Farm Frites, Lampre and Telekom now.

Up front, the break entered the famous Arenberg cobbled section (170 km) and the six (Boven punctured as well) were reduced to four - Steels, Hunter, Konychev and White with a lead of less than two minutes. Over the next 25 km, this came down as White was dropped and the remaining three were caught at 195 km. Franco Ballerini had already tried to attack the leading group of 25, but was swiftly brought back by Mapei with Tafi prominent. Lampre still had Spruch, Serpellini and Hunter so could afford a little aggression.

Mapei had more though, and sent Max van Heeswijk up the road with 75 kilometres to go on the Tilloy pavé. All the big names were in the top group, but Mapei were playing the numbers game. Other teams: Francaise des Jeux (Michaelsen, Hoj and Guesdon) and US Postal (Hincapie, Andreu, Ekimov) also had quite a few up front and were doing their best to keep in the running. Telekom had Zabel, Wesemann, Aldag and Hundertmarck although the latter two were dropped soon after, and Farm Frites had Knaven and Van Petegem.

Van Heeswijk was caught by teammate Museeuw who takes Frankie Andreu (USPS) with him at 59 kms to go. They established a gap that quickly went over minute, with Mapei and the Posties slowing things down in the bunch, having seven riders between them. Van Heeswijk didn't last long, and Museeuw decided to go alone at 38 kilometres to go on the pavé at Ennetières.

At the 247 kilometre point, his gap was 2.40 with just 26 kilometres to go into a stiff headwind. However, he knew that his team was strong and Tafi was doing a sterling job chasing down everything that moved. When one of the favourites in the race is acting as a domestique, there are not too many things to worry about.

Telekom's Steffen Wesemann put in a strong attack with 16 kilometres to go on the third last pavé section, and he was followed by Hincapie and Vainsteins. The gap was being rapidly reduced - now to 1.20 with 14 km to travel, and Museeuw is visibly tiring. There was still some work to be done. However, Wesemann and the rest were caught and the bunch slowed enough to keep Museeuw's lead at a minute with 5 kilometres to go. This was enough for the man from Gistel and the winner of this race in 1996.

His faithful teammate, Andrea Tafi punctured at the worst possible moment with 3 kilometres to go, but still was able to finish 10th in front of the next group of nine led home by Mapei's Wilfried Peeters. The 8 strong front group closed the gap significantly to Museeuw in the closing kilometres, but were unable to nail him and they finished nearly a lap of the Roubaix velodrome behind him. No 1-2-3 this time, but an emphatic victory nonetheless.

Many were impressed, especially team manager Patrick Lefevre. They had to take him to hospital after the race, as he was so overwhelmed he fainted. All was well though, he was just too happy for Johan and the team.
Post race comments
Johan Museeuw (Mapei, winner)
"It's a dream indeed. Two years ago I almost lost my leg, I have taken a lot of medicine, and I have worked enormously. In 1999 I reached an acceptable level. This year I have had the ambition to win one of the big races. For me the Paris-Roubaix is the ideal race to win, not for the sake of revenge but rather as a symbol of my comeback."
"During the race I was not more afraid than the others, I only feared the falls and the punctures. I held my concentration, and looked after myself. The most difficult part today was from 20 to 10 kilometers from the finish when I had a one minute gap. But I had my team mates along back there and this is also their victory."
"But my greatest victory is that I've have come back to racing at all, after the crash two years ago," he finished.
Patrick Lefèvre, manager of Mapei:
"Now Johan has nothing more to prove. At 34 he is still on the summit. I am very emotional - this is the biggest win of his career, and it was a fantastic success for the entire team."
Lefevre couldn't comment much though, as he was overcome by the emotion and had to be taken to hospital. He was sent by ambulance to Lille, where he was treated for stress and low blood sugar levels. However the doctors were able help and he could leave the hospital by 9 pm on Sunday evening.
Peter Van Petegem (Farm Frites, 2nd)
"It was really tough with the headwind. When Museeuw attacked everybody thought that it was too early. But he really is a champion. For my part I had powers left at the end, beating Zabel is good."
Erik Zabel (Telekom, 3rd)
"Wesemann helped me excellently to be at the finish with Zanini and van Petegem. I thought earlier that the race was done and aimed only for World Cup points. I will try to keep the lead in the World Cup past the Amstel Gold Race."
Andrea Tafi (Mapei, 10th)
Last year's winner was quite emotional when he came to the podium to congratulate teammate Museeuw for a brilliant victory. He was disappointed in himself because he was so closely marked, and he punctured just a few kilometres from the end.
"I had everybody against me, but that was expected. That's the role for the favourites. Museeuw's attack with Andreu was not planned or agreed. He just grabbed the initiative. But it was important that our team won. The squad really has worked hard, and we showed anyone who doubted us. I would have managed a better placing if I hadn't punctured towards the end."
"Johan is a great champion, and we must accommodate everyone in our large team," he said. "The first one of us who attacks gained the protection of the rest of the team. They are happy for Johan. Sure, if I had attacked, the same would have applied."
"I was still good at the finish - I had the legs to make the podium. Unfortunately, I was not so lucky," he said, referring to his puncture. "I hope that I have confirmed that this is my race. I will be back in 2001 - from tomorrow onwards it is already the eve of the next Paris-Roubaix," he vowed.
Frederic Guesdon (Francaise des Jeux, 17th)
"I was not super. In that case, one commits many errors. I went to looking for the sides, and I often ran into trouble. I am satisfied with the result, as I finished with courage. I was the first finish French finisher, but I would have preferred to be the second or third Frenchman, but to be in the top 10."
Andrei Tchmil (Lotto, 24th)
"It is a great champion that won today. In a way I am content. He is an old man and no one can say that the old men should quit. Behind Museeuw no-one wanted to raise the tempo. After Arenberg the speed was very high on the paves. I had three flats and one fall, and close to the finish another flat. I knew at the Carrefour de l'Arbre that the race was done."
Christophe Mengin (Francaise des Jeux, 26th)
"Guesdon and I were protected in the finale. Michaelsen, Hoj and Magnien were to go with the attacks after Arenberg. It was not up to us to control the race, as we were not the favourites. I did not feel bad, but I made some positional errors in the sectors where there was a crosswind. I was obliged to make efforts for which I paid for."
Servais Knaven (Farm Frites, 12th):
"Unbelievable! If you want Mapei wins because they are so strong, why are you starting here? We - Farm Frites - were the only team that wanted to fight. Geert van Bondt was leading the group behind Museeuw for a long time. At 35 kilometers from the finish I went to Franco Ballerini. He was in our group with three teammates: Spruch, Serpellini and Hunter. 'Are you riding with us?' I asked. 'Yes, yes,' he said. But after three kilometers I still didn't see one Lampre rider in the front of our group. It was frustrating. On the cobblestones all behind each other and on the road demarrages by Spruch... Very frustrating."
No good words about the Telekom-tactics. Zabel ordered his teammates to stop the chase behind Museeuw.
Tristan Hoffman (Memorycard Jack&Jones, 4th):
"That wasn't smart by Zabel. But that is the normal tactic of Telekom. They always wait for a long time before they join the work in front. And the wind was in front of us, so no one was willing to do the dirty work."
Theo de Rooy (Rabobank team director):
"It was the same as last Wednesday in Gent-Wevelgem. We were chasing with 4 riders behind the leaders, without having a finisher in our team. Telekom was with 4 riders too, but only one rider was working together with us. I didn't understand that. Do you want to have a chance for the victory? Or not?"
Dirk de Mol (US Postal assistant, former winner of P-R):
"Lampre, Telekom and Farm Frites had to do the work. Not our team. We had Andreu in front of the race. When Zabel ordered his mates to stop, we - Johan Bruyneel and me - didn't understand that. If we were in the same situation as those teams we should sacrifice two riders."
Stefano Zanini (Mapei, 5th):
"I worked a lot in the first 200 km, to find my rhythm. At the end at least I was well," said Museeuw's designated lieutenant. "I wanted to be on the podium, but I went around the outside so I wouldn't be boxed in, and there I stayed. I'm sorry for both me and the team."
Franco Ballerini (Lampre, 8th):
"I was going quite well, really well, until my fall on the pavé at Orchies - the same point that ended my race last year," he said. "I hit my left shoulder, and couldn't hold the bars as firmly. Full compliments to Museeuw, he made a big attack into the headwind. But behind, nobody had the strength to organise the pursuit. I really don't understand why Zabel stopped his team. I asked him whether he wanted to cooperate with Lampre-Daikin, but he believed he had nothing to gain. To him it may have been understandable, but I believe he was mistaken."
Dario Pieri (Saeco, 37th):
Last week, second in the Ronde van Vlaanderen, this week, 5:24 down in 37th. What happened? "I fell, punctured five times and lost momentum. Two punctures in particular cost me a great deal of effort in order to get back to the group, and in the closing stages I was without energy. I suppose I must put it down to experience, but at least I finished my third Paris-Roubaix. Sooner or later I will enter the velodrome in order to win."
George Hincapie (US Postal, 6th):
Hincapie was placed sixth, 15 seconds back, despite riding the last 10 kms on a soft tire and crashing at the 210 km mark after the second feed zone. He admitted to being "pretty banged up" after the race.
Johan Bruyneel (US Postal team director):
"Taking away the team performance at last year's Tour de France, this was the best race I have ever seen us race as a team," he said. "The Tour de France was a team success and a result of teamwork over three weeks, but in a one-day race, we were represented the whole race. The team was awesome yesterday."
"There is no doubt about it, this is his race," Bruyneel said about Hincapie. "He was pumped up. His behavior in the race pushed the team to a higher level - the same like Lance (Armstrong) at last year's Tour de France. During the race, I have never seen him so confident. We went up to him a few times in the car and asked him how he was feeling, and for him to say he was flying...well, if you know George, that is usually not George's way of talking."
Results
1 Johan Museeuw (Bel) Mapei-Quick Step                   6.47.00 (40.172 km/h)
2 Peter Van Petegem (Bel) Farm Frites                       0.15
3 Erik Zabel (Ger) Deutsche Telekom     
4 Tristan Hoffman (Ned) Memorycard-Jack&Jones
5 Stefano Zanini (Ita) Mapei-Quick Step
6 George Hincapie (USA) US Postal Service
7 Marc Wauters (Bel) Rabobank
8 Franco Ballerini (Ita) Lampre Daikin
9 Steffen Wesemann (Ger) Deutsche Telekom                   0.21
10 Andrea Tafi (Ita) Mapei-Quick Step                       1.18
11 Wilfried Peeters (Bel) Mapei-Quick Step                  1.38
12 Servais Knaven (Ned) Farm Frites
13 Marco Serpellini (Ita) Lampre Daikin
14 Romans Vainsteins (Lat) Vini Caldirola-Sidermec
15 Zbigniew Spruch (Pol) Lampre Daikin
16 Vjatceslav Ekimov (Rus) US Postal Service
17 Fréderic Guesdon (Fra) La Francaise Des Jeux
18 Marco Milesi (Ita) Vini Caldirola-Sidermec
19 Magnus Backstedt (Swe) Credit Agricole                   2.08
20 Frankie Andreu (USA) US Postal Service                   3.15
21 Tom Steels (Bel) Mapei-Quick Step                        3.17
22 Lars Michaelsen (Den) La Francaise Des Jeux
23 Leon Van Bon (Ned) Rabobank
24 Andrei Tchmil (Bel) Lotto Adecco
25 Dmitri Konyshev (Rus) Fassa Bortolo
26 Christophe Mengin (Fra) La Francaise Des Jeux
27 Frank Hoj (Den) La Francaise Des Jeux
28 Daniele Nardello (Ita) Mapei-Quick Step                  3.22
29 Peter Farazijn (Bel) Cofidis                             4.18
30 Koen Beeckman (Bel) Lotto Adecco                         4.26
31 Jacky Durand (Fra) Lotto Adecco                          4.30
32 Rolf Aldag (Ger) Deutsche Telekom     
33 Francis Moreau (Fra) Cofidis
34 Jann Kirsipuu (Est) Ag2R Prevoyance
35 Max Van Heeswijk (Ned) Mapei-Quick Step
36 Kai Hundertmarck (Ger) Deutsche Telekom     
37 Dario Pieri (Ita) Saceo Valli&Valli                      5.24
38 Aart Vierhouten (Ned) Rabobank                           5.44
39 Robert Hunter (Rsa) Lampre Daikin                        8.07
40 Fabio Baldato (Ita) Fassa Bortolo
41 Rolf Sorensen (Den) Rabobank                             8.08
42 Cédric Vasseur (Fra) US Postal Service
43 Jo Planckaert (Bel) Cofidis
44 Geert Van Bondt (Bel) Farm Frites                        8.16
45 Thierry Marichal (Bel) Lotto Adecco                      9.38
46 Danilo Hondo (Ger) Deutsche Telekom                     10.52
47 Denis Zanette (Ita) Liquigas Pata
48 Nicola Loda (Ita) Fassa Bortolo
49 Steven Kleynen (Bel) Farm Frites
50 Lauri Aus (Est) Ag2R Prevoyance
51 Guillaume Auger (Fra) Big Mat - Auber 93
52 Bruno Thibout (Fra) Jean Delatour
53 Ruben Galvan (Spa) Kelme Costa Blanca
54 Arvis Piziks (Lat) Memorycard-Jack&Jones
55 Rossano Brasi (Ita) Team Polti
56 Gianluca Bortolami (Ita) Vini Caldirola-Sidermec
57 Emmanuel Magnien (Fra) La Francaise Des Jeux
58 Bart Leysen (Bel) Mapei-Quick Step
59 Johan Verstrepen (Bel) Lampre Daikin
60 Andreas Klier (Ger) Farm Frites
61 Matthé Pronk (Ned) Rabobank                             14.32
62 Thierry Gouvenou (Fra) Big Mat - Auber 93               19.30
63 Thor Hushovd (Nor) Credit Agricole
64 Franck Perque (Fra) La Francaise Des Jeux             
65 Mathew Hayman (Aus) Rabobank                         
66 Fabian De Waele (Bel) Lotto Adecco   

Finished, but unclassified:

67 Olivier Pereaudeau (Fra) Bonjour-Toupargel	           20.31
68 François Simon (Fra) Bonjour-Toupargel
69 Juan Carlos Vicario Barbera (Spa) Vitalicio Seguros
70 Andy Flickinger (Fra) Festina-Lotus	
71 Stuart O'Grady (Aus) Credit Agricole			   32.27
72 Jörg Ludewig (Ger) Saceo Valli&Valli		 
73 Paul Van Hyfte (Bel) Lotto-Adecco 
74 Jean-Michel Thilloy (Fra) VC Saint-Quentin-Oktos
75 Benoit Joachim (Lux) US Postal Service
76 Florent Brard (Fra) Festina-Lotus
77 Remco Van Der Ven (Ned) Farm Frites
78 Damien Nazon (Fra) Bounjour-Tourpargel 
79 Matthew White (Aus) Vini Caldirola			   43.04             

World Cup standings after round 3:
1 Erik Zabel (Ger) Deutsche Telekom                           190 Pts
2 Johan Museeuw (Bel) Mapei-Quick Step                        111
3 Andrei Tchmil (Bel) Lotto Adecco                            110
4 Peter Van Petegem (Bel) Farm Frites                          94
5 Fabio Baldato (Ita) Fassa Bortolo                            84
6 Romans Vainsteins (Lat) Vini Caldirola-Sidermec              82
7 Tristan Hoffman (Ned) Memorycard-Jack&Jones                  76
8 Zbigniew Spruch (Pol) Lampre Daikin                          71
9 Dario Pieri (Ita) Saceo Valli&Valli                          70
10 Oscar Freire (Spa) Mapei-Quick Step                         50
11 George Hincapie (USA) US Postal Service                     41
12 Stefano Zanini (Ita) Mapei-Quick Step                       36
13 Rolf Sorensen (Den) Rabobank                                36
14 Serguei Ivanov (Rus) Farm Frites                            36
15 Marc Wauters (Bel) Rabobank                                 35
16 Jo Planckaert (Bel) Cofidis                                 32
17 Fabio Sacchi (Ita) Team Polti                               32
18 Leon Van Bon (Ned) Rabobank                                 31
19 Stefano Garzelli (Ita) Mercatone Uno-Albacom                28
20 Markus Zberg (Swi) Rabobank                                 28
21 Franco Ballerini (Ita) Lampre Daikin                        24
22 Vjatceslav Ekimov (Rus) US Postal Service                   21
23 Steffen Wesemann (Ger) Deutsche Telekom                     20
24 Andrea Tafi (Ita) Mapei-Quick Step                          20
25 Dmitri Konyshev (Rus) Fassa Bortolo                         20
26 Marco Milesi (Ita) Vini Caldirola-Sidermec                  18
27 Bo Hamburger (Den) Memorycard-Jack&Jones                    16
28 Wilfried Peeters (Bel) Mapei-Quick Step                     15
29 Laurent Jalabert (Fra) O.N.C.E. Deutsche Bank               15
30 Oskar Camenzind (Swi) Lampre Daikin                         15
31 Servais Knaven (Ned) Farm Frites                            14
32 Elio Aggiano (Ita) Vitalicio Seguros                        14
33 Marco Serpellini (Ita) Lampre Daikin                        13
34 Enrico Cassani (Ita) Team Polti                             13
35 Andreas Klier (Ger) Farm Frites                             11
36 Fréderic Guesdon (Fra) La Francaise Des Jeux                 9
37 Andrea Ferrigato (Ita) Fassa Bortolo                         9
38 Salvatore Commesso (Ita) Saceo Valli&Valli                   8
39 Magnus Backstedt (Swe) Credit Agricole                       7
40 Eddy Mazzoleni (Ita) Team Polti                              7
41 Frankie Andreu (USA) US Postal Service                       6
42 Christophe Mengin (Fra) La Francaise Des Jeux                6
43 Tom Steels (Bel) Mapei-Quick Step                            5
44 Daniele Nardello (Ita) Mapei-Quick Step                      5
45 Mirko Celestino (Ita) Team Polti                             5
46 Lars Michaelsen (Den) La Francaise Des Jeux                  4
47 Javier Pascual Rodriguez (Spa) Kelme Costa Blanca            4
48 Mario Aerts (Bel) Lotto Adecco                               3
49 Chris Peers (Bel) Cofidis                                    3
50 Giuseppe Di Grande (Ita) Festina                             2
51 Gabriele Missaglia (Ita) Lampre Daikin                       2
52 Alessandro Petacchi (Ita) Fassa Bortolo                      1