First Edition Cycling News, May 30, 2009
Edited by Sue George & Peter Hymas
Menchov is "confident" in Giro win
Denis Menchov (Rabobank) intends to uncork one last bottle on Sunday
Photo ©: Roberto Bettini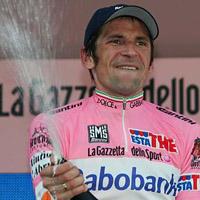 Russian Denis Menchov is positioned to win the Centennial Giro d'Italia Sunday in Rome after he managed the final mountains battle up Vesuvio on Friday.
Menchov of team Rabobank leads Danilo Di Luca (LPR Brakes-Farnese Vini) by 18 seconds in the overall classification. Franco Pellizotti (Liquigas) is in third at 1:39.
"I am confident and I have to be satisfied with this situation. I know that I am in good shape right now and that I can do a good time trial, this situation is better for me," said Menchov.
Menchov successfully defended the overall lead he took last Thursday when he won the Cinque Terre time trial. He faced the last mountain test on Monte Vesuvio, a 13-kilometre climb at the end of the 164-kilometre stage near Napoli.
The 31-year-old fought with Di Luca, who attacked five times on the climb. Pre-race favourite Carlos Sastre (Cervélo TestTeam) escaped for the win with 7.5 kilometres remaining and moved from fifth to fourth overall, but he did not affect Menchov's lead. Franco Pellizotti finished in second.
Di Luca sprinted ahead of Menchov near the volcano's top to take third and the eight-second time bonus. The Italian moved eight seconds closer to Menchov in the overall classification.
Coming up on
Cyclingnews will cover the 60th edition of the Dauphiné Libéré live as of stage 4 on Wednesday, June 10, at approximately 15:00 local Europe time (CEST)/ 23:00 Australian time (CDT)/ 9:00 (USA East).

WAP-enabled mobile devices: http://live.cyclingnews.com/wap/
"Sure, I would have liked to have won those eight seconds instead of lose them. I didn't win the sprint today because I couldn't," said Menchov.
Di Luca will have another chance to grab seconds at the end of Saturday's stage to Anagni. The slight uphill finish suites him and could give him a two-second lead in the overall if he wins. Di Luca says, though, that he needs near a 40-second lead prior to the final stage on Sunday, a 14.4-kilometre time trial.
"You have to respect your rivals - he's doing a great job - until the final arrival in Rome you cannot confirm anything. We are playing this Giro with seconds."
The arrival in Rome could see the first Russian to win the Giro d'Italia since Pavel Tonkov in 1996. Menchov already has won two Grand Tours to his name, the 2005 and 2007 Vuelta a España.
Cycling Union President McQuaid defends Menchov
By Gregor Brown in Monte Vesuvio, Italy
Denis Menchov (Rabobank)
Photo ©: Roberto Bettini

International Cycling Union (UCI) President Pat McQuaid blasted alleged reports that link Giro d'Italia race leader Denis Menchov to Vienna blood bank, Humanplasma. The Irishman visited the three-week stage race Friday near Naples, two days before the finish in Rome.
"There is no justification until you get the positives or the proof - the physical proof. I don't want to speculate on anybody," McQuaid told Cyclingnews.
Unnamed reports associated Russia's Menchov with an ongoing Austrian investigation on Wednesday. Menchov told journalists the same day that the Austrian investigators have not contacted him and referred to statements in January 2008, when he denied any connection.
The reports gathered momentum following Bernard Kohl's public statements on German television. The Austrian cyclist tested positive for third generation blood booster Erythropoietin (EPO) CERA in the 2008 Tour de France. He is serving a two-year suspension as a result and this week announced his retirement.
"I would not put a lot of faith in what he [Kohl] says. It is always guys who get caught and thrown out who start reflecting a little bit, preparing a book, and they come out with anything. Unless we have proof, we can not go and do anything," McQuaid told gathered reporters.
Austrian authorities are currently investigating Kohl for an alleged role in renting out a centrifuge used for blood doping.
Menchov leads the Giro d'Italia by 18 seconds over Danilo Di Luca. The race ends with a 14.4-kilometre time trial on Sunday.
Sastre takes Giro's Petrano and Vesuvio, Tour next
By Gregor Brown in Monte Vesuvio, Italy
Carlos Sastre (Cervélo TestTeam) wins stage 19
Photo ©: Roberto Bettini

Carlos Sastre took a second magical stage win in the 2009 Giro d'Italia with victory on top of the world's most dangerous volcano, Monte Vesuvio. The win added to the one he captured at the end of the race's hardest day - Monte Petrano - and gives his newly founded Cervélo TestTeam confidence ahead of the Tour de France.
"They were two nice victories though my goal in this Giro was something more," Sastre told Cyclingnews. "We are happy with the three stage wins in our first Grand Tour. They [teammates] believed in me, which was very important."
The Spaniard's win came on day 19 of the three-week stage race, three days after his win on Monte Petrano. Australian teammate Simon Gerrans won the stage to Bologna's San Luca on Saturday.
Sastre had aimed to win the overall, though. He attributes his loss to Wednesday's stage to Blockhaus, an 83-kilometre, one-mountain stage.
"I made a mistake on the Blockhaus stage. Our rider [Philip Deignan - ed.] crashed ahead of the climb. I missed him and Volodimir Gustov, who had a bad crash ahead of the last rest day, for the climb. I tried attacking, and then I could not follow the others when they went ahead with their attacks."
Sastre is fourth overall at 2:40 behind race leader Denis Menchov (Rabobank) with two days left to race. He is too far behind, one minute and one second, to make the final podium following Sunday's 14.4-kilometre time trial, but will focus on defending his Tour de France win after the Giro d'Italia ends.
"This year my first goal was the Giro and the second will be the Tour de France. After this race, I will have a nice break to recover and be ready for the Tour, like I was for the Giro."
Sastre won the 2008 Tour de France by 58 seconds over Cadel Evans. He finished on the podium one other time, third in 2006.
UCI comments on Valverde, Kohl and Astana
By Shane Stokes
Alejandro Valverde (Caisse d'Epargne)
Photo ©: ISPA

He's described the action against him as an 'injustice', while others are convinced of his guilt. What's certain is that Alejandro Valverde has a fight on his hands in the weeks ahead if he is to ride the Tour de France, and if he is to avoid a lengthy ban.
The UCI is thus far not committing itself to getting involved, but could do so in time. UCI President Pat McQuaid implied that for now, the governing body is taking a 'wait and see' approach to things.
"We are still waiting for the reasoning for CONI, we haven't got it yet," he told Cyclingnews on Friday. "Once we do get it, we will study it and see if they have competence and if it is in line with the WADA code.
"If it is in line, then we will make a decision in relation to globalising the ban. Or else we will wait and see what CAS says. But when we get it [the CONI judgment], we will study it."
On the subject of controversial riders, Cyclingnews asked McQuaid about Bernhard Kohl, the disgraced King of the Mountains and podium-getter in the last Tour. Kohl said this week that he was able to dope despite being subjected to the biological passport, going as far as to say that his 'perfect' blood values had earned him a big contract with Silence Lotto.
"The statements Kohl makes are totally inaccurate," said McQuaid, when asked for his response to those claims. "I wouldn't accept anything. I haven't seen the full interview that he did, I only saw excerpts. But those excerpts I saw were totally inaccurate and not in line with the accurate facts. He is using things to suit himself."
Astana moving forward, but is it fast enough?
Prior to the start of the Giro d'Italia, the Astana team was facing the possibility of a loss of its ProTour licence due to the non-payment of salaries. The team reportedly had to use its bank guarantee in order to pay riders, as several of its Kazakh sponsors had not coughed up the cash.
McQuaid confirmed that things are improving, but that certain guarantees would have to be met in order to secure the team would hold onto the licence.
"To the best of my knowledge, the bank guarantee has been repaid," he said. "As far as I am aware, everything is up to date with them. But having said that, it is still not completely clear. We have asked for other things to be put in place in order to ensure that the team continues and the payments stay right until the end of the year.
"In other words, we don't want a situation where the Tour de France finishes and then the payments stop going through. We need certain guarantees from them."
A deadline of June 1 was originally put in place, but this has now been extended. "We are still in correspondence with them in relation to that," he said. "There is still a possibility that we could be going to the licence commission in early June asking for a withdrawal of the licence."
Di Luca's troubles on Vesuvio
By Gregor Brown in Monte Vesuvio, Italy
Danilo Di Luca (LPR Brakes) leads Denis Menchov (Rabobank)
Photo ©: Roberto Bettini

Danilo Di Luca (LPR Brakes-Farnese Vini) delivered on promises to attack race leader Denis Menchov (Rabobank) on the Vesuvio volcano at the end of Friday's Giro d'Italia stage. The Italian's multiple attacks failed to distance the Russian, who leads by 18 seconds going into the race's final two days.
"I put him in trouble, but I was also in trouble," said Di Luca. "I was at my limit and so was Menchov, so we cancelled each other out. It is like that at the end of three-week race."
Di Luca trailed Menchov by 26 seconds heading into the race's final mountain day, which ended with a 13-kilometre climb up Monte Vesuvio. His LPR Brakes-Farnese Vini team led the peloton to the climb's base, where Di Luca was left to distance Menchov.
Di Luca attacked first at 8.5 kilometres remaining, but Menchov marked him. Sensing his time was running out, he accelerated multiple times in the final kilometres (4.5, 2.8 and 1.5 kilometres remaining). He dropped Stefano Garzelli (Acqua & Sapone - Caffe Mokambo) and Levi Leipheimer (Astana), but Menchov remained.
He needed to gain time on Menchov to take the race lead and give himself enough cushion heading into the final stage on Sunday. The race ends with a 14.4-kilometre time trial that favours Menchov.
Di Luca sprinted for third place on Vesuvio behind stage winner Carlos Sastre (Cervélo TestTeam) and Franco Pellizotti (Liquigas). The Giro d'Italia awards 20-, 12- and eight-second bonuses for the top three riders. Di Luca took time on Menchov and plans for the same on Saturday's stage to Agnoli, which finishes on a slight uphill.
"It is a good stage with a finish that suites my characteristics. I will have an advantage on the final circuit, I will try to win the race or be there in the sprint."
The win would only put Di Luca in the lead by two seconds, and by his own admission, he needs 40 seconds on Menchov before the time trial.
"I will give the most I have through the time trial without any doubt. Menchov has the advantage, but until that day you can't say."
Air Force Classic hit by UCI code 2.1.009
By Kirsten Robbins
BMC Racing is unable to race the Clarendon Cup
Photo ©: Jon Devich

Pro Tour team Fuji-Servetto and American-based Professional Continental team BMC Racing were unable to register for the Air Force Cycling Classic's Clarendon Cup, formerly the CSC Invitational, due to the resurfacing UCI code 2.1.009. The code prohibits ProTour and Professional Continental teams from competing in national level events where only UCI Continental teams of the country, regional and club teams, national teams and mixed teams may participate. The two-day event begins on Saturday May 30 in Arlington, Virginia.
According to Robert Laybourn, the event's technical director, enforcing the code has a negative impact on the quality of the field at the Air Force Cycling Classic. "I have to be honest, the UCI is now enforcing a rule that they hadn't done before," said Laybourn. "Professional Continental teams like BMC can't race [Clarendon Cup] this year and neither can Garmin, Columbia High-Road or Fuji-Servetto."
The UCI code first surfaced from the rule books at the Tour of the Gila last month where teams Astana and BMC Racing were prohibited from participating. Discussions between USA Cycling and the UCI regarding the upheaval resulted in an agreement whereby both teams could start three riders wearing nondescript clothing. However, the code is still enforced in the US.
"The UCI is only looking at Europe and not understanding our racing here in the USA," Laybourn said. "All the professional teams, no matter what level, are wanted here. It makes the competition better and our riders better. I'm disappointed that the UCI has not come up with a better solution yet. It's disappointing that they are choosing to enforce a rule that doesn't make sense in our country."
Laybourn combined two races, the Clarendon Cup, a National Racing Calendar (NRC) event, and the Crystal City Classic, a USA Cycling Professional Tour UCI event, under the name Air Force Cycling Classic to somewhat sustain the first race and help promote the second race. ProTour and Professional Continental teams are prohibited form competing in the Clarendon Cup because it is not a UCI event. Laybourn also noted that high profile teams, especially from overseas, have lost interest in traveling to the US Air Force Classic because of the loss of the former Triple Crown series.
The series was reduced to the one-day TD Bank Philadelphia Cycling Championships due to the economic crisis. Before the economic downturn, international teams could travel to the US with the opportunity to compete in four high quality races all in the same region before culminating at the Philadelphia event. "It's very expensive for teams to fly over here just for one race, because they can't race both of our races and then stay for one week between the two events," Laybourn said.
Gavin Chilcott, directeur of the BMC Racing squad, pushed for further discussions regarding the adjustment of the UCI code 2.1.009 at the Tour of the Gila last month. "The message that we need to send out on behalf of the ProTour and Professional Continental teams is that we look forward to creating solutions with the UCI and USA Cycling that allow our participation in American events, a set of guidelines that suits all parties," said Chilcott, who will start a team at the Crystal City Classic. "We see that there are problems and that there are avenues to achieve solutions. We are motivated in a collaborative fashion to reach these solutions with the two organizations."
McEwen's surgery successful
After a crash during stage two of the Tour of Belgium on Thursday, Robbie McEwen (Team Katusha) underwent a successful surgery to repair the major damage, a fracture of his tibial plateau [the top surface of the tibia bone that is part of the lower portion of the knee joint - ed.].
Doctors fixed his fracture with two screws and reported afterward that the alignment had gone well and there was no joint damage. McEwen began moving his knee, with the help of a special machine, on Friday. He's expected to recover enough to return to his bike in three to four weeks.
McEwen's crash, two kilometers before the end of the stage, brought an end to his Tour de France aspirations for this season.
Sireau breaks world record for 200 metres
French sprint sensation Kevin Sireau
Photo ©: Jean-François Quénet

During the GP of Moscow, France's Kevin Sireau has broken the world record for the 200 metres flying start with a time of 9.650 seconds. The previous best time was 9.772 by Theo Bos who also set the record at the Krylatskoe velodrome before switching to road racing.
Another Frenchman actually went faster than Bos, too: current world sprint champion Gregory Baugé stopped the clock in 9.654 seconds, but the world record now belongs to the 22-year-old from Issoudun, a town in the centre of France that will host the finish of stage 10 of the coming Tour de France on Bastille Day.
Sireau is a two-time world champion in the team sprint. He's a member of the Cofidis track team and he's coached by Benoît Vêtu at the national sprint centre of Hyères in south of France. Vêtu recently turned down the offer of becoming a national coach for China after French cycling legend Daniel Morelon. His choice was based on the brilliant future he believes Sireau has. (JFQ)
No radios at French championship
By Jean-François Quénet
Marc Madiot is a proponent of radio-free racing
Photo ©: Brecht Decaluwé

While different commissions at the UCI are in talks about the use and abuse of radio communication via ear pieces between directeurs sportifs and riders, the French have decided to ban them at the national championship in Saint-Brieuc on June 28.
"It's an experiment and we hope it will show better cycling," said Marc Madiot who took this decision as the president of the French pro cycling league (LCPF) that oversees teams, riders and organisers. Under French law, the LCPF runs professional cycling on a national level separately from the French cycling federation (FFC), but it appeared that the new president of the FFC, David Lappartient, is also a strong opponent of radios. He's the leader of the anti-radio movement on the board of the UCI.
"We want to restore the initiative of the riders," Madiot said. "They have to study the courses of the races like we used to do when we competed before the inception of the radios. By doing so, we also intend to restore the essence of the job of the directeur sportif. Without radios, the morning's briefing has to be perfect because there's no possibility to correct the instructions during the race."
The organisers of the Tour de France are also considering a ban on radios.
(All rights reserved/Copyright Future Publishing (Overseas) Limited 2009)