Latest Cycling News, May 19, 2009
Edited by Hedwig Kröner
Out to get pink - 'dark horses' Sastre and Menchov
Carlos Sastre and Denis Menchov are two great riders who are outside contenders to win the Centenary Giro d'Italia. On the first rest day of this twenty-one day battle across Bella Italia, Cyclingnews had the opportunity to ask these men one-on-one about their chances of reaching the top step in Rome.
Sastre: "I have the opportunity to win the Giro"
By Anthony Tan
Carlos Sastre is relaxed but determined.
Photo ©: Gregor Brown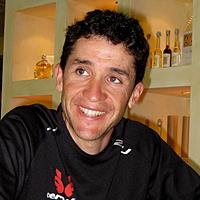 Contrary to what has been said before, Carlos Sastre has come to the 92nd Giro d'Italia to win. The man who stands before me is frequently described as friendly, but it is clear he is no pushover. His eye contact is strong, his handshake very firm, and his words well chosen.
It sends a message of capability; a man who knows what he wants and knows how to get it. He came to the race ready for a challenging first week, and emerged on the first rest day still within striking distance of maglia rosa Danilo Di Luca.
"When I decided the race the Giro d'Italia and I saw the course, I knew that I had to be good condition in the beginning," he says.
"Of course, it wasn't easy being on the wheels of these guys. But I was there, I think I was a factor, and it showed on GC. I didn't lose too much time, and I think I'll be there for the next couple of weeks," says Sastre.
Polemics continue about Giro safety
Ivan Basso (Liquigas) regretted the riders' protest in Milan
Photo ©: JF Quénet

After Sunday's stage nine into Milano was neutralized by the riders because of safety reasons, talk about the move did not cease on the Giro's first rest day on Monday. Italians Ivan Basso and Gilberto Simoni spoke to the media about what happened - and while Basso expressed his regrets over the decision, Simoni stood firm against the organiser.
"I think that after all that happened yesterday [Monday], everyone examined their conscience," Basso told the Gazzetta dello Sport in a press conference. "Tomorrow [Tuesday], the peloton will be ready to show some spectacle. "What happened? Sometimes, nervousness takes over and the decisions taken during a race are not reasonable."
While not naming any names, the 2006 Giro d'Italia winner felt obliged to give his excuses to the organiser, RCS Sports. "Nobody is really responsible individually for what happened. We have to apologize for it and that's all."
Simoni, another Giro overall winner, did not backpedal. "We can't accept everything without doing something about it," he maintained. "Fourteen riders broke their wheels on the first lap [of the Milan circuit]. We are at the Tour of Italy, not in Paris-Roubaix. We all agreed [to neutralize the stage]."
Coming up on
Cyclingnews will cover the 60th edition of the Dauphiné Libéré live as of stage 4 on Wednesday, June 10, at approximately 15:00 local Europe time (CEST)/ 23:00 Australian time (CDT)/ 9:00 (USA East).

WAP-enabled mobile devices: http://live.cyclingnews.com/wap/

Discuss the riders' reaction and toady's stage bets on our official Giro d'Italia forum thread.
Fatal accident for Giro moto pilot
A motorbike driver following the Giro d'Italia had a lethal accident on Tuesday morning near Cuneo, the stage 10 start town. Fabio Saccani, for whom it was the 33rd Giro d'Italia, was heading from Milano to the start of the stage when the fatal crash occurred in the vicinity of Bra on the autostrada. The 69-year-old was one of the photographers' pilots following the race.
The 69-year-old was the driver for Cyclingnews photographer Roberto Bettini, who was not on the motorcycle at the time.
A minute of silence will be observed at the stage start in Cuneo this morning. Cyclingnews sends its condolences to Saccani's family and friends.
Valverde and Pereiro on the rise
Alejandro Valverde (Caisse d'Epargne) is back racing
Photo ©: AFP
Caisse d'Epargne's Alejandro Valverde and Oscar Pereiro are currently competing in the Vuelta a Catalunya, improving their form. Valverde, whose presence at the Spanish stage race is controversial due to his alleged implication in Operación Puerto by the Italian Olympic Committee, finished the event's opening prologue of 3.8 kilometres only one second behind the winner, Norwegian Thor Hushovd.
"This technical course suited my characteristics as a rider," said Valverde after stepping off the podium in Lloret de Mar on the Mediterranean sea. "It's a pity that another rider was faster than me, even more so by only one tiny second, but at the same time I'm satisfied because I didn't think I'd get so close to the victory."
The Spanish rider suffered a flu after the Tour de Romandie and is now coming back to form in Catalunya. "I finished the Swiss race with a flu, which is why I had to stay home without training for a few days and take antibiotics. Afterwards, I started training again, taking things slow at first and more intensively in the last few days before coming here. I think my condition is acceptable and I look forward to testing myself. We will have some very difficult stages and they will give me the opportunity to see where I really stand."
Known as a tough competitor, Valverde never leaves out a chance for a win even if he's at a race to gain racing kilometres more than to fight for overall victory. "It's clear that I'd like to fight for the overall Volta, like every race that I start, but after this small setback I will have to get into the rhythm again first. Then, everything will depend on how the race unfolds and the condition of my rivals - it's a ProTour race so there are several motivated riders with good form that will try to win it."
These include Olympic champion Samuel Sanchez (Eustakltel-Euskadi), Carlos Barredo (Quick Step) and even Valverde's teammate Pereiro, who is also building up with a view to some stage races coming up in France, the Dauphiné Libéré and the Tour. The 2006 Tour de France winner finished the opening time trial 14 seconds down of the winner, but was nevertheless content. "It wasn't too bad but I didn't take any unnecessary risks in the downhills, either," said Pereiro. "That was where you could gain a lot of time but you could also lose a lot and I didn't want to risk more than I had to. I'm satisfied because my condition is improving day by day.
"I rested a bit after the Classics before starting serious training again. I still lack a bit of power. I hope that this Volta gives me the opportunity to come up to my desired form and that I will be almost at a 100 percent in the Dauphiné Libéré."
The Volta a Catalunya continues today with a first mountain stage including the Cat. 1 Alt de Sant Pere de Rodes with less than 20km to go to the finish in to Roses on the coastline.
What do you think? Should Valverde be racing in Catalunya even though Italy's Olympic Committee banned the rider? Join our forum.
Astana cash flow "not enough yet"
The riders and the staff of team Astana (or the "Faded Team" at the Giro d'Italia) are still waiting for the payment of two months worth of salary. After the team at the Giro decided to wear new jerseys not displaying the names of the sponsors who still owe them money, it was said that the cash flow would be restored by Monday, May 18.
While an initial payment was made by bank transfer, the whole of the owed money has not arrived yet. "Not everything is in order yet," said team manage Johan Bruyneel on Tuesday morning. "After what happened, things are starting to move. There was some money transferred but it's not enough yet. We are waiting for more."
Gerdemann checks out Mont Ventoux
Linus Gerdemann (Team Milram) enjoyed his ride on Ventoux - also the downhill
Photo ©: Roberto Bettini

Linus Gerdemann has joined the list of riders who have checked out the 2009 Tour de France route. He and four Team Milram teammates rode up Mont Ventoux last week, as well as reconnoitring other important Tour sections.
"The inspection of the course was a very important part of our Tour preparations," Gerdemann said. "Riding Mont Ventoux was especially interesting and informative. In the end we were treated to good weather and a fantastic view from the top of Mont Ventoux."
On Tuesday, May 12, Gerdemann was joined by Christian Knees, Fabian Wegmann, Johannes Fröhlinger and Gerald Ciolek in Switzerland, where they rode the final kilometres of the 15th Tour stage including the closing climb from Martigny up to Verbier.
Heavy snowfall prevented them from riding the stage 16 route up the Col du Grand-Saint-Bernard and the Col du Petit-Saint-Bernard, so they instead rode the stage 17 route from Bourg-Saint-Maurice to Le Grand-Bornand. Moving to southern France, they then climbed Mont Ventoux and rode the stage 18 individual time trial around Annecy. (SW)
What's hot on the forum
With the first week of the Giro d'Italia run and won (mostly by Team Columbia-Highroad) the forum has been buzzing with chatter following on from the events in Italy.
In recent days, Pedro Horillo's horrific crash - in which he suffered a long list of injuries - has been one of the main talking points for Cyclingnews readers.
There's also plenty of talk about Andreas Klöden - the Astana rider was one of the big names in the Freiburg report into doping practices at the former T-Mobile squad released last week. The response from our readers has been huge.
Worst crashes you've had or seen first hand
Keeping with Bro deal's non doping threads.
1. Tore my patella tendon when by bike slipped on an oil slick.
2. My friend broke his hip and clavicle when he fell into a ravine in Jamaica
3. Friend got hit by a car and died, R.I.P Devon - franciep10
I was 15 and it was the second day of summer vacation. Nice weather for a little training and using the time to think of all the great things I would do that summer. Until some p**** decides to throw his car door open just as I was passing.
I landed some eight meters further. Minor concussion, eight stitches in the face, left collarbone broken in two places, left shoulder torn, three ribs broken and one bruised... and obviously a lot of skin missing.
I still have dreams of killing that guy. - ak-zaaf
Klöden named in Freiburg report
Is anybody surprised? No. The only surprise is that he got away with it for so long, given that most of his peer group has since been uncovered one way or another. Great publicity at a time when Lance and Johan are seeking new sponsors. - rolfrae
No surprises here. Who were the first 2 riders to jump ship when Bob Stapelton decided to introduce stricter anti doping controls at T-Mobile? That's right, Kloedi and Kessler.
Where did they go, that's right Astana, team of Vinokourov, Kaschekin... 'nuff said. - pmcg76
(All rights reserved/Copyright Future Publishing (Overseas) Limited 2009)