First Edition Cycling News, May 19, 2009
Edited by Les Clarke
Rogers' time to strike draws closer
By Gregor Brown in Cuneo, Italy
Michael Rogers remains relaxed
Photo ©: Anthony Tan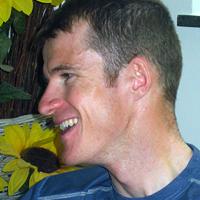 Only 44 seconds behind race leader Danilo Di Luca, Columbia-Highroad's Michael Rogers could sit atop the general classification in the Giro d'Italia on Thursday afternoon in Riomaggiore. The 60.6km time trial, which has been cause for plenty of speculation thus far, may well be the Australian's opportunity to make his biggest push for the maglia rosa.
"I am riding well and if it all goes well for me I will be in the ballpark. I can't say I will win it because I cannot control what the other riders will do," the triple time trial world champion told Cyclingnews.
Rogers could become the first Australian to wear the maglia rosa since Robbie McEwen in 2005 and the first overall challenger since Cadel Evans in 2002.
Two significant hurdles remain before the potentially decisive race against the clock in Cinque Terre - Tuesday's mountain stage to Pinerolo and Wednesday's stage to Arenzano. Although they are difficult examinations of the top contenders' mettle, both days shouldn't change the status quo at the summit of the overall standings ahead of the 12th day of racing on Thursday.
Rogers prepared for the stage by riding the undulating and twisty course in training. On the last visit, he rode the course from Sestri Levante to Riomaggiore before taking it on in reverse.
"The descents are very difficult - it cannot be won on the descents, but it can be lost there. The difference will be made on the climbs," he explained. It's not just up mountains that Rogers is a capable performer - he's a good descender, and the course should suit his abilities well.
Coming up on
Cyclingnews will cover the 60th edition of the Dauphiné Libéré live as of stage 4 on Wednesday, June 10, at approximately 15:00 local Europe time (CEST)/ 23:00 Australian time (CDT)/ 9:00 (USA East).

WAP-enabled mobile devices: http://live.cyclingnews.com/wap/

"I would like to see time gaps in my favour and finish in the top three. But there are still a bunch of tough stages to come," he said.

The stages in the central and southern part of Italy are unknown to Rogers, who lives in the north with his wife and twin daughters. He said he is unfamiliar with the climbing stages of Monte Petrano, Blockhaus and Vesuvio, but that he has the backing of strong team to get him to the podium on the final day in Rome on May 31.

"I would be rapt with the podium position. We have had a fantastic Giro so far - with four stage [wins] - and the team seems to get better and better. I think we can support a rider for the classification if the opportunity arises. [Will that be] Rogers? That I can't say because we have no control over what the others will do," said Rogers.

He believes those "others" will be Levi Leipheimer - who sits seven seconds behind the Australian - plus Denis Menchov and Ivan Basso.
Sastre satisfied with Giro's first week
Carlos Sastre after stage five
Photo ©: Roberto Bettini

Reigning Tour de France champion Carlos Sastre has largely flown under the radar during the first week of the Giro d'Italia and that's the way the Spaniard likes it. He went into the rest day in seventh, only 1:24 behind race leader Danilo Di Luca, after a helter skelter opening nine days.
"I didn't lose much time in this first part of the race despite the fact that the route wasn't suited to me," said Sastre. "They've been very fast stages with a great deal of tension. I'm feeling satisfied with how things are going so far and I'm optimistic about the future of this race."
The RAI commentary team - in particular ex-pro rider Davide Cassani - have questioned Sastre's tactics, especially on the fifth stage to Alpe di Siusi, saying, "Carlos Sastre is making extraordinary efforts. He would use less energy if he were at the front of the group." The ex Team CSC rider isn't bothered and explained his riding style in this Giro. "You suffer just as much up in front as you do behind. And from that position I've got a good view of the race and I can see how each of my rivals is doing," he said.
Instead of dwelling on his riding during the first week, Sastre is looking ahead to what will surely be a tough and decisive second week. "We'll see more things happen this week. If the first week has served to sketch out the general classification, this week should serve to define it a bit more," he said. "We have tomorrow's Cuneo-Pinerolo 262km mountain stage, two fairly important mountain passes and a more manageable one 10 kilometres from the finish. It's going to be a wearing stage before Thursday's 60-kilometre time trial in Sestri Levante.
"The time trial has an opening 20km pass and a very technical, difficult descent followed by another shorter pass, which lasts eight kilometres, and then a flat part and a descent to finish," noted the affable Spaniard. "It is one of the key days in this race. After that, the Monte Petrano stage on Sunday is awaiting, with 237 kilometres of tough cycling with a mountain finish. There have to be differences there," he explained.
Sastre isn't overly forthcoming with a list of rivals in these 'key stages', preferring to view every rider as a threat. "Everyone that has seen this first part of the race already knows who are the most important riders of this year's race," he said. "So far, I've seen three riders that are a touch above me. We'll have to see how they evolve and how I do over the next days. In that sense, the third week could have a surprise in store," he added.
Bruyneel realistic about Armstrong performance
Astana general manager Johan Bruyneel remains optimistic about Lance Armstrong's form in this year's Giro d'Italia despite disappointment expressed by fans about the American's performance thus far.
The experienced Belgian is keeping his sights set on developing Armstrong's form for the Tour de France, which is less than 50 days away, and he's quick to illustrate the reality of the situation. "Many people were disappointed with his [Armstrong's] performance in the first two mountain stages. But many of them do not remember that six weeks earlier Lance was in hospital being operated on to repair his collarbone injury.
"We must be more realistic as he's back [racing] after three years away without much training," he added.
Bruyneel also spoke about Armstrong's major challenge this season, the Tour of France. "I know that he wants to win at least one stage because he is a champion and champions need a victory. I am personally convinced that he can achieve [a win] because he feels great on the bike and was one of the favourites in the Giro bunch days after the first mountain pass."
Kohl, Rasmussen under criminal investigation
Former Gerolsteiner rider Bernard Kohl
Photo ©: Jon Devich

Suspended cyclists Bernhard Kohl and Michael Rasmussen are under investigation by Austrian authorities for their role in buying a centrifuge for use in illegal blood transfusions. The two riders and an Olympic gold medal skier face up to five years imprisonment if the charges are proven.
In early April, Kohl admitted to having received illegal blood transfusions at the home of his then-manager Stefan Matschiner, who also managed Rasmussen. Kohl's attorney said Matschiner bought the equipment, but that Kohl and other athletes paid for it, with the Austrian cyclist apparently contributing 20,000 euros.
Christian Hoffman allegedly aided the two cyclists in the purchase. In an ironic twist, Hoffman was awarded the gold medal in the 30km freestyle cross-country ski race at the 2002 Olympics in Salt Lake City after original winner Johann Mühlegg was disqualified for blood doping.
Prosecutors in Vienna are investigating whether the three athletes received money from other athletes for the use of the centrifuge. This would make the three subject to charges of being accessories to illegal doping, which is a criminal act in Austria.
"We are investiating everyone who was involved in the purchase of this machine and so could come into question as an accomplice to blood doping," Gerhard Jarosch, spokesman for the Viennese prosecutor, told the APA news agency.
"Bernhard had surely not taken any money," said Kohl's attorney Wolfgang Ainedter. Hoffman vehemently denied any knowledge of any form of doping.
Kohl is currently serving a two-year suspension for using CERA at the Tour de France last year. Rasmussen is sitting out a two-year suspension for having lied about his whereabouts leading up to the 2007 Tour de France.
Hushovd takes Catalunya opener
Norwegian Thor Hushovd (Cervelo Test Team)
Photo ©: AFP
Cervélo's Thor Hushovd has displayed omnious form with victory in the opening stage of the Volta a Catalunya in Lloret de Mar. The Norwegian, who decided against riding the Giro d'Italia, is beginning to ramp up preparations for the Tour de France, where he will again be a contender for the sprint crown.
Hushovd wasn't expecting the win, having recently come back to racing following a post-Classics break. "This is actually a surprise for me," he said. "After the Classics period I had a rest and tried to build up my form again, but I'm really happy with this win."
Hushovd's time in the leader's jersey will be limited, however. The race makes its way to the mountains for stage two, with a brace of Cat 1 climbs on the route from Girona to Roses and little respite for a powerfully-built rider such as the Norwegian.
Pereiro defends Valverde
Caisse d'Epargne's Oscar Pereiro has defended teammate and countryman Alejandro Valverde after the latter's two-year sanction imposed by the Italian Olympic Committee (CONI) last week, saying, "the word doping is not within him".
Valverde finished second in the opening time trial and Pereiro is upset by the fact that his teammate's performances are overshadowed by the constant talk of doping. "Alejandro is here, riding the Volta, and that is important," said Pereiro. "It seems painful to talk about other things, whether that's doping or not... but we are calm, we know that an injustice has been committed and we're doing what we have to," he added.
The 2006 Tour de France champion is riding the Volta a Catalunya with Valverde as preparation for a successful campaign in the Dauphiné Libéré next month, where he will, "judge my real form for the rest of this season".
Pereiro also had words of encouragement for Spanish rider Pedro Horrillo, who suffered massive injuries due to a life-threatening crash during stage eight of the Giro d'Italia. "I feel for you after falling, being thrown [off my bike] and lying there alone," he said. "Fortunately he is recovering and that is the best, the best news for all of us who love this sport," added Pereiro.
Number 17 for Teutenberg
Ina- Yoko Teutenberg wins the stage into Lezignan Corbieres
Photo ©: CJ Farquharson
Ina-Yoko Teutenberg (Columbia-Highroad) won her 17th stage of the Tour de l'Aude, as Amber Neben of Equipe Nürnberger Versicherung defended her leader's jersey in the third stage. A crash near the end of the stage caused confusion as to the overall leader, but after a protest, it was awarded to Neben.
Marianne Vos of DSB Bank was in a crash in the finale, just behind Teutenberg, with Neben behind Vos. Teutenberg went on to win and was given a time of two seconds ahead of Neben, thus taking over the general lead. Nürnberger Directeur Sportif Jochen Dornbusch protesed, and the jury ruled that since the crash occured within the final kilometer, all riders would be given the same time. Neben thus reclaimed the leader's jersey.
"I was the only one to get through the crash, so I reached the line alone," Teutenberg said afterwards. "The rider who crashed slid and took out a lot of the others, but luckily I was able to get through."
Teutenberg paid tribute to her Columbia-Highroad teammates who worked hard during the hilly 116km stage to reel in several dangerous moves. "We collaborated with another team to bring back one rider and set things up for a sprint. Then they put me in the right position. With a team of just six riders it's never easy to do everything but they did a great job," she explained.
With a fairly flat stage before the Tour de l'Aude ventures into the mountains, Teutenberg is just two seconds behind race leader Amber Neben and will be going for a third win. "I'm not really thinking about getting in the yellow jersey again. If that happens, it happens," she said.
"Really, I'm just going for another stage. The same thing applies to the green points jersey. If I can defend it, great, but then again maybe some climber will get a lot of points in the mountains and I lose it, continued Teutenberg. "I'll just take it on the day-by-day, rather than look too far ahead."
(All rights reserved/Copyright Future Publishing (Overseas) Limited 2009)