Latest Cycling News, May 4, 2009
Edited by Gregor Brown
Armstrong plans team announcement after 2009 Tour
Lance Armstrong plans team for 2010
Photo ©: Mitch Clinton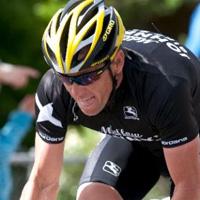 Lance Armstrong believes there is a "high" probability he will start a professional team of his own for the 2010 season. The American expects the announcement to come this July, after he races the Tour de France.
"I would like to have my own team: to be the owner, director and... cyclist. Because if I have a team I also want to race. It does not necessarily have to be the Giro and Tour, but only when I have the desire," he said in an interview with La Gazzetta dello Sport after the Tour of the Gila stage race in the USA.
Armstrong, seven-time winner of the Tour de France, announced his comeback to the sport last fall. He joined his former team manger Johan Bruyneel at team Astana and announced his support of an Under 23 development team.
"The name? That of the principal sponsor. Its probability? High. You will know it in July. Even if it is hard to convince sponsors to give money with the economic crisis and news of doping."
Armstrong travelled from USA and arrived in Rome this morning. Tomorrow, he will meet with Italy's Foreign Minister, Franco Frattini, to present his cancer foundation's programme.
From Rome Armstrong travels to Venice for the Centenary Giro d'Italia, May 9 to 31. He will lead the team with USA's Levi Leipheimer, winner of Tour of the Gila and Castilla y León.
Giro: Di Luca races for Abruzzo's earthquake victims
By Gregor Brown
Danilo Di Luca to fight on Giro's Blockhaus for earthquake victims
Photo ©: Giro del Trentino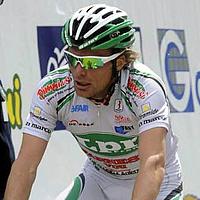 Danilo Di Luca heads into the Giro d'Italia, this Saturday through May 31, with the victims of Italy's recent earthquake in his heart. The 2007 race winner wants to strike on the mythical Blockhaus stage for the survivors of the tragedy that rocked his home region of Abruzzo last month.
"It would be beautiful [to win Blockhaus] as a homage to all the earthquake victims and because it is in my area," Team LPR's Di Luca told Cyclingnews.
Nearly 300 people died in the 6.3-magnitude that struck Abruzzo's L'Aquila April 6. Di Luca lives 100 kilometres away, in Pescara, and is doing what he can to help.
"I created some different fundraisers to help the survivors: I am selling different cycling related items on eBay and I am selling pink bracelets with Abruzziamo written on them, like Armstrong did for LiveStrong. They will be sold at the Giro d'Italia; it would be great to sell a lot and give a hand to the victims."
It will be the Giro d'Italia's fifth visit to Blockhaus and it will be one of the shortest at 83 kilometres. It departs from Chieti and heads west to the base of the 23-kilometre climb. The final six kilometres features gradients mostly above nine percent.
A stage win at Blockhaus, where cycling legend Eddy Merckx scored his first mountaintop victory, and the overall leader's maglia rosa could be possible based on Di Luca's performance in Giro del Trentino last week. Di Luca battled Giro d'Italia rivals Ivan Basso and Stefano Garzelli to win the final stage to Pejo Fonti, April 25.
"I left Trentino on a good note thanks to the win in the final stage. I had in my head that last stage and I won it, so my condition is rising the way it should be.
"There were, above all, Italians at Trentino. Naturally, Basso will be one for the Giro, but I have always said that this year the Giro will be very difficult. He will not be the only rival, there are so many, Italians and foreigners. Levi Leipheimer, Lance Armstrong, who you can never undervalue, Carlos Sastre and Denis Menchov, who did well last year – these are the strongest four foreigners."
The Giro d'Italia celebrates 100 years since its first edition in 1909, when Luigi Ganna won. It starts in Venice on May 9 with a team time trial.
Valverde closes first phase of season in Romandie
Alejandro Valverde faces break, CONI and Tour de France
Photo ©: Franklin Tello

Alejandro Valverde closed the first part of his 2009 season yesterday with a fifth place in the Tour of Romandie. The Spanish Champion of Caisse d'Epargne takes a break prior to legal battles and the Tour de France.
"My feelings are mixed at the end of Romandie: From one side I would have liked to win a stage and be on the podium in Geneva, but on the other side I am satisfied because I was consistent all through the race and was able to fight with the best riders."
Valverde finished 46 seconds behind overall Tour of Romandie winner Roman Kreuziger (Liquigas). He had a fever of 39°C on the night after Romandie's queen stage to Sainte-Croix, but woke the next day feeling better.
Romandie ended a three-month run that included two stage wins in the Castilla y León and victory in the Klasika Primavera.
"I respected my plans, which meant taking part in fewer races and going easier than the previous years. In spite of this I won three races, I finished with the first group in the three Classics I raced. Now I will have the opportunity to prepare quietly for the Tour de France."
His Tour de France preparations will include reconnaissance of the key mountain stages in May and then a race programme that begins in June at the Dauphiné Libéré stage race.
The month of May will also include a visit to the Italian anti-doping tribunal in Rome May 11. The Italian Olympic Committee (CONI) recommended a two-year suspension for Valverde following an investigation that linked his blood samples collected at the 2008 Tour de France to those from the 2006 Operación Puerto doping investigation in Spain.
The Tribunal's ruling will have a direct effect on Valverde's Tour de France due to the race's route that includes a passage through Italy.
Petacchi scores six days before Giro
Alessandro Petacchi ready to face Cavendish at Giro d'Italia
Photo ©: Sirotti

Italian sprinter Alessandro Petacchi put another win into his books one week prior to his season objective at the Giro d'Italia. The Team LPR Brakes rider won the Giro di Toscana Sunday in Sansepolcro, Italy, over Manuel Belletti (Diquigiovanni) and Ruggero Marzoli (Acqua & Sapone-Caffè Mokambo).
"It is a great pleasure to get a win only a few days before the Corsa Rosa. This year it will be a great Giro and we will have a great team," he said to La Gazzetta dello Sport.
The win came at the end of a 194-kilometre race that featured an early escape of 12 with Franco Pellizotti (Liquigas) and Filippo Simeoni (Ceramica Flaminia-Bossini Docce). LPR Brakes took the race under control for the 26-kilometre closing circuit to give Petacchi his seventh win of the season.
"It was a great win and it was not easy, we pulled hard through the last climb, even if that did not work out in Larciano [the day before]."
The team effort was a test for the first of the Giro d'Italia sprint stages: stages two (Trieste) and three (Valdobbiadene). Petacchi will need to have all eight of his LPR men in order if he can beat the strongest sprinter in the peloton, Mark Cavendish – "He's a cannibal."
The team of Petacchi and general classification leader Danilo Di Luca will be without Lorenzo Bernucci, who crashed in training Thursday. Team Manager Fabio Bordinali said that they will be ready, and can count on second-year professional Matteo Montaguti.
Equipe dominates Gracia Orlova
By Susan Westemeyer
Czech Republic's Gracia Orlova stage race, April 30 to May 3, turned out to be a very good race for the Equipe Nürnberger Versicherung. Trixi Worrack won the overall title with three straight second-place stage finishes, and Amber Neben took the time trial and the mountains jersey.
"It was a really good race," Neben told Cyclingnews. "Our team was super strong, and I was very happy to contribute to the overall win. It's always fun when the group is cohesive and enjoys riding for each other."
Neben and Worrack escaped with Fabian Luperini (Selle Italia) on the first climb of the day in stage two. The trio was able to stay away, arriving at the finish with a two minute lead, with Luperini winning and Worrack taking the overall lead. Neben finished third, but claimed enough points to assure her of the overall mountain ranking.
USA's Neben had her chance the next day, winning the 18-kilometre time trial. The time trial world champion finished nine seconds ahead of Worrack. The two set a blistering pace, as third-placed Linda Villumsen of Columbia-Highroad was 42 seconds down on Neben.
"For me, it was very cool to have the chance to sell out my energy for such a classy and respected rider like Trixi. And, as a bonus, I was able to come away with the time trial stage win and the mountain jersey," said Neben.
Her next big race will be the Tour de l'Aude, which she calls "a challenging race." While she is optimistic for her team's chances, Neben noted, "it's a bike race with too many superstars and teams to predict anything."
Soeder takes Suisse time trial
Christaine Soeder took another step towards her World Championships objective by winning the 14.8-kilometre GP de Suisse time trial Friday. The Austrian won with a time of 21:49, 25 seconds over Jeannie Longo-Ciprelli and 42 seconds on teammate Emma Pooley.
"I see how I am for the Worlds, a good thing to know in the spring for our next goal," said Soeder.
She will race the World Cup and then take a break from competition. Her summer programme includes the Grande Boucle Féminine Internationale and International Thüringen Rundfahrt der Frauen. She said the World Championships in Mendrisio, Switzerland, is her biggest goal.
Twitter with Cyclingnews!
Cyclingnews now twitters! It's the fastest way around to check up on the headlines, latest stories, photos and race previews, and all the other information you can find the world's largest cycling site. Keep up-to-date by using the latest technology, and look us up at twitter.com/Cyclingnewsfeed.
Previous News Next News
(All rights reserved/Copyright Future Publishing (Overseas) Limited 2009)